It's been too long!
Well it's been a busy year so far that I literally have had little time to blog! I initially wanted to just blog baking recipes to share with you, which started out well, then I had an influx of cake orders plus working full time as-well meant I just couldn't find the time! Taking photo's of, pretty much, each stage of making and baking cakes and treats is extremely time consuming and if I had more time I would love to share every recipe I've made so you can bake them too!
I really wanted to share a Halloween post as I absolutely LOVE Halloween and bake lots of treats for our annual Halloween gathering. This year I baked vanilla Halloween cookies on sticks, vanilla cupcakes that were topped with swirls of vanilla buttercream and some were filled with raspberry jam so when you bite into it there is a jam surprise! I topped these cakes with chocolate fangs that I painted with red Wilton candy melts and I topped the plain vanilla cupcakes with little haunted houses. I also made chocolate brownies.
Here is my buffet table for the occasion: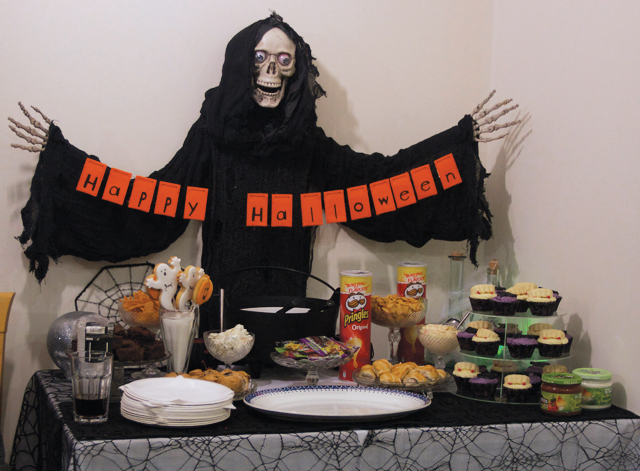 Here are my vanilla Halloween cookies…
.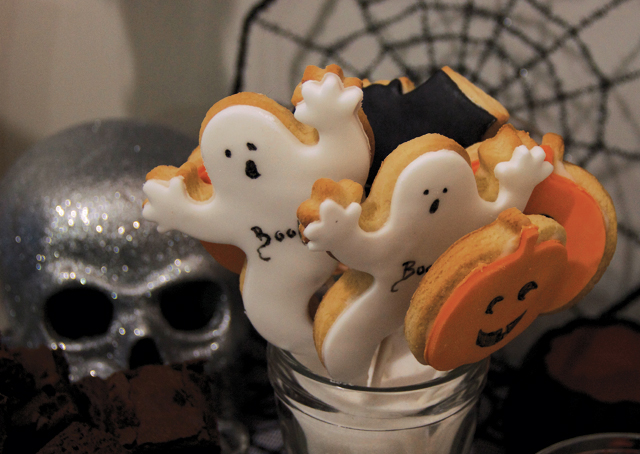 …..and cupcakes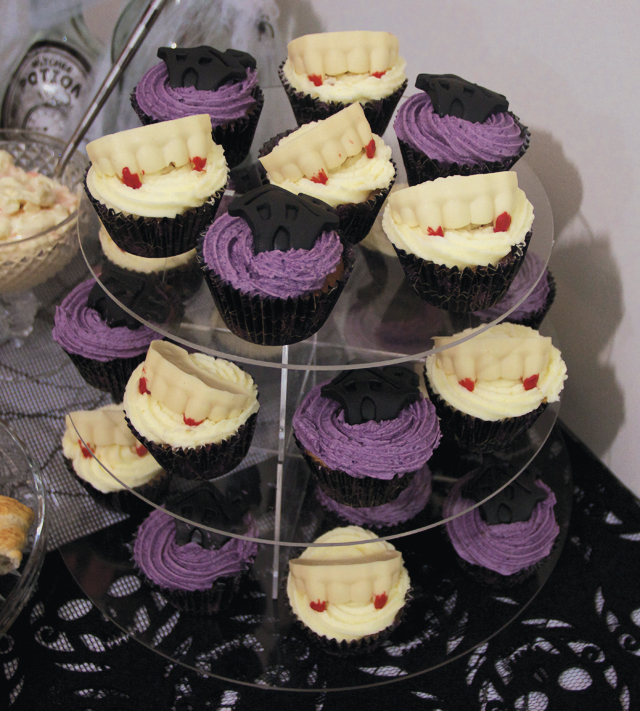 So now that's over, thoughts turn to Christmas and what treats I'll be baking soon. I make a Christmas pudding every year on "Stir up Sunday" which is the last Sunday in November before advent, traditionally, families gather together in the kitchen of their homes to bake the Christmas pudding and everyone will get a turn to mix the ingredients whilst making a wish. Sadly, I think it's a tradition that not everyone partakes in nowadays, but it's something that I've done every year and would like to do each year and pass the tradition on to my own family that will hopefully carry on through the generations!
Keep an eye on my blog as I'll share the Christmas pudding recipe I make every year with you this Sunday.
I also have a couple of other recipes I want to share soon and will also write some more Christmas related posts and perhaps some recipe book reviews as I've purchased quite a few new ones recently and have also seen more books which are now on my Christmas wishlist (I seem to have a recipe book addiction!!)
Hope you enjoyed the post and I look forward to sharing more posts soon!
x