Lemon Meringue Pie Ice-cream recipe
I've recently become quite addicted to lemon curd…not any lemon curd though, but this one by Roots & Wings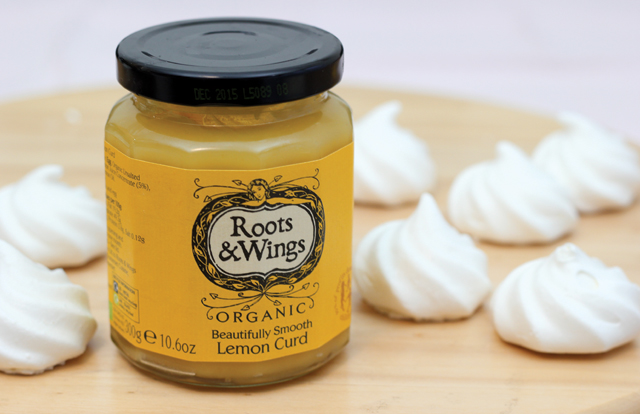 I've only found it stocked in Asda so far, at £2.99 a jar, it's the most expensive lemon curd I've found, but compared to others, it has a thicker, smoother texture which is ideal for spreading on toast or lemon tarts.
Recently though, I have really wanted to experiment with more ice cream recipe ideas, and finally decided to make a tub of lemon meringue pie ice-cream.
If you would like to have a go at making ice-cream at home, you can pick up ice-cream makers relatively cheap, they tend to start at £19.99 on Amazon or Argos.
I have used my fair share of ice-cream makers but I've found the one I currently use is the best by far. It's a freezable bowl that attaches to my KitchenAid mixer and comes with a clip attachment and a very sturdy paddle to churn the ice-cream with. I keep the bowl in my freezer all the time, just in case I get a sudden urge to make ice-cream!
For this recipe you'll need the following ingredients:
350ml whole milk
350ml double cream
160 g caster sugar
4 large egg yolks
5 tbsp lemon curd – plus extra to swirl through after freeze churning
8-10 crushed mini meringues
and for the crumbly pie crust pieces you'll need:
180g plain flour
1 tsp baking powder
115g unsalted butter
200g soft dark brown sugar
Method:
1. In a medium saucepan, heat the milk and double cream over a low to medium heat to a gentle simmer, add 2 tbsp of the lemon curd and mix through, then add the sugar and continue to simmer for about 5 minutes, stirring occasionally, until the sugar dissolves.
2. Break and separate the egg yolks into a bowl. Then, using a hand held electric whisk, whisk the egg yolks for about 3 minutes until foamy and light in colour.
3. Remove the cream mixture from the heat and use a measuring cup to slowly pour half a cup of the hot cream mixture into the egg yolks, whisking constantly so you don't cook the yolks. Pour the cream and egg mixture back into the pan and cook over a medium heat, stirring constantly with a wooden spoon for up to 5 minutes until the mixture thickens slightly and coats the back of the spoon. When you draw a finger through the custard on the back of the spoon, it should leave a clean line.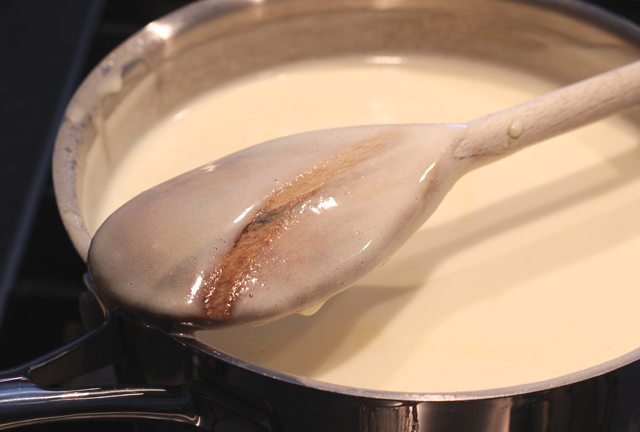 4. Pour the custard into a bowl and add 2-3 more tbsp of lemon curd and mix through until fully incorporated, then cover the custard with clingfilm, pressing it directly onto the surface to prevent a skin from forming and chill for at least 4 hours. I left mine overnight in the fridge so it is completely chilled.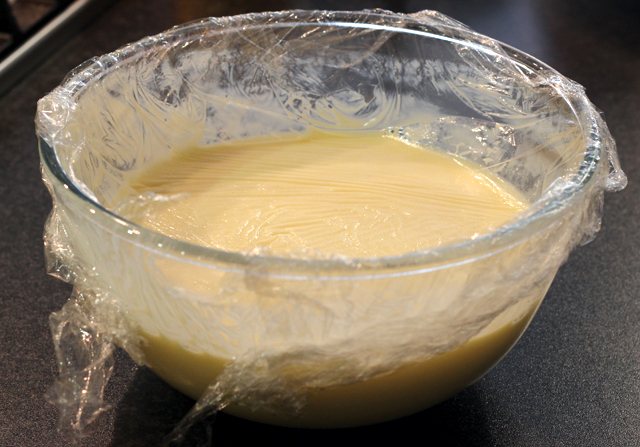 5. I then move onto making the pie crumble. Preheat the oven to 175°C/350°F/Gas mark 4. Line a baking sheet with non-stick baking paper.
6. sift the flour and baking powder into a bowl and set aside.
7. Cream the slightly softened butter and sugar together in a freestanding mixer with paddle attachment or hand held whisk until light and fluffy, for around 5 minutes. Add the flour mixture and mix until it resembles breadcrumbs, you want it to have both fine and lumpy crumbly bits in.
8. Pour onto your lined baking sheet and spread it evenly over the bottom, pressing down, then lightly rake the surface to loosen to top up a bit so you get the crumbly lumpy bits. Place in the oven to bake for about 10-15 minutes until lightly golden brown.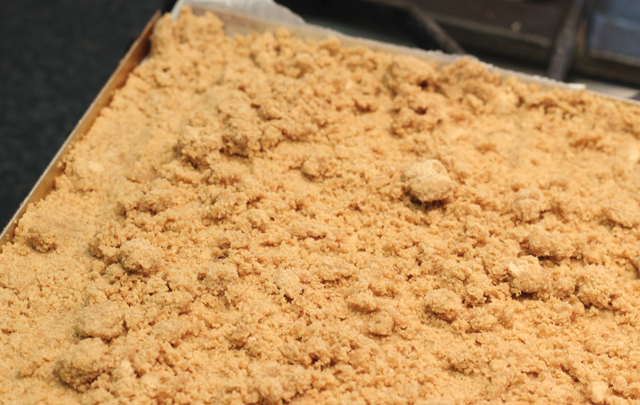 9. Remove from the oven and cool completely. Once cooled, break and tip into a bowl and smash it up a bit then you can store in an airtight jar or container until ready to use. You won't use all of it in this recipe. I'm planning on making other ice-cream with this in it as it adds a nice sweet, biscuit-y crunch to the ice-cream.
10. Once the ice-cream is chilled, you can get your ice-cream bowl out of the freezer and attach the paddle and switch on so it's running and begins churning and freezing the ice-cream straight away when you pour it in.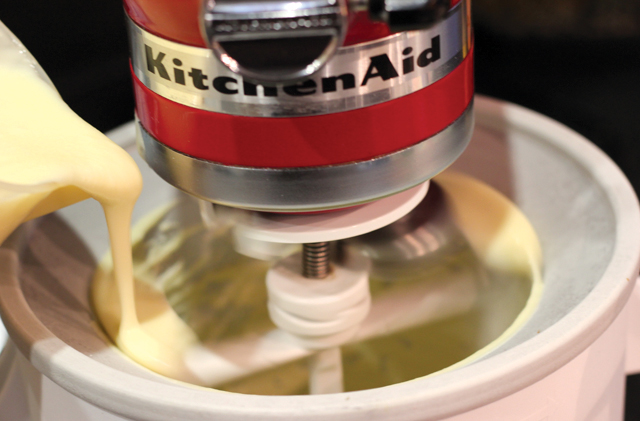 11. Once it's thickened and frozen, you can add the broken up meringues and some of the crumbly biscuit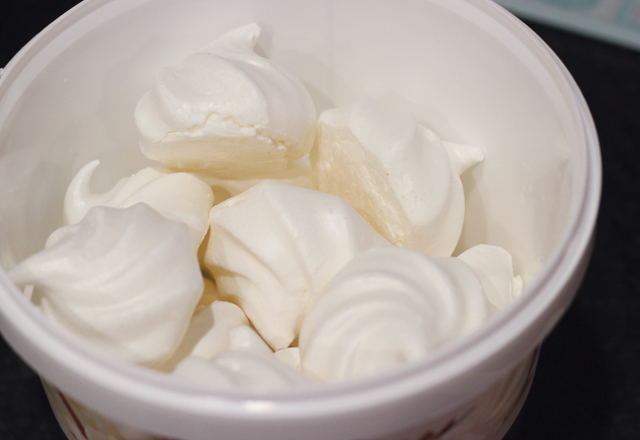 I stir these through with a silicone spatula as the ice-cream will still be soft enough.
Then pour into a ice-cream container or tupperware box. I dolloped a few teaspoons of the lemon curd on top: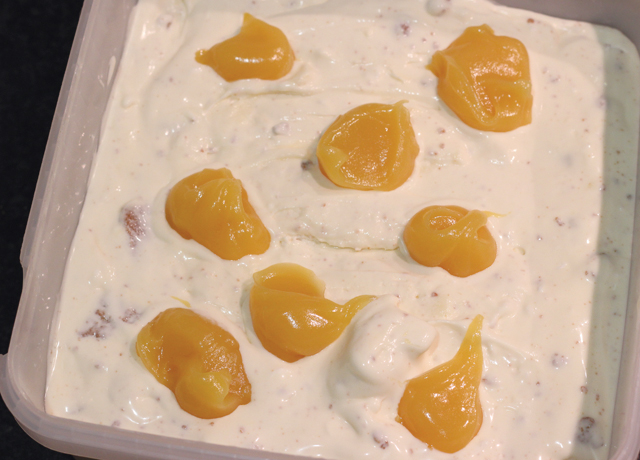 Then swirled through using a wooden skewer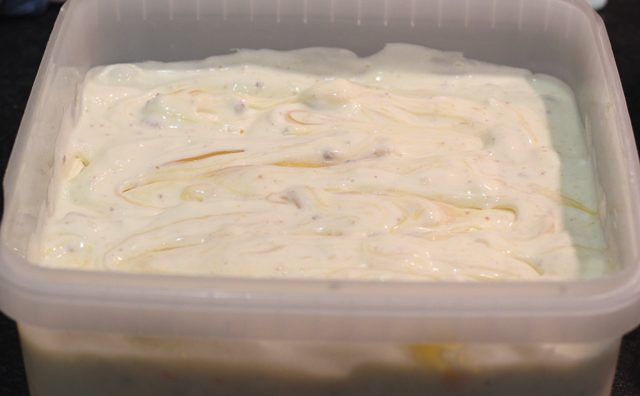 Place a lid on top and pop in the freezer for a few hours then serve and enjoy!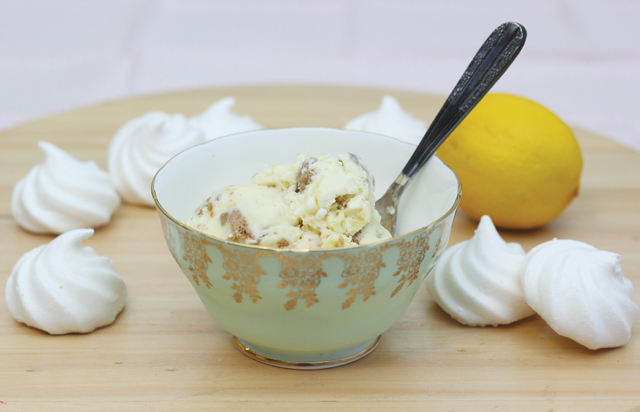 It's absolutely delicious served with sliced strawberries for a refreshing, fruity dessert.
I hope you enjoy making this ice-cream recipe as much as I did!