Cake Bag Review
So this month saw the launch of a new monthly subscription box – Cake Bag. I only found out about it through Twitter. There are so many different monthly subscription boxes that I've heard of through social media & friends that have signed up to them.
This one really caught my attention though as it contains cake decorating supplies & equipment! I was really interested to try it out as the items inside are worth so much more that what you actually pay for the box. There are also 2 different options to get your hands on one; you can choose a one-off to get a taster for £19.99 or sign up for a monthly box for £16.99 – there is no contract for this so you can cancel anytime!
I went for the monthly option as it worked out cheaper and there is no obligation to carry on receiving them as you can opt-out!
The cake bag is themed & you receive 6-8 products that are carefully selected to compliment each other & contain items from well known big name brands such as Wilton, Squires & Patchwork Cutters as well as items from from up and coming brands.
The first cake bag theme was Vintage Floral – I was very excited to receive this as it contained a rose patchwork cutter and Karen Davies mould. I love moulds as you can make some really great looking cake decorations with them!
I was so excited when it landed on my doormat because it was packaged in a pink envelope!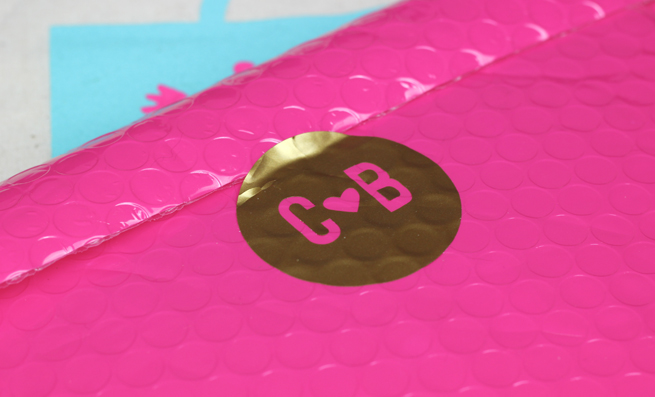 I opened it to reveal a little brown box & bag containing all these items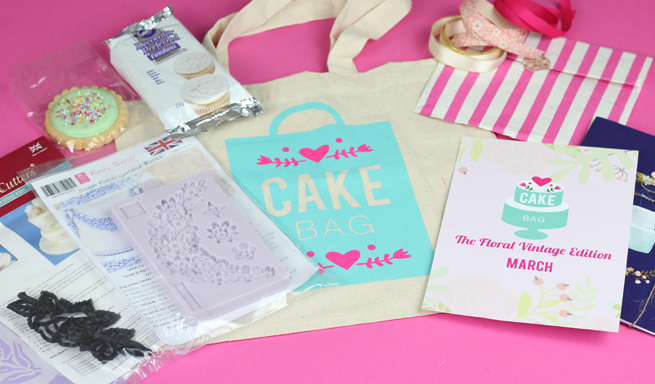 There is a stencil, cutter, mould, Wilton white fondant (I haven't used Wilton fondant before, I usually use Renshaw), ribbons, sugar cookie & notebook.
You also receive a card with a list of the items with a description of what's inside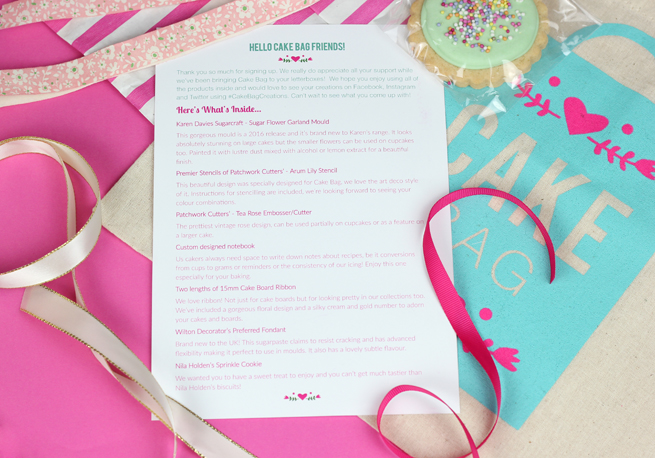 The sprinkle cookie was a nice little addition and I can't wait to try out the Karen Davies mould. I am also keen to try out some of her others now as there are so many lovely designs.
Overall, I'm pleased with this box as I received some items that I would have paid more for if I purchased them alone so it's pretty good value for money & would make a great gift for anyone you know who loves baking & cake decorating. It's also great because it contained items that I probably wouldn't of purchased initially so it's a great idea if you want to try out products that you maybe wouldn't think of buying because of the cost.
The theme for April has been revealed as Party Party – you can get a sneak peek of some of the items that will be inside here and it's available to order from Friday 1st April!