Bluebird Tea Co. Christmas Range
I absolutely love tea (as you may well already know) and was super excited when a parcel arrived from Bluebird Tea Co.
They kindly sent me lot's of loose tea's  from their Christmas range to try out and review. I have already tried one other tea from their Autumn range which you can read about in my October favourites Post.
What I love about Bluebird Tea Co. is that they release seasonal blends throughout the year and their Christmas range has something for everyone!
They sent me the following blends:
Christmas Cake, Hey Sugar Plum and Snowball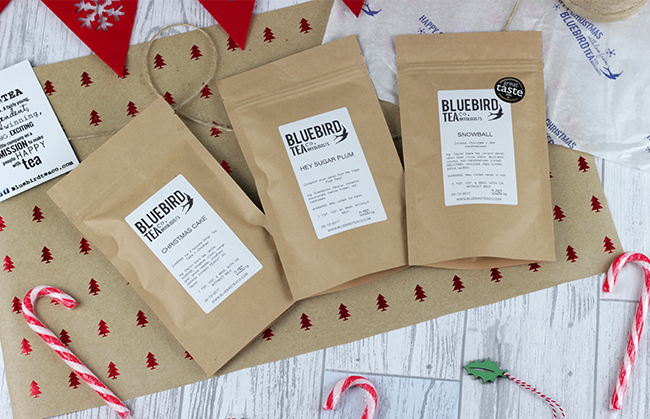 Peppermint Cream, Gingerbread Chai and Mulled Cider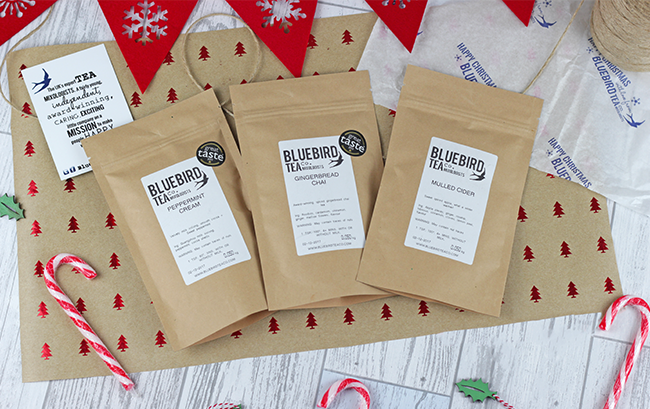 They also sent me a couple of more summery sounding tea bags; Mojitea and Strawberry Lemonade which I think would be amazing to enjoy as iced tea.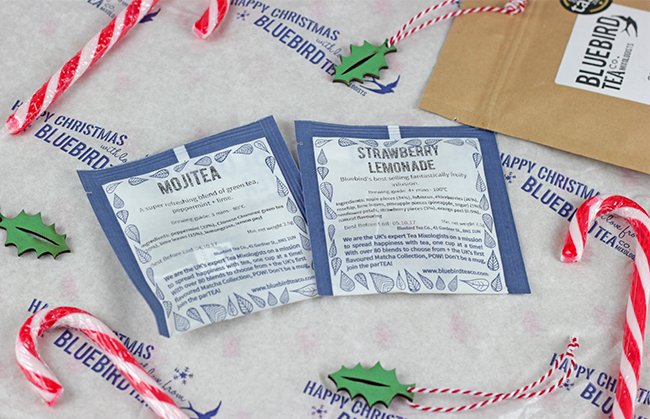 I tasted all the tea's in the Christmas range and here is a little review on the different flavours:
Hey Sugar Plum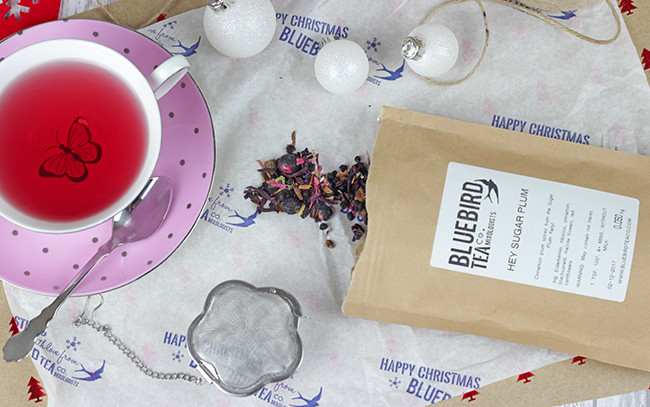 I adore the name and it even brews the water to a beautifully vibrant pinky plum colour! It tastes ever so slightly like Ribena from the addition of blackcurrant and has a floral undertone. I'm not usually a big fan of fruity or floral teas but this is pleasantly refreshing and could easily be enjoyed in the summertime.
Mulled Cider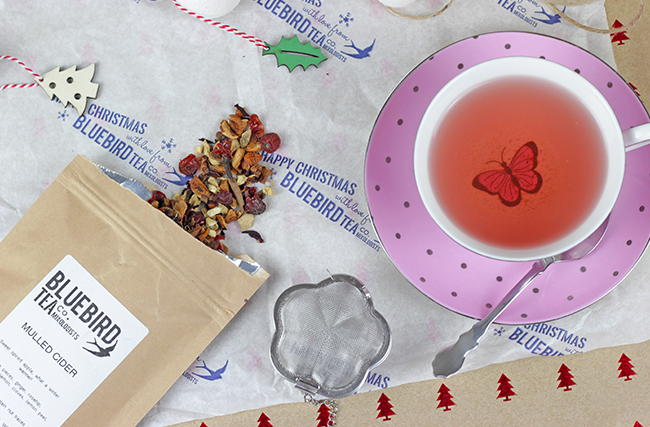 I'm a massive fan of mulled cider during this time of year. Even better that I can enjoy the flavour of this warming drink anytime of day in tea form! This blend smells amazing. It's spicy, it's warming and it has a strong aroma of cloves, cinnamon and ginger. A fab alternative if you love the pumpkin pie spice from the Autumn range but have run out of it!!
Christmas Cake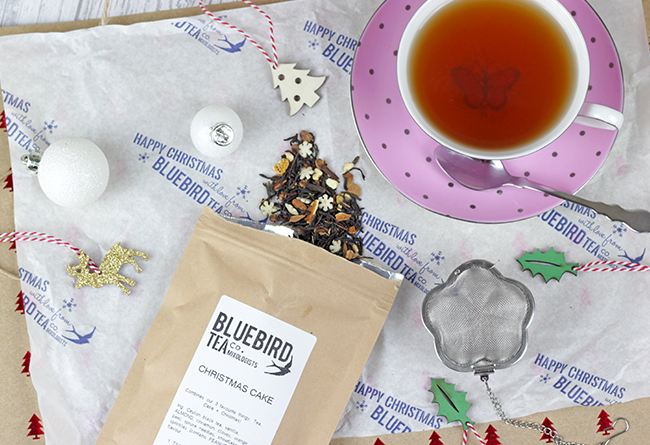 OMG! Can tea get any more festive?! When you open this bag of tea, the smell of marzipan hits you; which is obviously from the almond in this blend. That's not a bad thing in my eyes as I LOVE marzipan! What makes this tea even more Christmassy is the addition of snowflake sprinkles which melts into the tea when it's brewing which adds a slight sweetness. You can enjoy a cup of this with or without milk. I will definitely be trying this with frothy milk as a latte. It's spicy, it's fruity and most importantly, it's Christmas cakey. A definite winner for me and ideal for anyone who loves tea and cake!
Snowball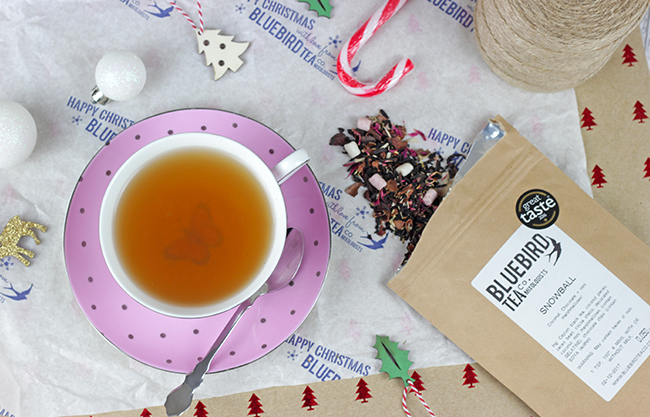 I've been wanting to purchase this blend so when they sent me this I was filled with joy! This turns the water a beautiful golden colour, smells super sweet and tastes like coconut and chocolate. It has a delightfully smooth and creamy flavour and can be enjoyed with or without milk. The addition of mini marshmallows adds a sweetness to this warming cuppa and is a perfect alternative to hot chocolate to enjoy as a bedtime drink.
Peppermint Cream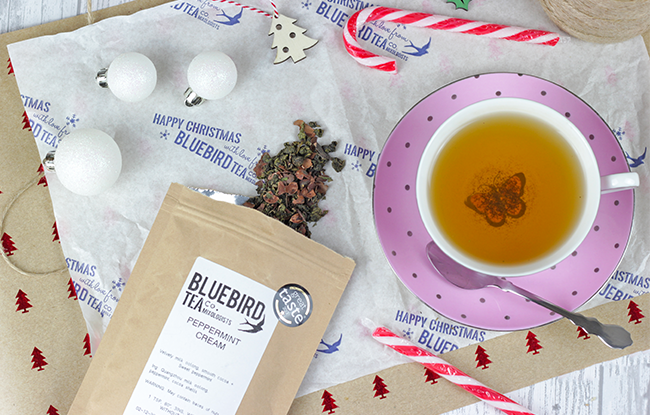 I'm a massive fan of mint tea's. This one is a velvety milk oolong with smooth cocoa and sweet peppermint. When you open the bag, it smells incredibly pepperminty and refreshing. When brewed it has quite an earthy aroma but has a strong peppermint flavour with a hint of chocolate, very much like a peppermint cream! This would be perfect enjoyed after all the indulgent Christmas dinner and pudding, aiding digestion and settling your stomach.
Gingerbread Chai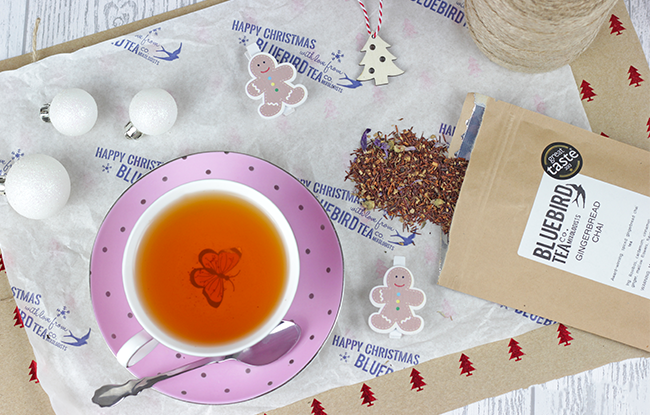 I've never really been a fan of Rooibos tea but this one is delicious. I enjoyed it more as it has that spicy warmth from the cardamom, cinnamon and ginger. I'm definitely going to try this as a chai latte with frothy milk, perfect as a morning drink or an early afternoon pick me up.
I loved all of these blends as each one is perfect to enjoy at different times of the day. If you still have a few stocking fillers to add to your Christmas list, head on over to Bluebird Tea Co. and get your orders in for some festive pressies for any tea lover. They have baubles and gift sets perfect for pressies or why not treat yourself?!
I'll be trying one of these blends in a festive baking post this week which I can't wait to share!
xoxo