Easter Rocky Road
As Easter is approaching, I wanted to make some fun yet easy no bake treats using up some leftover ingredients from my pantry (as it needs a bit of clear out!) and what could be better than making some delicious rocky road but with an Easter twist! All I needed to pick up from the shops was some mini eggs and while I was at the supermarket I also spotted some super cute micro mini eggs that I thought would be perfect to decorate the top!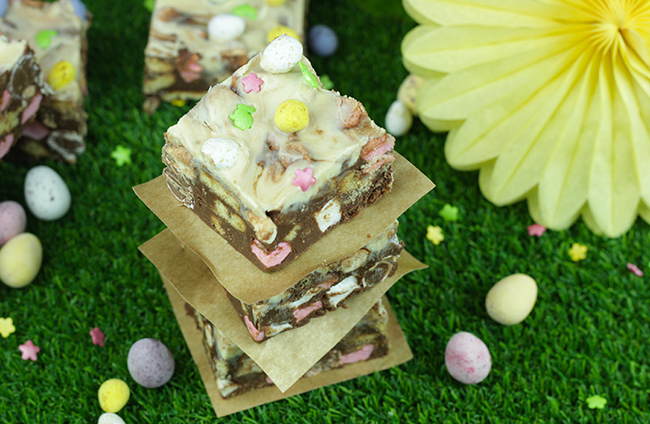 I also found pretty Easter sprinkles in Lakeland; they're by Scrumptious! Sprinkles from the tripod range where you get 3 different styles of sprinkles including some pretty sparkly strands, eggs, bunnies and blossom flowers.
To make these scrummy treats you will need:
Ingredients
– 200g dark chocolate
– 200g milk chocolate
– 125g golden syrup
– 125g butter
– 150g plain digestive biscuits
– 100g mini marshmallows
– 2 x 90g bags mini eggs
– 150g white chocolate
– 1 x bag micro mini eggs (I found these ones in Asda)
– Easter sprinkles
Method
1) Line a 9 inch square cake tin with foil lined parchment paper and set aside.
2) In a medium bowl, melt both the dark and milk chocolate, butter and golden syrup over a pan of simmering water or in 25 second intervals in the microwave until completely melted. Stir to combine.
3) Break up the digestive biscuits and stir into the chocolate mixture.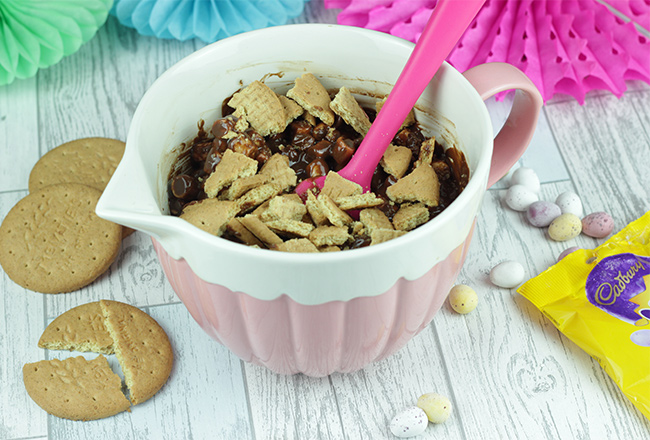 4) Mix in the marshmallows and mini eggs then pour into your prepared tin and spread out into the corners using a spatula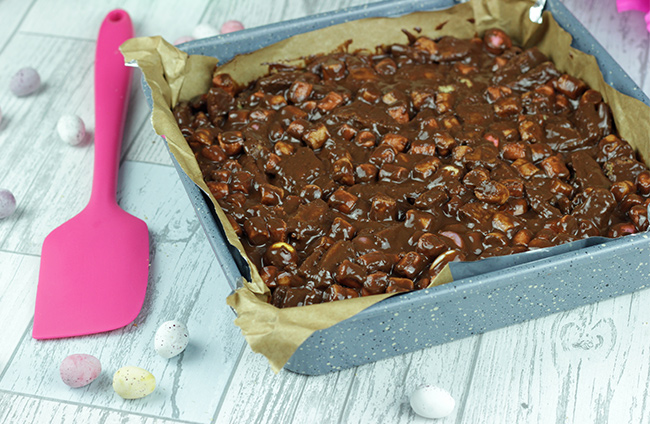 5) Pop in the fridge to chill for an hour or so, you can also leave it overnight. When it's completely chilled, remove from the fridge and make the topping by melting the white chocolate in a small bowl over a pan of simmering water or blast in the microwave in 20 second intervals until completely melted.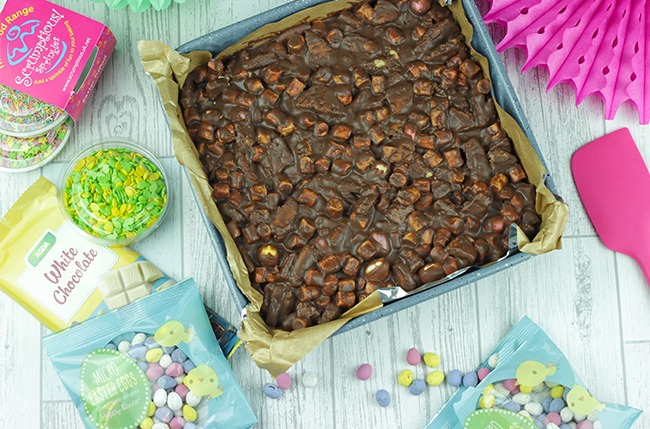 6)  Pour the White chocolate over the top of the chilled rocky road and use a spatula to spread over the top to cover. Add the micro mini eggs and Easter sprinkles to decorate.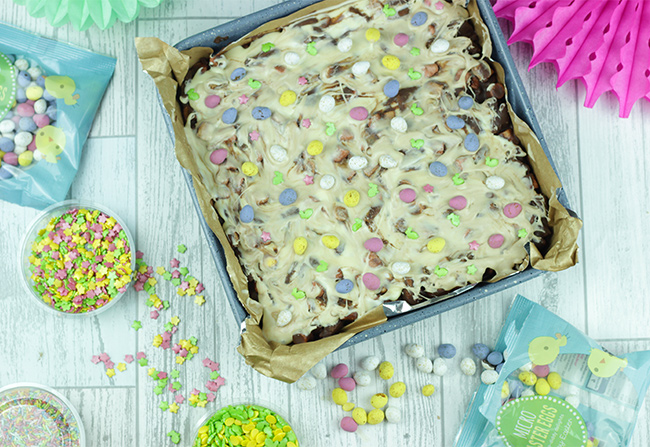 7) Slice into squares and serve!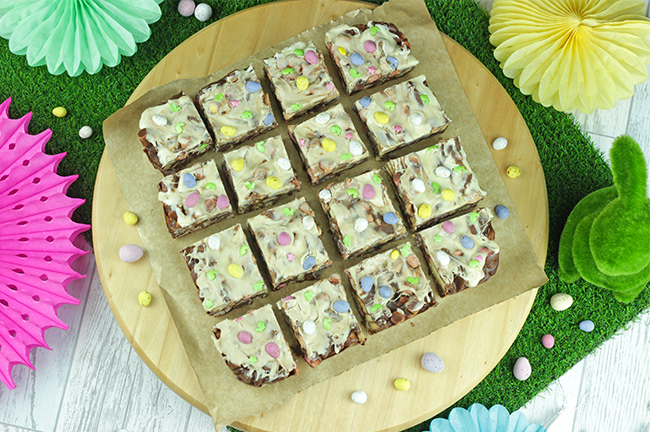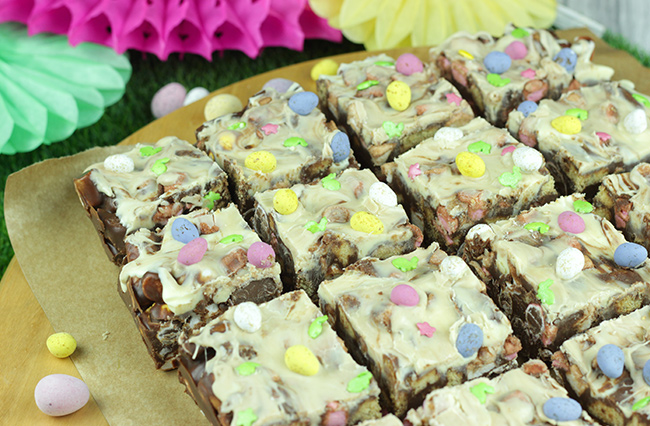 I love seeing all the layers of mini eggs, marshmallows and digestives through these once they are sliced!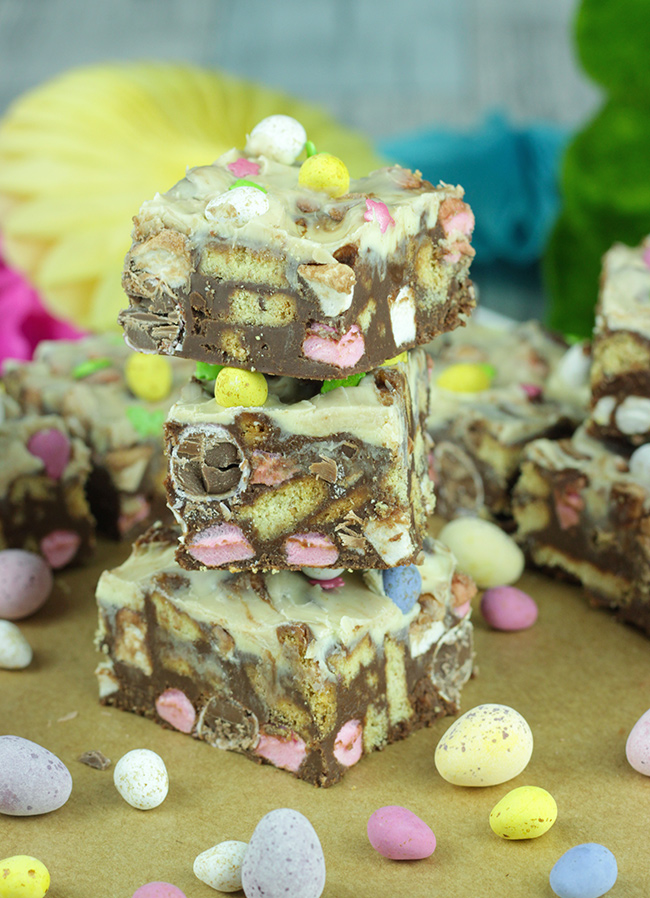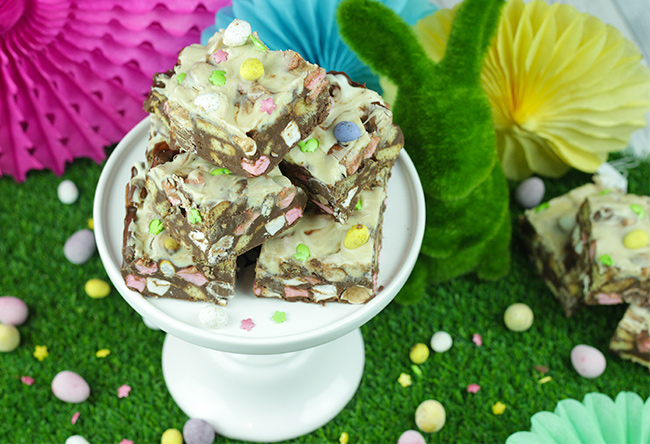 These will last up to a week stored in an airtight container or tin in the fridge, though I do like to enjoy them after they've been out the fridge for half an hour or so as they get slightly softer. Perfect with a nice cuppa, these are so moreish because of the yummy combo of digestives and chocolate. Plus rocky road can be made with any of your favourite biscuits and chocolate. I may have to come up with more recipe combo's for future no bake delights! Watch this space for more easy recipes coming soon!
Happy Baking!
Thirzah xoxo