Great British Bake Off Bake Along – Jam Heart Sandwich Biscuits
Episode 2 of The Great British Bake Off was Biscuit Week!
We saw the Bakers create an array of unusual flavours for the Signature Bake round where they made sandwich biscuits!
For the Technical Challenge, Paul Hollywood set the difficult and fiddly task of creating Fortune Cookies! One of the instructions was "to fold then seal using the edge of a glass" this even baffled me until I saw the method in action! Some of the contestants wowed with crisp, perfectly formed cookies with that signature "snap" sound before revealing the piece of paper hidden inside with the fortune written on. Others failed miserably with underbaked and weirdly folded cookies that didn't even resemble a fortune cookie!
The Showstopper round was to create a biscuit board game. There were a few snakes and ladders, a multi-game board with noughts and crosses and some brand new games made up by the bakers! I feel some of them went a bit overboard (haha..excuse the pun!!) and concentrated far too much on putting too much effort into designing the board with too much detail rather than keeping it simple to complete within the short timeframe they had to finish within!
Steven was crowned Star Baker a second week in a row! He clearly impressed the judges with the flavours he used in his signature bake and his chessboard game which needed Noels help to carry it to the judges table where it was deemed a mini masterpiece!
Chris was sent home before he could even make it to Bread Week! He said if it was bread or pastry he would have been fine as those seem to be his areas of expertise in the baking world!
So moving on to my creation for the bake long, I decided to go for the Signature Bake once again and create these cute little jam and buttercream heart sandwich biscuits!
These are the perfect accompaniment with a cuppa!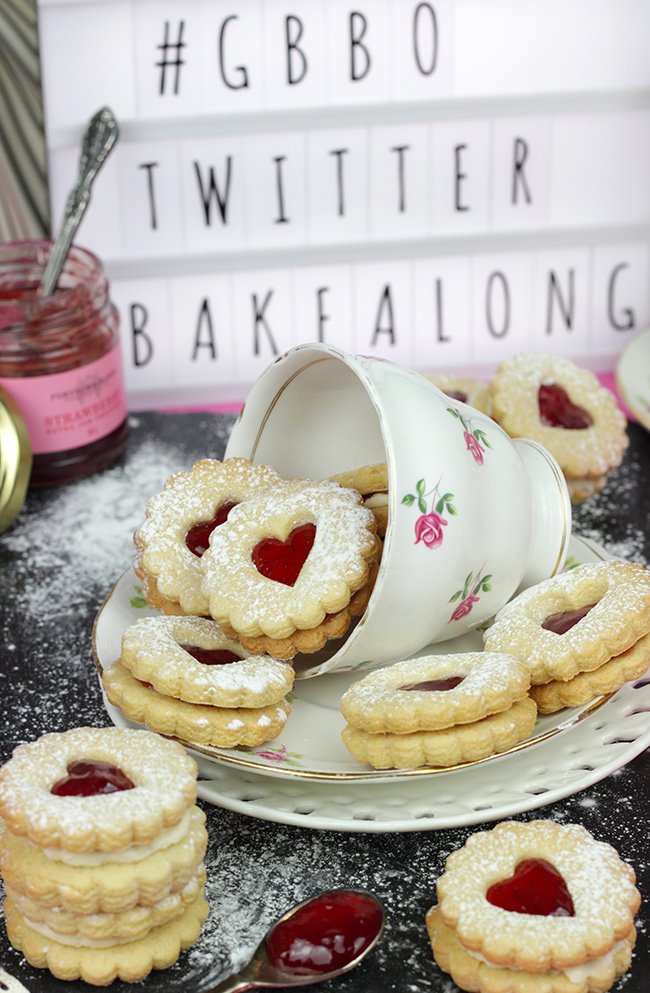 To make these, you will need:
Ingredients:
For the biscuits:
– 275g Plain Flour – plus extra to dust your work surface
– 1 tsp Baking Powder
– 100g Caster Sugar
– 75g Butter – diced
– 1 Large egg
– 2 Tbsp Golden Syrup
– 1/2 tsp Vanilla Extract
For the filling:
– 125g unsalted butter
– 250g icing sugar
– 1/2 tsp vanilla extract
– 1 tbsp boiling water
– Strawberry jam
* You will also need a rolling pin, a fluted cookie cutter and a small heart cutter plus icing sugar to dust over the biscuits.
Method
1) Preheat your oven to 180°C/160°C Fan/320°F/Gas Mark 4. Line 2 baking sheets with baking paper.
2) Place the dry ingredients into a bowl of a freestanding mixer with paddle attachment or use a large mixing bowl and handheld whisk; mix the dry ingredients together then add the butter and mix again until the mixture resembles fine breadcrumbs. Add the egg, golden syrup and vanilla extract & mix until well combined then it will all come together to form a ball of dough. Remove from the bowl and wrap in clingfilm. Place in the fridge to chill for half an hour.
3) Dust your work surface with a little plain flour and roll out the biscuit dough to about 3-4mm thickness. Use the fluted cookie cutter to cut out the rounds. Use the heart cutter to cut out hearts from the centres of half of the biscuits.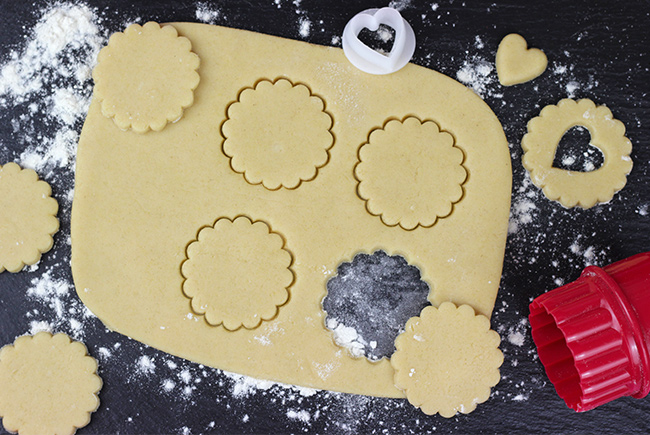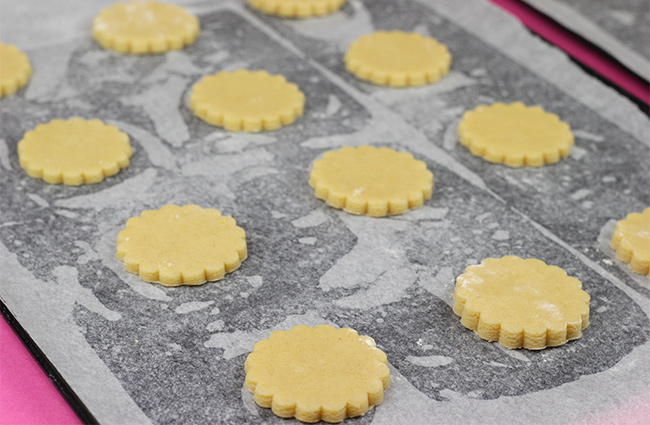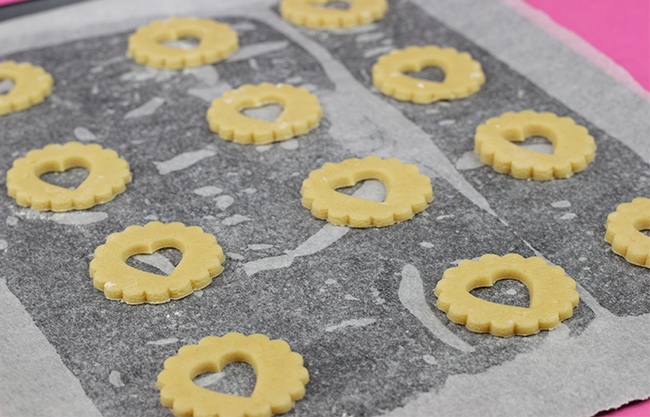 4) Place the biscuits on the prepared baking sheets and bake in the oven for about 7 minutes. These are quite small biscuits so they'll bake really quick! Keep an eye on them as they'll be ready when they are a lightly golden brown colour!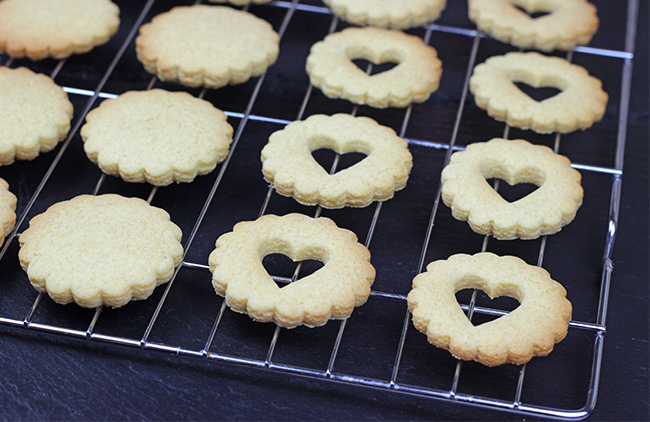 5) Transfer the biscuits to a cooling rack to cool completely.
6) Meanwhile, make the buttercream by placing the butter into a bowl of a freestanding mixer with paddle attachment or use a large mixing bowl and handheld whisk, cream the butter until smooth then add the icing sugar and tbsp of boiling water and mix well. Add the vanilla extract and mix until light and creamy. Spread a little buttercream on the plain biscuits then dollop a little spoonful of the jam on top of the buttercream then place the biscuits with the heart cutouts on top to sandwich together.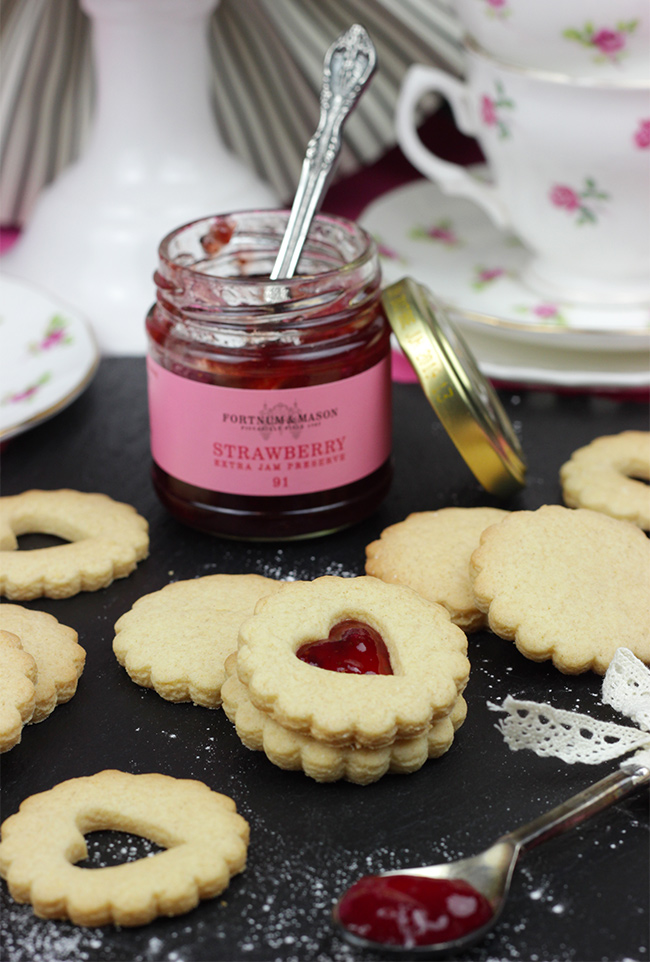 7) Dust icing sugar over the tops of the biscuits to finish! Serve and enjoy!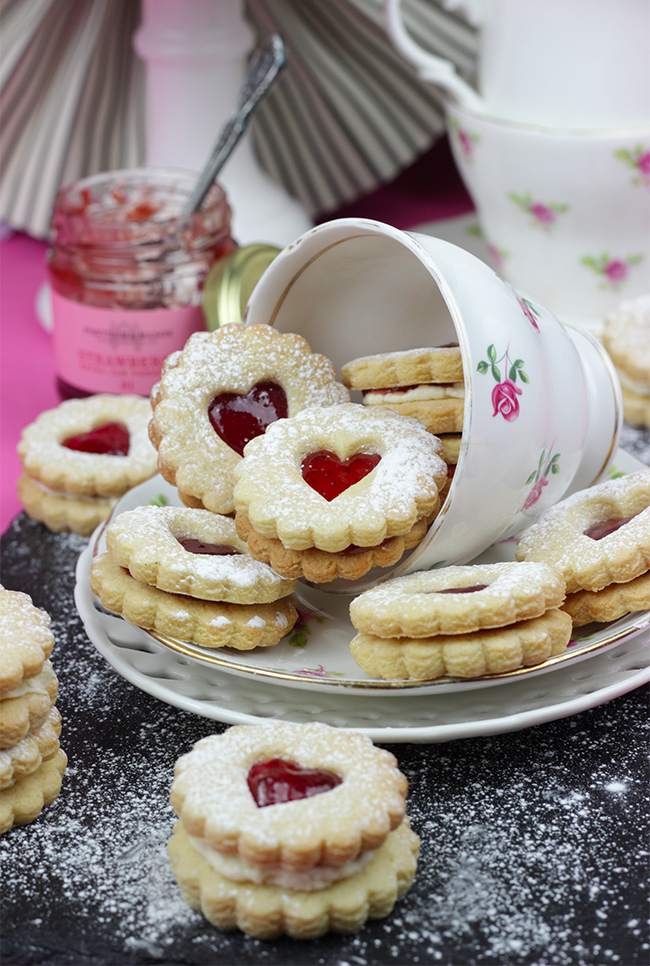 I hope you enjoy my series of GBBO Bake Along posts! Next week's Bake Off is Bread Week! I can't wait to see what the bakers create and have a go at baking some bread for my next recipe post!
Happy Baking!
Thirzah xoxo