GBBO Bake Along – Biscuit Week
Bake Off is back!
We finally got to see the 2018 GBBO contestants in action baking a variety of biscuits; from Regional Biscuits in the Signature round where we saw an array of delights ranging from hazelnut Cornish Shortbreads from this years youngest hopeful, Manon, to apple cider empire biscuits from Briony.
In the Technical round, the bakers were challenged to make Wagon Wheels, which brought back memories of childhood, eating these chocolate covered biscuits sandwiched together with a layer of marshmallow & jam filling!
For the Showstopper, they made a biscuit self portrait. Dan made a questionable portrait of him holding a swaddled baby; to which Kim-Joy raised a rude comment but Paul Hollywood suggested it resembled a massive prawn!
We soon said goodbye to Imelda, who seemed to get in a bit of a flap with her bakes and was the first to go. Manon shone through with her neat and tidy bakes and won Star Baker!
For my first GBBO Bake Along post, I decided to make some simple Ginger biscuits and added some crystallised ginger to add an extra spicy hit!
I wanted to make these as ginger biscuits were often given to me by my Mum when I was feeling a little nauseous or nervous about exams at school and I still reach for these now when I fancy something sweet yet a little spicy with a cuppa. Ginger is renowned to help with digestion so that's probably why they helped me through some stressful times.
I found this bag of crystallised ginger in the baking aisle of my local supermarket.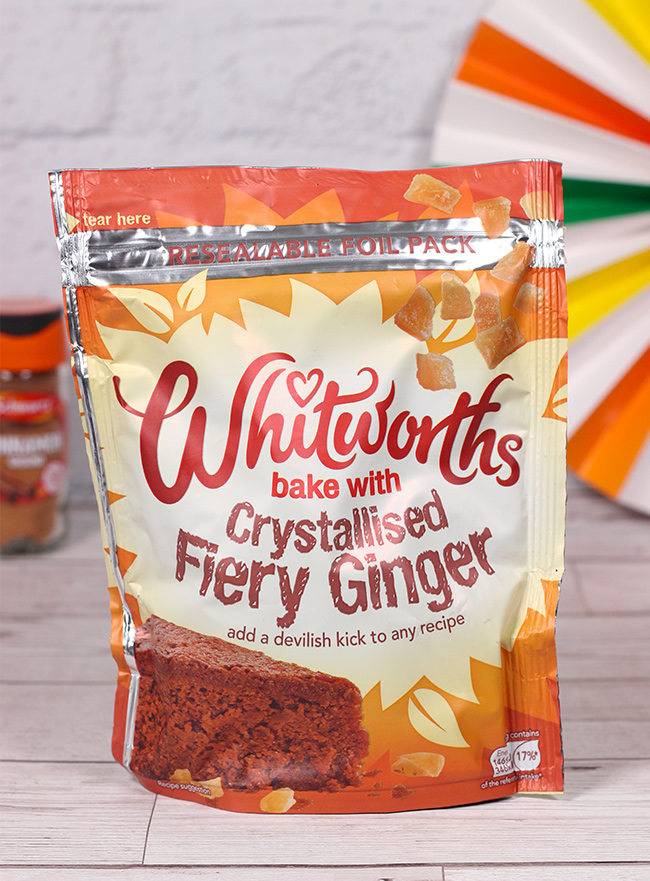 They're chopped quite finely, which is perfect for adding to cakes but for the biscuits; I decided to chop them a little smaller.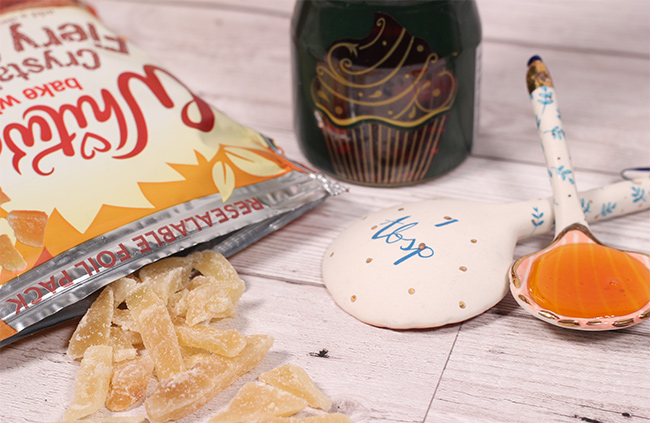 To Make these biscuits you will need:
Ingredients:
– 100g unsalted butter – I used Stork with butter
– 175g caster suger
– 1 large egg
– 1 and half teaspoons golden syrup
– 250g plain flour
– half a teaspoon bicarbonate of soda
– 2 teaspoons ground ginger
– 75g crystallised ginger
– 100g granulated sugar
Method:
1) Preheat your oven to 180°C/160°C Fan/320°F/Gas Mark 4. Line 2 baking sheets with baking paper.
2) Cream the butter and caster sugar together in a free-standing mixer fitted with the paddle attachment or use a large bowl with a hand whisk.
3) Add the egg and golden syrup and mix well. Scrape down the sides of the bowl using a spatula and mix again.
3) Add the flour, bicarbonate of soda and ground ginger and mix until well incorporated. Then mix in the crystallised ginger.
4) Roll into walnut sized balls then roll in the granulated sugar to coat.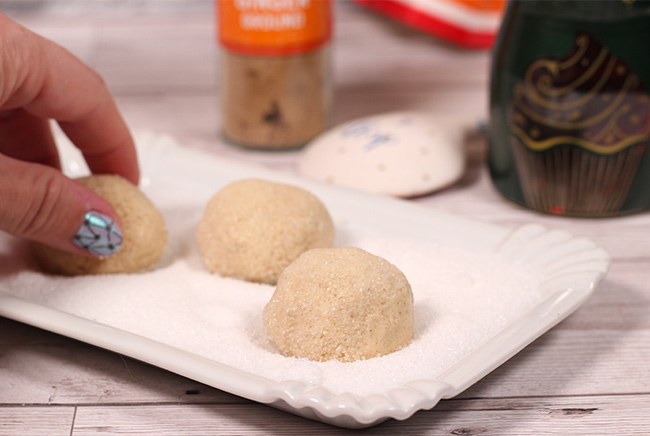 5) Place on the baking trays spaced well apart to allow room for them to spread without joining together.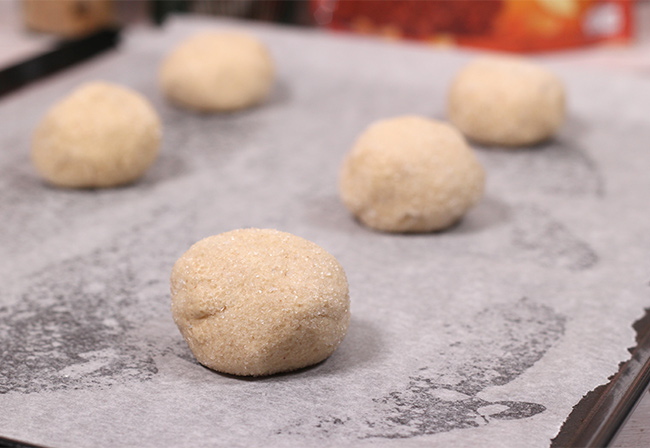 6) Bake in the oven for 10-15 minutes until lightly golden, remove from the oven and allow to cool on the baking sheets then move them to a wire rack to cool completely.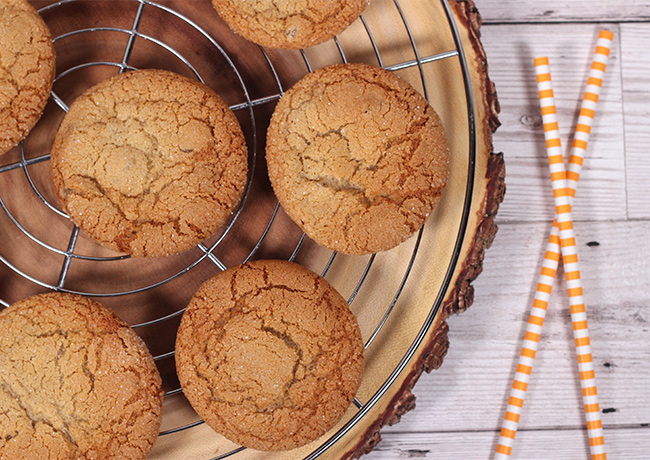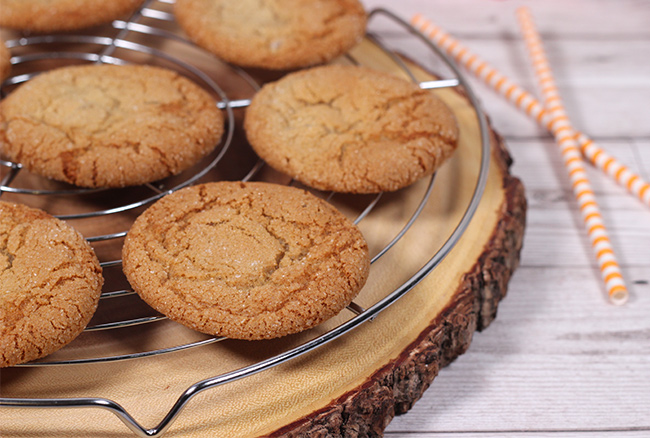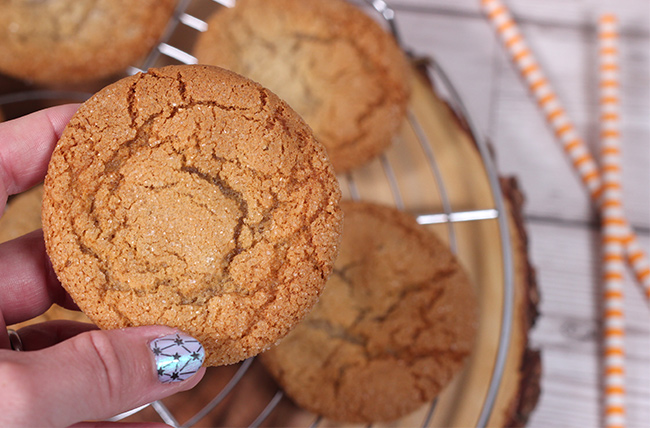 I'm so pleased with how these turned out with that signature cracked surface on top of the biscuits!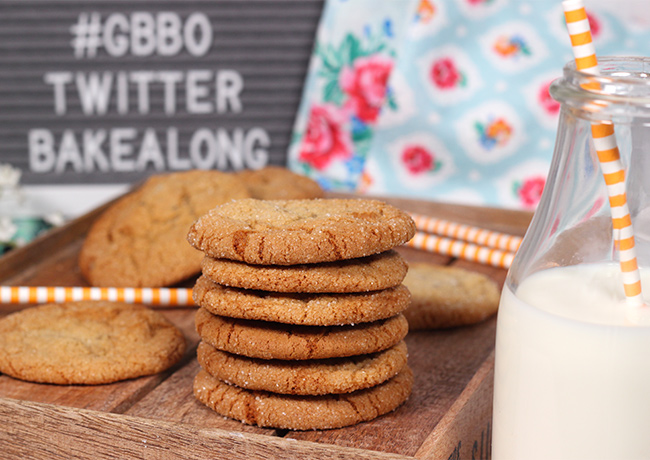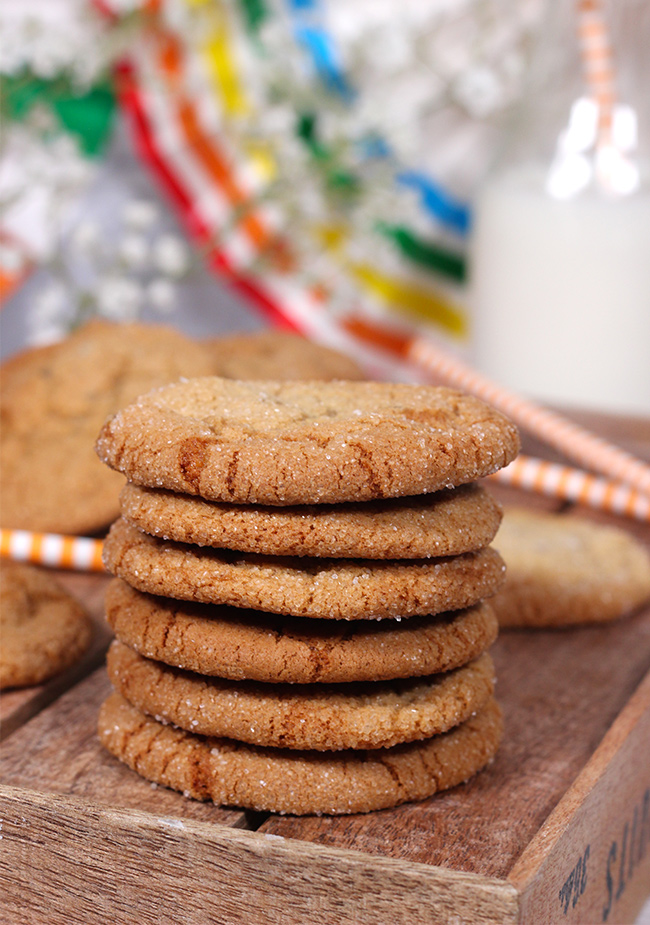 They certainly got the thumbs up with friends and family!
Next week is Cake Week! I can't wait to see what the baker's create in the next episode!
Who is your favourite baker so far in series 9? Please let me know in the comments below!
Also let me know if you have a go at making this recipe! I'd love to see how your bakes turned out!
Happy Baking!
Thirzah xoxo