Chocolate Orange Cupcakes
There are so many flavours that you can combine with chocolate! A few of my favourites are mint chocolate, which are great in ice-cream, after eights (yum!) & mint aero (bubbly yum!), chocolate strawberries, chocolate & raspberry – you name it, it's most likely been done!
One of my most recent faves is chocolate orange – I don't often reach for a Terry's chocolate orange, but I rekindled my love for it recently when I made this chocolate overload drip cake and one of the treats included was that citrusy, chocolatey delight!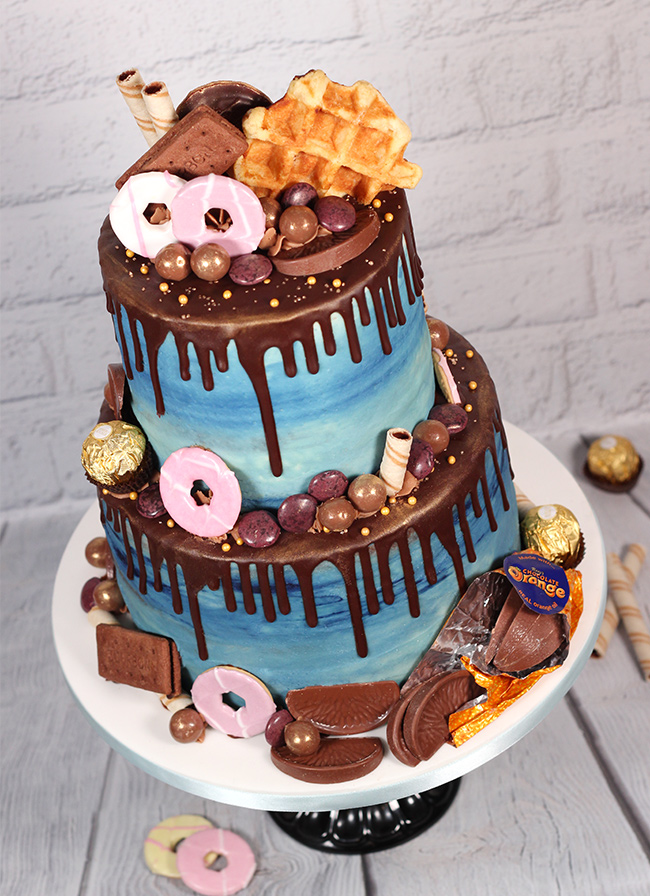 Naturally, there were left over's, some of which I enjoyed,  but I decided to save a few segments to decorate a batch of chocolate orange cupcakes!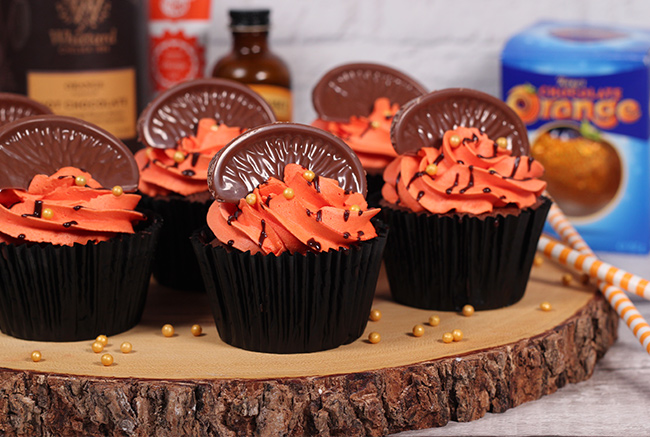 The other chocolate orange concoction that I've relished over the winter months is Whittard's orange flavour hot chocolate.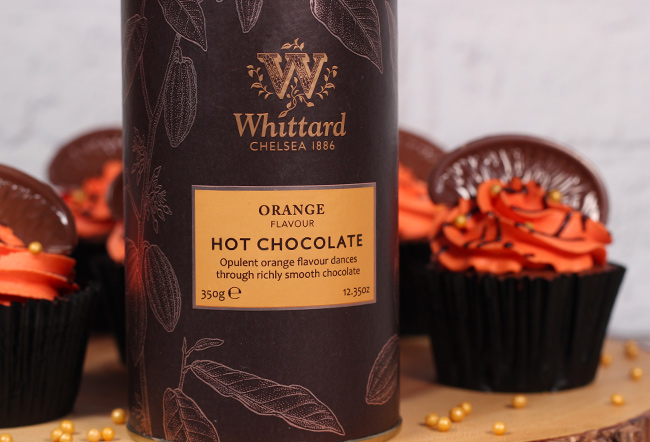 I picked up a tin along with raspberry ripple when I popped to the Covent Garden branch. I've been meaning to use them in baking recipes for a while now, so this seemed like the perfect opportunity to whip of some yummy cupcakes using these along with some orange extract from Nielsen-Massey.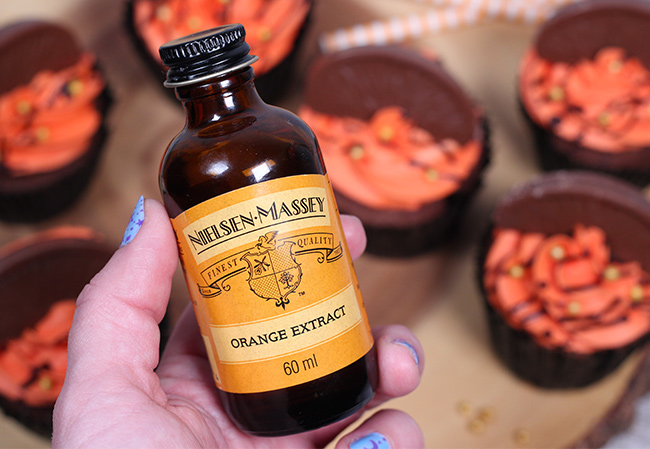 Nielsen-Massey have been my go to brand for extracts to use in all my baking for years – these flavourings are top quality and range from vanilla to peppermint!
To whip up a batch of these scrummy cupcakes, you will need:
Ingredients:
For the cupcakes
– 150g unsalted butter – I used Stork with butter
– 150g Caster Sugar
– 3 Large free-range eggs
– 120g Self-Raising Flour
– 30g Whittard orange hot chocolate powder
– 2 tsp Orange Extract
For the Buttercream:
– 250g Unsalted block butter – at room temperature
– 500g Icing Sugar
– 2-4 tbsp boiling water
– 1 tsp Orange Extract
– Orange Food Colouring
For the Decoration
– 1 Terry's Chocolate Orange
– 75g Dark Chocolate – melted
– Gold Sprinkles
Method
1) Preheat your oven to 160°C/320°F/Gas Mark 3. Line a 12 hole muffin tin with cupcake cases.
2) In a freestanding mixer fitted with a paddle attachment or large bowl with a handheld whisk, beat the butter and sugar together until light and fluffy.
3) Add the eggs and mix, then add the flour and orange hot chocolate and mix until well combined.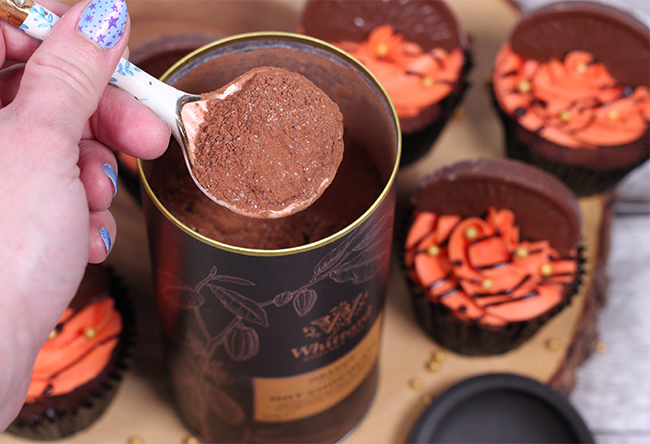 4) Add the orange extract and give it one final mix.
5) Using an ice cream scoop, spoon the mix into the cupcake cases. Pop in the oven for 20 minutes until they are well risen. Remove from the oven and allow to cool in the tin a little before transferring to a wire cooling rack.
6) Meanwhile, make the buttercream by beating the butter until light and creamy. Gradually add the icing sugar, mixing well between each addition, add some boiling water to soften then add in the orange extract. Sometimes, you may need a lttle more boiling water, I find this makes the buttercream a little softer & smoother which makes piping the buttercream swirls so much easier. Finally, add the orange food colouring until you reach the desired orange tone.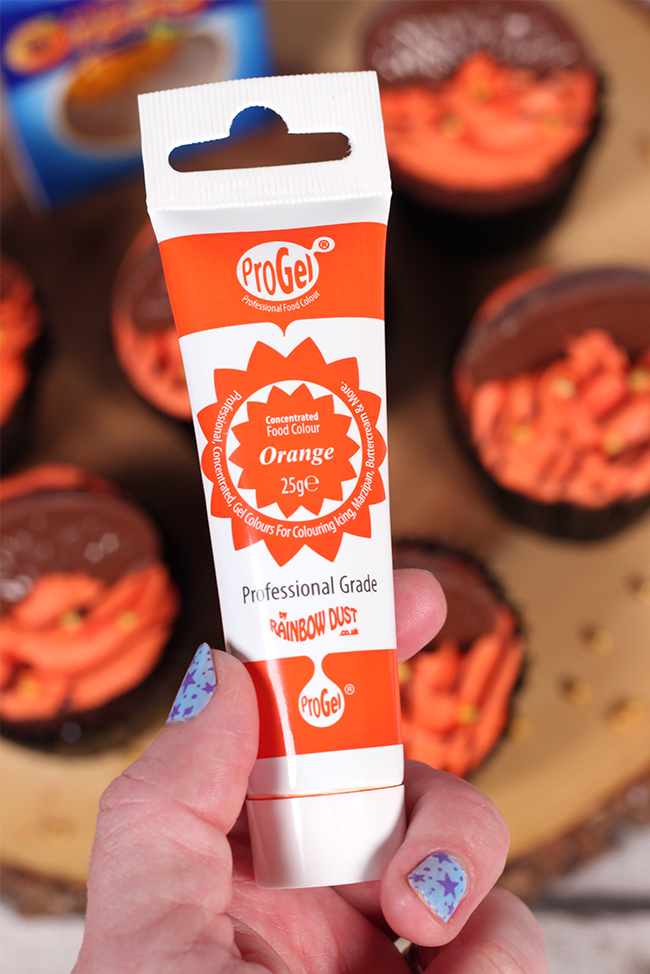 7) Pop the buttercream into a large piping bag fitted with a large star nozzle, pipe swirls from the outside edge of the cupcakes and towards the middle to form a point.
8) Melt the chocolate and drizzle over the buttercream. Shower with gold sprinkles and add a segment of Terry's chocolate orange on top of each cupcake.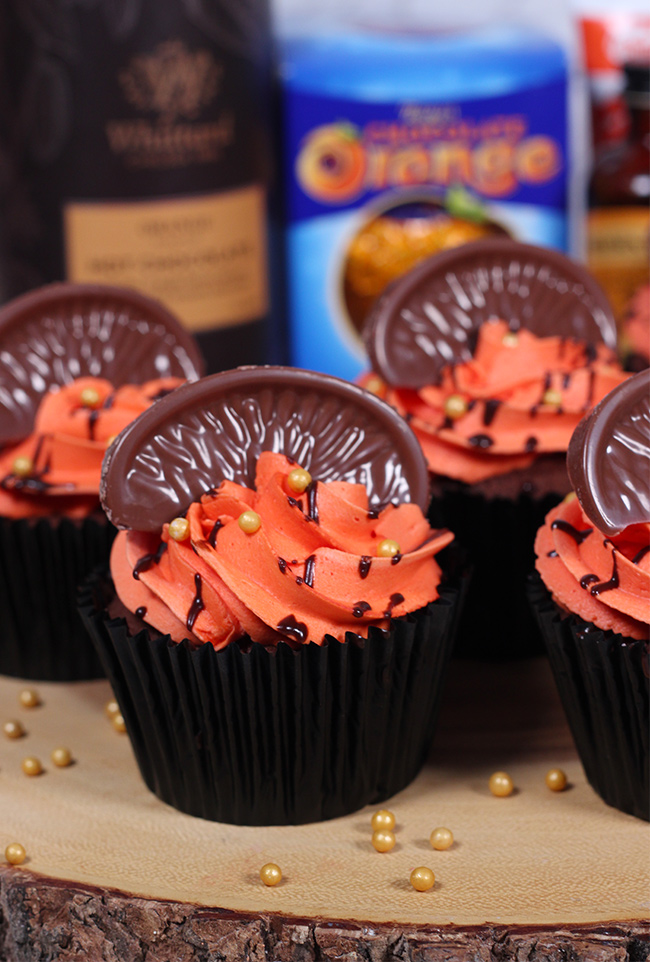 Serve and Enjoy!
These are perfect served with a nice cuppa!
If you want to see more recipes like this, using popular treats; please let me know what you'd like to see in the comments below!
Happy Baking!
Thirzah xoxo