As winter sets in, I always get a craving for desserts that I can serve with custard! So last week I made these yummy little apple crumble pies.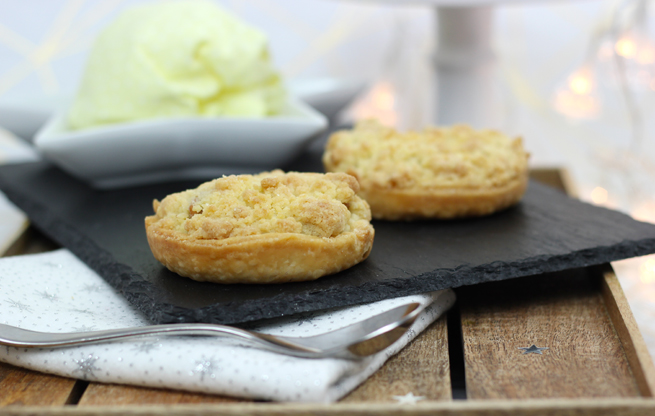 I love apple pie and I love crumble. I wanted to encase spiced apples with a short crust pastry base and finish with a crumble topping, it's the best of both worlds and they are so easy to make! I baked mine in a six hole pie tray an they make perfect individual little pie desserts.
Here is the recipe if you want to have a go at making them:
Ingredients (makes 6 little pies)
Ready to roll shortcrust pastry – I used shop bought, but you can make from scratch if you like, there is a recipe here
For the filling, you will need:
2-3 apples, peeled, cored and sliced – I used pink lady apples, but you can use whatever apples you prefer.
1/4 cup plain flour
1/2 cup sugar
1 tsp ground cinnamon
For the crumble topping:
1/3 cup granulated sugar
1 cup plain flour
4 oz butter at room temperature
Method:
1. Preheat your oven to 160°C/325°F/gas mark 3
2.Pop the peeled and slice apples in a bowl along with the sugar and ground cinnamon. Stir thoroughly to make sure all the apple slices are coated.
3. Roll out your pie crust and use a circular cutter to make rounds big enough to fit your pie moulds or tray. My pie tray cavities are 4 inches so I use a cutter that is bigger so I can press the pastry up the sides. Use a fork to make little holes in the base of the pastry cases and chill in the fridge.
4. While the pastry in chilling in the fridge, you can make the crumble topping. Place the sugar and flour in a bowl and mix together. Add the soft butter and use a fork or pastry blender to combine until you have a crumbly, lumpy mixture.
5. Take the pastry bases out of the fridge and add the apple filling, top each pie with the crumble topping until the apples are well covered (I like a lot of crumble topping! So they end up like little crumble mountains on top!)
6. Bake in the preheated oven for about 20 minutes until the top is a lovely golden colour.
I love these served with lashings of custard but they would also be delicious served with a scoop of vanilla ice cream!
You can reheat them in the oven if you make a bigger batch, for just 10 minutes until they are heated through. They taste just as good, if not better, the day after they are made and last up to a week if kept refrigerated.
They are so yummy, I'm sure you can make them any size you want, as small as these mini mince pies or you could up the quantity of apples and make one large crumble pie!
I'm linking this lovely crumble pie to the Pastry Challenge hosted by Lisa from United Cakedom & Jen from Jen's Food