Dessert week saw the bakers return to the tent to create an array of delights ranging from a roulade for the Signature round where they had to create the perfect swirl when it was rolled.
For the Technical challenge; they made a retro dessert which has the most confusing spelling – Blancmange. (which is actually pronounced blamange!!) For this, they whipped up a pretty pink raspberry and almond version served alongside chocolate dipped langues de chat biscuits (aka – cat's tongues). Though some of them turned out flatter as they melted when released from the pretty Bundt tins and we heard a lot of "ooh thats lost the definition" from the judges.
For the Show stopper; they created desserts presented within a chocolate sphere that melts when a hot sauce is poured over it to reveal the dessert hidden inside! Some of the baker's had a nightmare creating their spheres from white chocolate; white chocolate is so much more challenging to work with as it's more unstable. Plus creating chocolate spheres in the heat of the tent didn't really do them any favours either! I loved Kim-Joy's space turtles offering and Karen's was pretty artistic adding decorations and cutting holes in her sphere and Manon's was so elegant! Paul Hollywood was surprised by Ruby's comment, saying she has enjoyed a melting sphere dessert when out with the girls at a restaurant! (Seriously Paul…where have you been?!)
This weeks Star Baker was Dan and because Terry was off sick this week – none of the Baker's went home! (I know right?! Plot twist!)
Though this could mean we say goodbye to 2 of the Baker's in next week's episode!
This week I decided to give the Signature bake a go and made a roulade.
One of my favourite desserts is Eton Mess and I also love chocolate & raspberry pavlova so I decided to go for a meringue based roulade filled with strawberries and raspberries and topped with fresh cream swirls and chocolate dipped strawberries!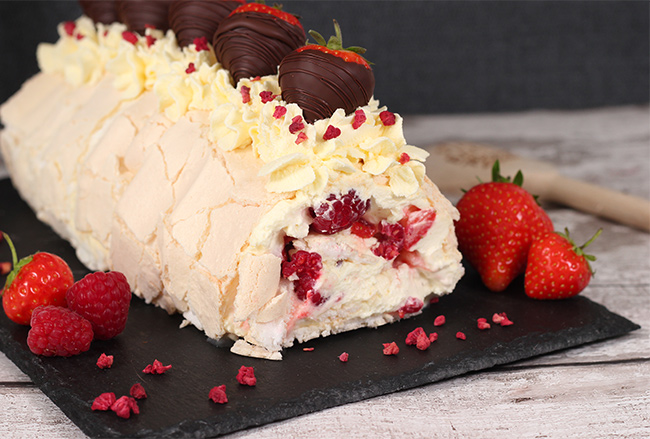 To make this, you will need:
Ingredients:
– 4 large eggs whites (I use two-chicks liquid egg whites)
– 225g Caster sugar
– 1 tsp cornflour
– 1 tsp white wine vinegar
– pinch of salt
For the filling:
– 200g strawberries-chopped, plus 5 strawberries left whole
– 100 g raspberries
– 1 tbsp icing sugar
– 600ml double cream
– 100g dark chocolate
– freeze dried raspberries to decorate
Method:
1) Preheat the oven to 160°C/140°C Fan/Gas Mark 3. Line a 23 x 33cm swiss roll tin with baking paper.
2) Using a freestanding mixer fitted with a whisk attachment or a hand held whisk, whip the egg whites until they form stiff peaks. Gradually add the caster sugar a spoonful at a time beating well between additions until the mixture is stiff and glossy. Beat in the cornflour and white wine vinegar and pinch of salt.
3) Spread the mixture into the tin and bake in the oven for 25 minutes until lightly golden then remove from the oven and cool in the tin.
4) Place a sheet of baking paper that is longer than the roulade and place on top of the meringue. Flip over and remove the baking paper from the bottom.
5) Mix the chopped strawberries with the icing sugar. Whip the cream until thick and billowy. Spread half the cream onto the meringue leaving about 5 cm's at one end.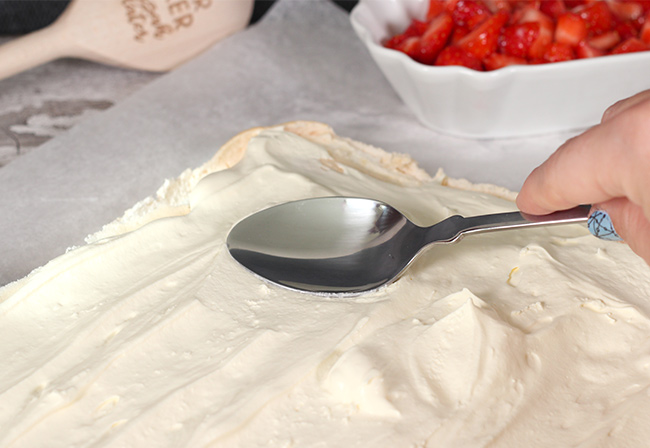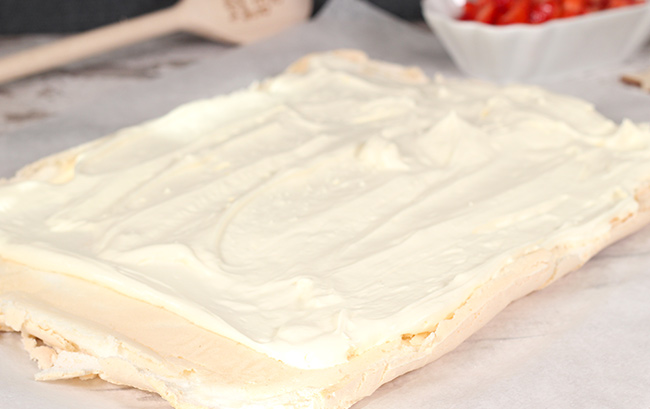 6) Scatter over the chopped strawberries and raspberries.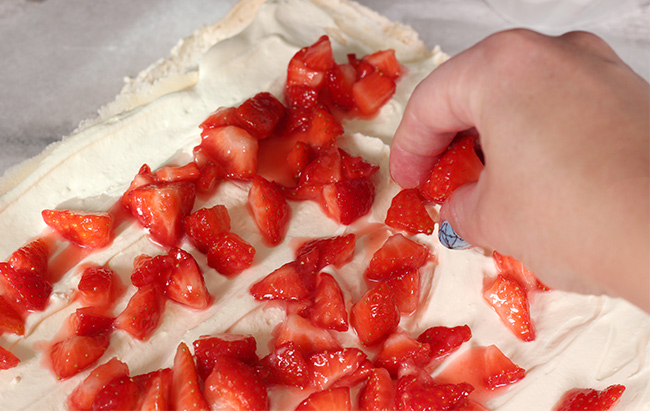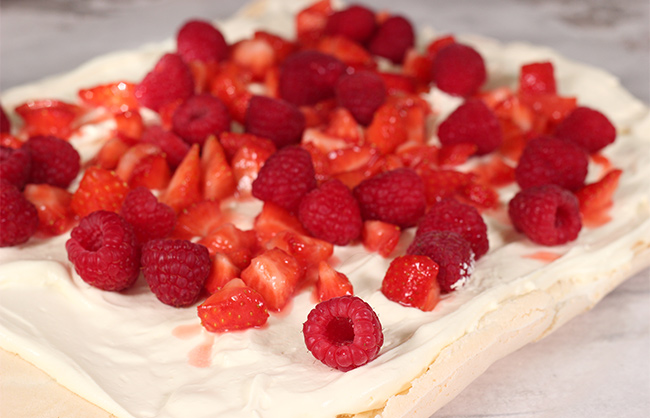 7) Carefully roll the meringue using the baking paper to help you until it forms a Swiss roll shape. Place in the fridge to chill.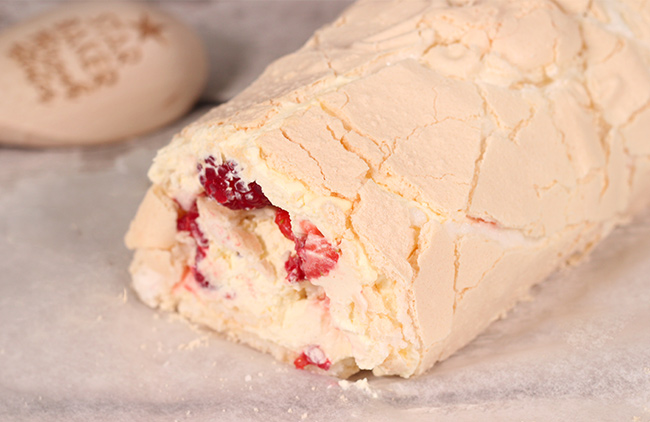 8) Melt the dark chocolate, dip the strawberries and place on some baking paper on a plate. Place in the freezer to set – then you can drizzle with additional chocolate to decorate.
9) Place the remaining whipped cream in a piping bag fitted with a star nozzle and pipe swirls down the centre of the roulade. arrange the chocolate dipped strawberries on top and sprinkle over the freeze dried raspberries.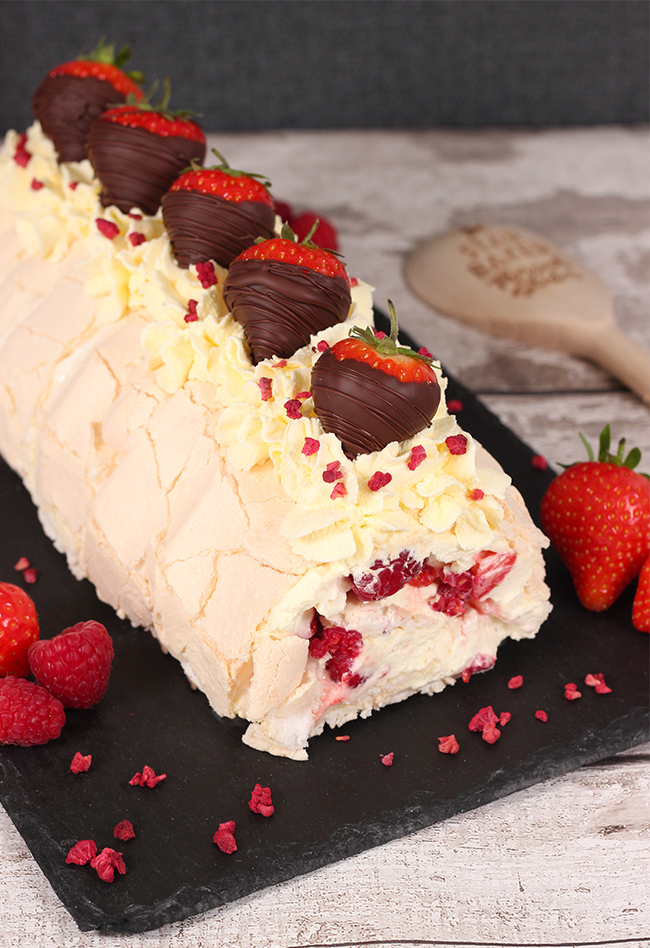 Serve and enjoy!
This is such a light and delicious dessert and looks like a real showstopper when decorated!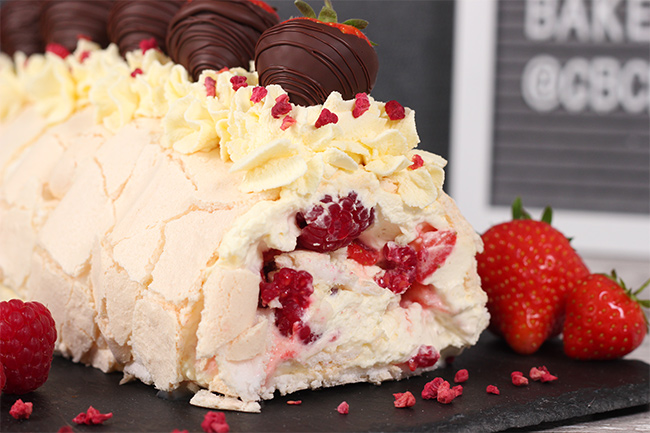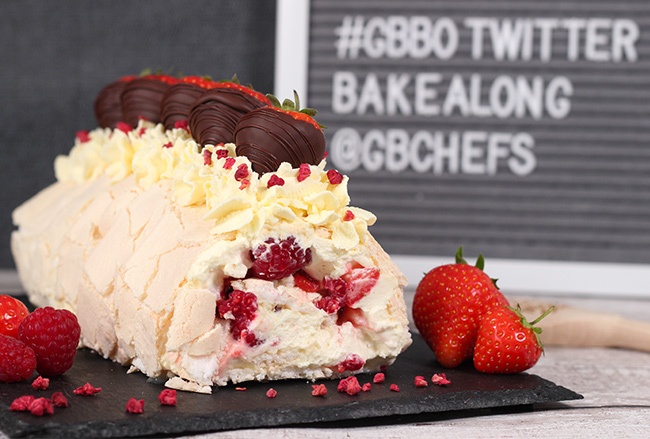 Next week's episode is Spice Week! I can't wait to see what cakes and bakes the contestants whip up!
Happy Baking!
Thirzah xoxo