Whenever I make my cake creations, I tend to be left with off cuts after levelling my cakes before I fill, buttercream and ice them! These are great to enjoy as a lil left over bakers treat sandwiched with a little jam and buttercream or even served with custard to make a warming winter dessert (plus I've obviously got to taste test all my cakes before they get decorated and leave the kitchen!!)
I felt inspired, this week though, to make something more creative with some off cuts left over from my latest cake order. With Christmas cheer in the air, I decided to whip up these tasty little chocolate pudding pops which would be perfect to take along to any festive gatherings!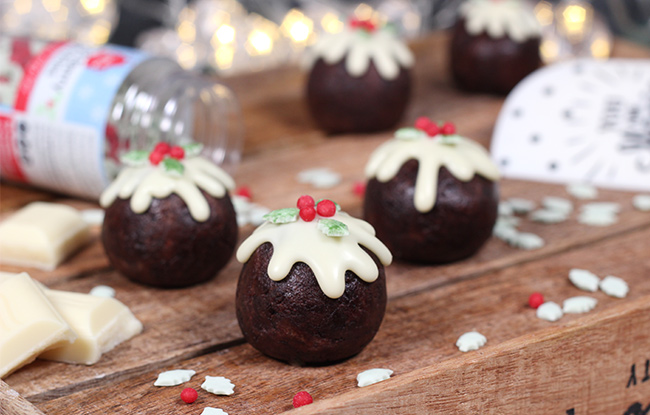 I used my favourite chocolate cake recipe to make these!
If you want to give them a go; you will need the following:
ingredients:
For the cake:
50g (2oz) sifted cocoa powder
90ml boiling water
3 large eggs
50ml (2fl oz) milk
175g (6oz) self-raising flour
1 rounded teaspoon baking powder
100g (4oz) softened butter
275g (10oz) caster sugar
For the Buttercream:
250g unsalted butter, softened to room temperature
500g icing sugar
4oz dark chocolate
For the topping and decoration:
200g White chocolate
Holly & berry sprinkles
Method:
For the cake:
1. Pre-heat the oven to 180°C/Fan 160°C/Gas Mark 4. Grease a large, rectangular baking tin with non-stick cooking spray or butter, then line the base and sides of the tin with baking parchment.
2. Blend the cocoa and boiling water in a large bowl then add the remaining cake ingredients and beat until the mixture has become a smooth, thickish batter. Pour the mixture into your prepared tin.
3. Bake in the pre-heated oven for about 25–40 minutes or until well risen and a skewer inserted comes out clean. Leave to cool in the tin for a few minutes then turn out, peel off the parchment and finish cooling on a wire rack.
4. Make the buttercream by creaming the butter in a free standing mixer fitted with a paddle attachment or in a large bowl using an electric hand whisk until light and fluffy. Gradually add the icing sugar and mix in between each addition (you don't want to add the icing sugar all at once as this can create a huge mess and icing sugar dust clouds!!)
5. Melt the dark chocolate in a microwave for about 20 seconds or place in a heatproof bowl on top of a pan of simmering water. Add this to the buttercream mixture and set aside.
6. Once the cake is cooled, break up into finer crumbs.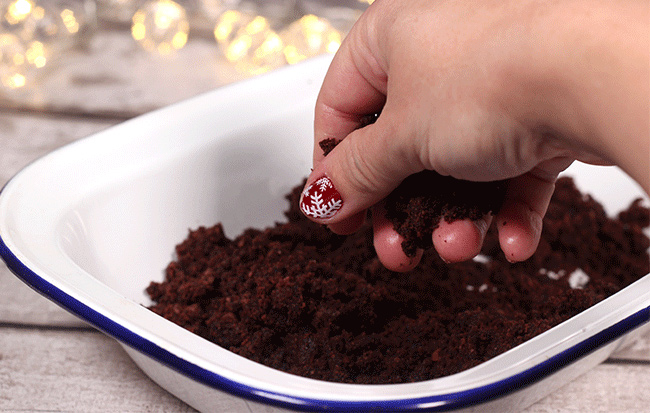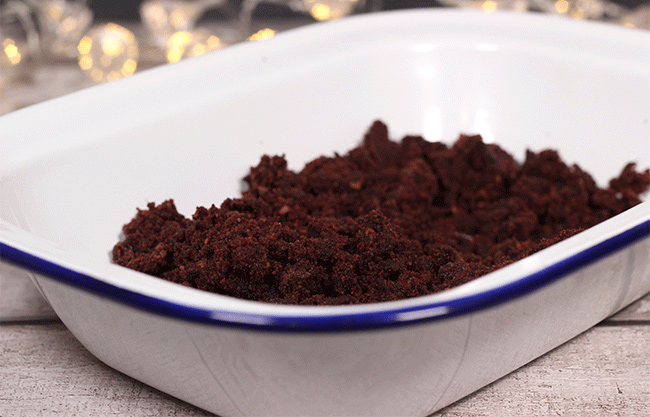 7. Add the buttercream and mixed until it forms a ball that's dough like.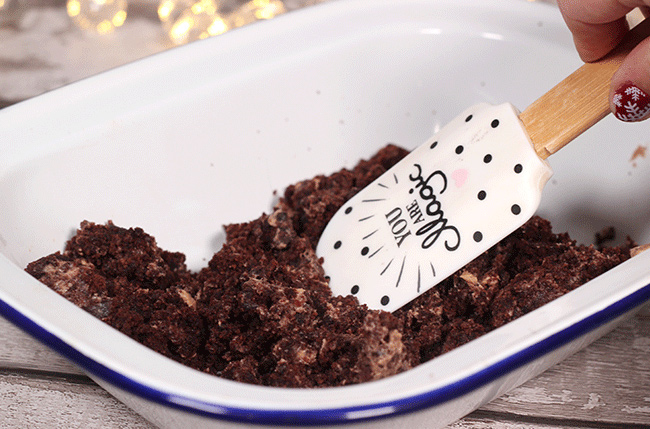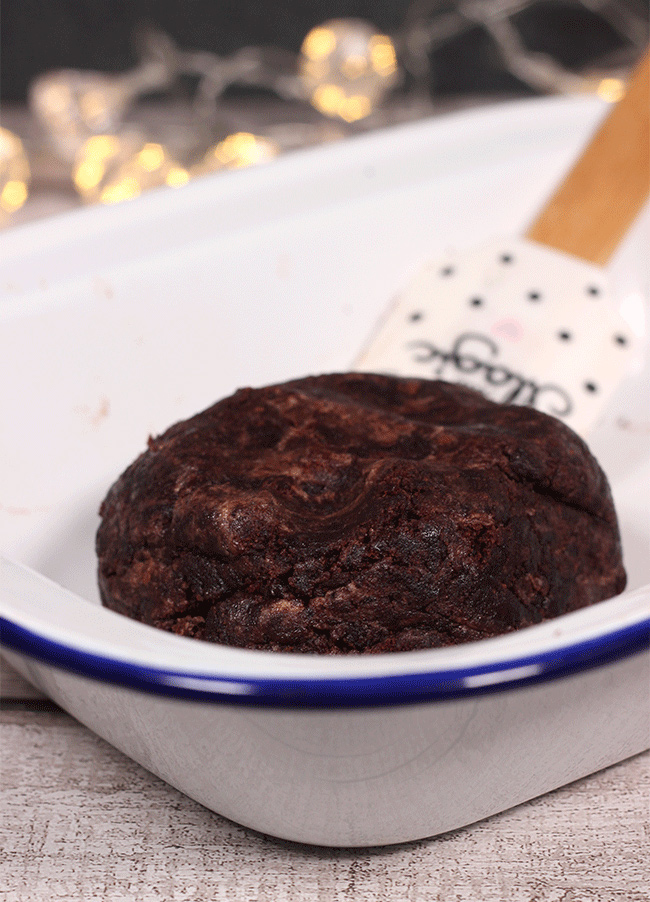 8. Break off golf sized pieces and roll into rounded balls. Place in the fridge to chill for about 10 – 15 minutes.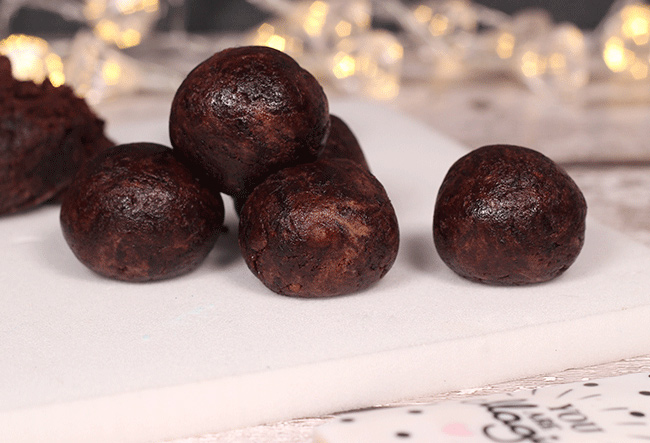 9. Meanwhile, melt the white chocolate in the microwave in 10 seconds intervals or in a heat proof bowl set over a pan of simmering water. Poor into a squeezy bottle and leave on the side a cool a little so it's not so runny. Remove the chocolate pops from the fridge and drizzle the white chocolate on top of each one.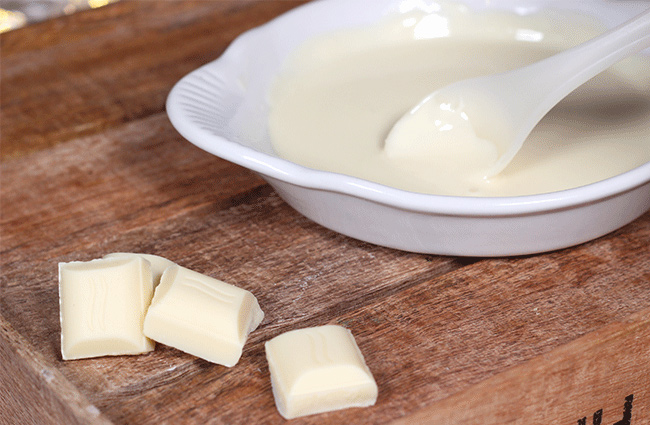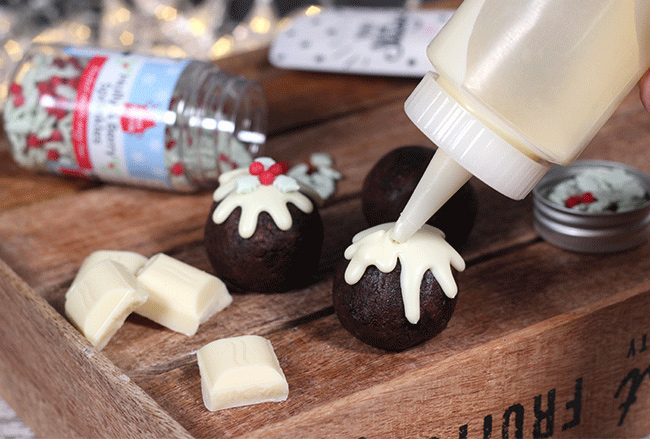 10. Decorate with the holly and berry sprinkles.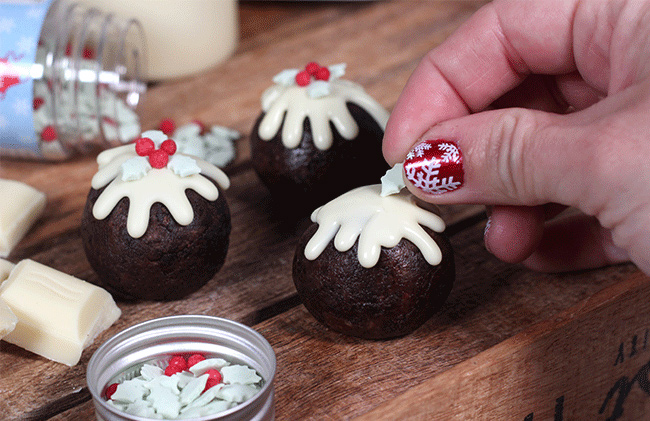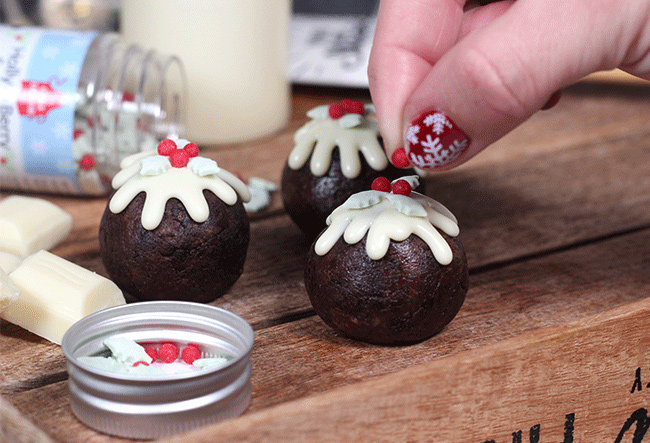 11. I used a little green food colouring to paint the holly leaves a darker shade of green so they stood out more.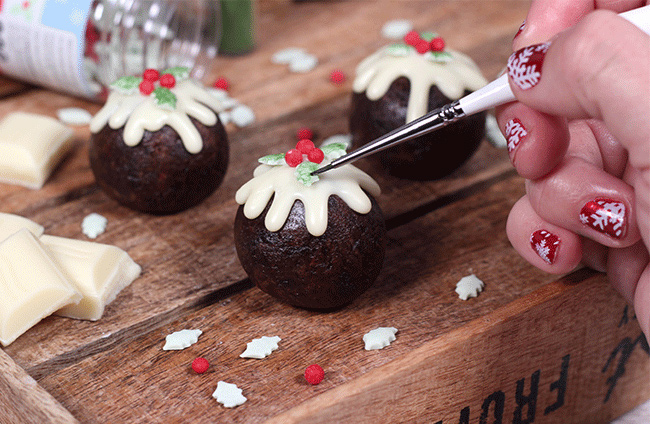 12. Leave to set then serve and enjoy!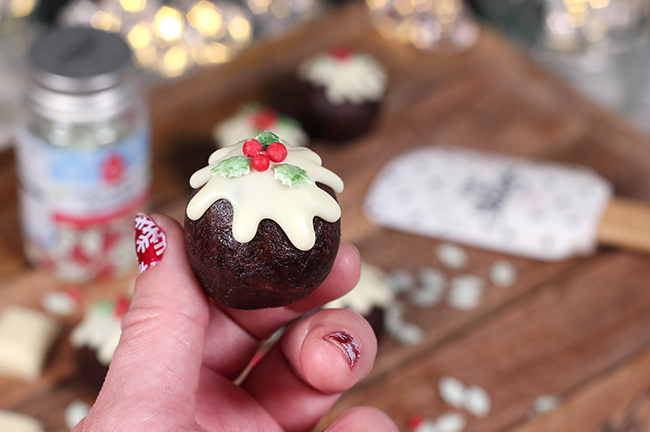 These would also make the perfect edible gift packaged in cute, festive boxes or pretty cellophane bags tied with ribbon!
If you want more ideas for edible gifts for Christmas, why not check out these easy Christmas desserts?
I hope you enjoy this tutorial!
Happy Baking!
Thirzah xoxo