I love a good blondie and wanted to make some with the addition of Jammy Dodgers! With their little jam filled heart design, they'd be perfect for Valentines Day!
Then I had a brainwave…why not make the whole blondie heart shaped?! I dug out my heart-shaped, silicone baking pan and got to work on creating this yummy treat!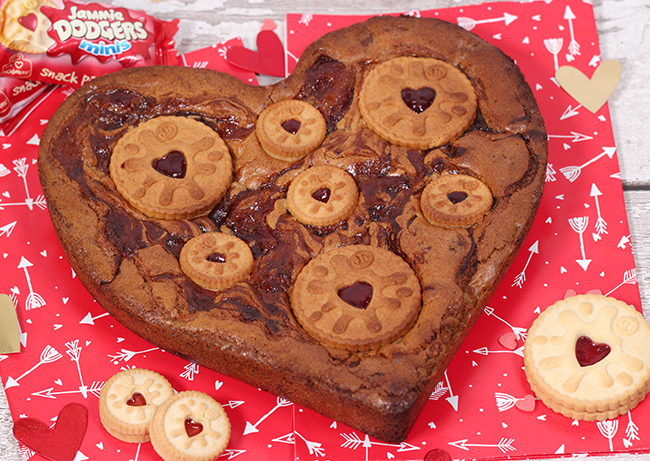 To add to the Bakewell element, I added some almond extract, this gives them that classic flavour when paired with the jam…delicious!
To make these, you will need:
Ingredients
– 115g Unsalted Butter
– 225g Light brown soft sugar
– 1 Large Free Range Egg
– 1 Teaspoon Vanilla Extract
– ½ Teaspoon Almond Extract
– 125g Plain Flour
– 200g White chocolate chips or white chocolate – chopped
– 75g Strawberry jam
– Jammy Dodgers – I used 3 regular sized biscuits and 4 mini biscuits
Method
1. Preheat the oven to 160°C/350°F/Gas Mark 3. Spray an 8 inch baking tin (heart shaped or square if you just want to make a regular shaped bake!) and if it's not silicone, line with baking paper.
2. Melt the butter in a small bowl in the microwave or a pan set over a pan of simmering water. Place the sugar in a large bowl of a free standing mixer fitted with the paddle attachment or using a hand held whisk, mix in the melted butter.
3. Add the egg, mix well. Add the vanilla & almond extracts to the bowl give a good mix until well combined. Scrape down the sides of the bowl using a spatula. Add the flour and white chocolate chips and give a good final mix until all the ingredients are fully incorporated.
4. Spoon the batter into the cake pan and spread to the egdes using a spatula. Use a teaspoon to dollop the strawberry jam over to the top and use a skewer or small knife to swirl the jam around. Press the Jammy Dodger biscuits into the surface of the blondie and pop in the oven to bake for 35 – 45 minutes until the top is lightly golden brown and when a skewer is inserted it should come out with a few crumbs attached to it. You want there to be the promise of a slightly gooey centre (pretty much like a chocolate brownie).
5. Remove from the oven and leave to cool completely in the baking pan then turn out and slice into squares.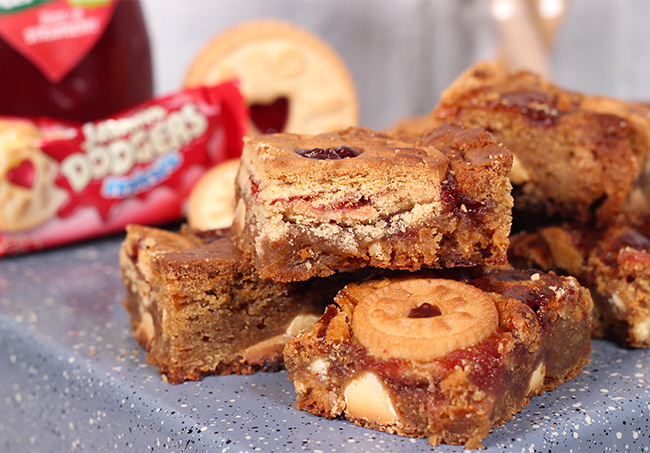 I love these because they pretty much take elements from a good cookie mixed with a brownie.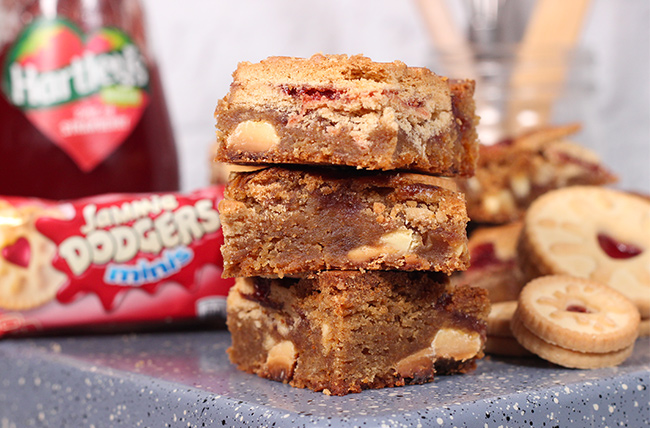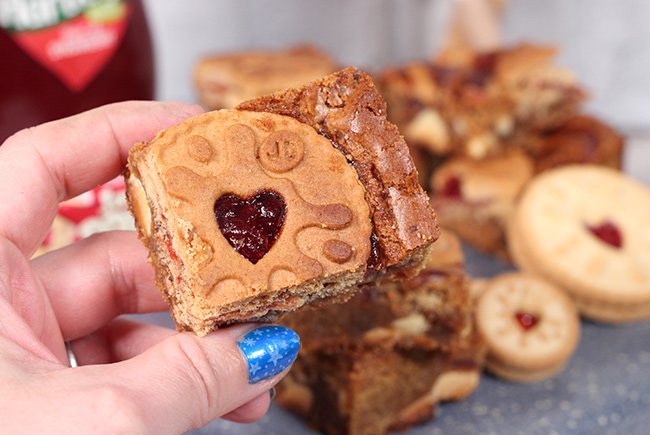 Ever so slightly fudgy in the middle with a crisp top and additional crunch from the chocolate chips and biscuits!
I hope you enjoy this recipe.
Happy Baking!
Thirzah xoxo