Pancake Day has to be one of my favourite seasonal food days! Though it usually turns into pancake week as I love to try out different pancake toppings!
I usually opt for some yummy Nutella, chopped strawberries and a sprinkling of toasted, chopped hazelnuts or the classic lemon and sugar. Today, however, I melted some dark chocolate and topped my pancakes with some cream and chocolate drizzled over the top…yum!
I had some leftover batter (shock horror!) so decided to make some mini pancakes that I could stack on top of cupcakes! How cute?!
It's a great lil treat for those people who aren't the biggest fan of pancakes (yes…that's right, some people don't like pancakes and I know a couple of people who aren't fans). These would be perfect to serve at a pancake party so they can still enjoy a sweet treat!
To make these you will need a yummy cupcake recipe, so I opted for a plain vanilla cupcake with a light chocolate buttercream!
This recipe make 12 cupcakes
Ingredients:
– 150g Unsalted butter – I used Stork with butter
– 150g light brown soft sugar
– 150g Self- Raising Flour
– 3 large free-range eggs
– 1 tsp vanilla extract
For the Buttercream:
– 250g unsalted block butter – cubed
– 500g icing sugar
– 75g dark chocolate – melted
For the mini pancakes:
– 125g plain flour
– 250ml milk
– 1 large free-range egg
Method
1) Preheat your oven to 160°C/320°F/Gas Mark 3. Line a 12 hole muffin tin with cupcake cases.
2) Make the pancake batter by placing all the ingredients in a jug and whisk until it forms a smooth batter. Cover and place in the fridge to chill.
3) In a freestanding mixer fitted with a paddle attachment or large bowl with a handheld whisk, beat the butter and sugar together until light and fluffy. Add the eggs one at a time, mixing well between each addition.
4) Add the flour and mix well then add the vanilla extract and give it one final mix.
5) Using an ice cream scoop, spoon the mix into the cupcake cases. Pop in the oven for 20 minutes until they are well risen. Remove from the oven and allow to cool in the tin a little before transferring to a wire cooling rack.
6) Meanwhile, make the buttercream by beating the butter until light and creamy. Gradually add the icing sugar, mixing well between each addition, add some boiling water to soften then add in the melted chocolate and give it a good mix until the buttercream is smooth. Sometimes, you may need a lttle more boiling water, I find this makes the buttercream a little softer & smoother which makes piping the buttercream swirls so much easier. Place the buttercream into a large piping bag fitted with a large star or fine tooth star nozzle.
7) Heat a frying pan over a high heat, then lower the temperature to medium and pour small rounds of pancake batter into the pan, cook for a minute or 2 then, using a small metal spatula, flip them over and cook for a minute or 2 on the other side. Remove the pancakes and place on a wire cooling rack, then make a few stacks of five pancakes and set aside.
8) Once the cupcakes are cool, pipe swirls of buttercream on top and decorate with the mini pancake stacks.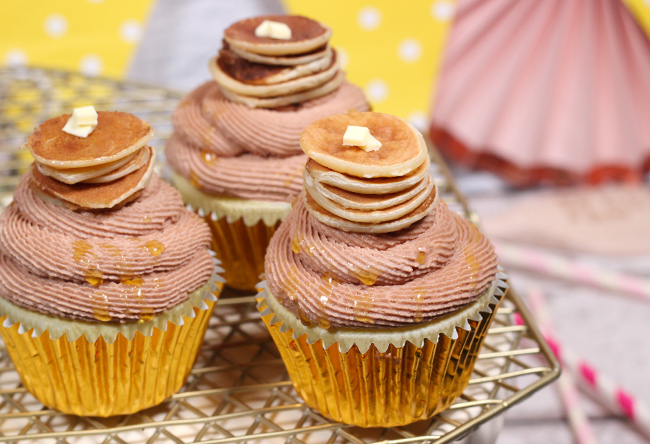 You can now have some fun adding additional toppings to your mini pancakes! I drizzled over a little maple syrup and topped with mini cubes of butter!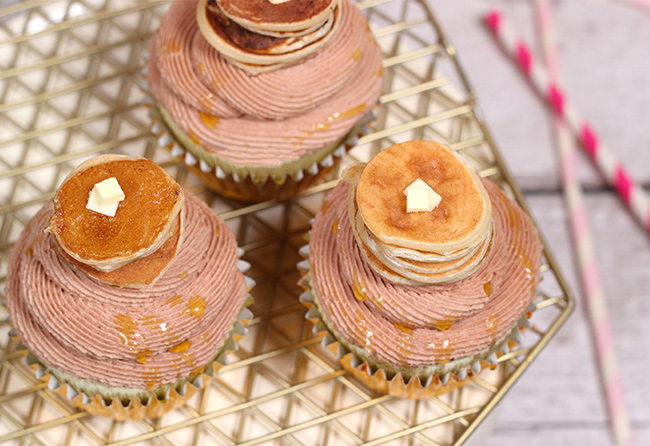 You could stack them with layers of Nutella in between, add banana or a couple of blueberries on the side or totally change up the flavour of the cupcakes and make lemon and sugar!
Have fun creating lot's of different combo's!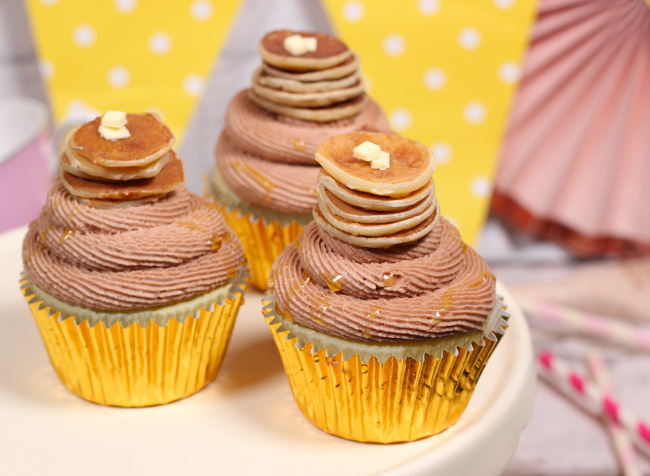 I'd love to hear what pancakes and treats you rustled up for Shrove Tuesday this year! So please leave a comments down below!
Happy Baking!
Thirzah xoxo