This week I was craving Ben's Cookies…but with no branch local to me, I had to resort to experimenting in the kitchen and bake some myself!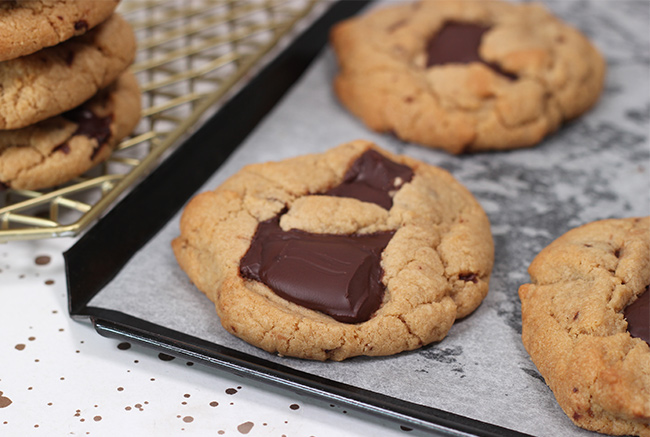 I first discovered Ben's Cookies when we visited Edinburgh a few years ago for our mini-moon, the week after we got married (it's actually our 5th wedding anniversary this month!!).
We've visited Edinburgh 2 more times since, including our last holiday in July this year; with 4 of our closest friends! We obviously took them to Ben's Cookies shortly after we arrived in this most beautiful Scottish City, before taking a walk up Calton Hill to enjoy them! (we were going to get a cuppa when we reached the top, but the cafe wasn't open!! sad times!)
So back to baking…I've baked and shared a fair few cookies in my time, and I was longing for a thick, gooey, chunky chocolate chip cookie..no messing about with small chocolate chips here!
So last night, I finally nailed it and this was the result!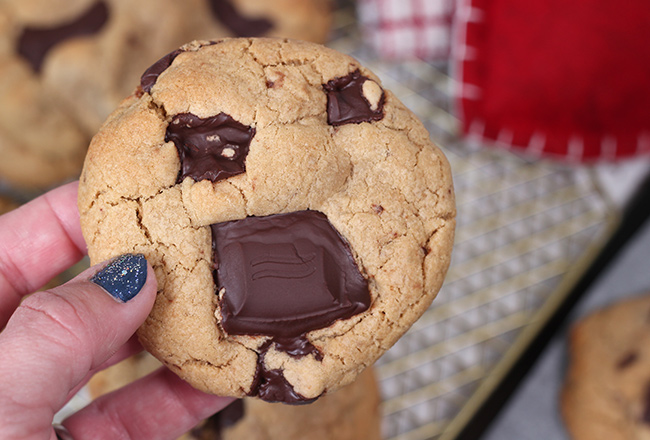 Just look at those chocolate chunks….yum!
This recipe makes 20 of these bad boys! To make them, you will need:
Ingredients:
200g (7oz) Plain Flour
200g (7oz) Self-Raising Flour
½ teaspoon salt
170g (6oz) unsalted butter – cut into small cubes
200g (7oz) Dark brown soft sugar
100g (4oz) Caster sugar
1 Teaspoon Vanilla extract
1 large egg and 1 large egg yolk
100g Dark chocolate – chopped into big, rough chunks plus 20 squares of chocolate (I just purchased 2 x 150g bars so I knew I had plenty!)
Method:
1. Preheat the oven to 160°C/350°F/Gas Mark 4. Lightly grease 2 large baking trays with butter or non-stick cooking spray and line with baking paper.
2. Pop the two types of flour into a large mixing bowl. Mix thoroughly then stir in the salt.
3. Place the butter into a small bowl and melt it in the microwave until completely melted or melt the butter gently in a pan on the hob, set aside to cool.
4. Add the dark brown, soft sugar and the caster sugar to the bowl of a free-standing mixer fitted with a paddle attachment or large bowl using an electric hand whisk or spatula, mix together then stir in the melted butter followed by the vanilla extract.
5. Break the eggs into a small bowl, separating one and pop the egg yolk in with the whole egg. Beat the eggs into the sugar mixture until smooth.
6. Add the flour mixture to the large bowl of sugar and eggs and stir well until everything is fully combined. You will have a fairly stiff dough at this stage!
7. Add the chopped chocolate chunks to the dough and mixed well.
8. take golf-ball sized pieces of dough, roll into balls and place them onto the 2 baking trays being sure to leave plenty of space between them. (I actually added four doughballs to each tray to ensure they had plenty of space and baked in 3 separate batches). Press the squares of chocolate into the centre of each ball, pushing the dough around it a little (It's like the dough is giving the chocolate chunks a lil hug!)
9. Bake in the oven for 10 minutes, until lightly golden. You want the cookies to still feel very soft in the centre and they will have puffed up nicely at this point.
10. Allow the cookies to cool for a few minutes on the baking trays before transferring to a cooling rack.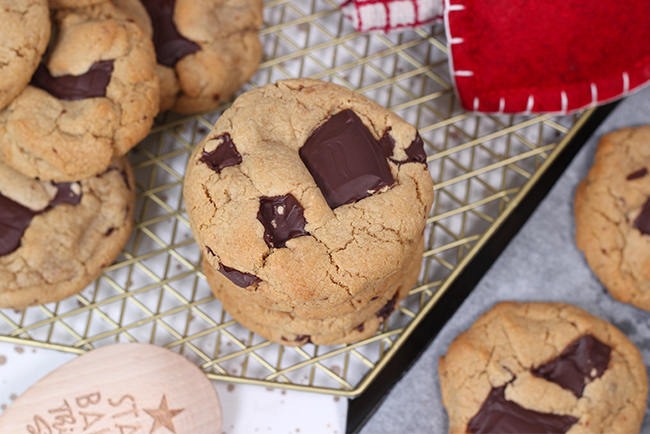 The cookies will be at their best on the same day (They are delicious served warm!) but will keep well in an airtight container for up to 3 days. (if they last that long!!)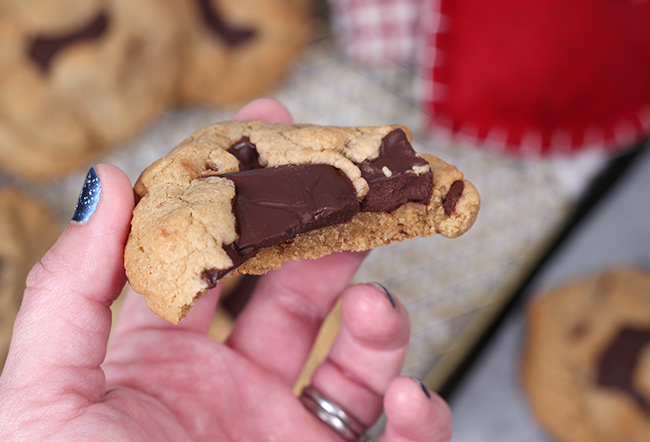 Perfect served with a nice cup of tea or warmed slightly in the microwave to enjoy that freshly baked, warm cookie deliciousness! (with a scoop of ice-cream if you fancy an indulgent dessert!)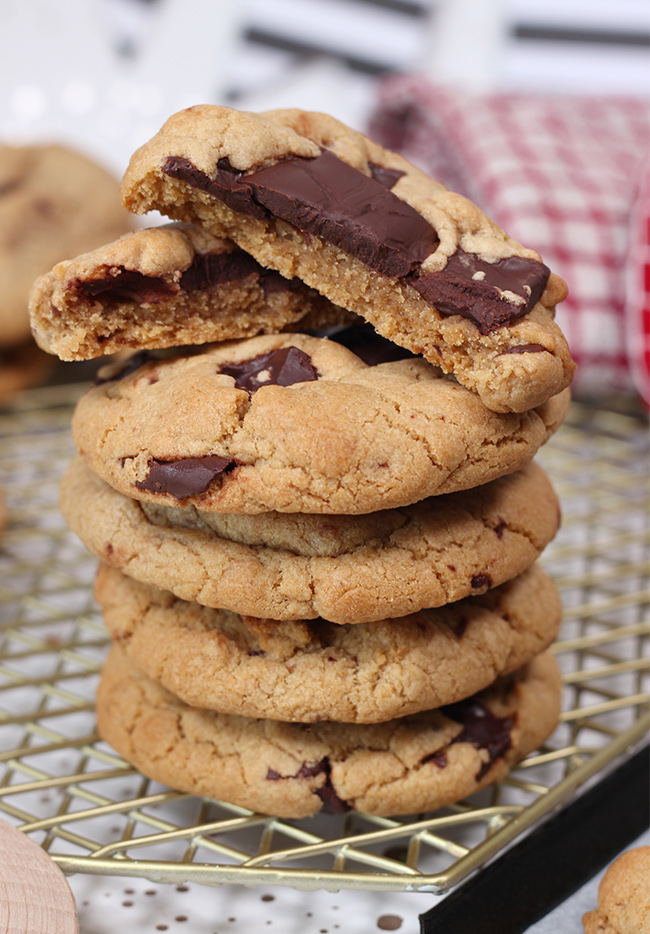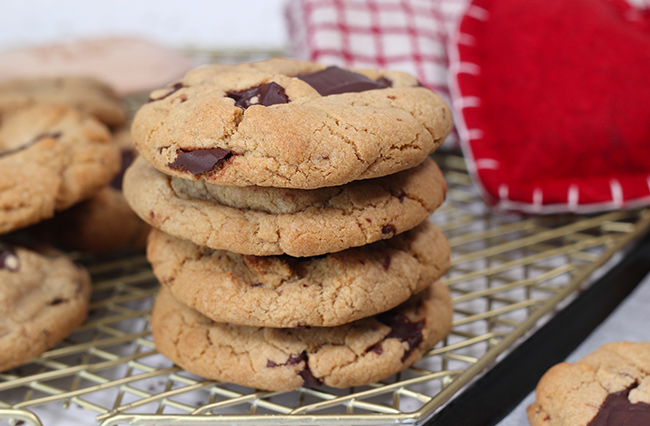 These cookies have inspired me to experiment with more cookie flavours using this dough as a base! I'll be sharing more recipes soon…so keep an eye on my blog for all the latest cakey goodness!
Happy Baking!
Thirzah xoxo