It seems like GBBO has flown past this year, the last few episodes seem to feel shorter and shorter (maybe because there are less bakers?).
Though previous episodes have seen the bakers face some real challenges, patisserie week seems like the most difficult so far! With the presentation being the key element with bakes of this nature.
We saw the remaining four contestants play homage to Henry (who left during week 8) by wearing ties, though these didn't stay on for long, as the bakers got to work on their signature creations to produce eight elegant and beautifully decorated domed tarts. We saw a variety of flavours from Alice's mocha, hazelnut and orange tarts which, according to the judges, tasted amazing but were a bit too large. Davids aperitif tarts went down a treat and Rosie's lemon, raspberry and mint tarts resulted in pretty looking bakes. Steph also opted for lemon and raspberry in hers paired with white chocolate.
For the technical, they made Gâteau St-Honoré. Though Prue's version was rectangular…after much research; I found this french dessert is usually round!
For the Showstopper, they could bake anything they wanted as long as it was displayed inside a sugar glass display case! Even though Rosie had a bit of a disaster with her choux buns being too liquid in the technical round, she still opted to make some mini versions alongside mini brioche buns and tartlets. Alice made a beautiful entremet cake. David made a very neat and pretty greenhouse cake and Steph baked an opera cake.
Alice was crowned Star Baker and Rosie was sent home this week.
All of these bakes sounded incredibly challenging and I was tempted to make the domed tarts but didn't know where to start in terms of flavour and was worried about whatever I made in the dome moulds not setting properly. I decided to have a go at the gâteau St-Honoré as I have a go to recipe for choux pastry and I thought I could simplify the process to make this bake easier for beginners to achieve!
To make this, you will need:
Ingredients:
1 pack ready rolled puff pastry, removed from the fridge at least 10 mins prior to using
65g plain flour, sifted
pinch of salt
50g unsalted butter, diced
2 large eggs, beaten
120 ml cold water
600ml tub double cream
Jar caramel sauce (I used salted caramel sauce from Sainsbury's)
1 additional egg, beaten for the egg wash for the puff pastry
Method:
1) Weigh out and prepare all the ingredients. Grease and line 2 cookie sheets. Preheat oven to 200°C/392°F/Gas Mark 6. Place the cold water, butter and pinch of salt in a medium sized saucepan and melt the butter over a low heat (do not allow to boil)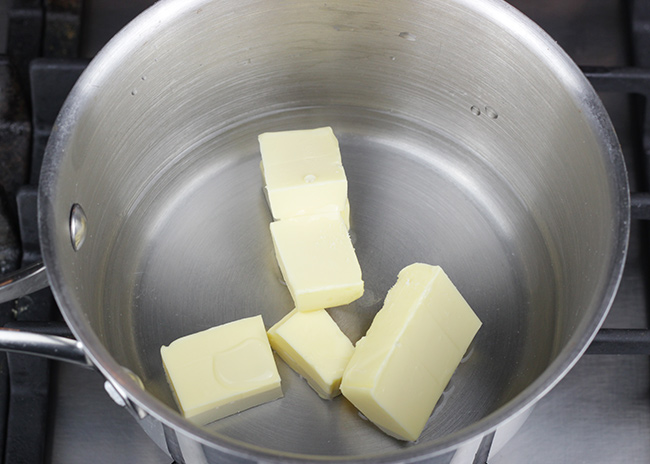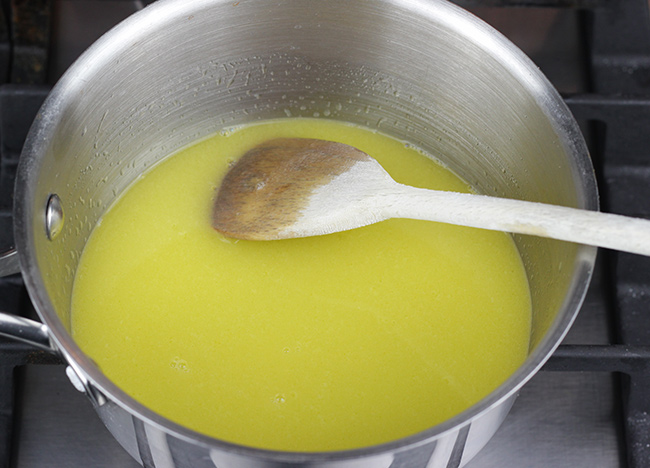 2) Once the butter has completely melted, turn the heat up and bring to the boil then remove the pan from the heat and pour in all the flour and beat vigorously using a wooden spoon until it forms a thick dough.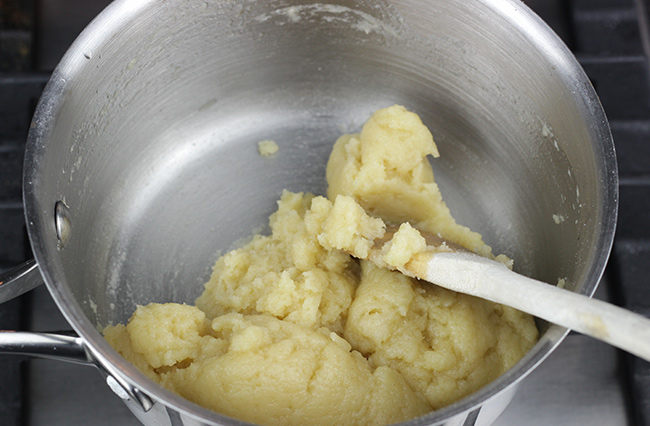 3) Place the pan of dough back over a low heat and stir for about a minute until it forms a more rounded and glossy ball.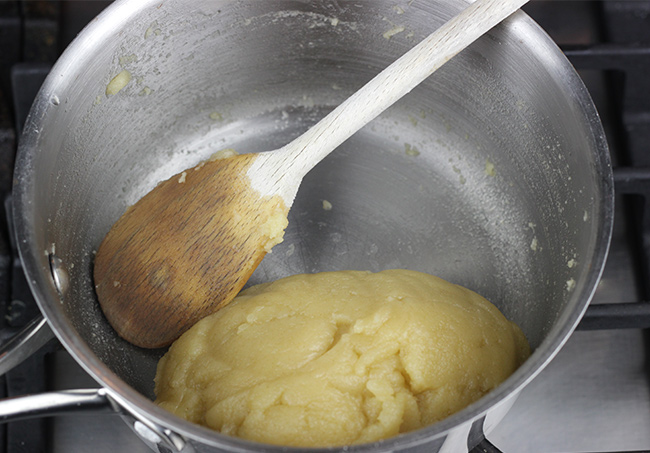 4) Tip the dough into a large mixing bowl and leave to cool almost completely, you want it to be just a tiny bit warm.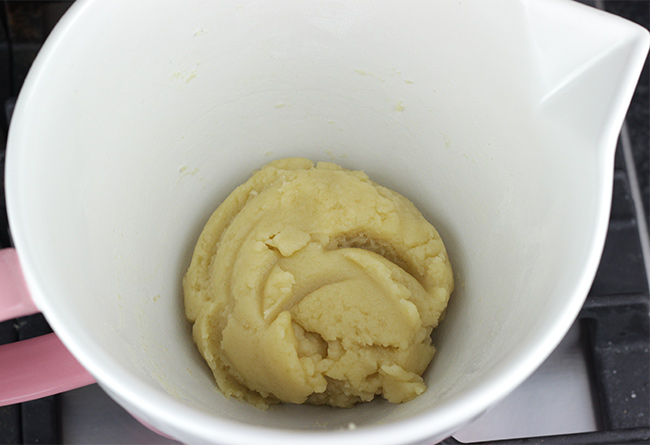 5) Once the choux pastry dough has cooled, gradually add the whisked egg a bit at a time mixing well between each addition using a wooden spoon.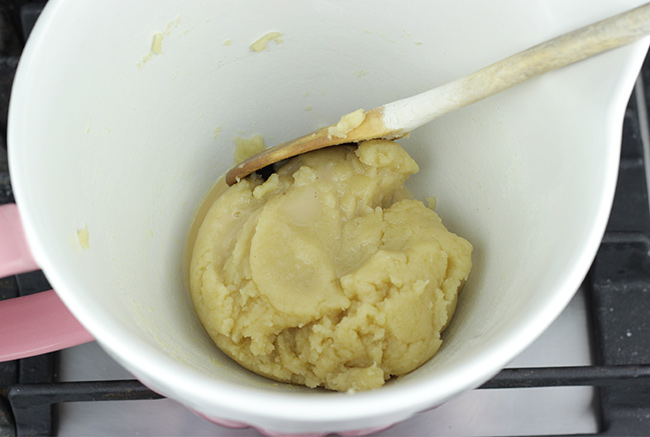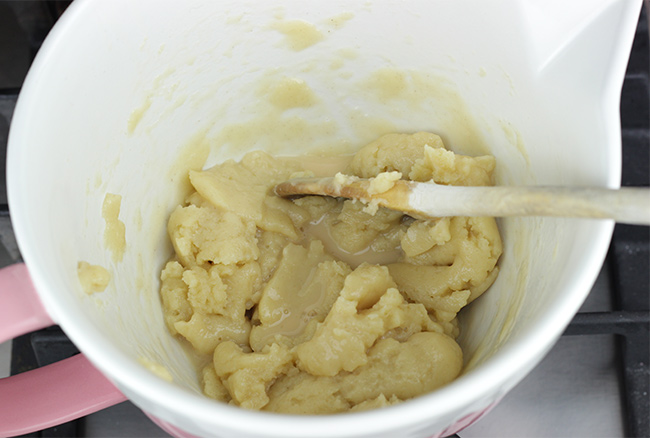 6) The mixture is ready when it's mixed to stiff peaks and looks soft enough to pipe, it should fall off the spoon when gently shook.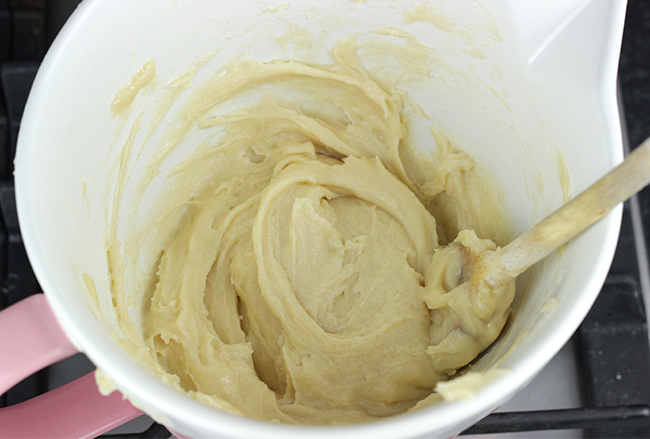 7) Spoon the mixture into a piping bag fitted with a large round nozzle and pipe rounds that are about the size of a golf ball. This recipe yields 24 choux buns (so you'll have some left over! Perfect to make traditional profiteroles covered in chocolate sauce!!)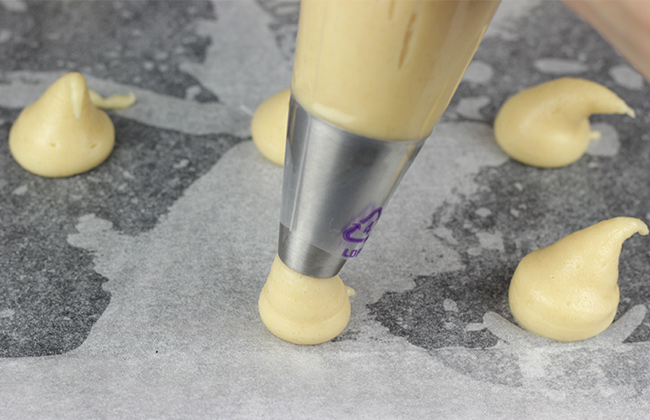 8) Flatten down the peaks on each bun using a finger dipped in water and sprinkle some water on the trays between the buns (be careful not to get water on the buns).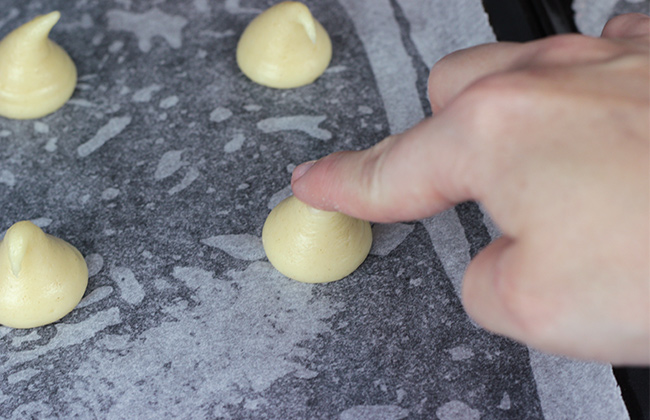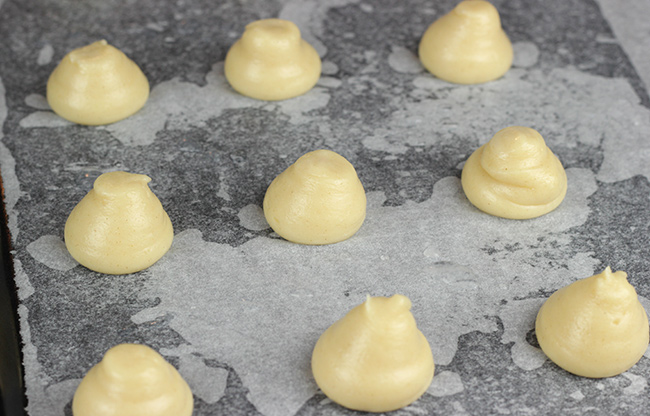 9) Bake in the oven for 15 minutes then without opening the oven door, turn the heat down to 170°C/340°F/Gas Mark 3 and bake for another 5 minutes.
10) Remove the buns from the oven and use a skewer to pierce holes in the bottom of each one and place back in the oven for another 5 minutes to allow steam to escape so they don't go soggy inside.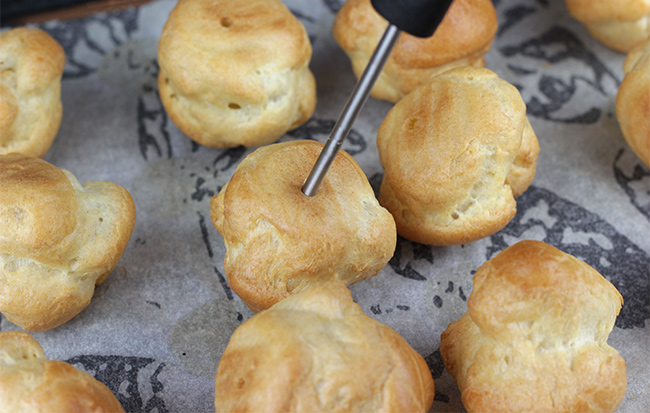 11) Remove from the oven and place on a cooling rack to cool completely.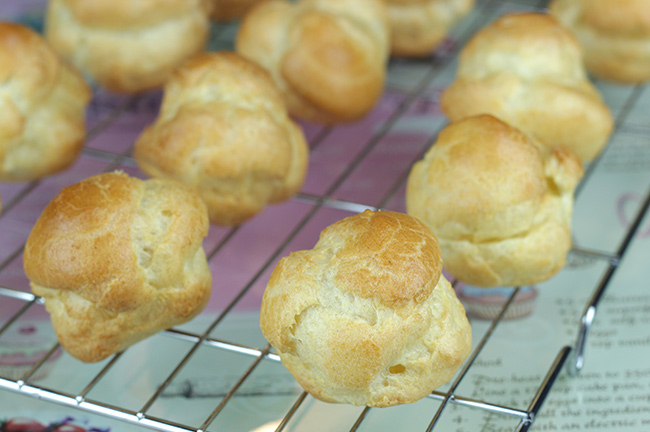 12) Meanwhile, whisk the cream to billowy peaks and place in a piping bag fitted with a small round nozzle. Once the choux buns are cooled completely, pipe the whipped cream into the holes made in to bottoms of the buns to fill.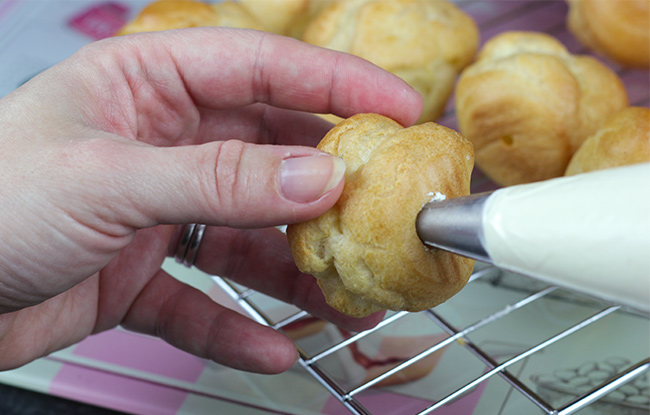 13) Pop about half a jar of the caramel sauce into a heat proof bowl and place in the microwave for about 10 seconds and give it a mix so it's a little more runny. Dip the top of each choux bun in the salted caramel sauce to cover the tops.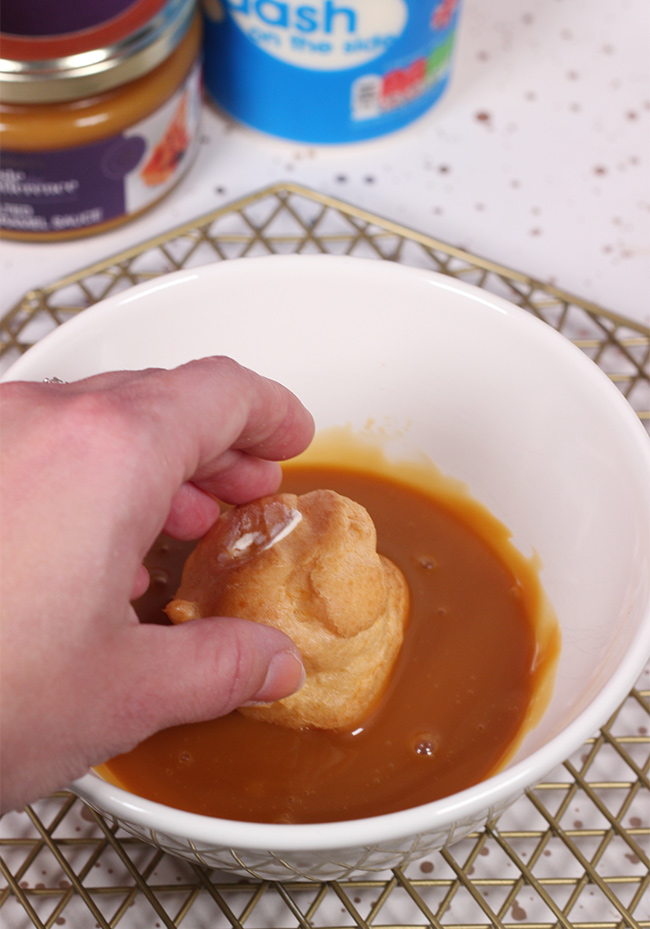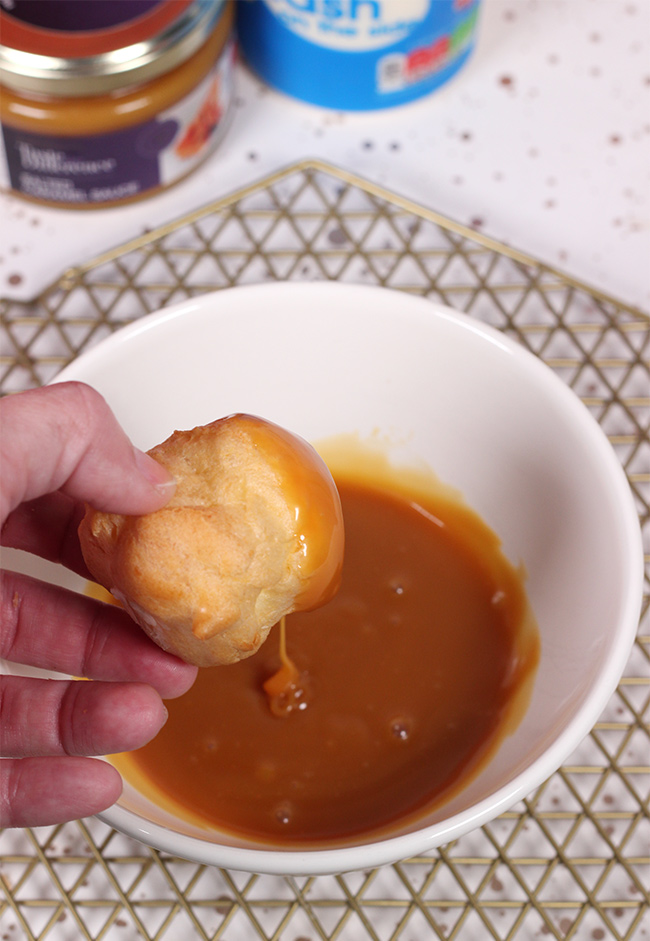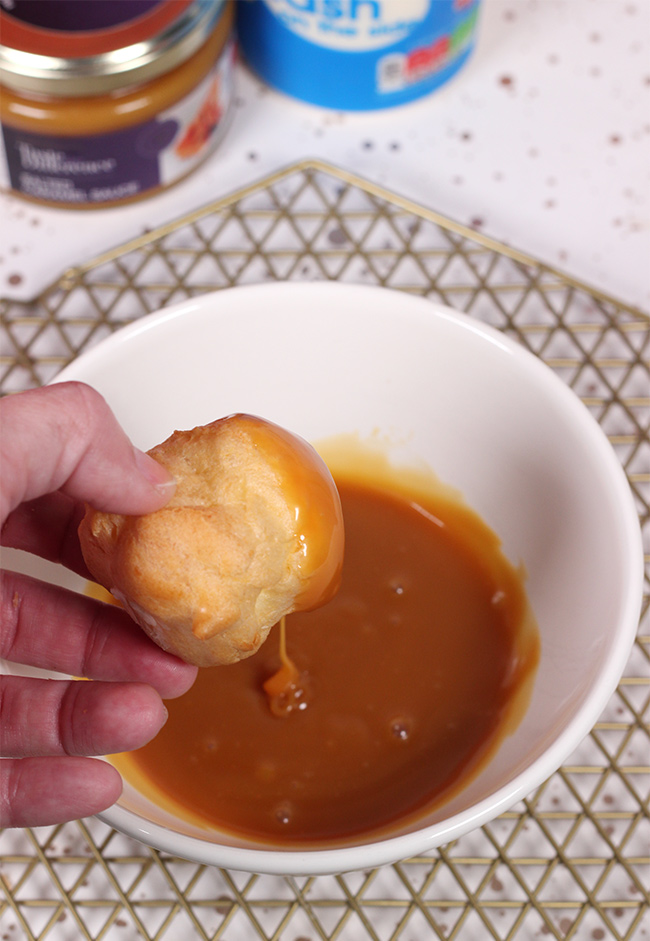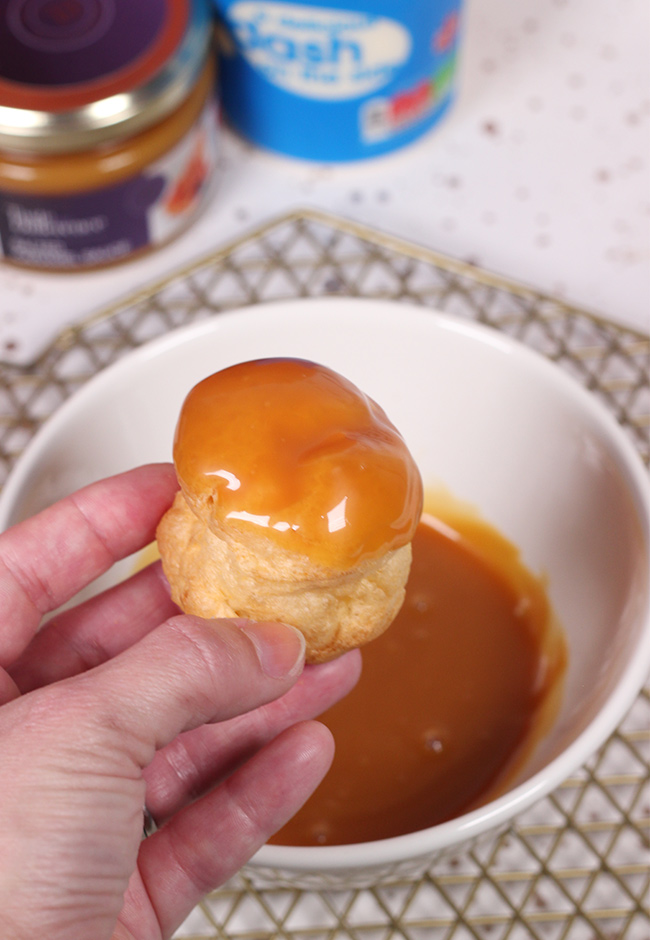 14) Preheat oven to 200°C/392°F/Gas Mark 6. Unroll the puff pastry and cut out a circle 8 inches in diameter. I used a cake board as a template to gauge how big I wanted the over all size to be.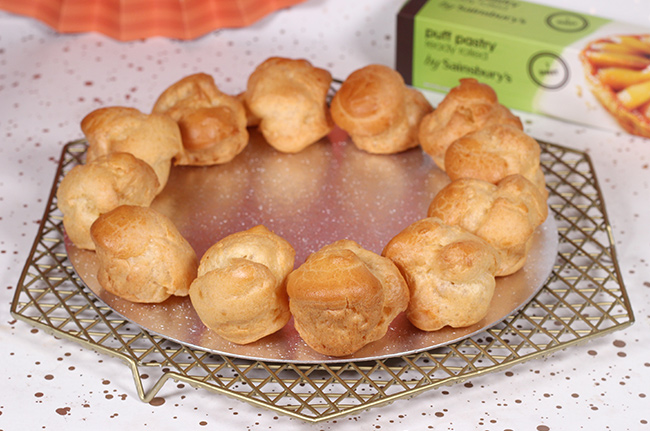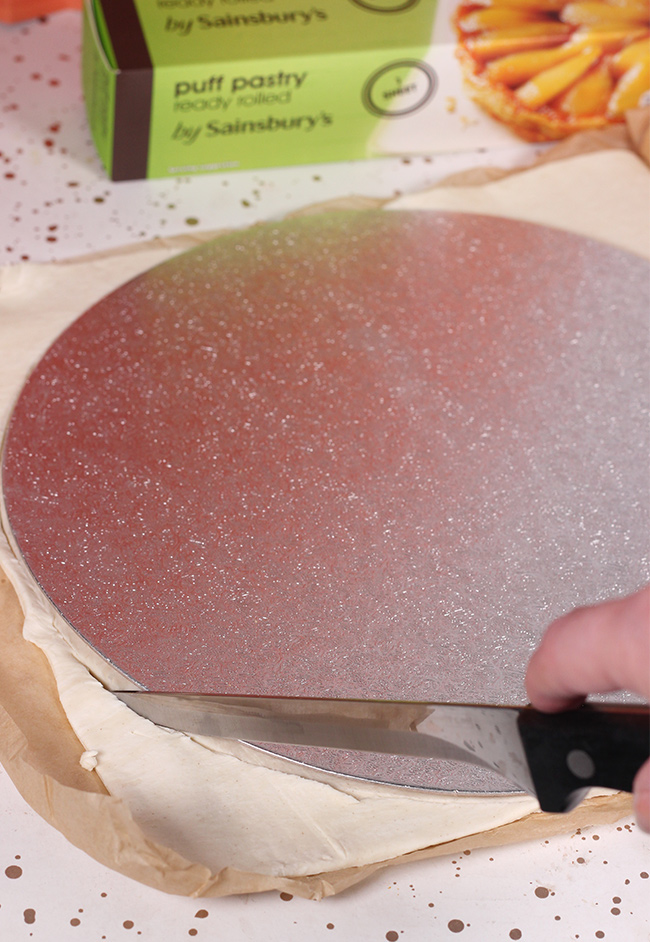 15) Place the circle of pastry on a baking tray lined with baking paper and prick the surface with a fork.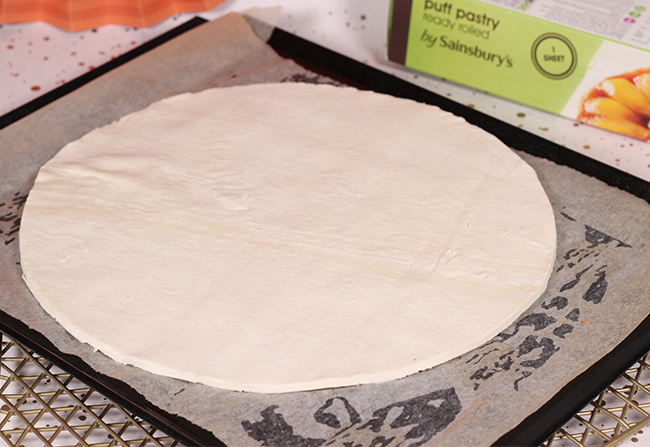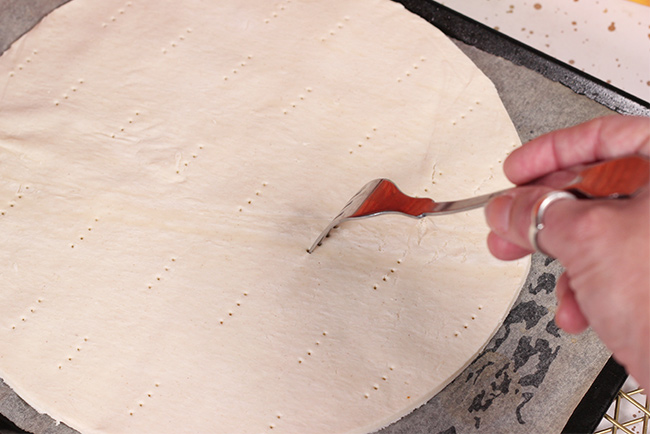 16) Egg wash the top of the disc using a pastry brush. Place in the oven to bake for 15 minutes until golden brown.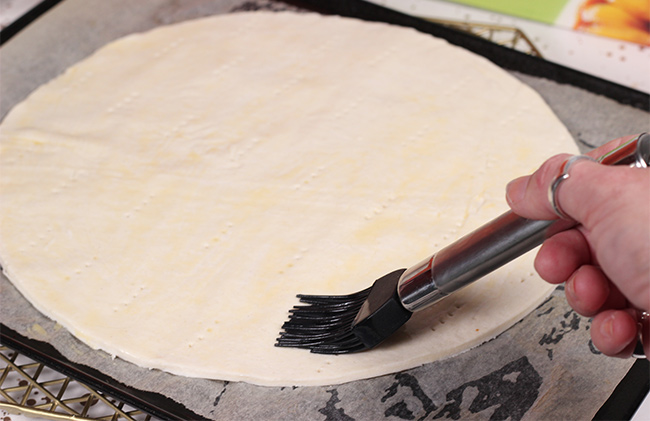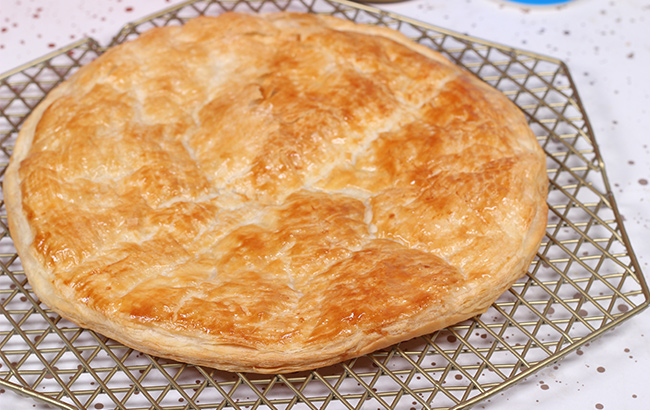 17) Remove the baked pastry disc from the oven and leave to cool completely. Meanwhile, place the remaining whipped cream in a large piping bag fitted with a large star nozzle and pipe the cream on the surface of the puff pastry base. I piped rosettes around the edge to determine where I would place the choux buns.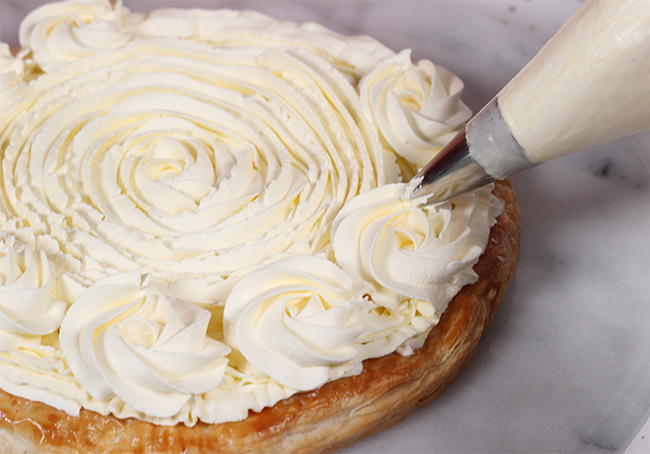 18) Arrange the choux buns around the edge then pipe more cream into the centre of the disc to add additional height.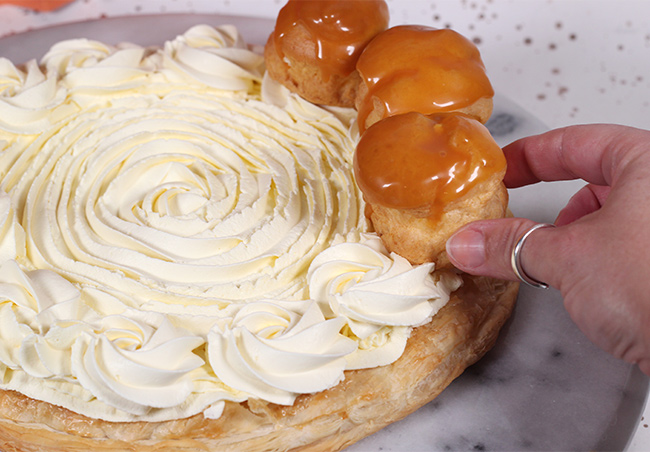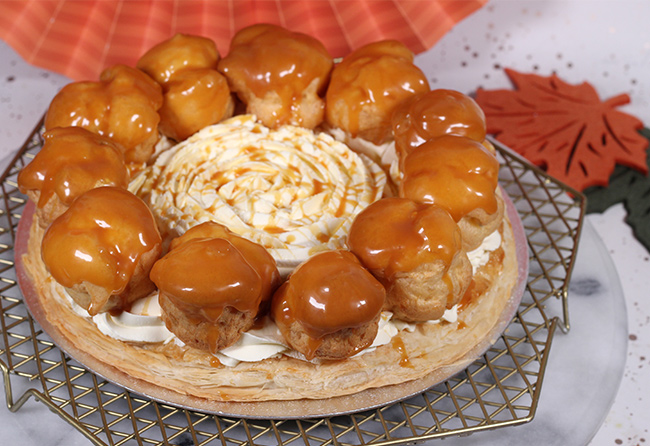 19) Drizzle over some more of the salted caramel sauce to decorate! You can even drizzle over chocolate sauce or melted chocolate to add a contrasting colour!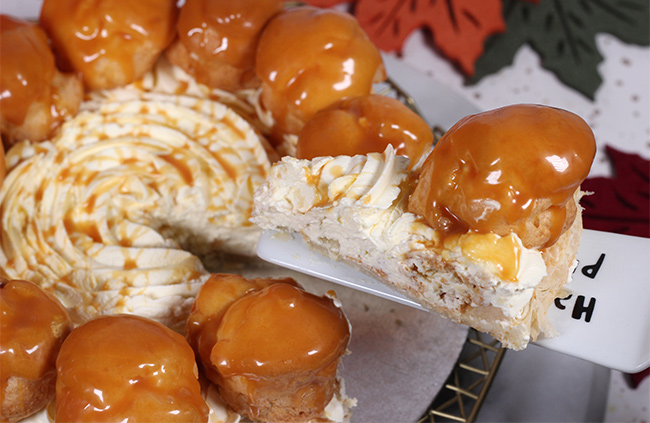 Slice, serve and enjoy!
This is such a delicious dessert and I'm so glad I had a go at making a simplified version of this French patisserie staple!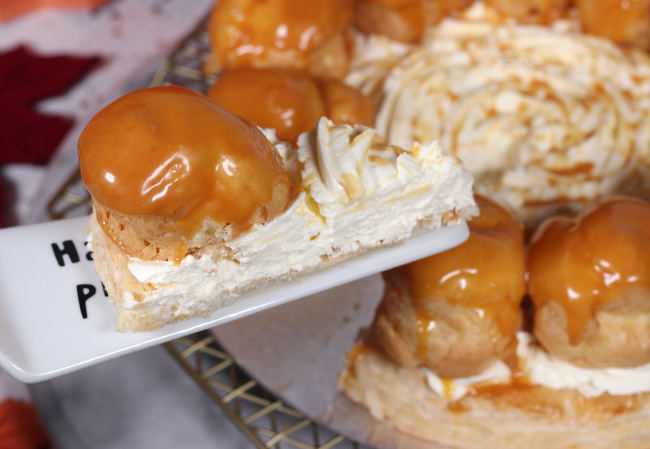 Let me know if you have a go at making this yummy treat! I'd love to see how yours turns out!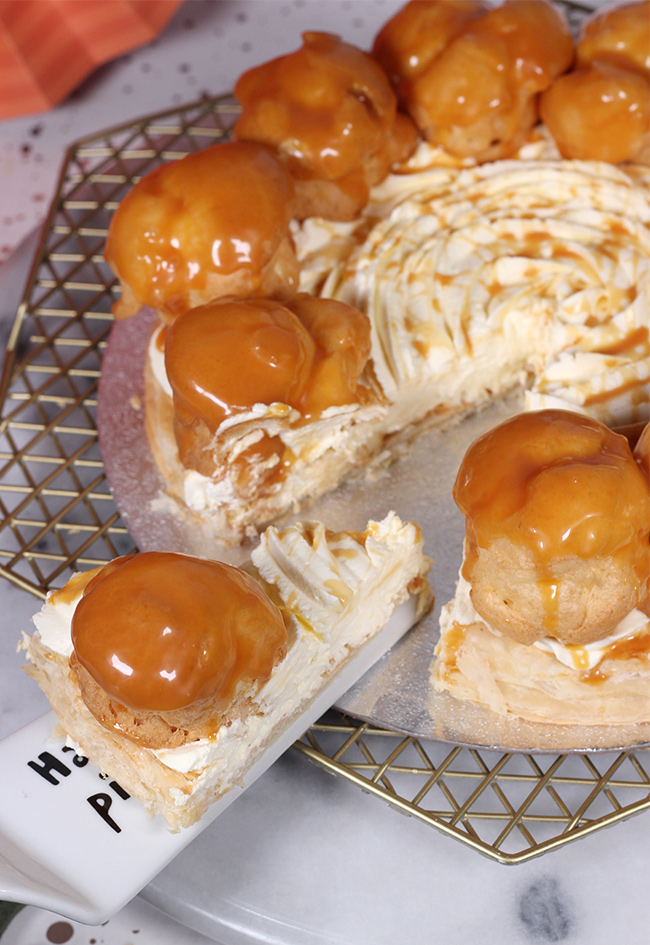 The finale of GBBO airs tonight on Channel 4 at 8pm! I can't wait to find out who will be crowned the winner of The Great British Bake Off 2019!
Happy Baking!
Thirzah xoxo