If you fancy cheesecake, but don't want the faff of making a full size one that you need to slice, then these mini biscoff cheesecake cupcakes are perfect!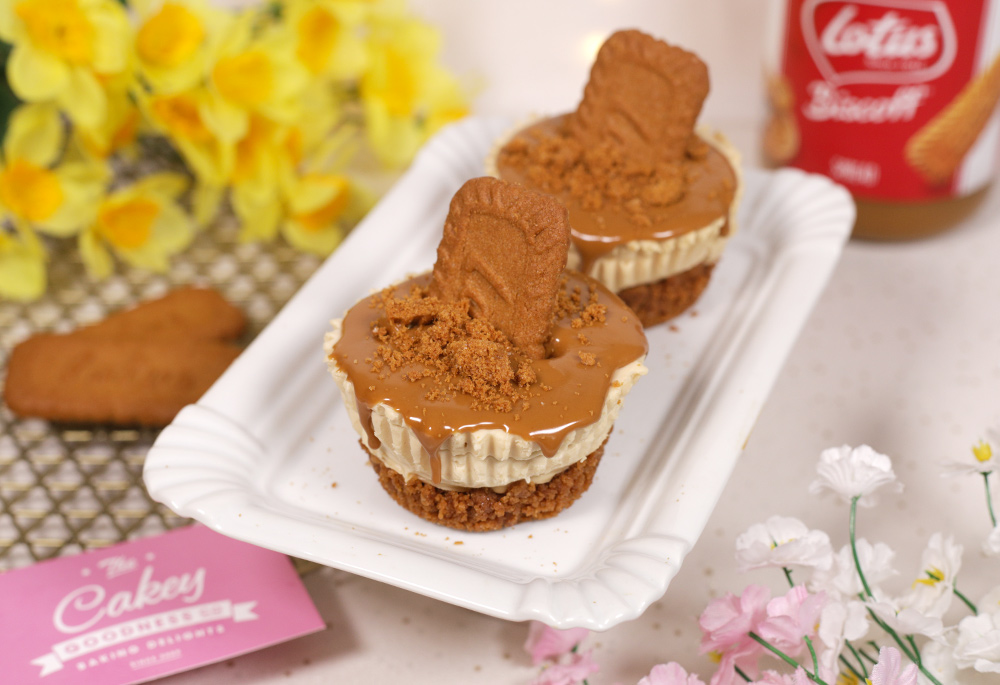 They're so quick and easy to make! Plus there's no baking involved and if you love biscoff…these are perfect!
To make these you will need:
Ingredients:
For the base:
150g Lotus Biscuits, finely crushed
45g Unsalted butter, melted
For the cheesecake filling:
200ml Double Cream
400g Cream Cheese
100g Icing Sugar
100g Lotus Biscoff Spread
To decorate:
Lotus Biscoff Spread, melted
12 Lotus Biscoff Biscuits
Equipment: Whisk
12 hole cupcake tin
12 cupcake cases
Teaspoon
Pallet knife
Ice cream scoop
Spatula
Freezer bag
Large rolling pin
Method:
Crush the lotus biscuits by placing them in the freezer bag and seal, then bash with a rolling pin until crushed. If you have a blender or food processor; you can use that instead to speed up the process! Place the crushed biscuits in a mixing bowl and pour in the melted butter and mix well.
Place the cupcake cases into the cupcake tin and distribute the biscuit base mixture into the bottom of the cases and press down with the back of a teaspoon.
Whisk the double cream in a large mixing bowl until it reaches stiff peaks. Set aside.
Whip the cream cheese in a large mixing bowl or free standing mixer with paddle attachment. Add the icing sugar and mix. Then add the Biscoff spread and mix until well combined.
Add the cream cheese mixture to the bowl of whipped cream and use a spatula to fold them together until completely combined.
Use an ice cream scoop to distribute the cheese cake mix on top of the biscuits bases in the cupcake cases. Use a pallet knife to smooth out.
Place in the freezer to set (I set mine overnight).
Once set; remove from the freezer and peel off the cupcake cases.
Melt the Biscoff spread in a bowl in the microwave for about 20 seconds. Spoon the melted biscoff spread over the top of the cheesecakes.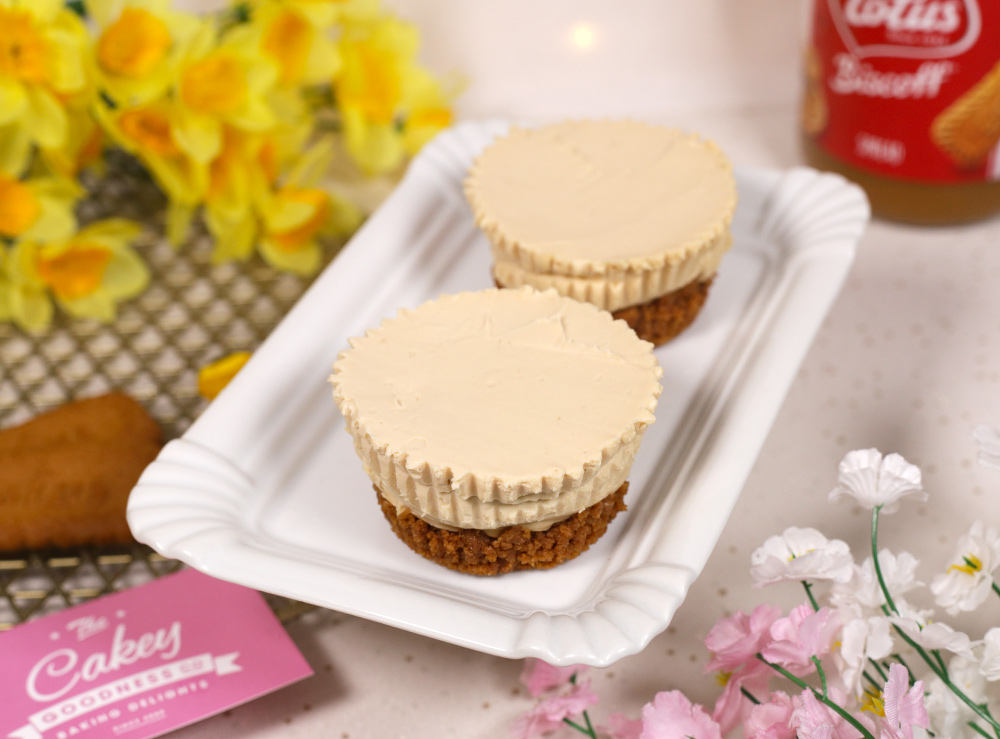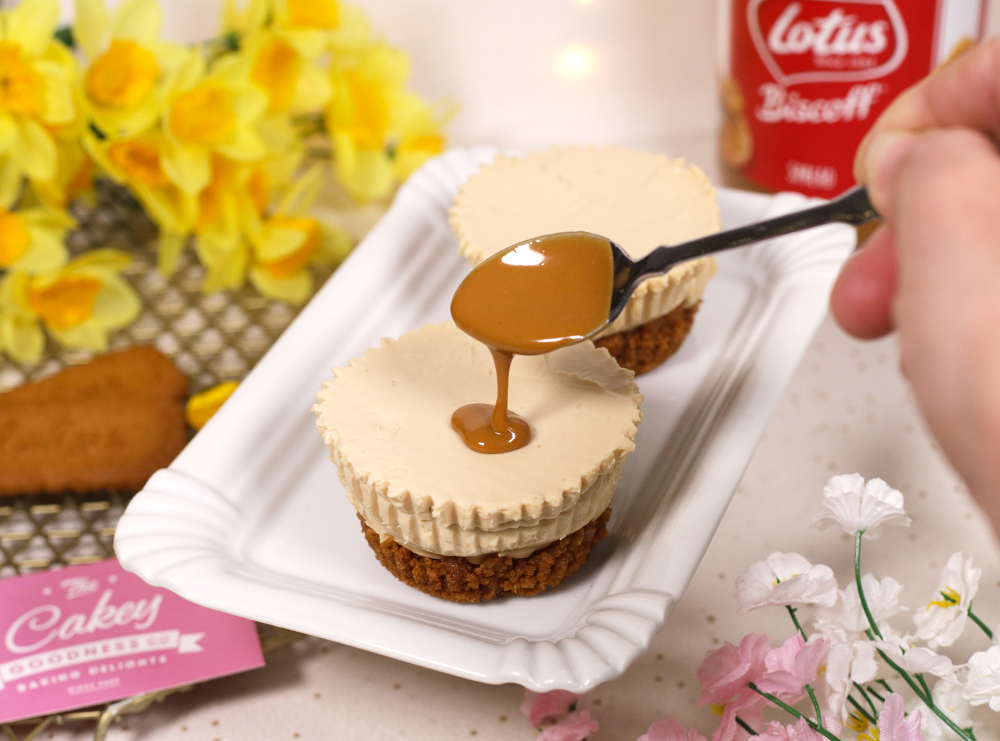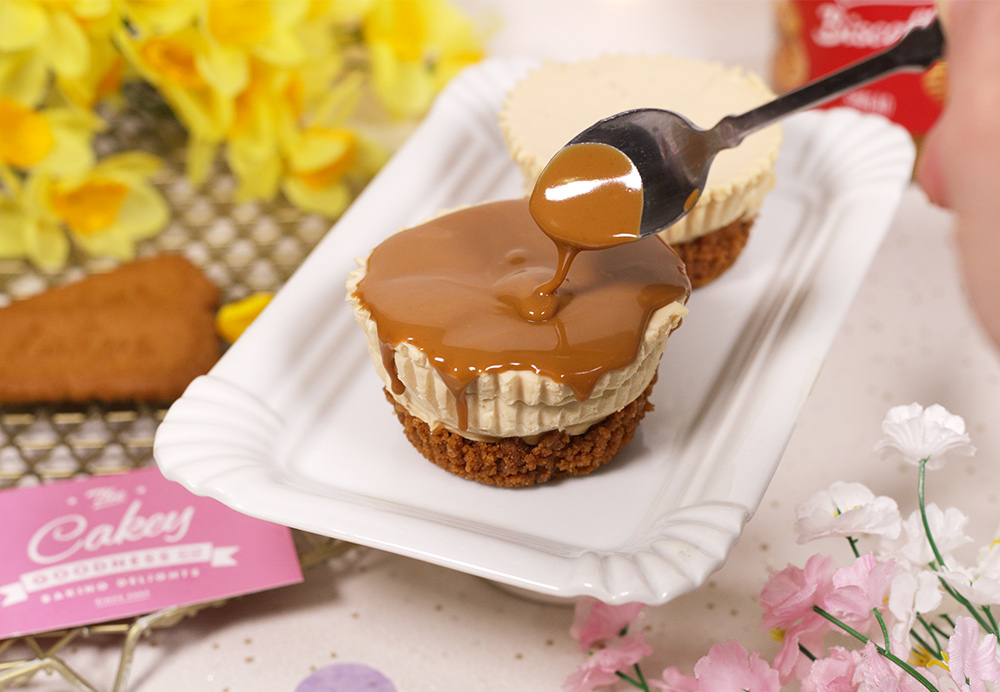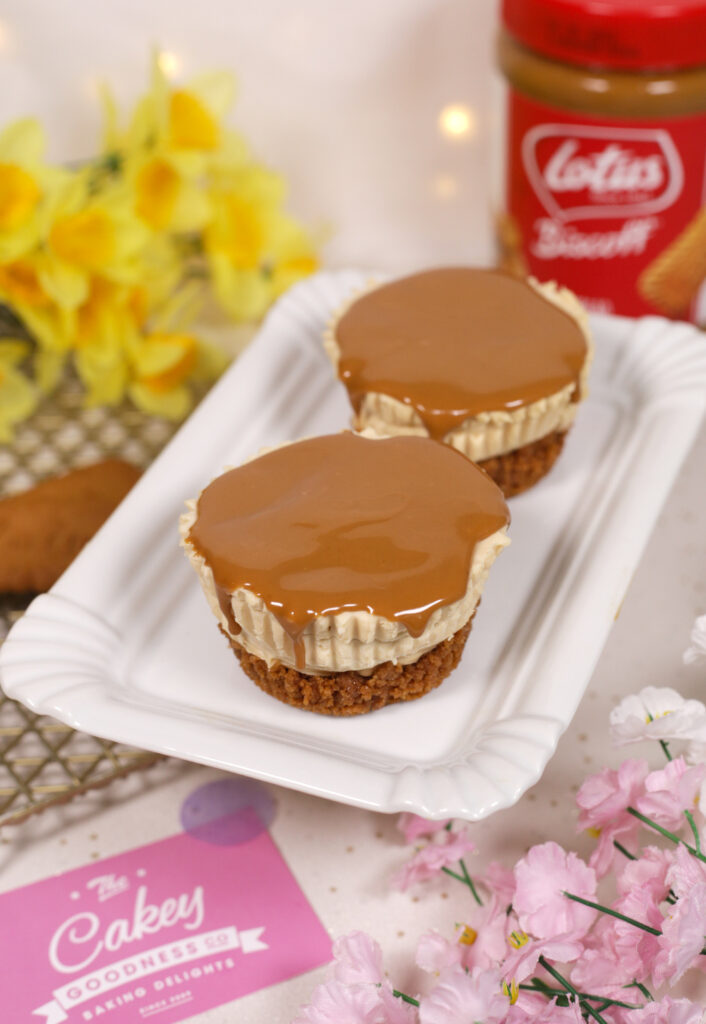 10. Break the 12 Lotus biscuits in half and crush one side of each and crumble on top of each cheesecake. Then pop the other half of the biscuits in the top of each cheesecake to decorate!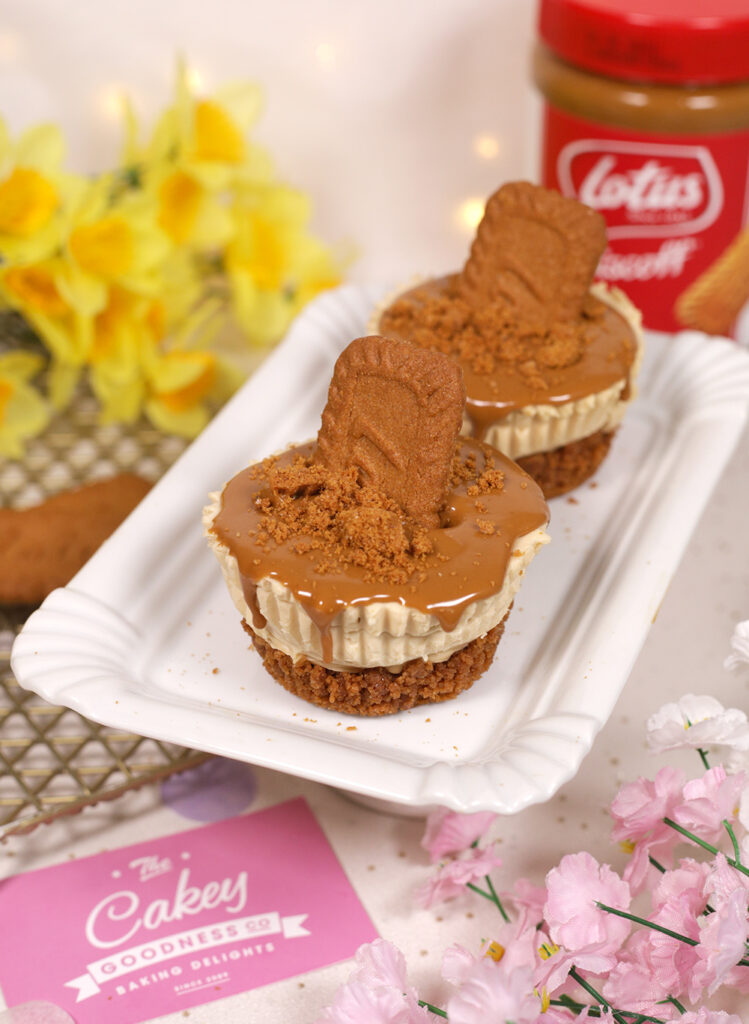 Serve and enjoy!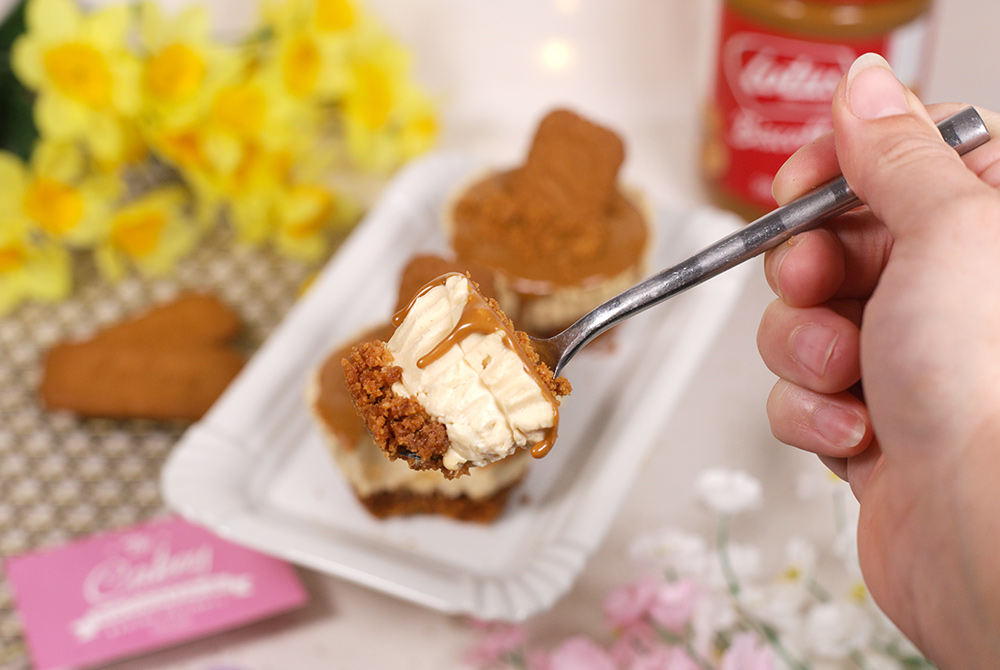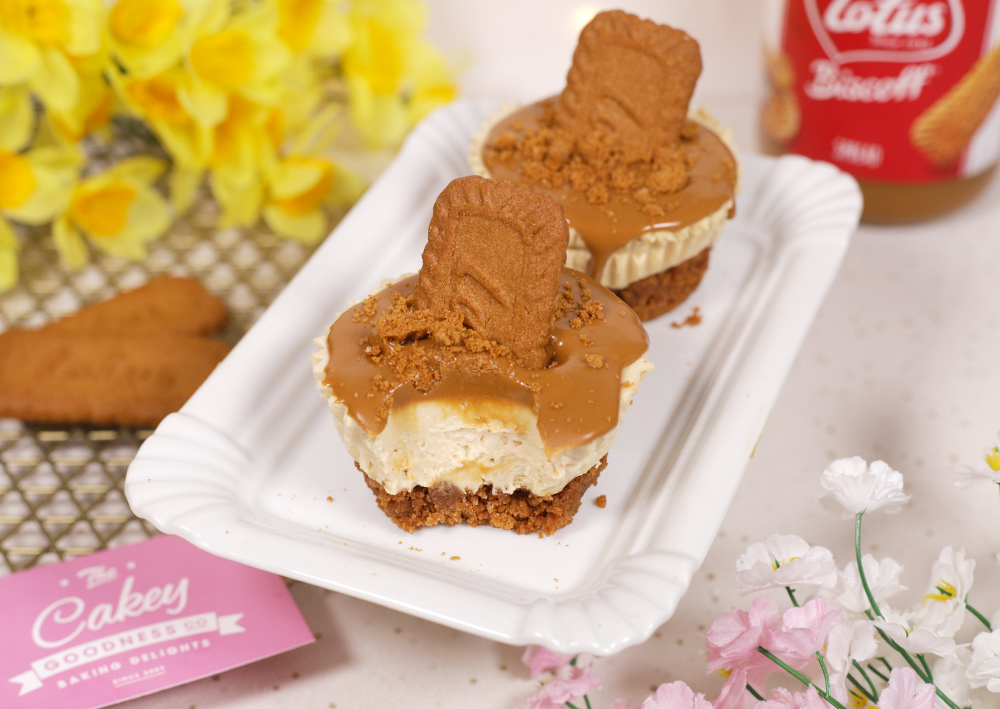 These are the perfect size for one serving! I can often find cheesecake to be quite rich when you are presented with a massive slice! But these are just right!
I hope you enjoy this no bake recipe! Please let me know what other cheesecake flavours you would like me to create in the comments below…and I'll create more recipes for you to try!
Happy Baking!
Thirzah xoxo