Hello from Isolation!
It's been a while since I posted anything, here on the blog section, of my little Cakey world!
I had initially planned in some posts of this years Cakey adventures…but with the current situation occurring around the world; this years Cake International on Tour, that was due to be held at the end of this month, cancelled and ExCel London has been transformed into the NHS Nightingale Hospital!
So I'm currently on day 17 of Isolation – apart from leaving my house to take my dog for her daily walkies and heading to the supermarket once a week…home is where it's at!
Staying creative has been my main focus to keep me occupied and try to distract away from the things I can usually do, but can't; due to the measures the government has put in place. It's crazy to experience how much we miss the usual day to day things..going out to work, spending time with family and friends, watching a movie at the cinema, going out to a restaurant, hopping on the train to visit another town and going anywhere that's further than the radius of your house!
I've been baking A LOT! Mainly easy bakes and cupcakes. I created these pretty blush pink & rose gold cupcakes as Mother's Day gifts to give; just before the UK Lockdown came into effect.
Then, during the first week – I tuned into various lives; including one that Candice Brown filmed over on Instagram and made these chocolate chip shortbread fingers!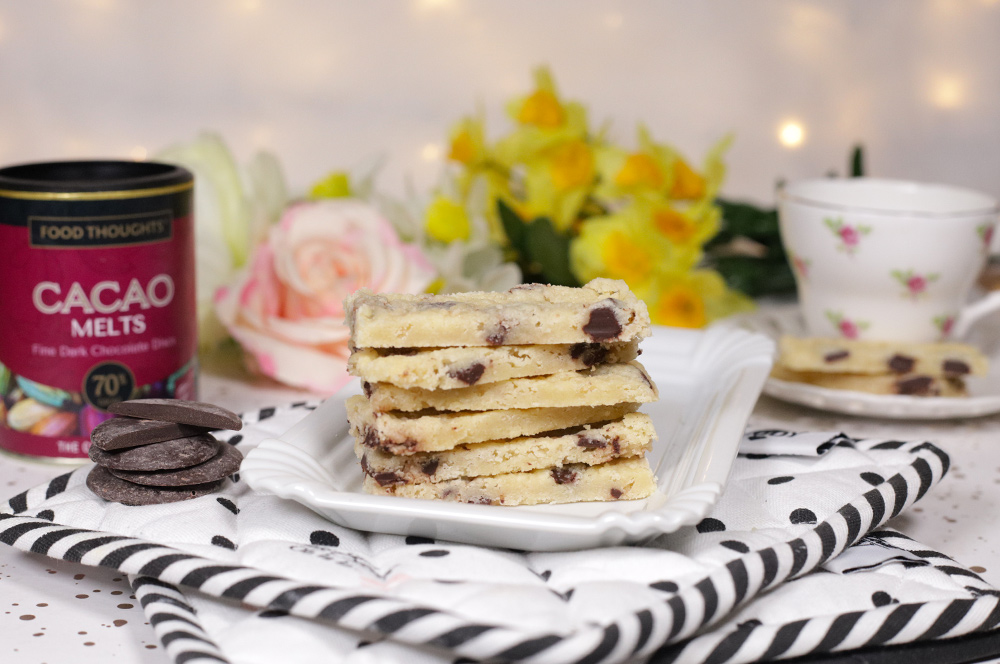 Candice has been filming her live bake alongs every week now. Last week she made Soda Bread (as yeast has been pretty difficult to get hold of) and this week she is making flapjacks; these are perfect made plain or you can add things like chocolate chips, raisins, any dried fruit like cranberries, jam, peanut butter or nuts. They're pretty versatile for a bake that requires very few ingredients!
I've also baked rock cakes a couple of times (they're my hubby's favourite!) and also made some profiteroles.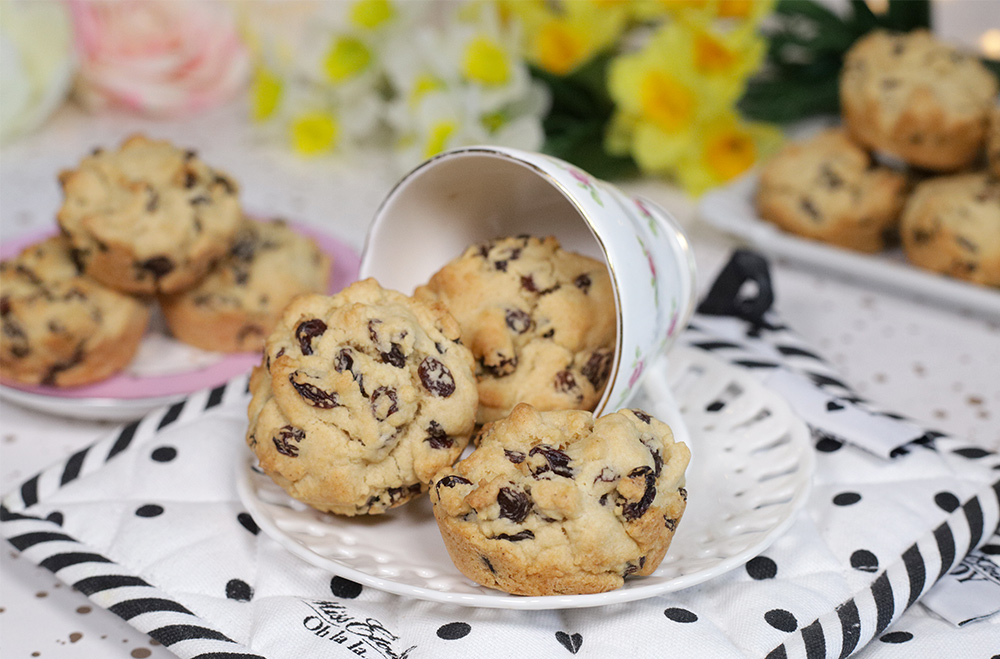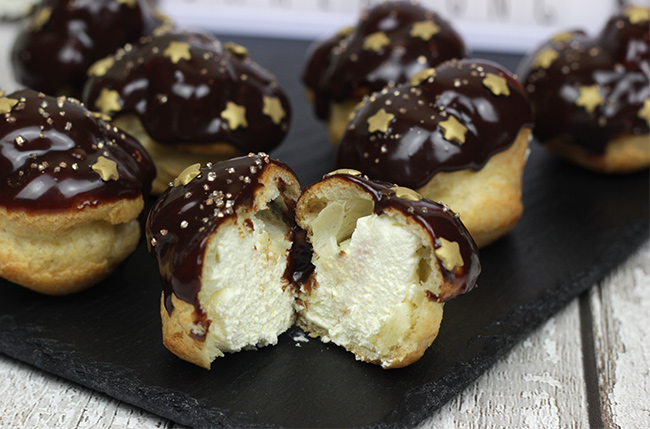 Sweet Stamp has been a welcome distraction and I used the Hoppy Bunny Elements set to create these cute Easter themed Cupcakes: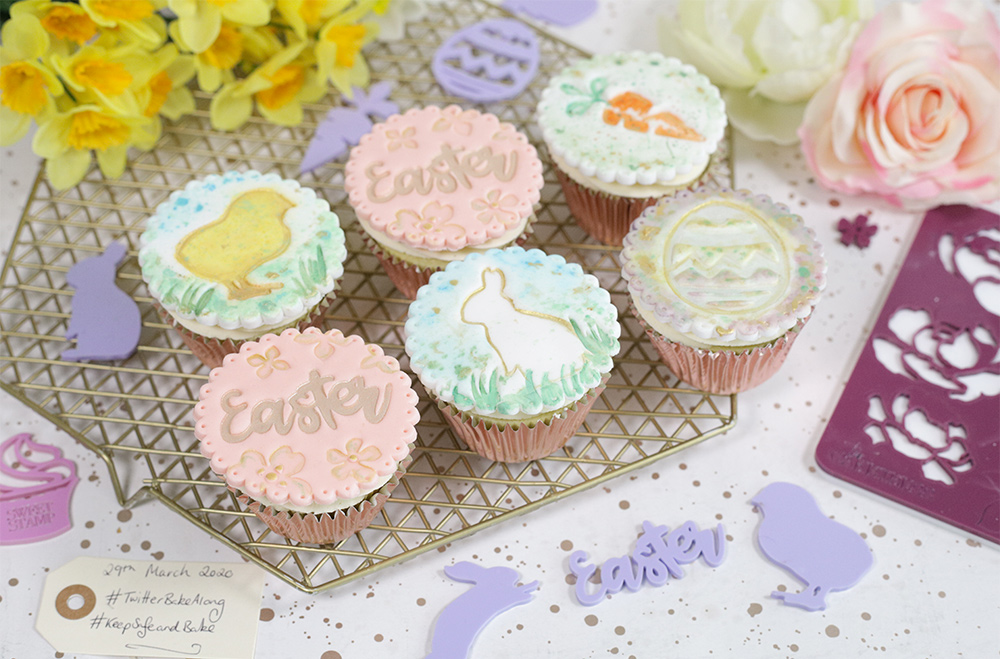 I love the simplicity of the sets that Sweet Stamp offer, as it gives you the freedom to come up with designs & use a bit more imagination!
If you haven't tried out these fab cake decorating tools; why not treat yourself by heading to Sweet Stamp Online I even have a discount code for 10% off your order! Just enter CAKEY10 at checkout!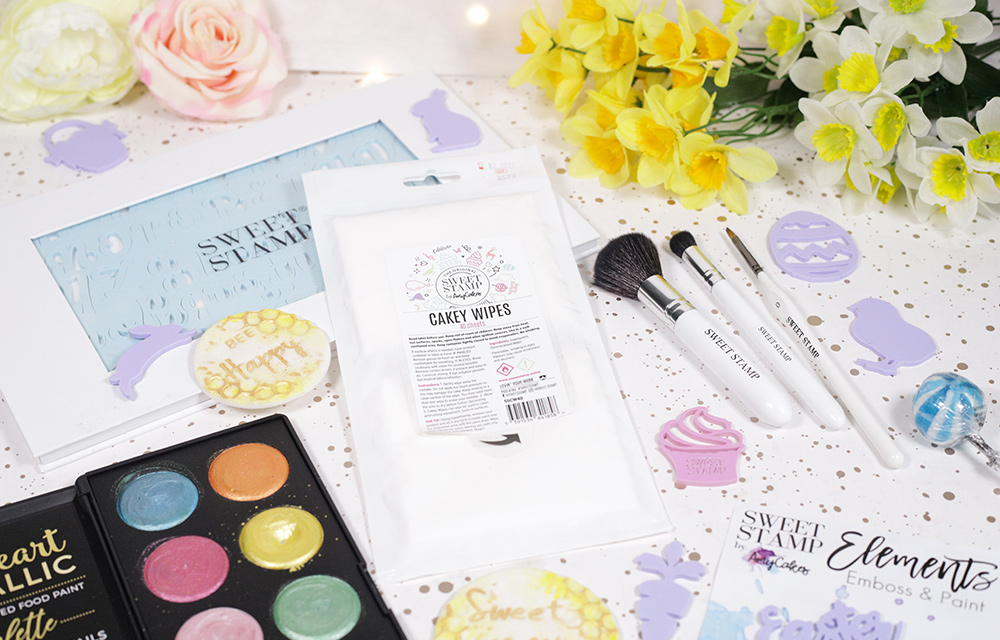 I also had a play with my Custom Cookie Cutter stamps and made these cupcakes to represent my thanks to all the key workers – NHS staff, frontline workers, teachers, shop workers in supermarkets, corner shops & anyone supplying all the everyday essentials as well as everyone who is staying home and helping stop the spread of this awful virus.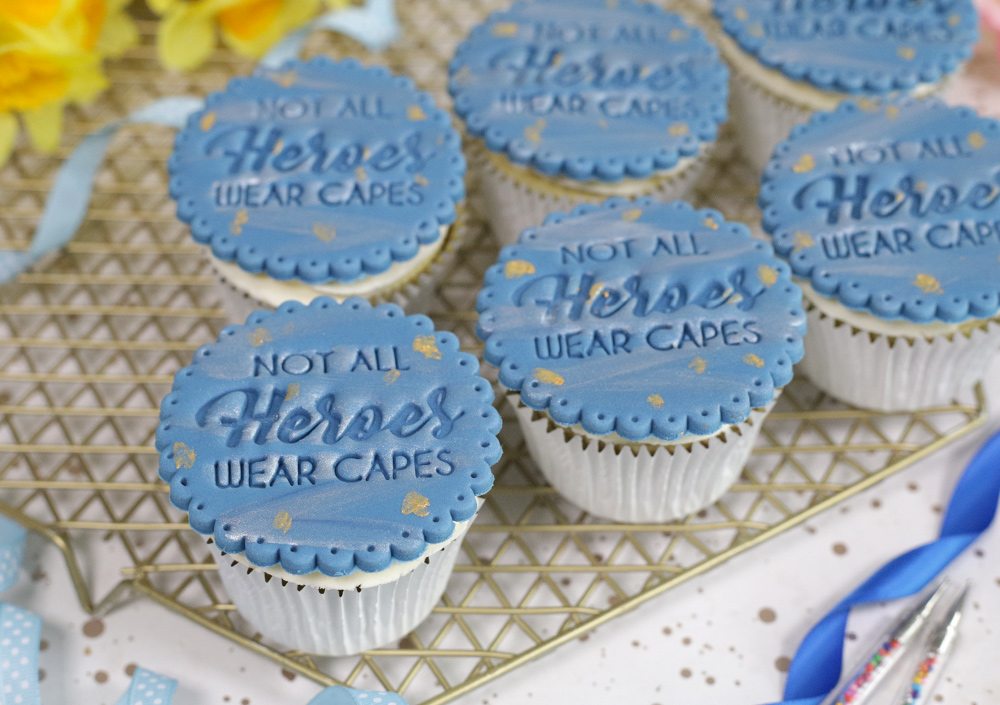 Despite the current situation; I've continued to bring joy, in the form of cupcakes and treats, to those who are celebrating birthdays (it's been difficult sourcing supplies for my cake creations lately..as I'm sure many other bakers will agree!)
I made these cute Minnie Mouse inspired cupcakes over the weekend; for a little girl celebrating her Birthday on Monday!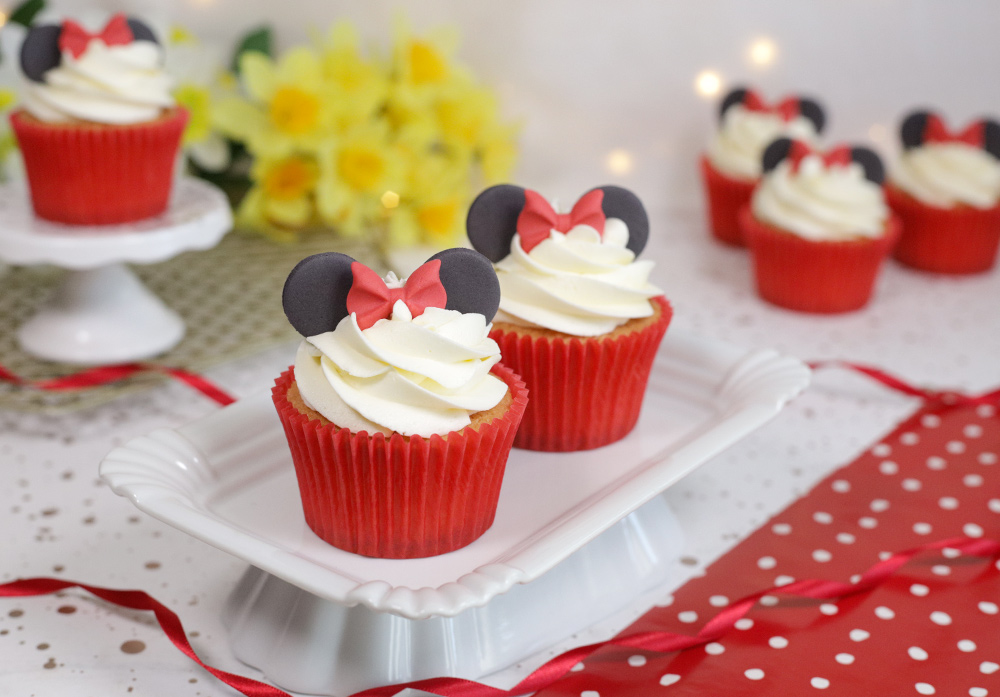 I have even got some fun cupcakes planned in for the end of this week; so will be working on the toppers for those today! Keep an eye on my creations section for all my latest celebration cakes!
Another benefit of staying home is having time to write recipes and re-igniting my love for drawing. Watching tutorials to learn digital art so far been fun and this week, I learnt a few techniques to draw this cup and saucer; following a free tutorial from Alex Kunchevsky.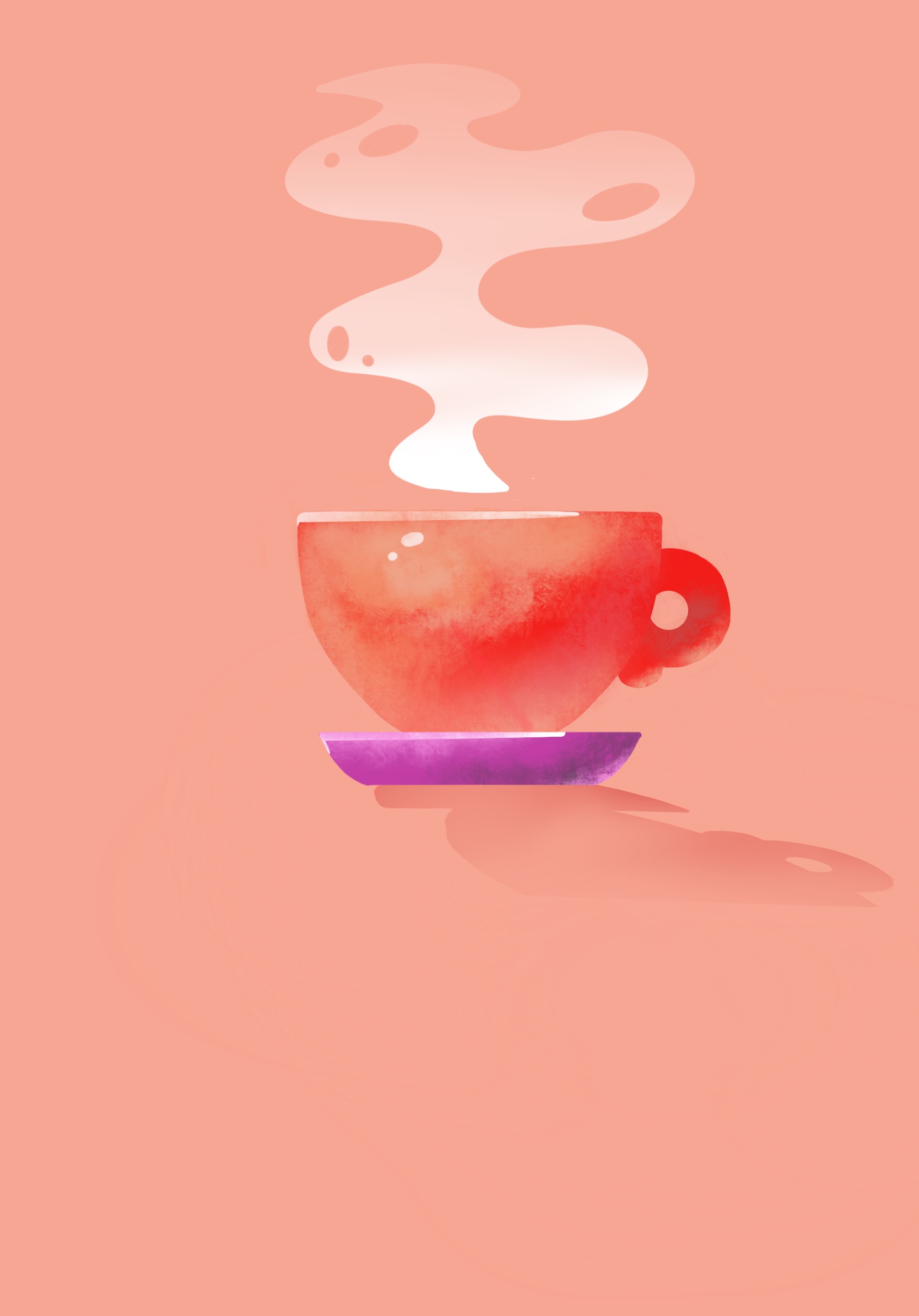 There's still area's I need to get to grips with but I've learnt so many new techniques!
Finally – I'll be guest hosting #cakershour over on Twitter tonight at 9pm!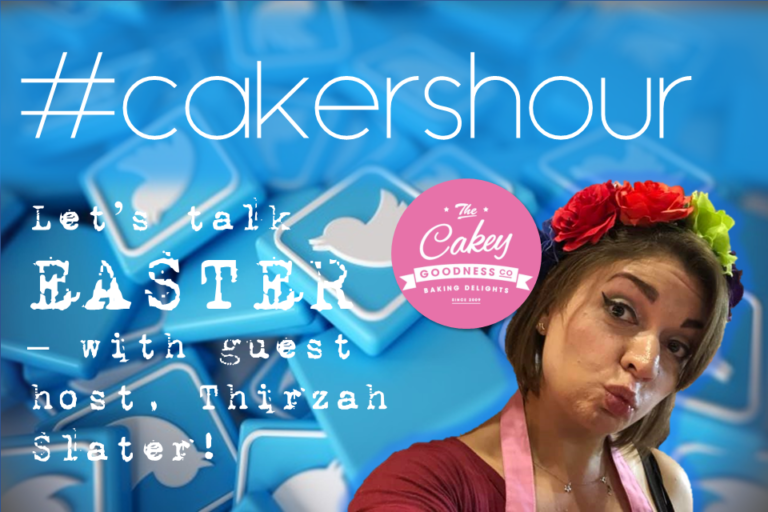 Rob over at Mr Bakers Cakes Is otherwise occupied; so I'm stepping in to welcome you to our friendly cake community! It's usually a baking business-focused theme, however, this weeks chat will be Easter themed! So get ready to share all your Spring bakes and talk about your favourite Easter treats! Just search for the hashtag #cakershour from 9pm to 10pm, over on Twitter, to get involved! See you there!
Stay Safe!
Thirzah xoxo