Stir up Sunday
It's Stir up Sunday and I've started preparations for my mince pies and Christmas pudding. My kitchen is smelling extremely Christmassy with the aroma of spices and alcohol filling the air, I love it!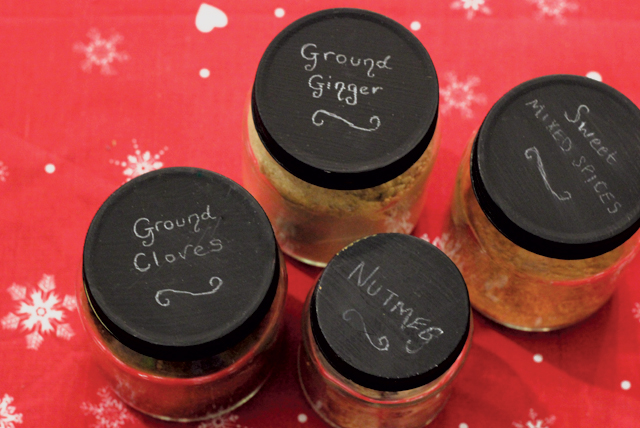 I always make a big batch of mincemeat before making my Christmas pudding as I use some of the mincemeat in my pudding recipe. Here is the recipe that I've made every year since I started making my own homemade mince pies:
Ingredients
2 Large Bramley apples, peeled and coarsely grated
200g sultanas
150g currants
150g dried cranberries
350g raisins
200g chopped mixed peel
50g pecans, finely chopped
200ml dark rum
Finely grated zest of 2 oranges, plus the juice of 4
Finely grated zest and juice of 2 lemons
4 teaspoons sweet mixed spice
1 teaspoon ground cloves
1 teaspoon ground ginger
1 teaspoon freshly grated nutmeg
350g dark muscavado sugar
200g shredded vegetable suet
Method
Combine all the ingredients, apart from the muscovado sugar and suet, in a very large saucepan. I usually put all the dried fruit in first,
(I love the colours, so autumnal!)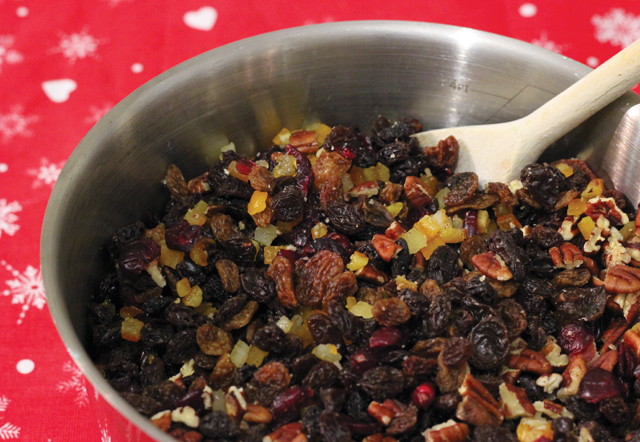 followed by the spices, then pour in the rum. Zest and juice the oranges and lemons straight over the top then finally grate the peeled Bramley apples on top. Give it all a good stir and place over a low heat on the hob to cook, stirring occasionally, for about 30 minutes or until the fruit has plumped up and most of the liquid has evaporated. It won't be dry though and the fruit will look lovely and glossy. Transfer to a large bowl and leave to cool, I let it cool to room temperature for a little while then pop it in the fridge. Once cool, add the muscovado sugar and suet and give it all a good stir so it's all well combined.
Meanwhile, sterilise some glass jars or one very large jar in which you can store the mincemeat until the time comes when you make your mince pies. To sterilise jars, preheat oven to 120°C/fan 100°C/gas 1 / 2. Wash the jars well in hot soapy water, rinse and place upside down on a baking tray and place in the hot oven for 10 minutes until they are dry. remove from the oven and use  clean oven gloves or tea towel to handle the jars.
Put the mincemeat in the hot jars, seal and set aside to cool. The mincemeat can be stored in a cool place for up to 6 months though it never lasts that long in my house!
To make the Christmas pudding, you will need 300g of the mincemeat and the following ingredients:
200g molasses cane sugar
4 tablespoons black treacle
3 eggs, beaten
4 tablespoons of whisky
100g butter, frozen and coarsely grated
200g self-raising flour
Method
Butter a 1.5 litre plastic pudding basin. (if you have a tin or ceramic basin, grease and line with baking paper) I prefer the plastic one as it doesn't require any lining and my puddings have always released easily.
In a large bowl, combine the ingredients one at a time in the order they are listed above, so put the mincemeat in first followed by the molasses and so on until you finally add the flour. Mixed everything so all the ingredients are well combined then pour into the pudding basin,the mix shouldn't reach the top but be about an inch or so below as it will rise quite a bit whilst being steamed. My basin has a plastic lid which I place on top, water shouldn't enter the basin but if you want to be extra cautious, wrap the top of the basin with greaseproof paper with a layer of foil on top and tie with string.
Put a small plate or shallow bowl into the bottom of a large saucepan and fill the pan with boiled water from the kettle and fill the saucepan until the water comes half way up the sides of the pudding basin. Place a lid on top of the pan to cover and steam the pudding over a low heat for about 3-5 hours, keeping an eye on the water level every so often as you'll need to keep topping it up to keep it steaming as it will bubble and evaporate away. Once cooked, remove carefully from the pan and seal with foil and put the basin lid back on. The pudding can be stored until Christmas day. If you choose to steam the pudding Christmas day aswell then you need to steam it for 3 hours when made fresh then steam 3 hours on Christmas day. I like to steam until fully cooked now though then you can microwave it on Christmas day to heat right through. Serve with your favourite topping; mine is some lovely hot custard. Serve with cream or whatever you desire!
Don't forget to flame the pudding on the big day. Vodka and brandy works well, heat it a little in a small pan then use a metal ladle to scoop up the alcohol if you don't have a tiny pan and light the alcohol then pour over the pudding….ooooh and aaah then serve and enjoy!
You may think it's a lot of work and time to make a pudding yourself, but believe me, it's so much better than shop bought and I think that's why so many people dislike it, because I've always found shop bought to be dry. Plus you can feed it over the next month, once a week if you like, with more whisky! So it's lovely and boozy on Christmas day :o)
I'll share my mince pie recipe when I make them nearer to Christmas. In the meantime, keep warm in this chilly weather and happy baking!
x x x