Great British Bake Off Bake Along – Apple Crumble Cake
So week one of the new series of The Great British Bake Off has been and gone! Though a lot of people were skeptical about it moving to Channel 4 with new hosts and Judges (apart from Paul Hollywood!) I still decided to give it a chance…and I love it!!
Episode one kicked off with Cake Week! The first task was to bake a fruit cake for the Signature Bake, and tension soon built in the tent with cakes getting too soggy and one contestant forgot to turn the oven on!! (whoopsie!!)
the second round was the Technical challenge where Prue Leith set the bakers the very fiddly task of baking a dozen chocolate mini rolls!! (I love mini rolls but I don't think I'd ever make them!!)
Finally; the Showstopper round! They made Illusion cakes which led to some stunning results! My favourite had to be Flo's watermelon cake; it was so vibrant when the judges cut a slice and it just looked amazing!!
As tempted as I was to create an illusion cake for my first GBBO Bake Along post, I decided there was far too many ideas and so little time to create something in time! So I decided to go with the Signature bake theme and create a fruity cake!
Now that September is here, thoughts are turning to Autumn and I fancied making something warming that I could enjoy with custard so decided on an apple crumble cake! What could be better than marrying a cake filled with apples with a delicious crumble topping!?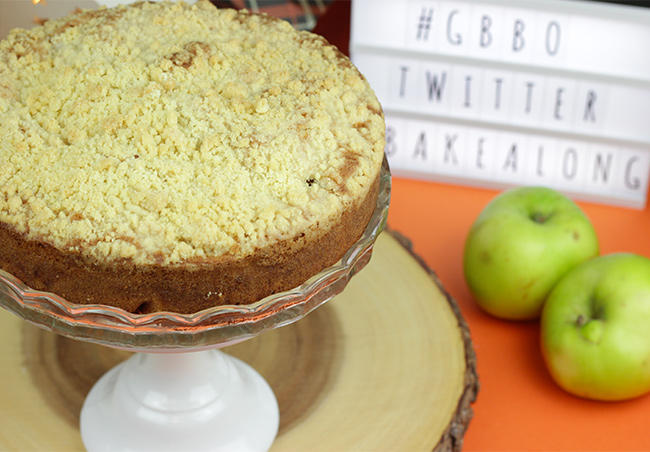 To make this cake, you will need:
Ingredients:
For the Crumble:
– 125g Plain Flour
– 75g Caster Sugar
– 75g Unsalted Butter
For the Cake:
– 250g/2 Bramley apples -peeled and chopped
– 150g unsalted butter
– 150g Light Brown Soft Sugar + 50g to mix with the apples
– 150g Self Raising Flour
– 25g Plain Flour to mix with the apples
– 3 Large Eggs
– 1 tsp Ground Cinnamon
Method:
1) Preheat your oven to 180°C/160°CFan/320°F/Gas Mark 4. Line 1 x 8 inch/20cm round cake tin with baking paper.
2) Peel and core the apples and cut into 2cm sized cubes. Mix the 50g Caster Sugar and 25g Plain Flour with the apples and set aside.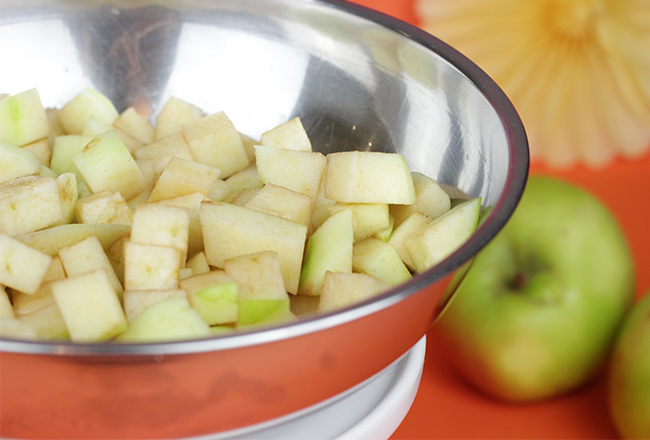 3) Make the crumble topping mixture by adding the flour and sugar into a large bowl, cube the butter and add to the bowl then rub together until it resembles coarse bread crumbs, you want there to be a few big lumps in there too! Place in the fridge.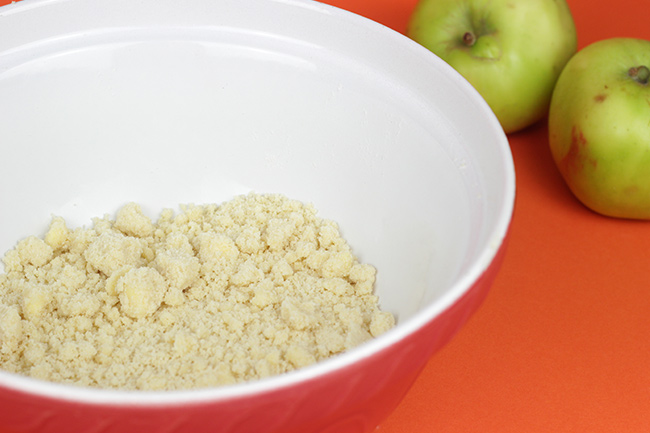 4) Make the cake by creaming the butter in a free standing mixer with paddle attachment or using a handheld electric whisk. Add the sugar and beat again until it's light and fluffy. Add the eggs one at a time mixing in after each addition. Add the Self Raising Flour and Cinnamon and mix once more until fully incorporated. Pop the chopped apples into a colander or sieve to drain off the excess liquid that has been drawn out of the apples and add to the cake mix. Fold in until fully mixed, then pour into the prepared tin. Sprinkle over the crumble so the top is fully covered.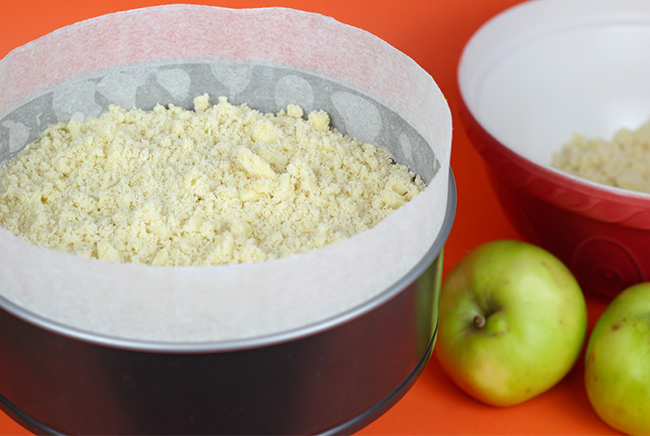 5) Bake in the oven for an hour. The cake should be well risen with a lightly golden crumble. Remove from the oven and allow to cool in the tin then remove from the tin and place on a cooling rack to cool completely.
Serve & enjoy!! This is delicious as a dessert served with custard or cream and also perfect with a cup of tea for an afternoon treat!