I love a limited edition Baileys and have treated myself to nearly all of their limited edition releases including Belgian chocolate and my personal favourite so far…Pumpkin Spice!
Finally, after what seems like a long wait; Baileys Strawberries & Cream is now available in the UK and I picked up a bottle this week from my local Asda!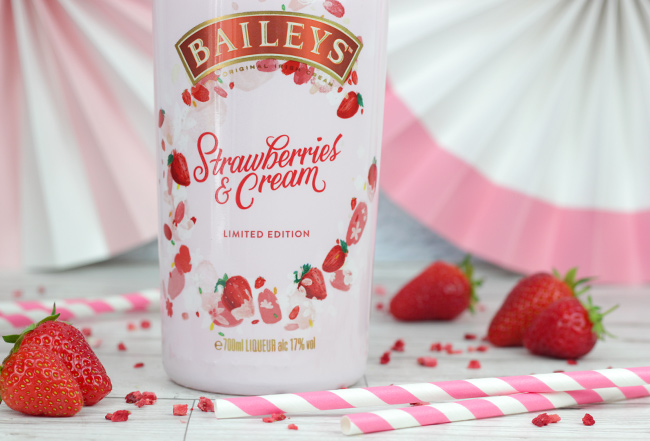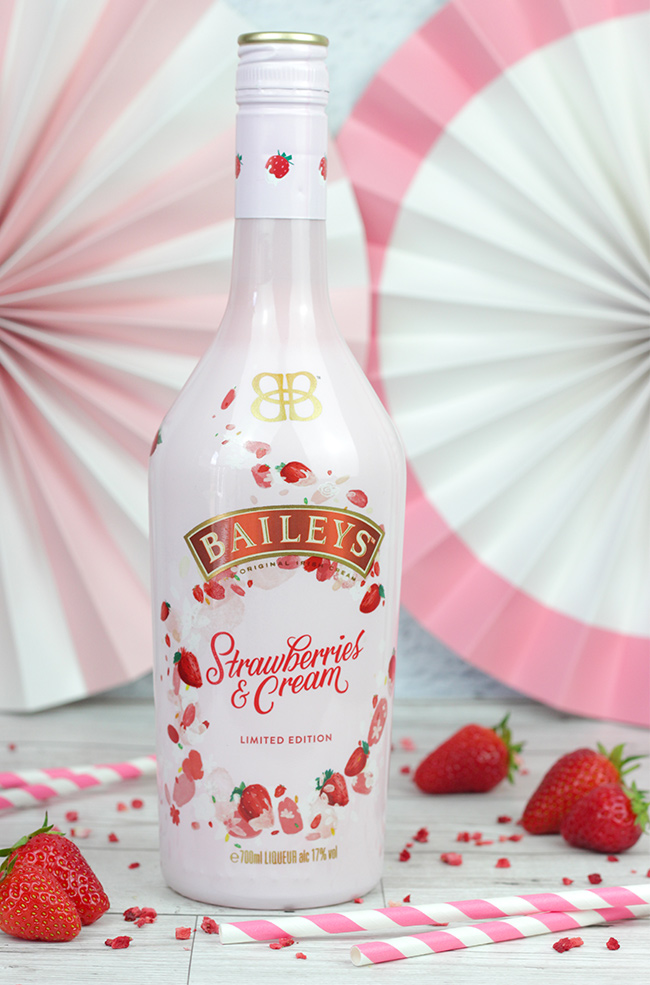 The flavour is pretty much an alcoholic strawberry milkshake and tastes delicious served over ice! It's a beautiful shade of light pink too!
After making Piña Colada Cheesecake pots for my latest post with Cake Bag and enjoying some little strawberry cheesecakes served in little shot glasses at Sketch London Afternoon Tea this week;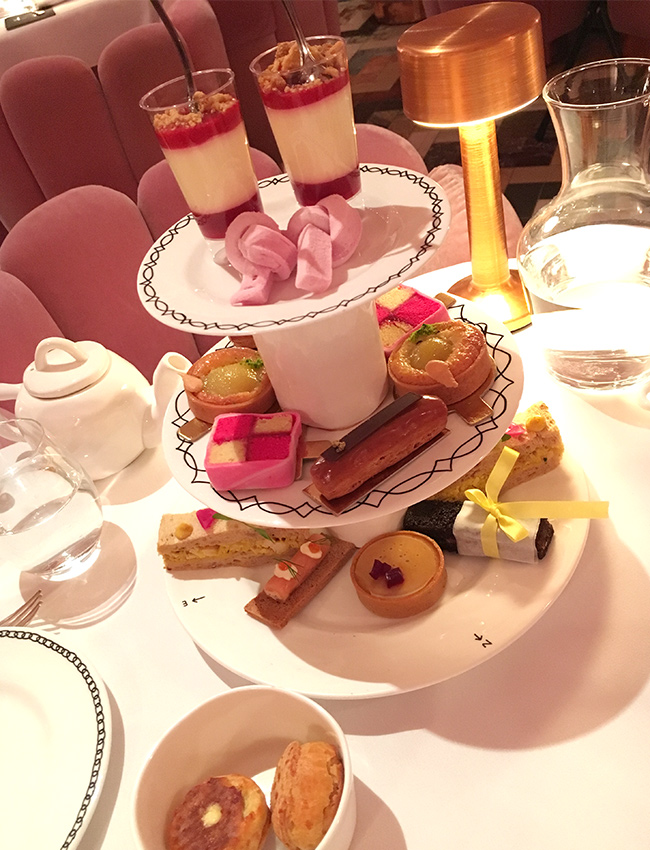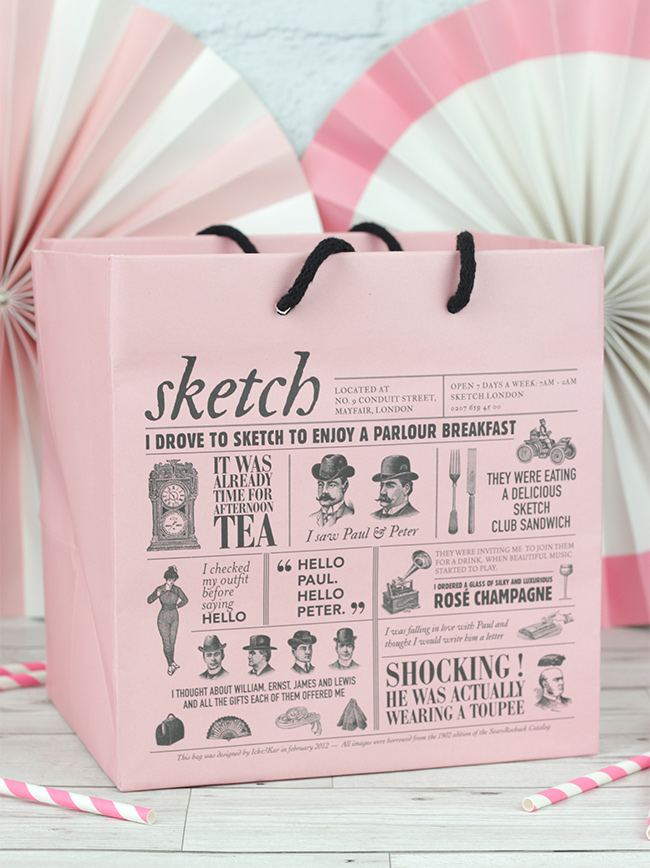 I felt inspired to make these Baileys Strawberries & Cream cheesecake shots!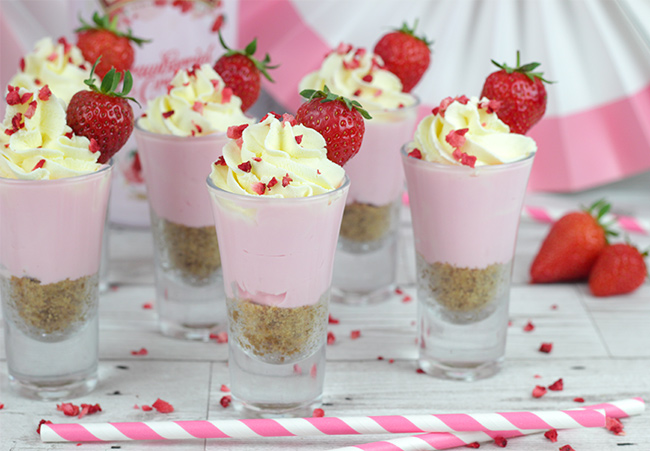 These are perfect to serve at a summer get together for dessert as they're an easy no bake treat!
This recipe makes 6 little cheesecake shots.
Ingredients:
For the biscuit base:
– 75g Digestive Biscuits
– 25g unsalted butter, melted
For the cheesecake filling:
– 125g Cream Cheese (I used full fat Philadelphia)
– 75ml Baileys Strawberries & Cream
– 25g icing sugar
– 75ml Double Cream
– ¼ teaspoon baby pink food colouring
For the topping & decoration:
– 250ml Double Cream
– 2 tbsp icing sugar
– Freeze dried strawberries
– 1 Punnet of small fresh strawberries
Method:
1) Blitz the digestive biscuits into fine crumbs using a blender or food processor.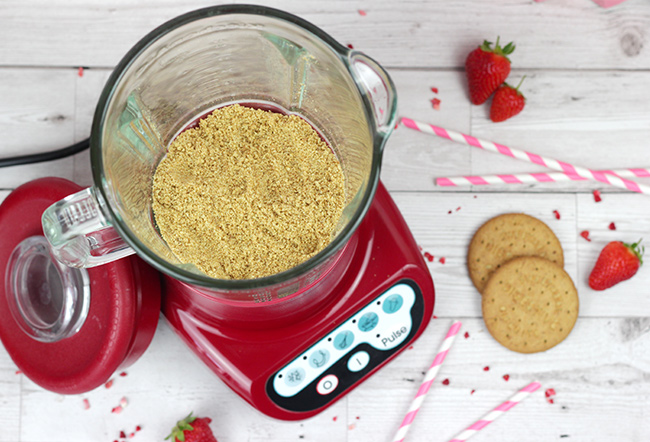 2) Melt the butter in a pan over a low heat or pop in a heat proof bowl in the microwave for 10-15 seconds, stir until melted then add the biscuit crumbs and mix together.
3) Spoon the biscuit mix into the shot glasses and press down, to form the base of your cheesecakes.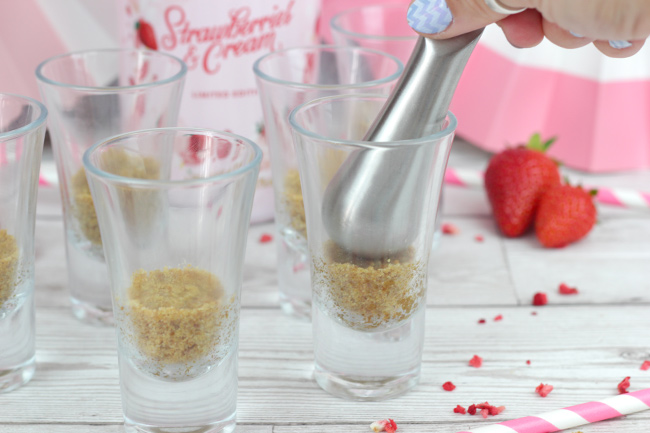 4) Place these in the fridge to chill while you make the cheesecake filling. To make this simply pop the cream cheese into a freestanding mixer with a paddle attachment or use a large bowl and a handheld whisk. Mix to loosen, then add the Baileys Strawberries & Cream and mix until well incorporated. Mix in the icing sugar then finally pour in the cream and give it one final mix. You'll be left with a stiff mixture. I found that because the Baileys is such a light pink I needed to add in some pink food colouring to bring the lovely shade of pink back as the cheese and cream diluted the colour right out and I wanted some definition between the cheesecake filling and the swirls of cream on top!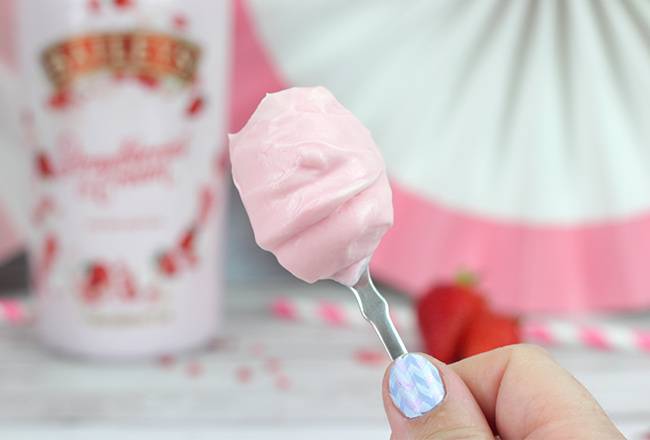 5) Spoon the cheesecake filling on top of the biscuit bases in the shot glasses and shake a little so the mix falls down into the glasses, then smooth the tops down using the back of a small teaspoon.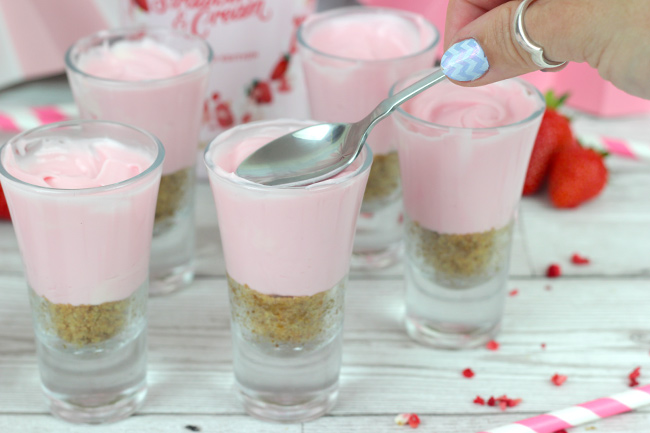 6) Place in the fridge to set for about an hour. Meanwhile, make the topping by whipping up the cream and icing sugar, in a freestanding mixer fitted with a whisk attachment or large bowl with a hand whisk, until it forms soft peaks. Pop the mix into a piping bag fitted with a large star nozzle.
7) Remove the set cheesecakes from the fridge and pipe swirls of cream on the top of each one.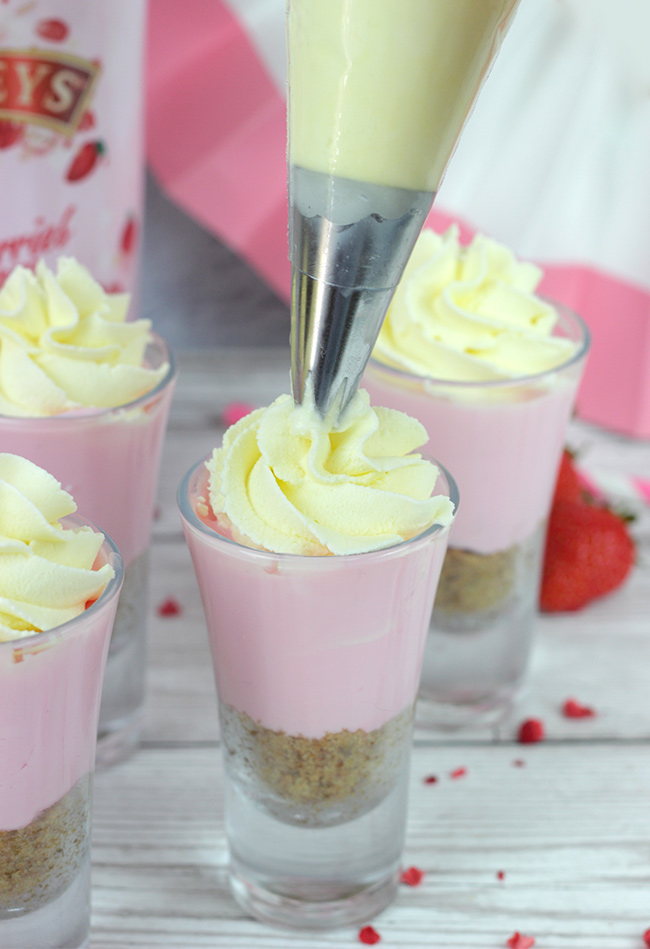 8) Sprinkle over the freeze dried raspberries to decorate & pop a fresh strawberry on the side to garnish!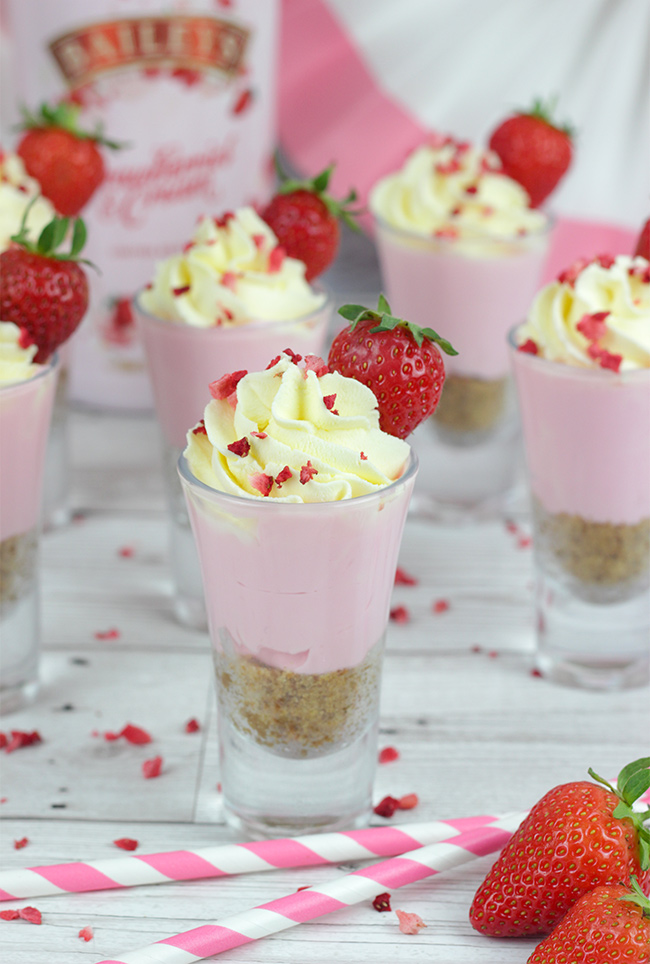 Serve and enjoy!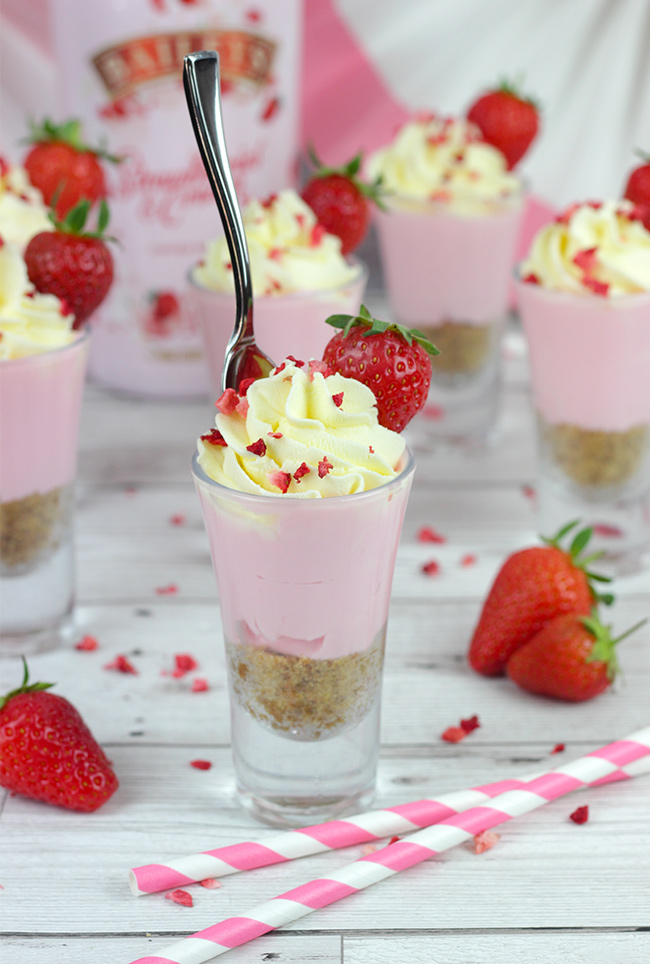 I really want to try out some more cheesecake flavours served as individual desserts…so if you have any preferences of flavours you want me to try and share; please leave your ideas in the comments down below!
Thirzah xoxo