The semi-final of the Great British Bake Off was Patisserie Week! One of my favourites as it involves some of the most yummy bakes which included choux buns,
Les Miserable slices & a Meringue sculpture!
It was another warm week in the tent and we saw a few melting meringue sculptures! Steven's chocolate balloon basket just melted and disentegrated before our very eyes and a few cracks appeared in Sophie's ballerina creation. Stacey nearly lost her flamingoes altogether when she almost knocked them off the kitchen counter but one came away with a slight break to its neck!! Kate seemed to redeem herself with some of her bakes this week which meant that Stacey was the one to go before the Final.
There was only one bake I wanted to try again for this week's bake along post which is profiteroles!! These have to be my all time favourite dessert (other than pavlova and cheesecake of course!)
The last time I attempted profiteroles they ended in disaster as they were runny and looked like pancakes! I obviously did something incredibly wrong but decided to follow Paul Hollywoods recipe this time and they turned out beautifully!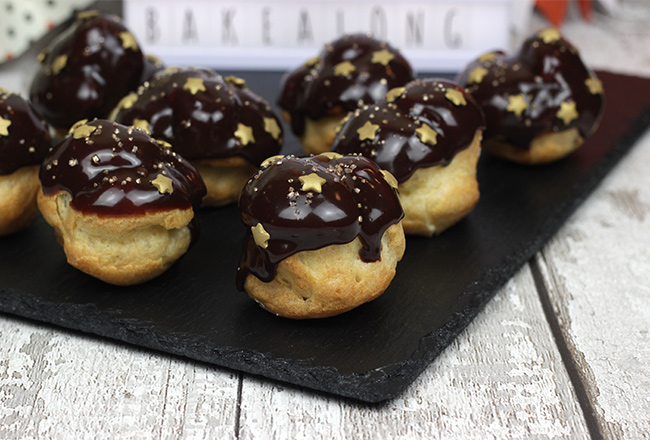 To make these you will need:
Ingredients:
– 65g plain flour, sifted
– pinch of salt
– 50g unsalted butter, diced
– 2 large eggs, beaten
– 120 ml cold water
For the chocolate ganache:
– 125g Milk Chocolate
– 125g Dark Chocolate
– 250ml Double Cream
– 75g Golden Syrup
– 4 tsp Vanilla extract
For the filling:
– 300 ml double cream; whipped
Method:
1) Weigh out and prepare all the ingredients. Grease and line 2 cookie sheets. Preheat oven to 200°C/392°F/Gas Mark 6. Place the cold water, butter and pinch of salt in a medium sized saucepan and melt the butter over a low heat (do not allow to boil)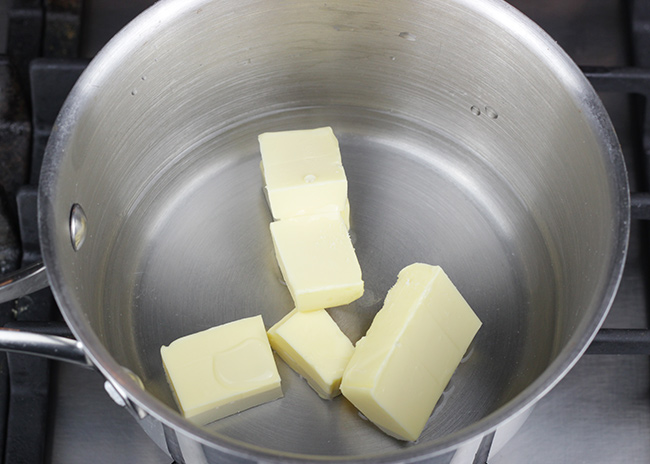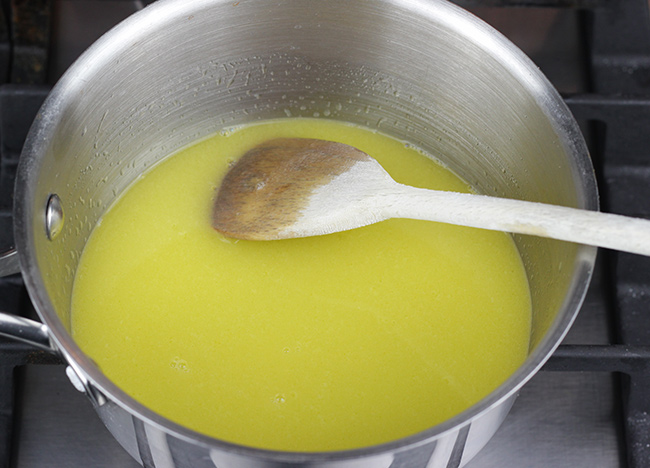 2) Once the butter has completely melted, turn the heat up and bring to the boil then remove the pan from the heat and pour in all the flour and beat vigorously using a wooden spoon until it forms a thick dough.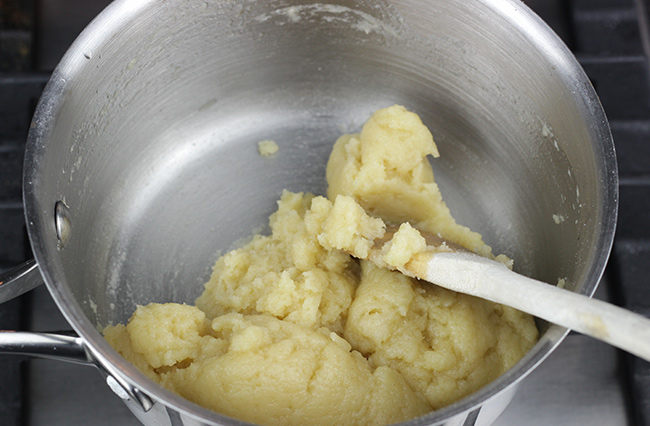 3) Place the pan of dough back over a low heat and stir for about a minute until it forms a more rounded and glossy ball.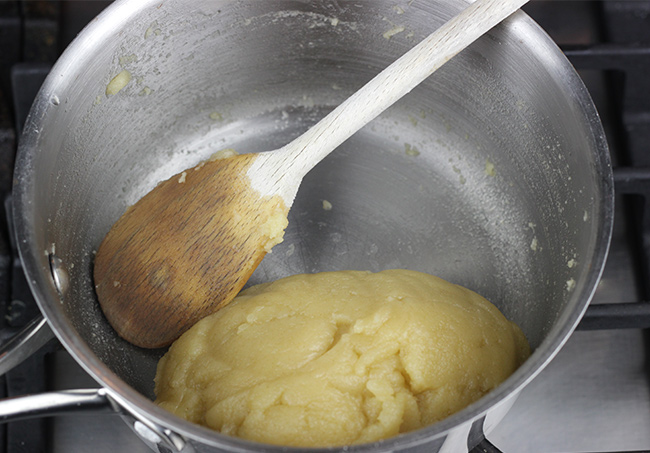 4) Tip the dough into a large mixing bowl and leave to cool almost completely, you want it to be just a tiny bit warm.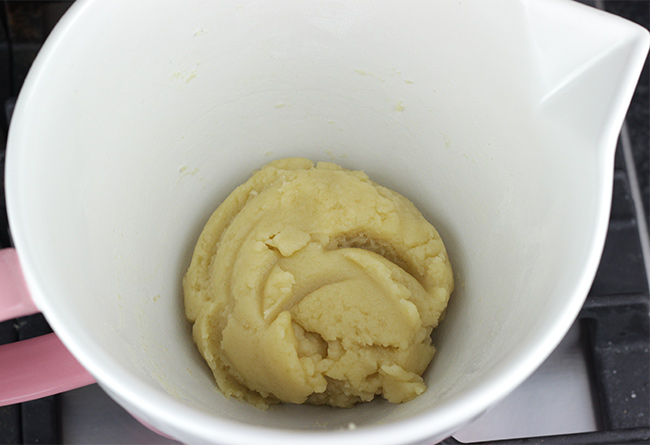 5) Meanwhile, make the chocolate ganache by placing all the ingredients in a bowl and zap in the microwave in 20 second intervals or place in a bowl over a pan of simmering water and stir until completely melted and set to one side to cool and thicken.
6) Once the choux pastry dough has cooled, gradually add the whisked egg a bit at a time mixing well between each addition using a wooden spoon.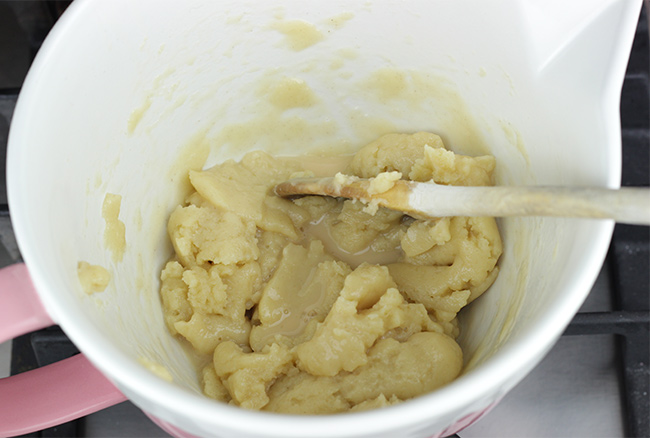 7) The mixture is ready when it's mixed to stiff peaks and looks soft enough to pipe, it should fall off the spoon when gently shook.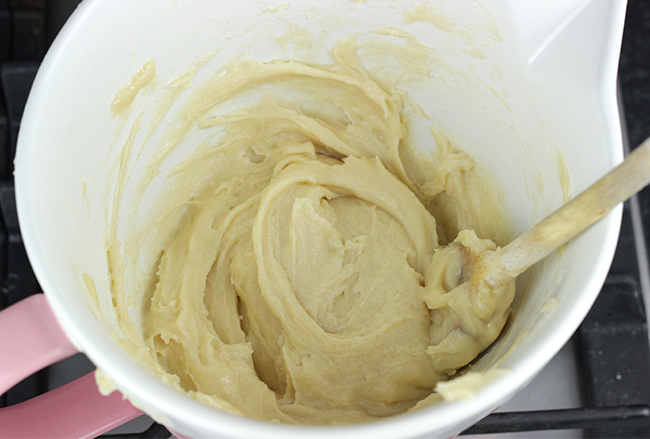 8) Spoon the mixture into a piping bag fitted with a large round nozzle and pipe rounds that are about the size of a golf ball. I managed to make 24 profiteroles from this mix but you could pipe larger sized ones for bigger choux buns and you'd probably make about 12 – 15 larger ones.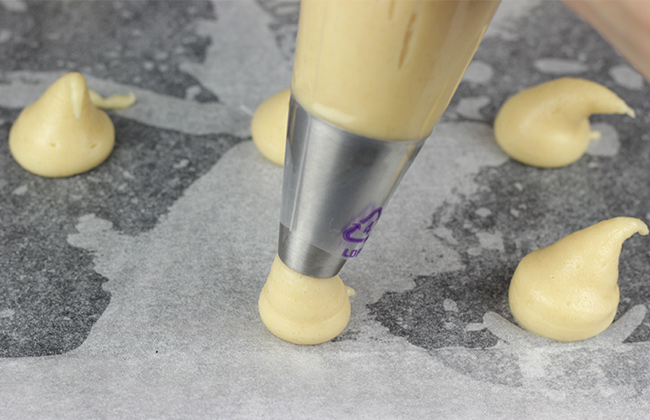 9) Flatten down the peaks on each bun using a finger dipped in water and sprinkle some water on the trays between the buns (be careful not to get water on the buns.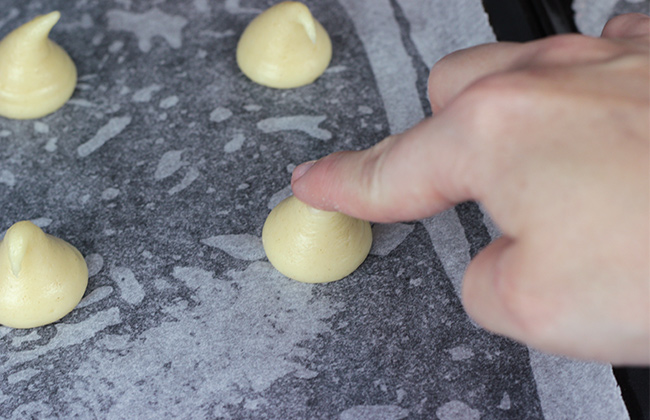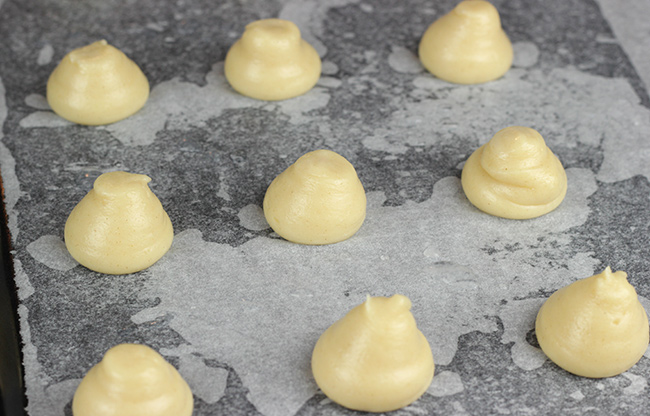 10) Bake in the oven for 15 minutes then without opening the oven door, turn the heat down to 170°C/340°F/Gas Mark 3 and bake for another 5 minutes.
11) Remove the buns from the oven and use a skewer to pierce holes in the bottom of each one and place back in the oven for another 5 minutes to allow steam to escape so they don't go soggy inside.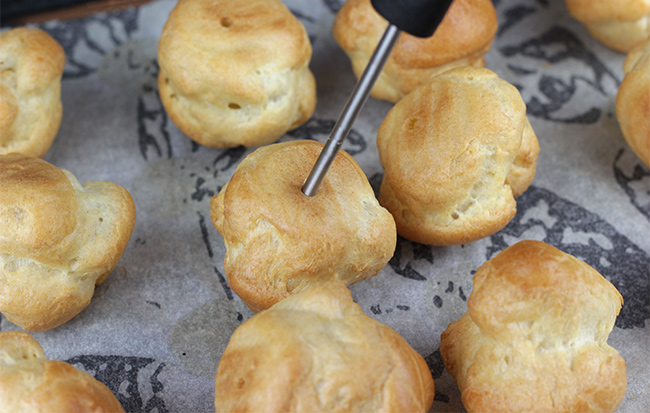 12) Remove from the oven and place on a cooling rack to cool completely.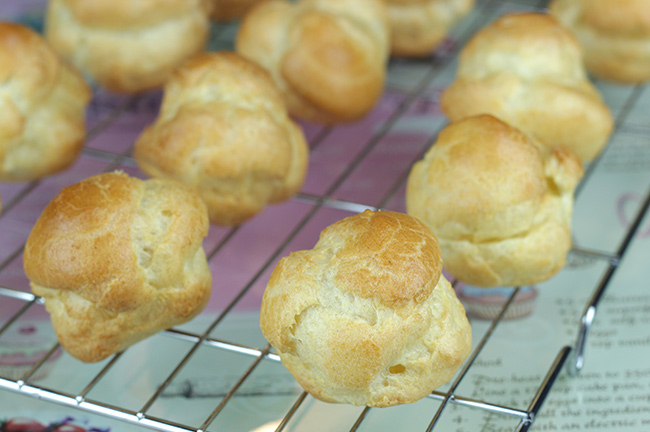 13) Meanwhile, whisk the cream to billowy peaks and place in a piping bag fitted with a small round nozzle. Once the choux buns are cooled completely, pipe the whipped cream into the holes made in to bottoms of the buns to fill.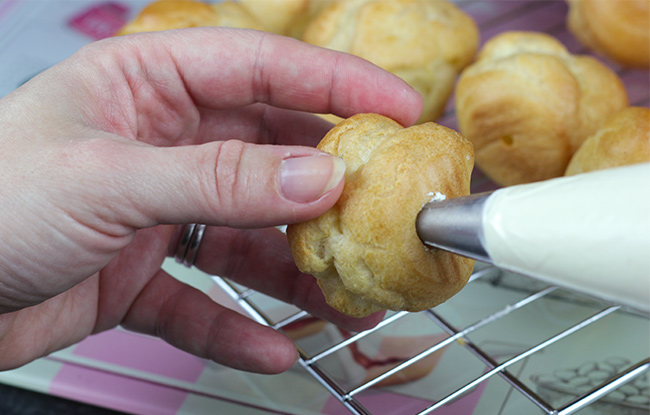 14) Dip the top of each choux bun in the chocolate ganache to cover the tops.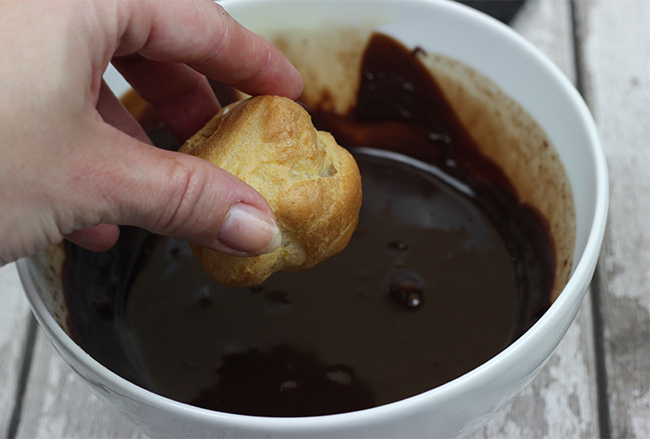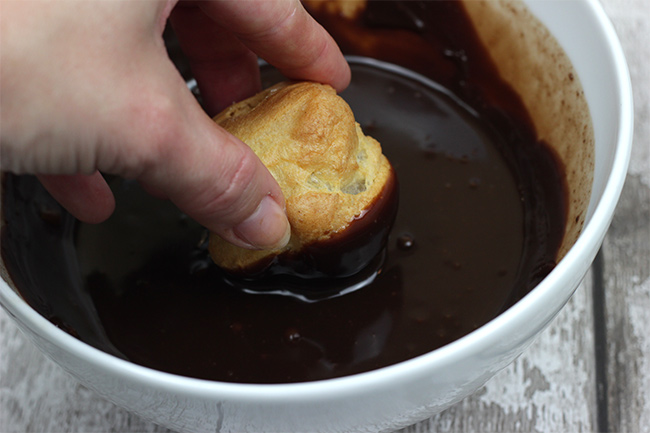 You can leave them plain or decorate with sprinkles or drizzle with white chocolate. I used gold glimmer sugar and gold stars which I picked up in Sainsbury's which makes them look so festive!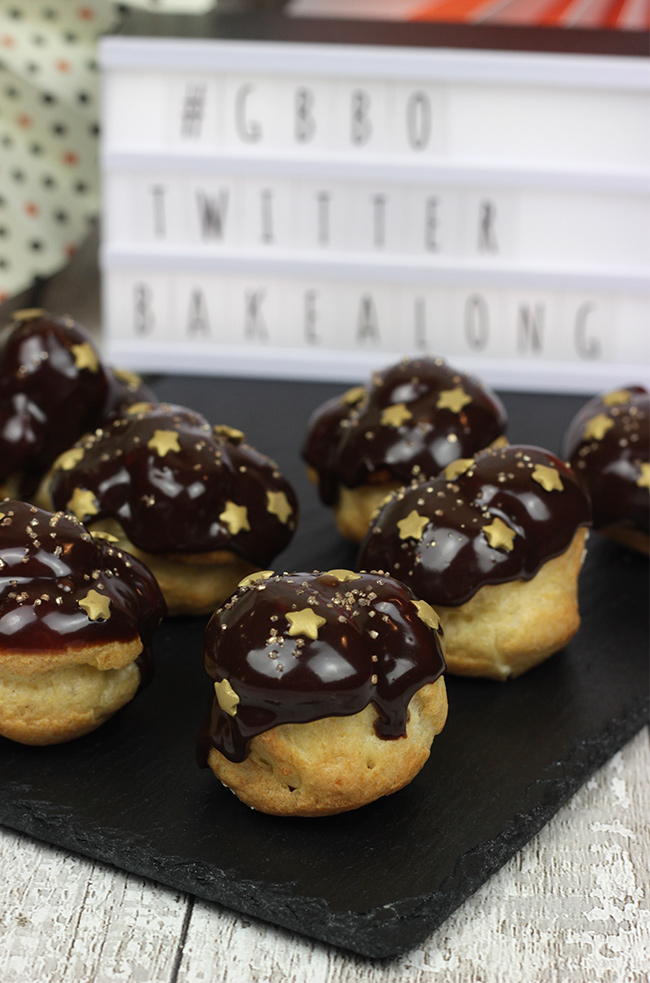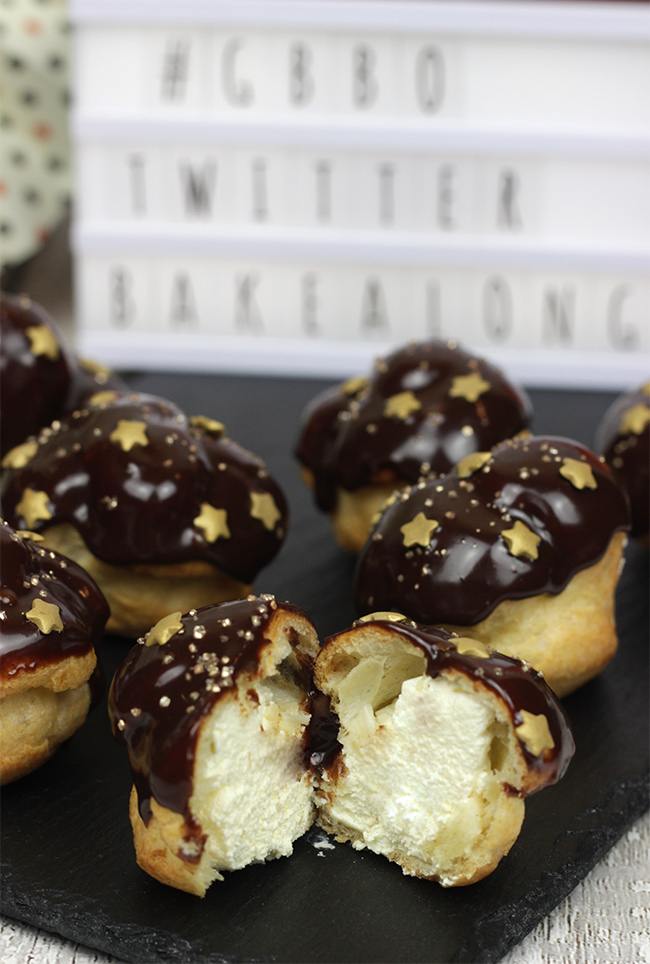 So the final is looming and we'll see the 3 remaining bakers; Sophie, Steven & Kate challenged to to their final bakes and see who is crowned the winner of 2017!
Who is your favourite that you'd like to win this year?