This post is much later than planned because I had such a busy week last week with cake orders, work and generally playing catch up!! But I finally developed a little GBBO Caramel Week recipe for these super easy Millionaires Cookies!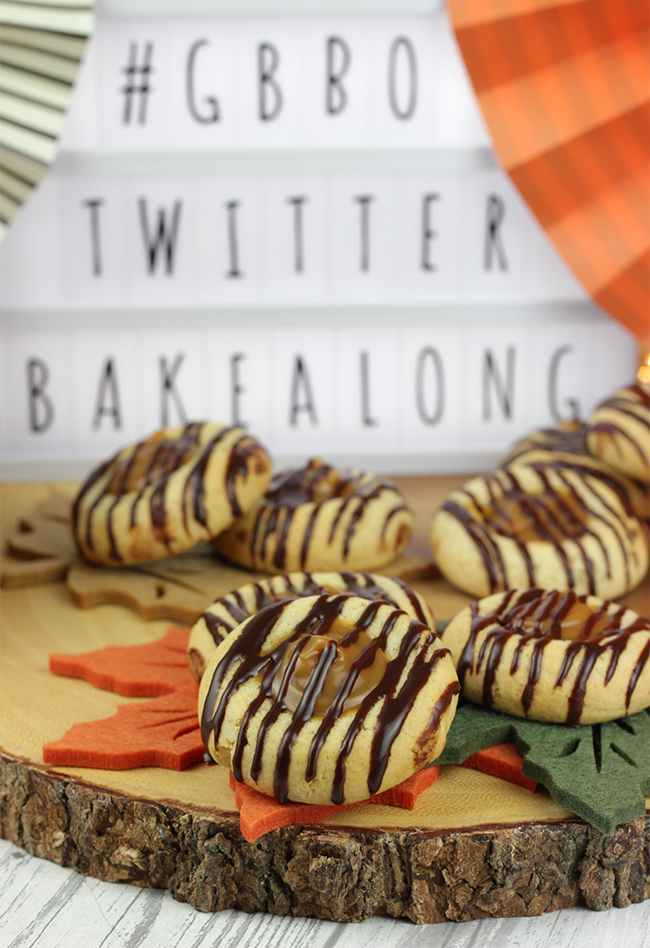 I've made Millionaires Shortbread before and I have to say they are a bit hit and miss for me! Just like the Bake Off contestants, I can find caramel really tricky; especially when you're layering it up with the shortbread and chocolate topping like the Signature Bakes they created on Caramel Week! I've found when slicing it can end up a bit of a mess!
The Millionaires Shortbreads they created in the tent all sounded amazing though! James and Julia both went for caramel pecan in theirs, Tom chose almonds and Steven put Macadamia nuts in his! Sophie for a more fruity flavour with her Jaffa cake inspired ones which sounded delicious! Stacey went for spiced rum in her heart shaped delights whilst Liam made his own peanut butter for his Tetris presentation. Yan chose hazelnuts and ginger and staying with unusual flavours; Kate went for salted caramel and Bay leaf!
I loved that some of the bakers used moulds to make their millionaires shortbreads which eliminated the need to slice and risk caramel oozing out! Liam received the Hollywood handshake for his presentation which was one of the more creative in the tent!
For the Technical Challenge – Prue challenged the bakers to create 12 Stroopwafels in an hour and 45 minutes! Stroopwafels are Dutch biscuits filled with a stretchy caramel. In this episode, we finally started seeing some history behind the bakes as Noel gave us the first history lesson segment in the series! Unfortunately, all the bakers had issues with grainy caramel in this challenge but the judges still had to pick a winner which was Stacey as her Stroopwafels were the most flexible.
For the showstopper, they made caramel cakes with spun sugar decorations which had to be pretty large in size! We saw a large array of different techniques used to create some extravagant decorations.
Star Baker for Caramel week was Kate. We said goodbye to Tom as he had some pretty bad luck in each challenge this week!
So moving on to my recipe, I wanted to make something pretty simple,  so chose the Signature bake for a new take on Millionaires shortbread but using this salted caramel sauce I picked up in M&S.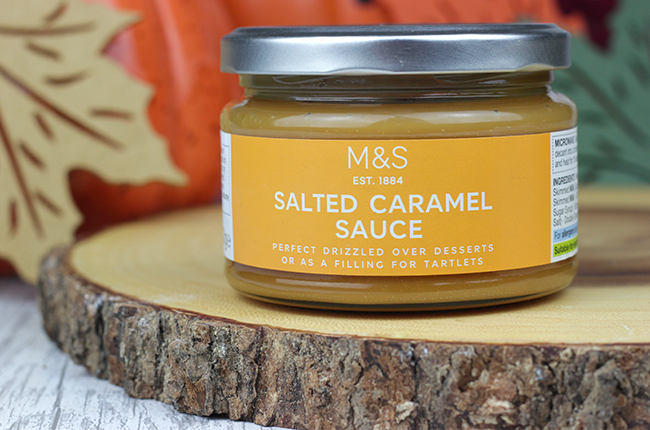 To make these, you will need:
Ingredients:
For the biscuits:
– 275g Plain Flour
– 1 tsp Baking Powder
– 100g Caster Sugar
– 75g Butter – diced
– 1 Large egg
– 2 Tbsp Golden Syrup
– 1/2 tsp Vanilla Extract
For the Chocolate Drizzle:
-75g Milk Chocolate
-75g Dark Chocolate
-100g butter – cubed
Plus a jar of caramel.
Method
1) Preheat your oven to 180°C/160°C Fan/320°F/Gas Mark 4. Line a baking sheet with baking paper.
2) Place the dry ingredients into a bowl of a freestanding mixer with paddle attachment or use a large mixing bowl and handheld whisk; mix the dry ingredients together then add the butter and mix again until the mixture resembles fine breadcrumbs. Add the egg, golden syrup and vanilla extract & mix until well combined then it will all come together to form a ball of dough. Remove from the bowl and wrap in clingfilm. Place in the fridge to chill for half an hour.
3) Remove the dough from the fridge and break pieces off and form into balls slightly smaller than a golf ball and place on your lined baking sheet.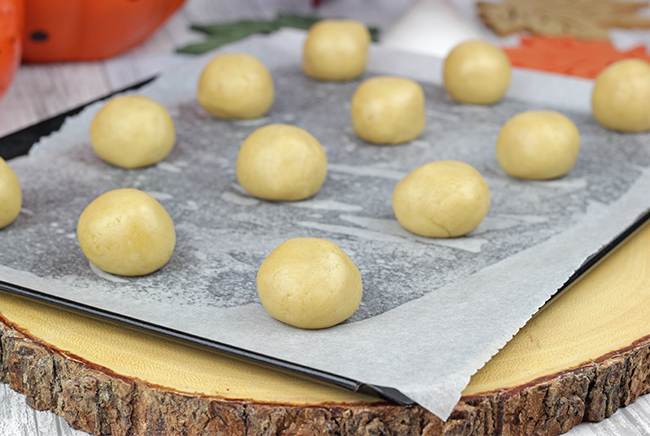 4) Squash them down ever so slightly then use a small rolling pin to make indentations into each one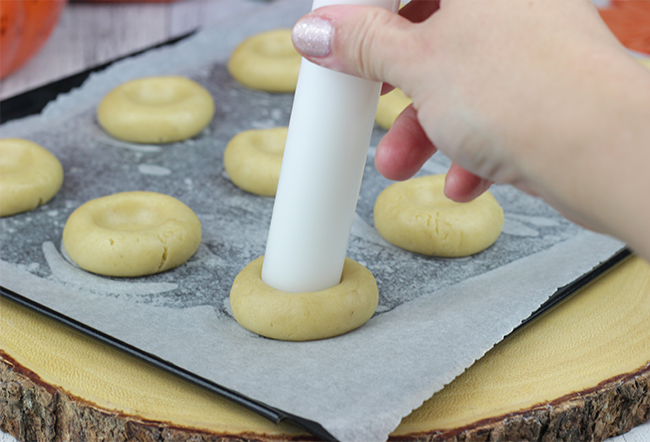 5) Bake in the preheated oven for about 10-15 minutes until they are slightly risen and a nice golden brown colour. If the indentations you made in the middle rise a bit, simply use the rolling pin to push the middles back down again after baking then leave them to cool completely.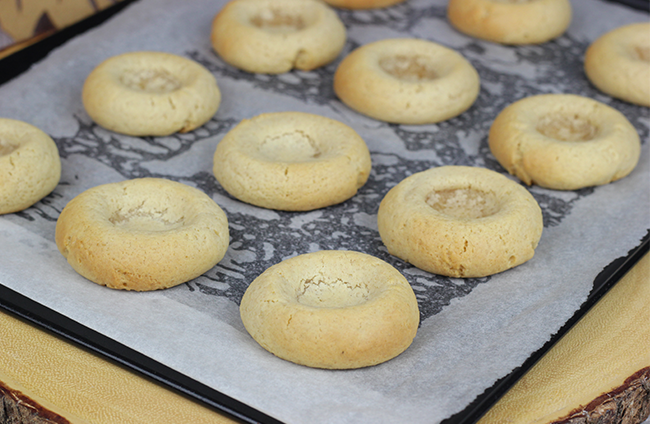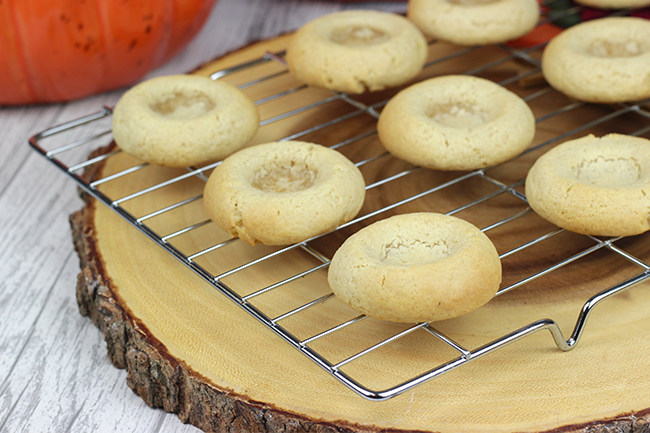 6) Meanwhile, make the chocolate drizzle by placing milk and dark chocolate in a bowl along with the butter and blast in the microwave in 20 second intervals until melted. You can also melt in a bowl set over a pan of boiling water. Pour into a squeezey bottle and leave to cool.
7) Use a small spoon to place some salted caramel in the indentations of each cookie. Then using the squeezey bottle, drizzle the chocolate over the tops of the caramel filled cookies.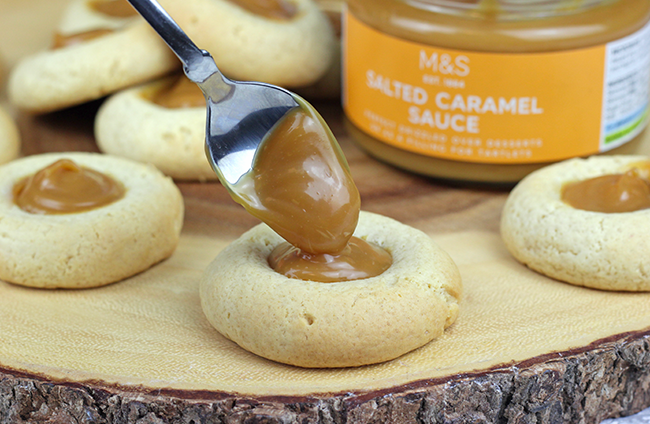 And you have super easy cookies with all the flavours of a Millionaires Shortbread!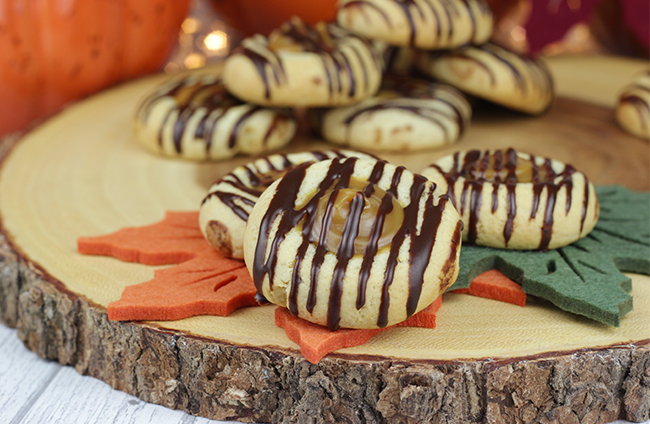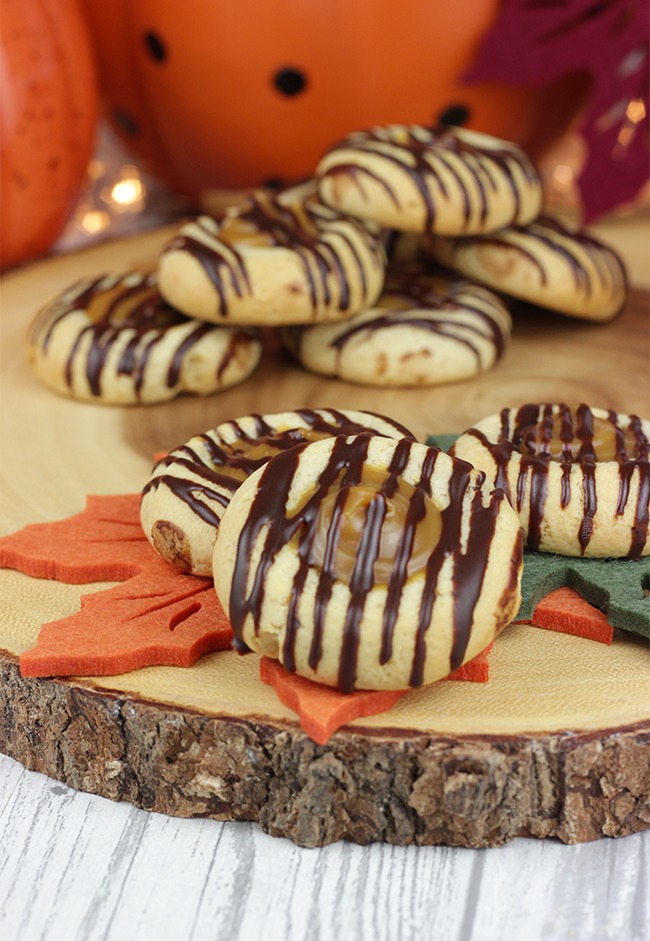 The Dessert Week episode aired last night! So I'm off to come up with a yummy dessert to bake for my next bake along post!
Happy Baking!
Thirzah xoxo