This weeks Great British Bake off was Pudding Week! Perfect timing for the more Autumnal weather we've been experiencing recently!
We saw the bakers challenged to a wide array of different puddings and desserts!
In the Signature Bake round, they made a steamed school pudding.The Judges were looking for light puddings with the right amount of sweetness. We saw Cherry Bakewell inspired flavours in Liam's and Stacey's (there was a bit of a battle going on between those two!), James went for orange and Sophie flavoured hers with ginger,fig and honey. Yan continued the fruity theme using mango in hers. In this round; Paul was giving out Hollywood handshakes left, right and centre!! When Liam didn't receive a handshake (I thought he would at this point seeing as Paul seemed in a rather good mood!) Noel offered a Fielding Fondle instead but Liam didn't seem keen to take him up on his offer!
Moving on to the Technical challenge, the bakers had staggered start times in this round to create a chocolate fondant with a peanut butter centre. Now I love a chocolate fondant, but the idea of the centre being filled with peanut butter sounded rather odd; I felt it would be claggy and sickly! Any how, the bakers were all a bit confused when it came to deciding how long to bake them for, Paul stated that they only needed 10 minutes but we saw timings ranging from anything between 8 to 20 minutes. Most turned out pretty well!
For the showstopper round, the bakers were set a very challenging task of creating an ornamental trifle terrine with a baked element, a set custard or mousse and a jelly! As if that didn't sound challenging enough, the jelly had to be firm enough to be sliced but not too firm that it was rubbery! Sounds like an absolute nightmare but I couldn't wait to see what they made! There was some seriously impressive ones from Steven's American Flag where he managed to pipe stars through it! Though it looked impressive; the judges concluded that it was too rubbery! Kate added some custard powder to her terrine to give a nostalgic flavour! Poor Liam had an issue with his jelly not setting so tears started to flow in the tent! Julia was the next to shed some tears under the pressure after James was sent home. It seems now as the numbers of bakers in the tent is decreasing the pressure is on and a lot of the bakers are realising they really have to step up their game in the weeks ahead! (I was certainly feeling sorry for Liam and Julia this week!) Let's hope they can have a better week in next weeks GBBO: Pastry Week! (One of my faves!!)
Moving on to my pudding week bake; I decided to go of the technical challenge this week and create a chocolate fondant but without any peanut butter in sight!!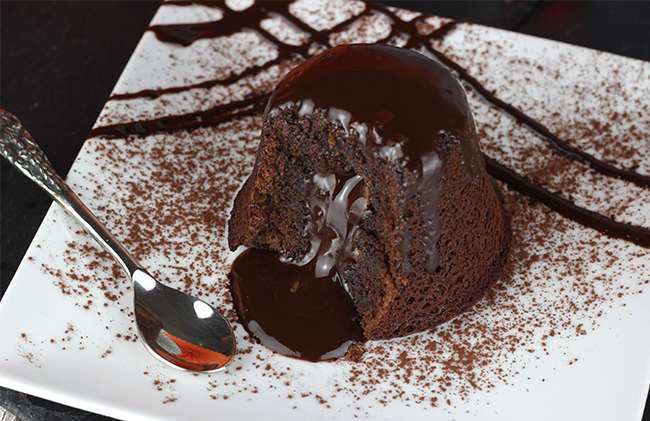 I used Lindor truffles to make the melting chocolate centres in mine and also added a chocolate sauce over the top to finish! Delicious!
To Make these you will need:
Ingredients:
For the Puddings
– 125g dark chocolate
– 125g butter – cut into cubes
– 3 large eggs
– 125g Caster Sugar
– 50g Plain Flour
– 4 Lindt Lindor truffles (I went for milk but these would also be amazing with the dark or orange truffles too!)
For the Chocolate Sauce:
– 125g Milk Chocolate
– 125g Dark Chocolate
– 250ml Double Cream
– 75g Golden Syrup
– 4 tsp Vanilla extract
You will also need some cocoa powder to dust.
Method:
1) Preheat your oven to 180°C/350°F/Gas Mark 4. Spray 4 mini pudding basins with non-stick cooking spray. Place the chocolate and butter in a bowl and melt over a pan of boiling water or blast in 20 second intervals in the microwave until completely melted and leave to cool slightly.
2) Meanwhile; Crack the eggs into a bowl of a freestanding mixer or use a large bowl with a handheld whisk to loosen the eggs, add the caster sugar and beat on a high speed for about 5 minutes until the mix increases in volume and turns into a pale yellow colour. Add the melted chocolate and mix on a low speed then fold in the flour with a spatula until fully incorporated.
3) Pour the mix into your prepared pudding basins set on a baking sheet.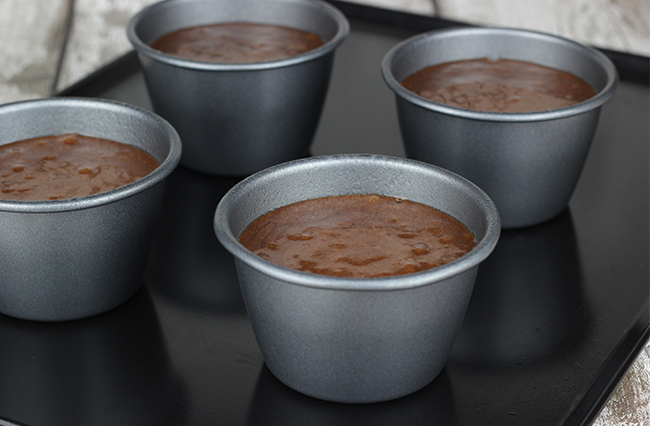 4) Pop a Lindor Truffle in the centre of each pudding, Don't worry if it's sticking out slightly as the mix with rise over the top when baking.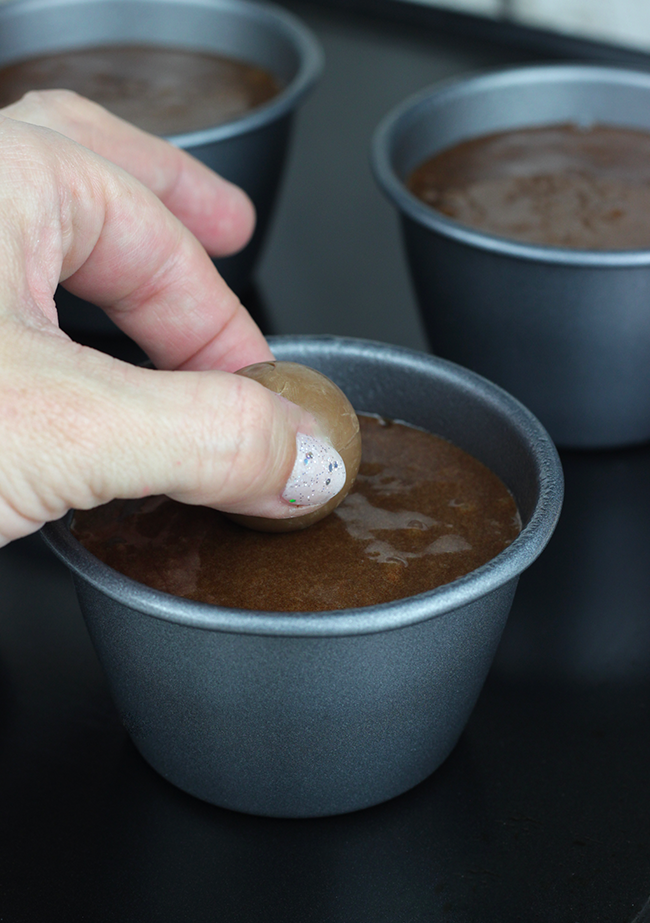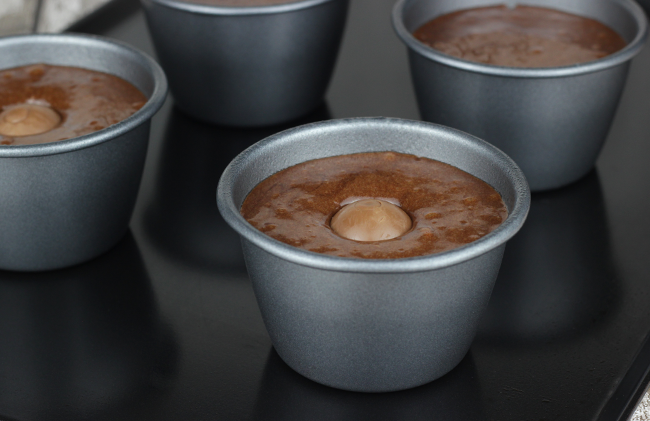 5) Bake in the oven for about 10 to 15 minutes. Then leave to cool for about 2 minutes once you take them out of the oven before turning out on a serving plate. The best way to do this is to place the plate upside down on top of the pudding then flip it the right way up! Don't forget to use an oven glove as the pudding basin will be extremely hot!!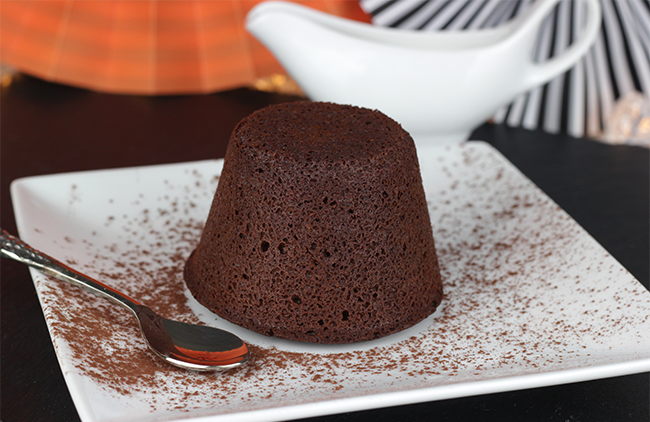 6) Serve with a dusting of cocoa powder and drizzle over the chocolate sauce! You can even go one step further and place the chocolate sauce in a squeezey bottle to drizzle pretty patterns or lines on the serving plate! Serve with a little jug of cream or a scoop or 2 of vanilla ice cream to get that amazing hot chocolate pudding and cold ice cream effect! Yummy!!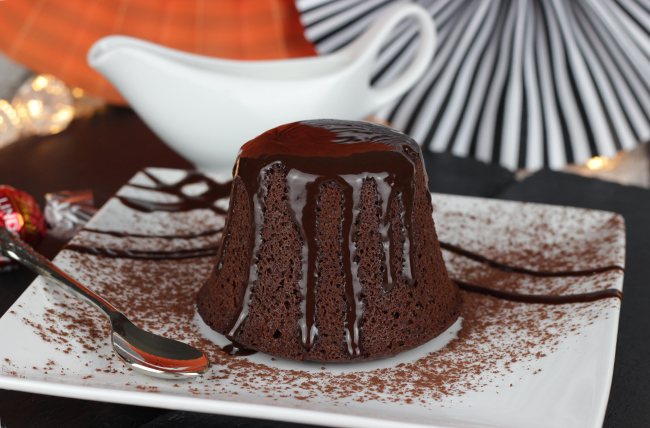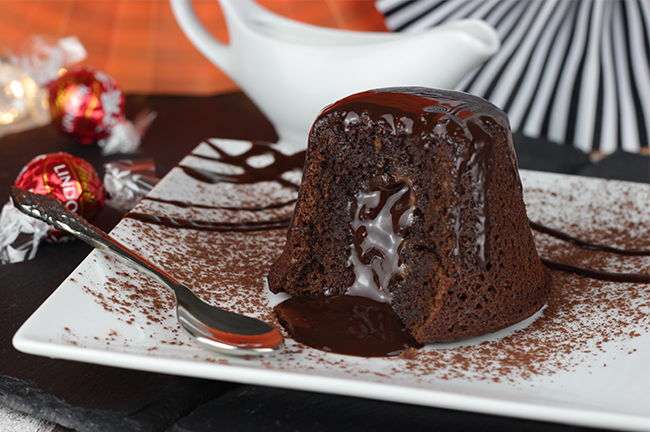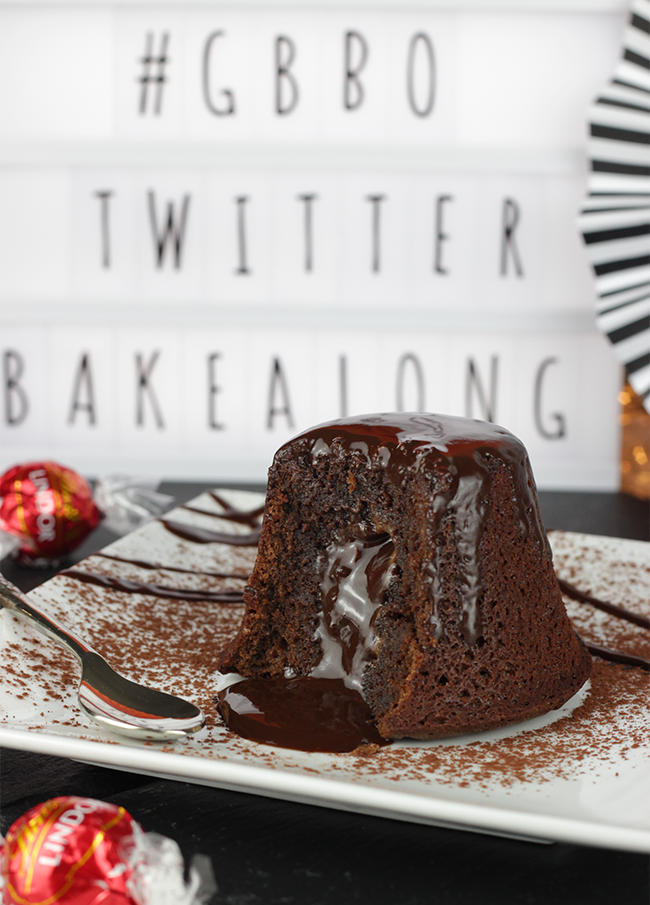 I hope you enjoy this super easy recipe!
I can't wait to see what Pastry Week creations we'll see in the tent next week! Lets hope next weeks episode isn't as tense as pudding week!
Happy Baking!
Thirzah xoxo