This week was Forgotten Bakes week!
The bakers' first challenge was to make four Bedfordshire Clangers for the signature bake, which is a bit like a Cornish pasty, with one end sweet and one end savoury. The pastry is made with suet and is longer and more sausage like in shape than a pasty. The bakers were challenged to make a modern take on this recipe that is usually filled with meat, potato and vegetables at one end and apple and jam in the other. Much like the Cornish pasty, it has a meal and dessert in one pastry case. Stacey did the best job making Bedfordshire Clangers so much so that she received a Hollywood handshake!
For the technical, they were asked to make traditional Rum Nicky, which is a tart filled with sticky dates and treacle with a lattice top served with a rum butter. They all had a bit of trouble with their lattice tops this week and we saw a few soggy bottoms and rum butter that was too grainy. Steven finished in first place for this round and surprisingly Liam finished in last place!
For the Showstopper they were set the challenge of making a Victorian Savoy Cake. A banqueting centrepiece that was rarely edible. I thought Sophie's was absolutely beautiful with it's height and Showstopper design with beautiful chocolate work. Kate's was a bit too simplistic and didn't turn out the tins very well and she decided against using a bundt pan so it didn't have as much of a decorative Victorian feel as much as the other bakers' designs. Steven's was rather pretty with the addition of handmade sugar roses and Stacey's had a lot of colour, mainly pink which tends to be a colour she likes to use quite a lot in her bakes! Poor Liam used sugar work in his which didn't withstand the time it had to wait before presentation and unfortunately because his Showstopper wasn't quite up to scratch, he sadly got sent home this week (sadface) he was one of my faves as he seemed to have such a good run throughout this season.
I decided to go for the Showstopper Challenge this week and create a Victorian Savoy cake using some of my beautiful Nordicware bundt pans.
Garland Bundt Pan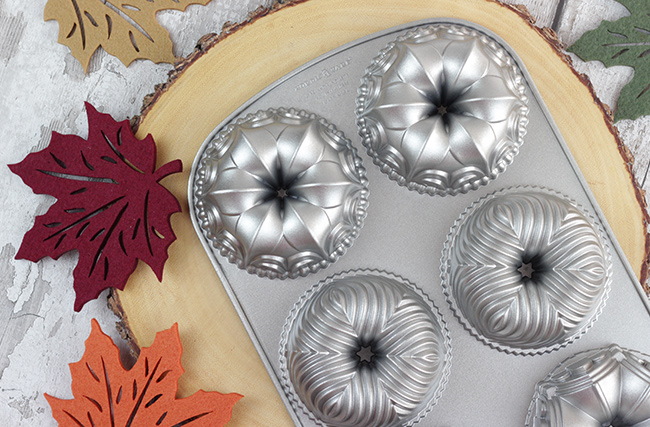 Quartet Bundt Pan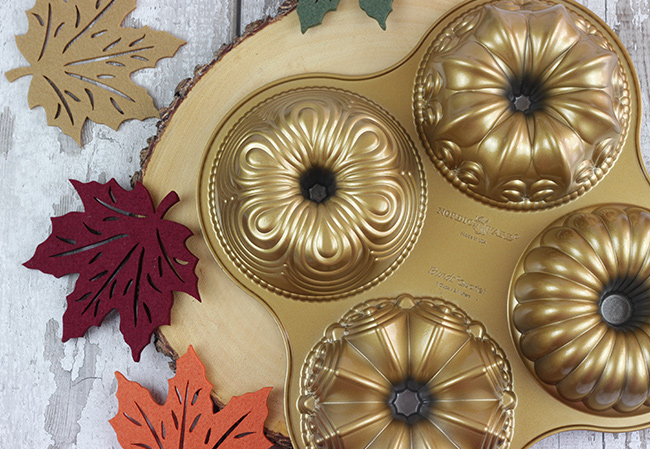 I wanted to create something really Autumnal in regards to both the design and flavours so decided to bake a delicious Pumpkin Spice Cake with a Pecan Streusel filling!
For the cake you'll need:
Ingredients:
– 300g Butter
– 225g Cream Cheese
– 400g Caster Sugar
– 125g Light Brown Soft Sugar
– 5 Large Eggs
– 1 Tbsp Vanilla Extract
– 400g Plain Flour
– 1/2 Tsp Baking Powder
– 1 Tsp Pumpkin Pie Spice (See first part of method below on how to make)
For the Pecan Streusel
Ingredients:
– 50g Pecan nuts, Finely chopped
– 50g Light Brown Soft Sugar
– 2 Tbsp Pumpkin Pie Spice
For the Salted Caramel Buttercream
Ingredients:
– 250g Unsalted butter at room temperature
– 250g Sugar & Crumbs Salted Caramel Icing Sugar
– 250g Icing Sugar
– 1-2 Tbsp boiling water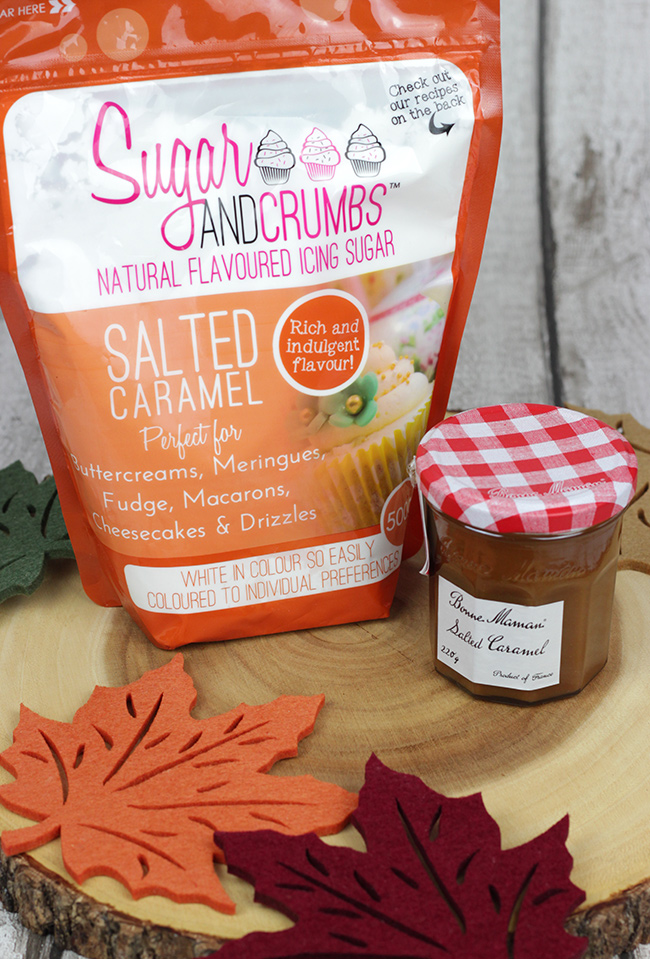 Method:
1) To make the Pumpkin Pie Spice, you will need 2 tsp Ground Cinnamon, 1/4 tsp Ground Ginger, 1/4 tsp Ground Cloves, 1/4 tsp Ground Nutmeg and 1/4 tsp Allspice. This will make enough for this entire recipe but you can increase the recipe to make up a jar ready to use in any bakes with a Pumpkin Pie Spice flavour!
Method
2) Preheat your oven to 180°C/160°C Fan/320°F/Gas Mark 4. Spray your Bundt pans with non-stick cake release spray and line 2 x 6 inch round cake tins with baking paper.
3) Cream the butter in a free standing mixer with paddle attachment or a large bowl using a handheld whisk. Add the cream cheese and mix again. Add both the sugars and beat well for about a minute, turn the down the speed and add the eggs one at a time, mixing well between each addition then add the vanilla extract.
4) Mix the plain flour with the baking powder and teaspoon of Pumpkin Pie Spice and mix together before adding to the rest of the cake batter and mix once more.
5) To make the pecan Streusel, mix the chopped pecans with the light brown sugar and pumpkin spice.
6) Spoon the cake batter into the Bundt pan until it's half full and smooth down with the back of a spoon.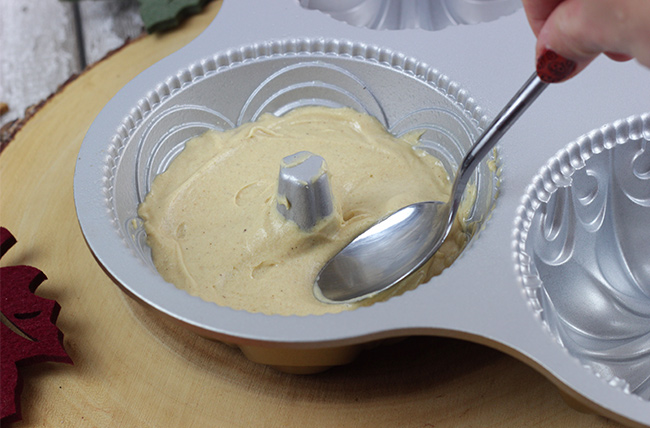 7) Sprinkle over the pecan streusel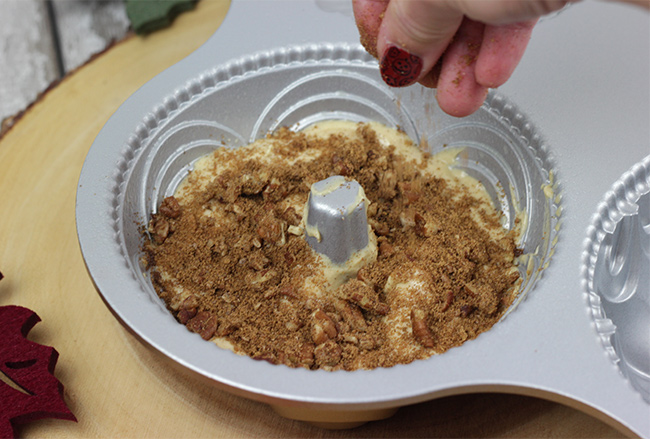 8) Spoon the rest of the cake batter over the top so the pan is filled up. Use the rest of the batter to fill the two 6 inch cake pans.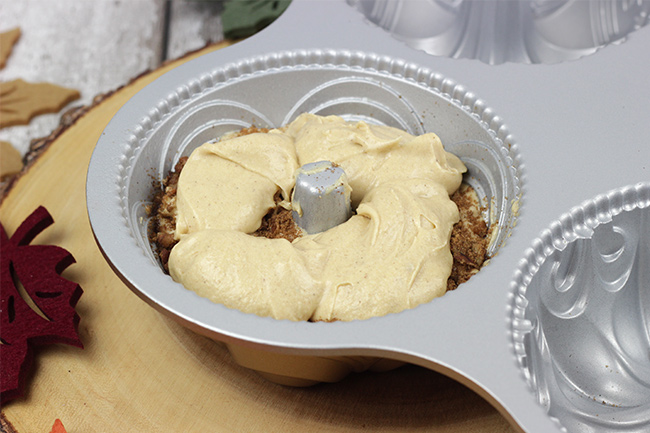 9) Use a skewer or pallet knife to swirl the mixture slightly in the Bundt pans.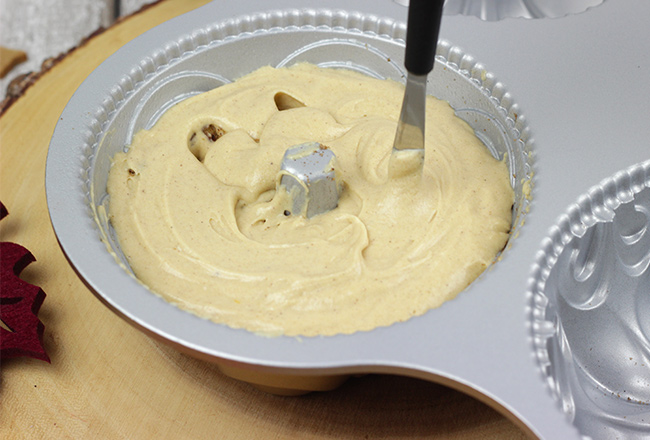 10) Place in the oven to bake for 40 mins for the medium Bundt and 30 mins for the smaller Bundt. If you're using a full size Bundt pan you'll need to bake it for an hour to an hour and 30 minutes, it will be ready when a skewer comes out clean when inserted. The two 6 inch cakes bake in an hour.
11) once baked, leave to cool in the tins then turn out onto a wire cooling rack to cool completely.
12) Make the buttercream by creaming the butter in a freestanding mixer fitted with the paddle attachment or a large bowl using a handheld whisk. Add the icing sugars and mix well. Add the boiling water to soften the mixture so it's easy to pipe. Place in a piping bag fitted with a large star nozzle.
13) I decorated the base tier using sugar modelling paste with a Karen Davies Rustic Woodland mould and used a few cake modelling tools and Sugarflair Blossom tints in Brown to add the details.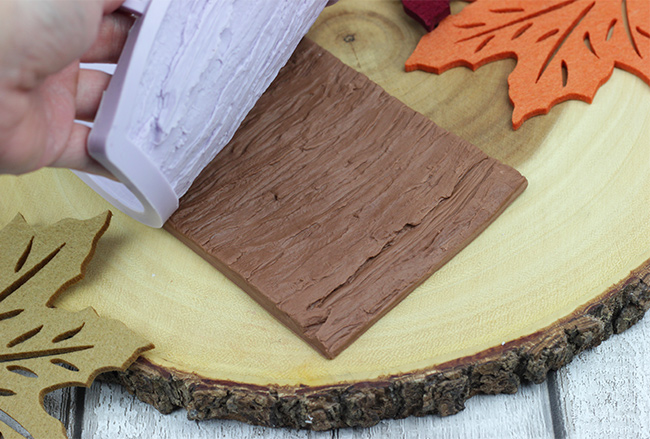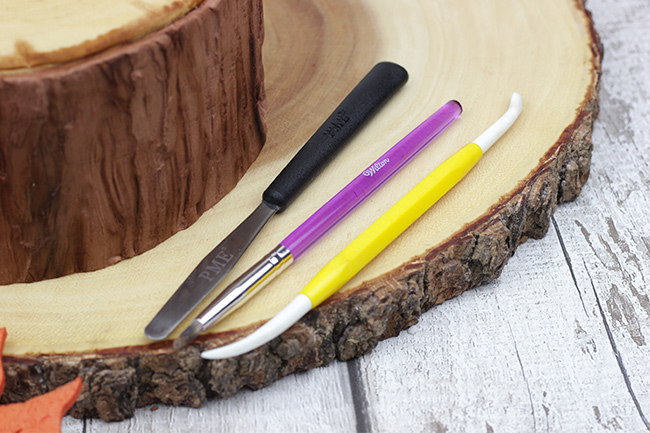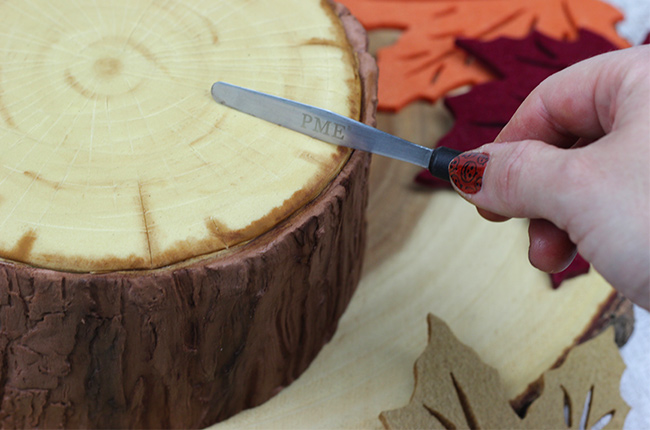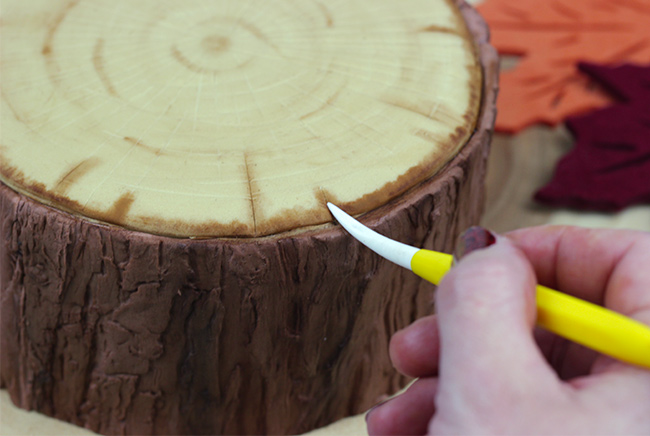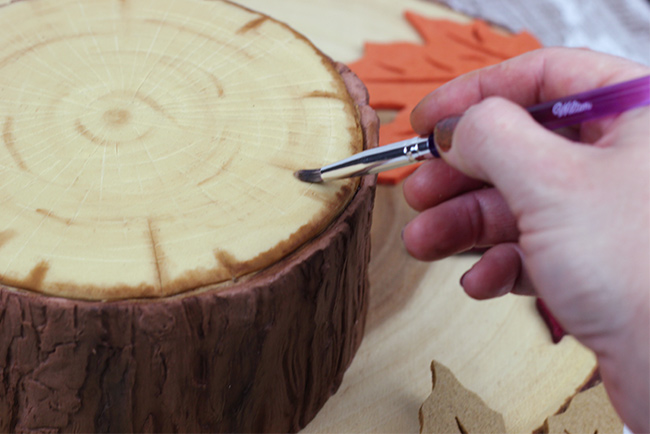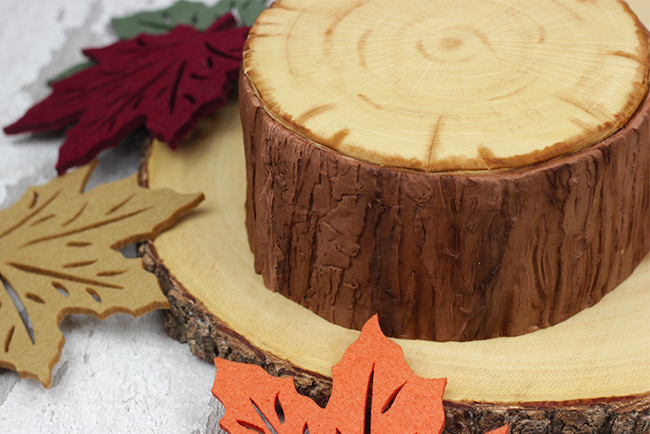 14) I also used my PME leaf cutters and Ellam Sugarcraft Woodland mould to create Decorations with Autumnal colours but you can decorate however you wish!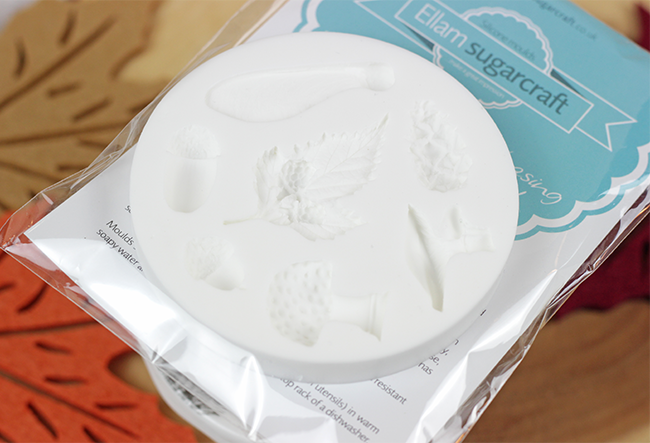 I piped buttercream swirls on top of the log cake which created the plinth on which I stacked the 2 Bundt cakes. I then decorated the cakes with more buttercream piping and added the leaves, acorns and fresh blueberries painted with copper lustre dust.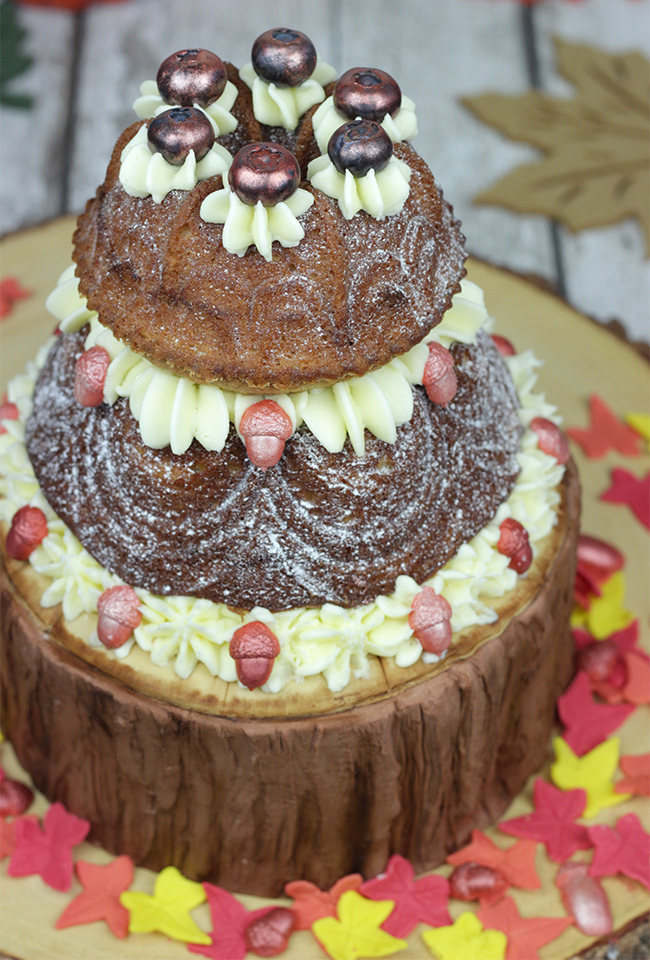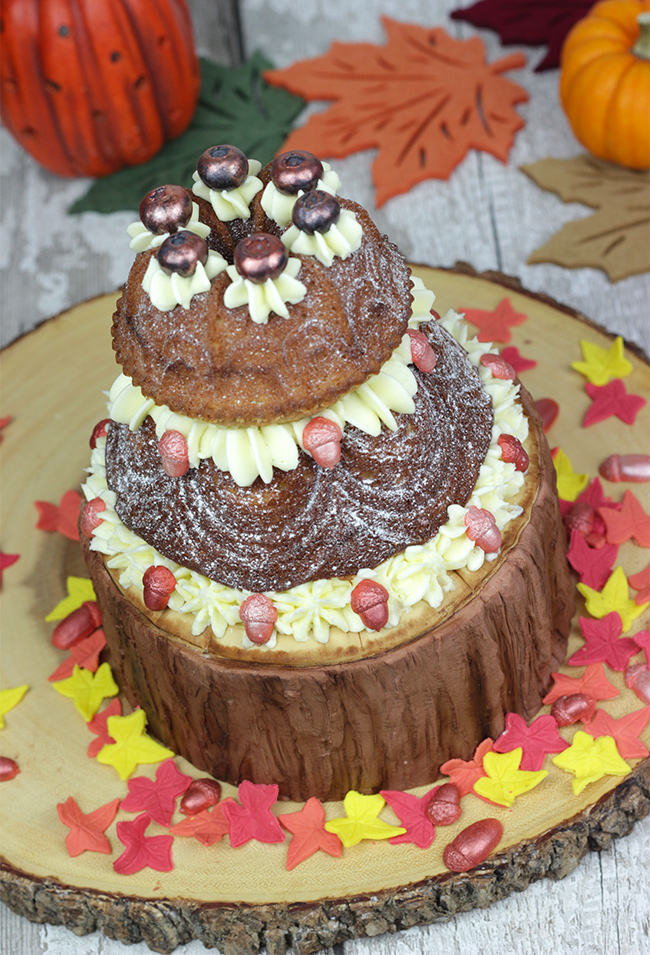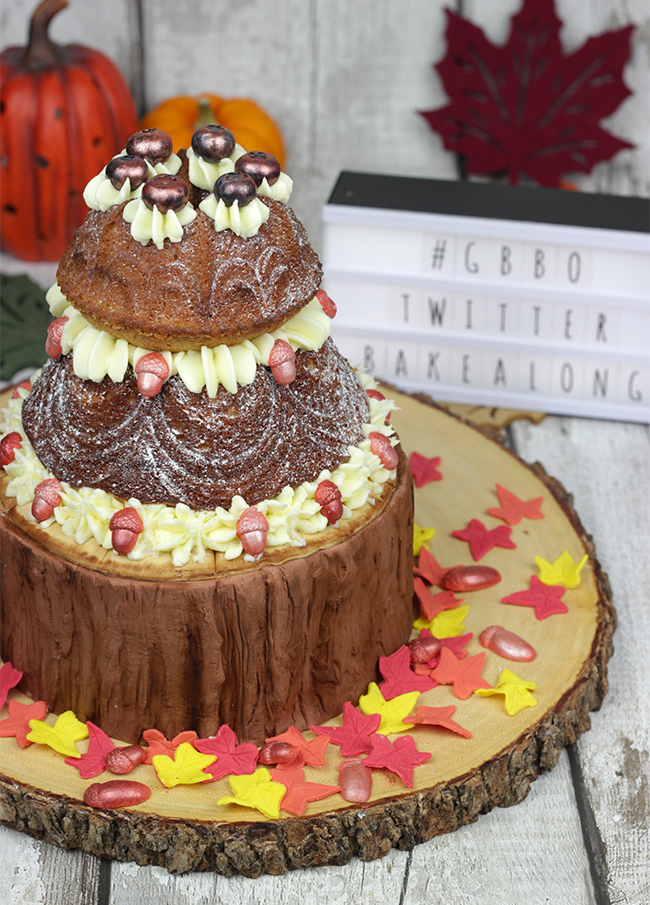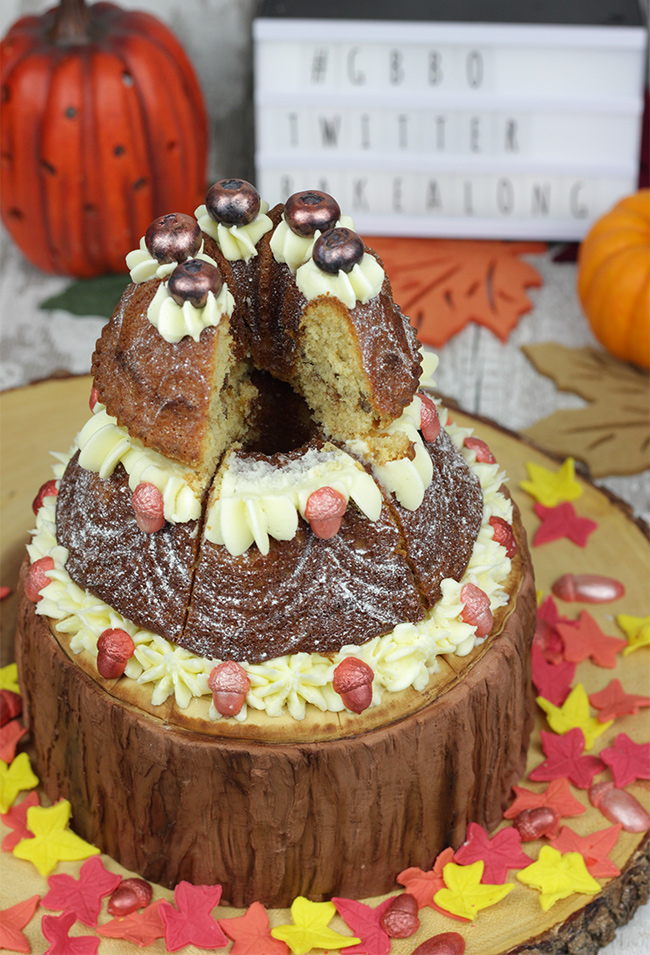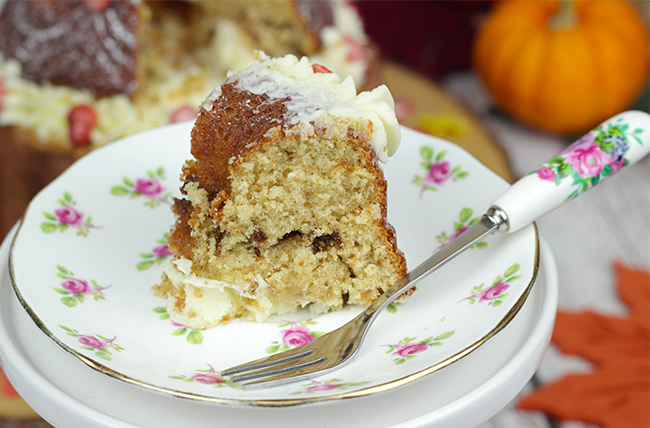 I really enjoyed coming up with the theme to match to this season perfectly! This cake is delicious and is perfect served with a nice cup of tea or warming hot chocolate on these cold, damp Autumn days!
Next week is the semi-final so the bakers will need to pull out all the stops to make it through to the next round with Patisserie Week!! I love patisserie so can't wait to see what they are challenged to make and have a go myself!
Who are your favourite bakers out of the remaining contestants?
Happy Baking!
Thirzah xoxo