Can you believe that January 2018 is over? This Month has actually flown past for me but I feel like I'm getting things in order for the start of this year so far!
I've tried to really keep on top of my blogging game as well as getting my diary organised and replying to all my cake enquiries which has made this month really busy!!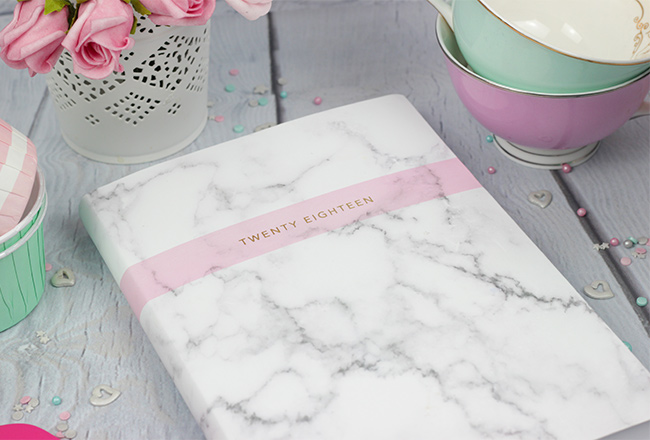 I haven't written a monthly favourites post in a while either and January is quite exciting as it's filled with new things that I spent my Christmas money on as well as food and drink that I've been enjoying throughout January!
The first thing I've really loved is the handbag I treated myself to from Shoe Bakery! I've wanted to purchase something from them for ages and I actually bought this as a pre-order in December…..way before Christmas!
They had a pre-order deal on and as soon as I saw this Unicorn cake bag I had to have it! They are actually sold out at the moment but they're going to have a small run restocked in a couple of weeks and want to add more colours to the collection so are running a competition over on their Instagram.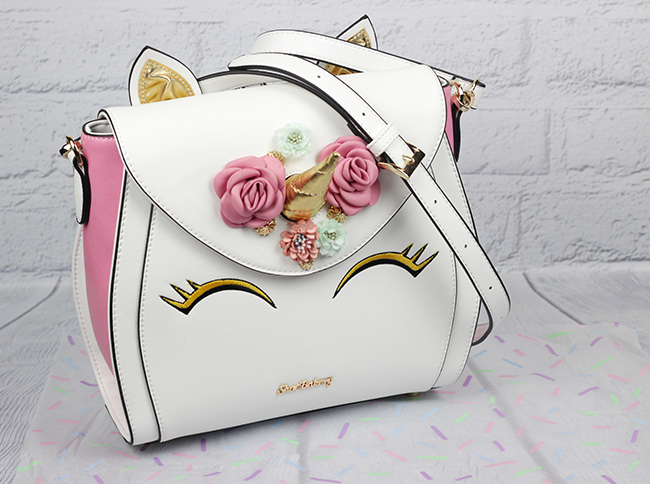 Just look at how pretty it is!!! It's literally been everywhere with me since it arrived and is so well made. It comes with two shoulder straps as well so you can wear it in a variety of ways including a shoulder bag or backpack!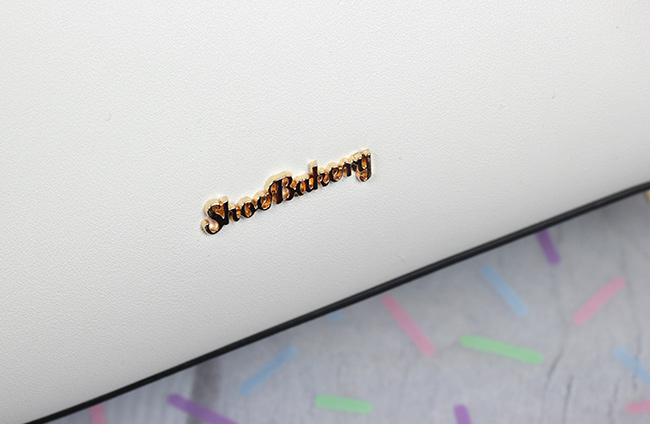 Shoe Bakery are based in Orlando, Florida but they ship worldwide and create fun shoes, purses and bags inspired by cakes and sweet treats! I wish they had a store based in the UK but I don't think my bank balance would be too healthy as a result!!
Talking of sweet treats, we move onto my next favourite which are these snacking marshmallows from Mallow & Marsh. They're raspberry flavour marshmallows covered in 70% dark chocolate and they are divine!!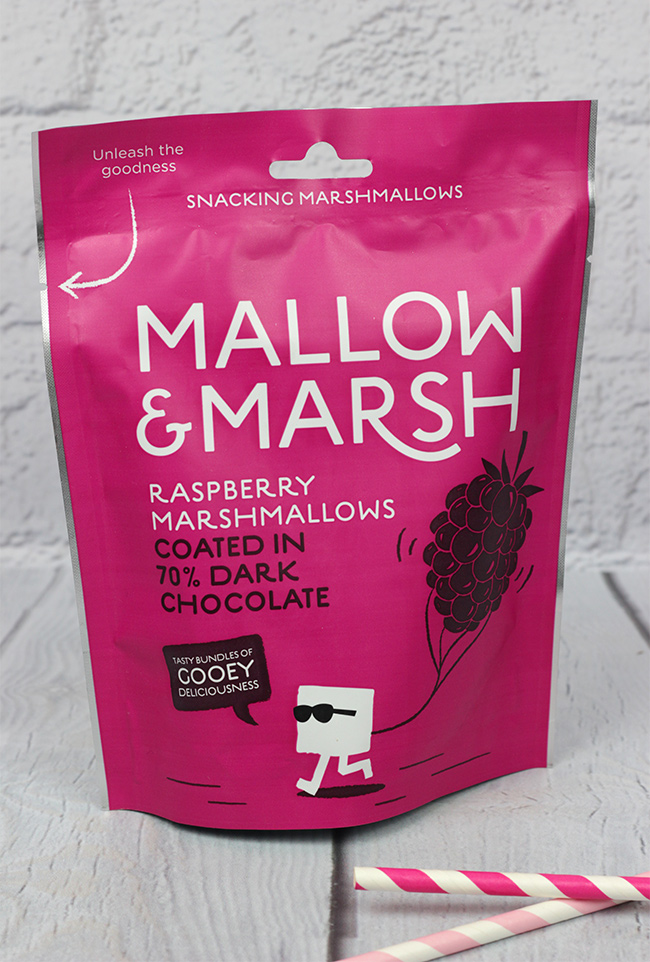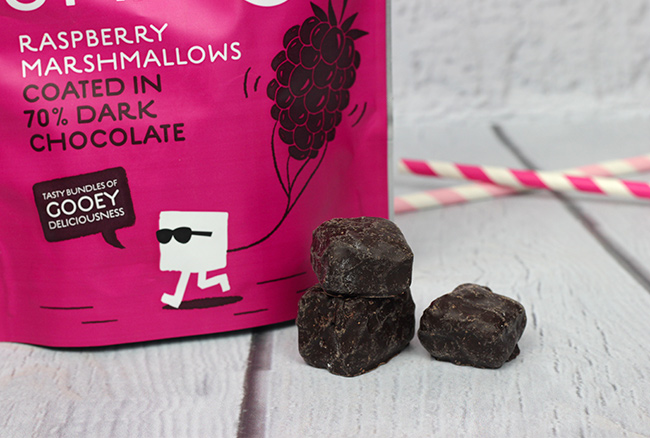 I've reached for these quite a lot when I fancy a lil snack and they are so moreish! I picked these up in my local M&S simply food but they're stocked in sainsbury's, Booths, Waitrose, BP, Starbucks and Wholefoods market. They sell them in bags and bars in a variety of flavours which I'm yet to try!!
I was literally so excited this next fave! When one of my friends tagged me in a post to let me know that Lakeland started stocking the Rosanna Pansino baking line that she released with Wilton last year I don't think I've hurried to a website to order stuff so fast!!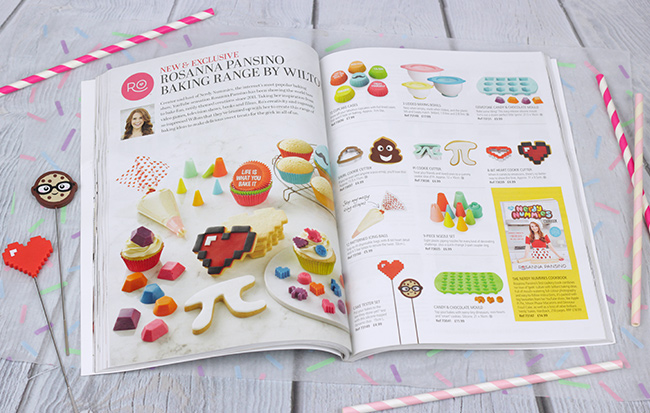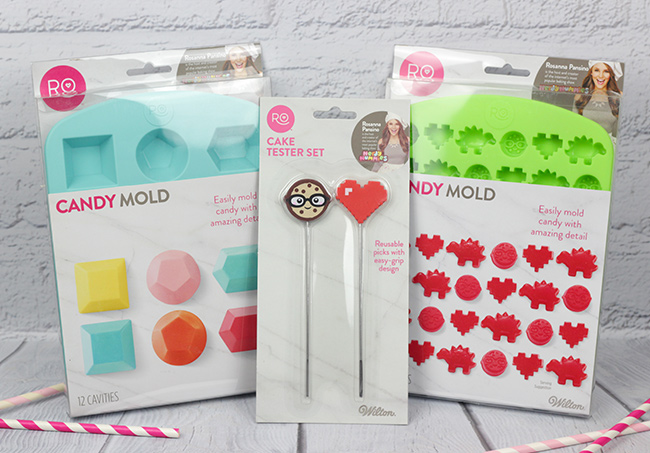 I was so pleased to get my hands on a couple of the candy moulds, especially the gem mould as this means I can make Zelda inspired sweet treats; Rupee's (oh my god!!)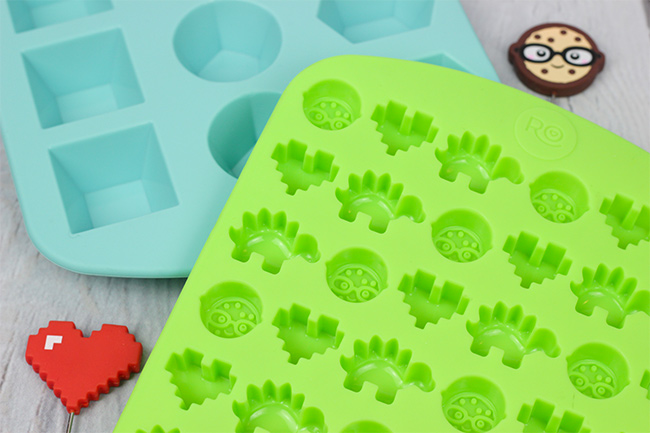 These moulds are just adorable! I also purchased the cake testers which are really good, the 8-bit heart and smart cookie handles are rubbery and are so cute! Perfect for testing that my cakes are baked all the way through!
I really hope Lakeland stock more of her baking line as the whole range is beautiful and totally geeky!
With February fast approaching, Lush have released their Valentines range so I purchased a few bits from them!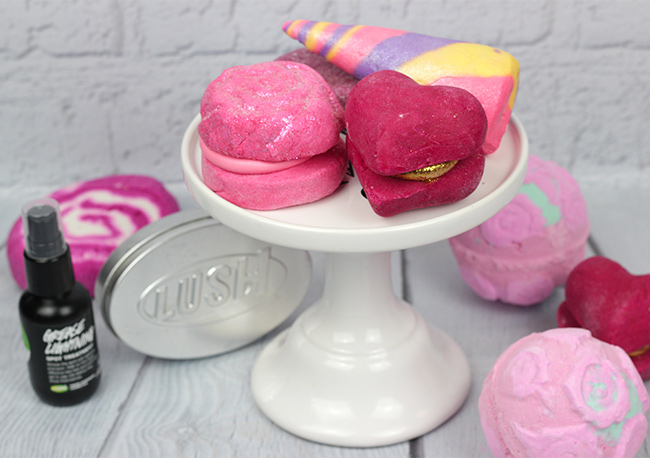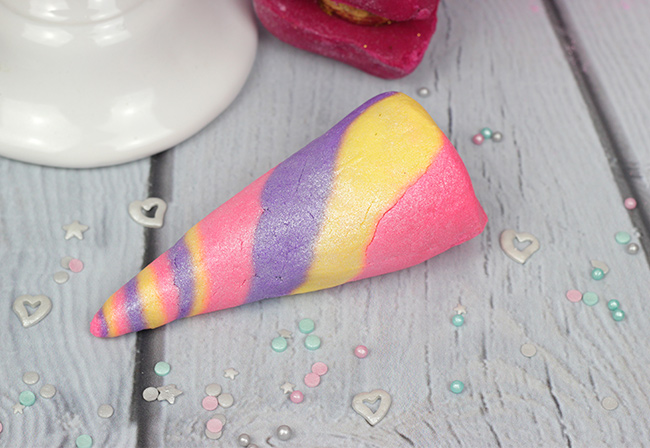 I missed out on the Unicorn Horn bubble bar last year so I popped this straight into my shopping basket! This smells really lovely and is perfect for a bath before bedtime as it filled with relaxing lavender oil along with other floral ingredients to lift your mood….magical! I also added a few of my favourites that I buy throughout the year: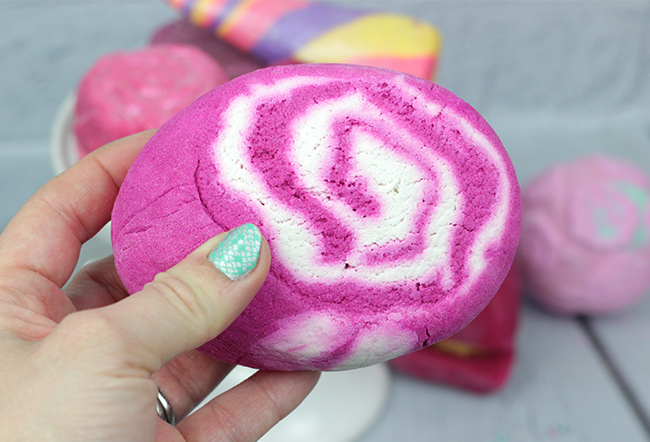 The Comforter Bubble Bar which turns the bath water a beautiful pink colour topped with blanket of fruity bubbles. I love the smell of this (It's got a fruity, blackberry like scent) and this bar lasts for ages!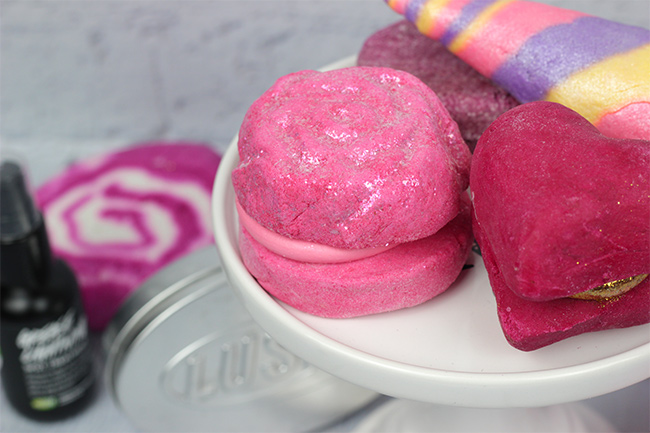 Rose Jam Bubbleroon is another of my go to favourites, a bubble bar sandwiched together with cocoa and Shea butter, another pink bath filled with a rose scent and really boosts your mood! Plus it is topped with glitter..sparkly!
As I love the bubbleroons so much I also really wanted to try Whole Lotta Love Bubbleroon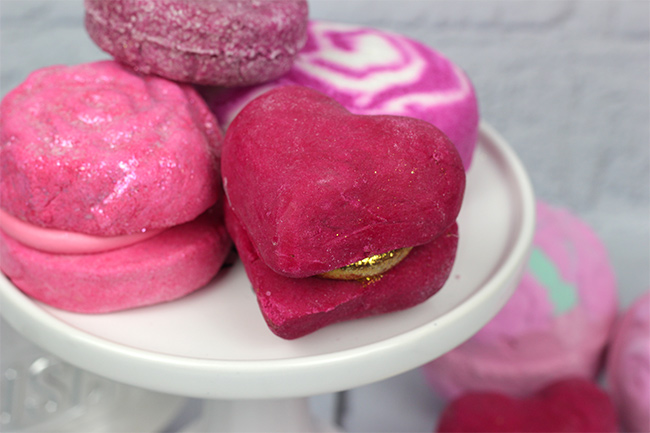 It's made from 2 vivid red hearts sandwiched together with creamy, skin softening organic shea butter with added sparkle of course! I use these the same as the bubble bars; simply crumble into the bath under a hot running tap and you're left with a beautiful coloured bath over flowing with lovely foamy bubbles!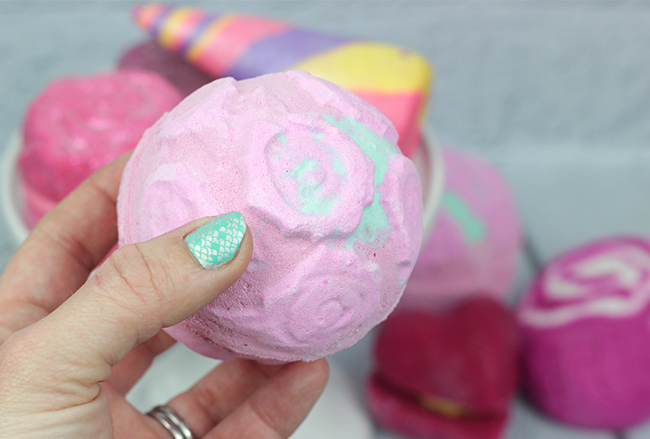 Continuing with the pink and rose theme I popped a couple of these pretty Rose Bombshell Bath Bombs in my basket! Totally floral with a Sicilian lemon and geranium oils which fizz into your bath!
I'm also a big fan of their solid shampoo bars and I usually use Honey I Washed My Hair but seeing as I'm loving the Rose Jam scent of late I decided to try out Jason and the Argan oil.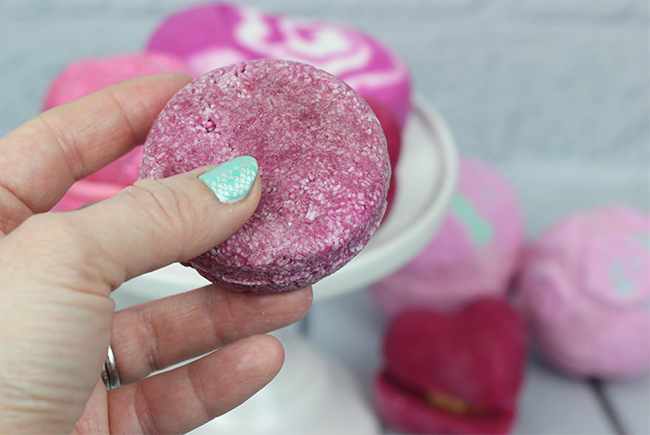 It's smells delightful and I've been enjoying other hair products with Argan oil recently too so had to try this one! The great thing about these shampoo bars is there is a wide range to suit different hair types and they are perfect to take on holiday especially in hand luggage on the plane as they're not restricted in the carry on toiletry allowance!
The final product I treated myself to in my Lush haul was Grease Lightning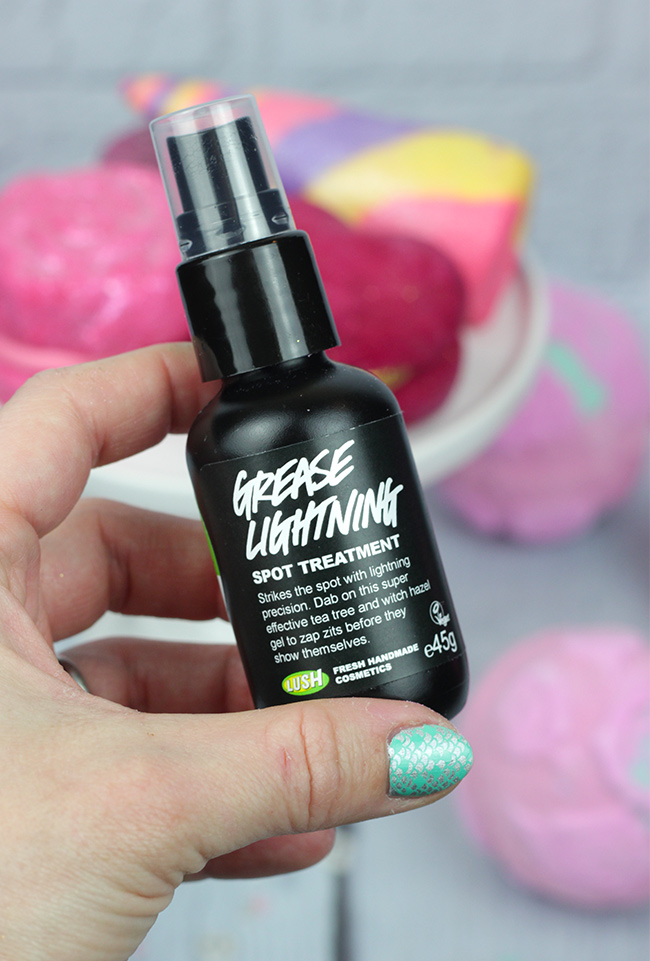 It's a powerful spot treatment filled with an infusion of antibacterial and antiseptic Rosemary, thyme and tea tree as well as antioxidant rich grape juice and witch hazel which is an anti-inflammatory so helps soothe redness and promises to prevent spots when you feel one on the way. So far this has worked really well for me and has also helped fade any scarring. Despite some reviews stating that it smells weird, I have actually found the scent of this quite pleasant and as it's filled with natural ingredients it's not had any adverse effects on my skin.
Tea is also something I love! I drink copious amounts of the stuff everyday and since I love herbal tea's; I tend to have a variety of flavours stocked up, but there is one tea that I have loved for years: Peppermint!
This peppermint infusion is the one I've been reaching for the most recently.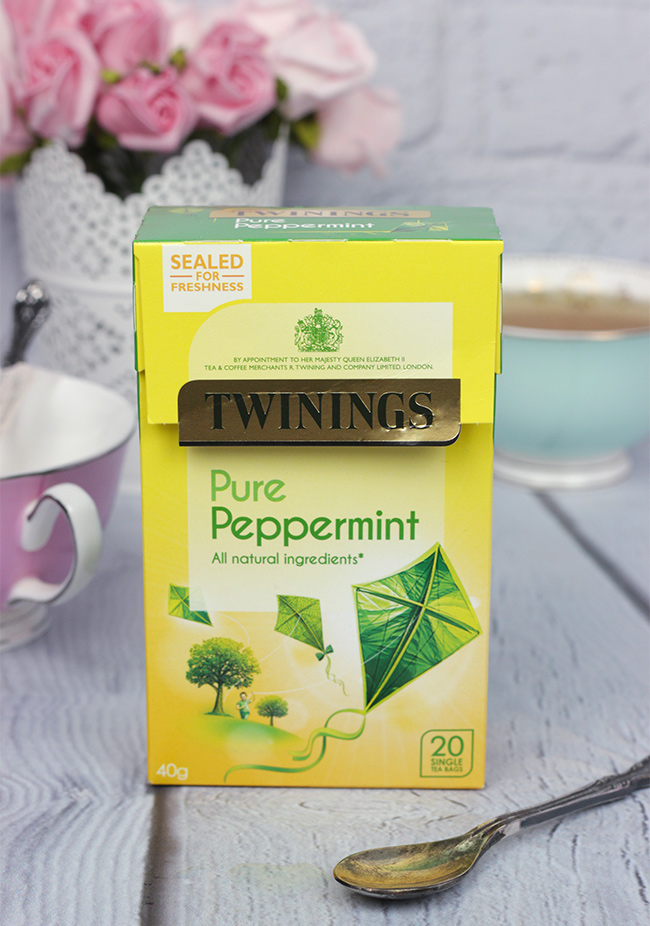 It's cool and invigorating made with all natural ingredients and I enjoy this at any time of day. It's a perfect morning cuppa as it's nice and refreshing and peppermint is great for digestion so is ideal after meals.
I've also had an excellent month for cake orders and it seems that one cake in particular is a favourite of everyone else! My in the night garden cake was created yet again in January!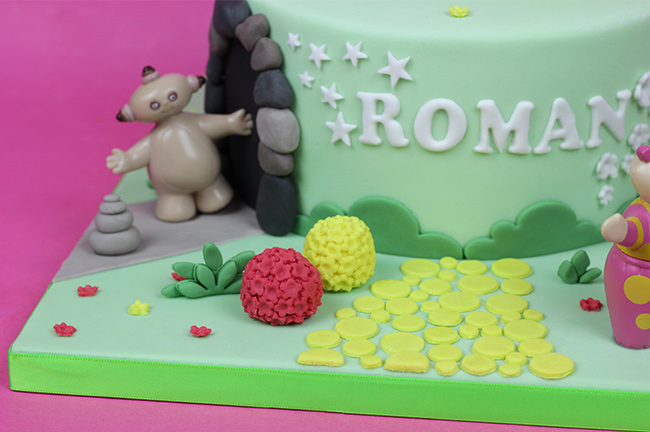 Here's a little close up of one of my favourite parts of creating this cake; Makka Pakka with his little pile of rocks by his cave! Just too cute! I also love creating the little blossom flower spheres!
I was also requested to make a teapot cake with some pretty cupcakes for a 60th birthday tea party!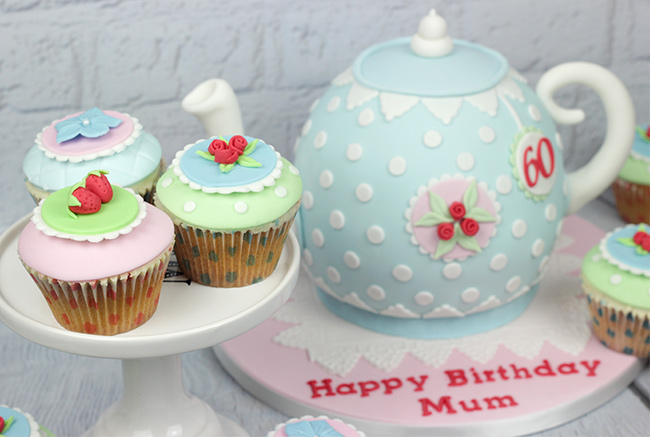 Some #CakeGoals right there! I loved making this order and it has to be one of my favourite creations this year so far! I'm looking forward to creating many more bespoke cakes this year and hopefully there will be some dream cakes that I really want to add to my portfolio!
Don't forget you can keep up to date with all my baking shenanigans over on my Facebook page, Instagram and Twitter!
I hope February will be filled with many more bakes and things that I can share here on my blog. And I hope you have a fabulous February too!
Thirzah xoxo