So with February drawing to a close…it's time to share all the products I've been enjoying during this very short month!
I've been mainly enjoying food products but also have a couple of beauty products thrown in too!
At the start of February I was craving chocolate covered pretzels! Could I find any to kill my craving instantly?! Nope!! (I did eventually but it took a LOT of searching around and a few leads from friends and fellow bloggers led me to some in M&S and I also found Flipz Pretzels in a new B&M store that opened in my home town recently but also discovered these ones by Go Ahead!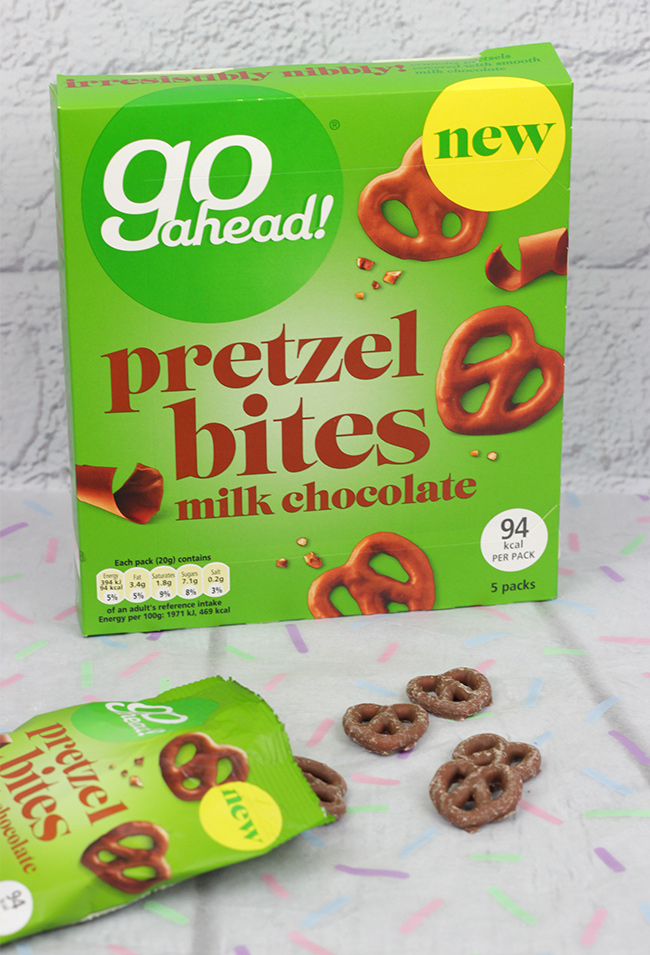 It's a box filled with little snack packs perfect to pop in my lunch bag for work and also means I don't end up eating a whole large bag of the things!!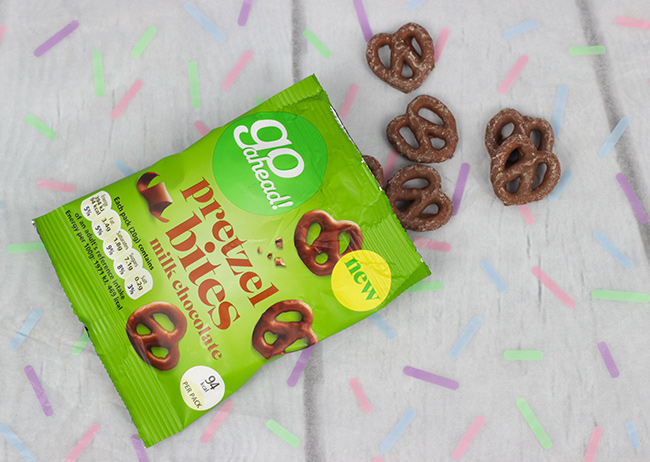 They're perfect if, like me, you crave something both sweet and savoury at the same time! I know it probably sounds weird; but the combo of salty pretzel with the sweetness of the milk chocolate somehow just works!
I've also been eating a lot more fruit for breakfast and do enjoy a yoghurt alongside some banana's and strawberries. The ones I tend to reach for are a big pot of this yoghurt by The Collective and I also enjoy these pouches as well.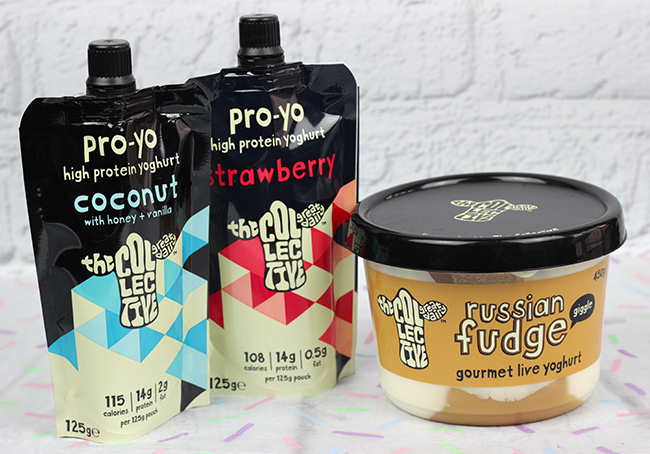 I opted for russian fudge this month but usually buy the raspberry one. They contain a really creamy plain yoghurt with a fruity or in this case; fudgey sauce which I spoon over my chopped fruit and sometimes add some muesli or granola into the mix as well just so I can enjoy a varied yet healthy breakfast. The pouches are a great on the go option so if I find myself in a bit of a rush then I pick one of these up to give me some energy!
Continuing with food, I've been wanting to try the English Cheesecake Company cakes for a while now but have never found an excuse to order a whole cheesecake!! Waitrose, however, have started stocking little boxes that contain a couple of slices which is perfect as I can enjoy one as a little treat with a cuppa in the evening.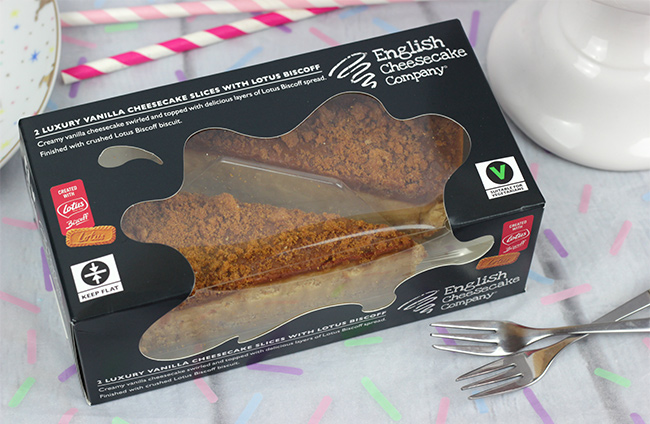 I opted for the Lotus Biscoff Cheesecake and I must say, it is delicious!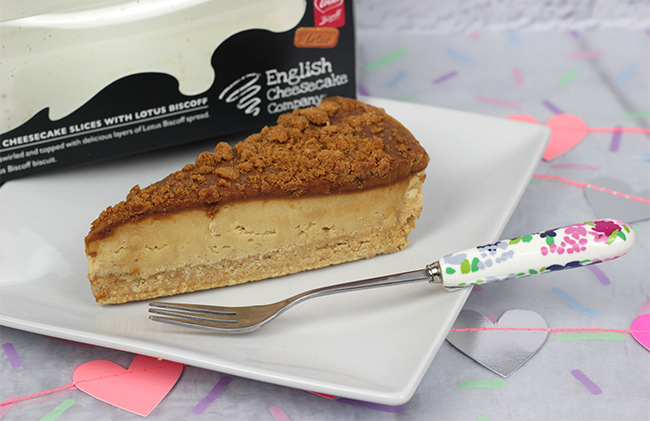 It's the perfect marriage of buttery biscuit base which is ever so slightly crumbly topped with a creamy vanilla cheesecake with Biscoff spread layered over the top and finished with crushed Lotus Biscoff biscuits….heaven! These little packs are available in 3 varieties: carrot cake, triple chocolate brownie and vanilla with lotus biscoff priced at £3.29 for a pack of 2 slices.
My next favourite is something tea related, I spotted this little tea tin in Boots and it's perfect for stashing a selection of teabags in my handbag to take on my travels!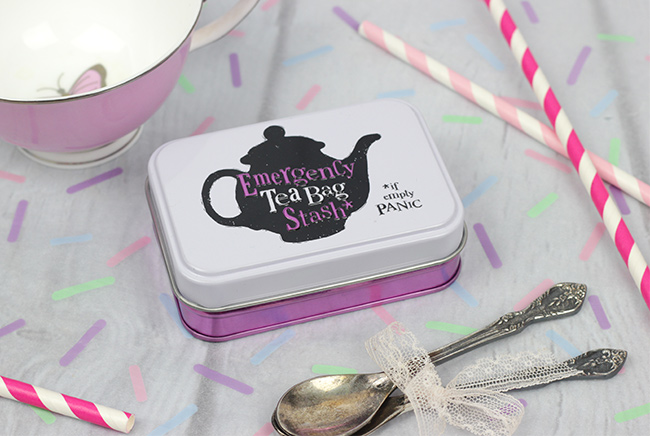 During the winter months, the combination of central heating and extremely cold weather plays havoc with my skin leaving it dry so I use as many moisturising products as I can! One of my faves is is Carmex Lip Balm.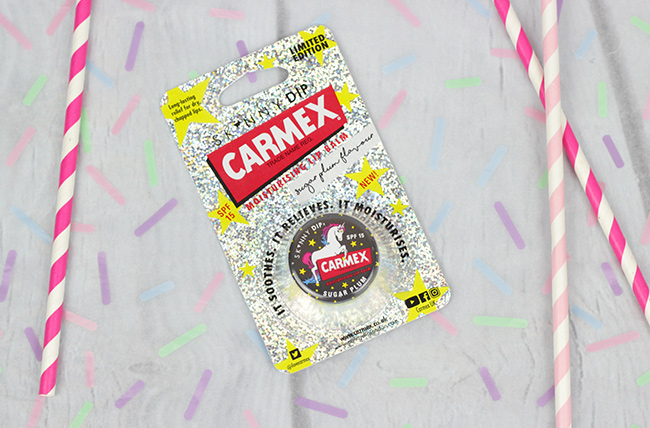 I recently spotted this cute little pot in my local Superdrug that has a unicorn on it! This is a limited edition design in collaboration with Skinny Dip London  and is also sugar plum flavour! Carmex is my go to lip balm all year round as it's just so moisturising!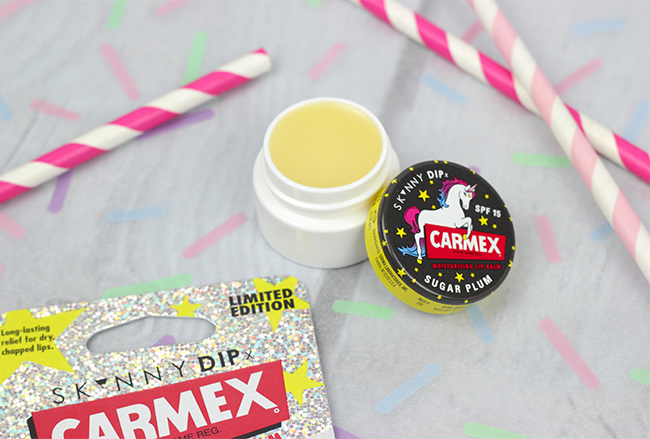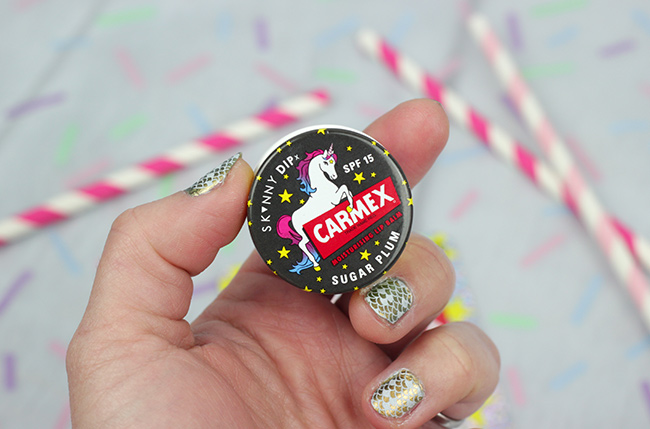 Another beauty product, that you rarely see me without, is nail polish! Working with cakes I can't really have long nails, fake nails are out of the question and so my nails are usually quite short! Plus my hands often get covered in food colouring which ends up dying my nails which can look awful! So in between cake creations, I love to paint my nails to keep them looking neat and pretty!
Barry M recently released a new nail polish collection named Under the Sea!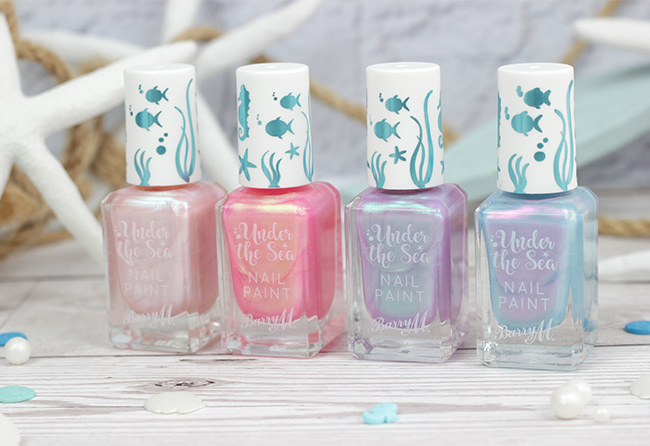 When I heard they had released a mermaid inspired collection; I simply had to get my hands on them! These nail polishes are beautiful and are available in 4 pretty pastel shades with a colour-shifting, two-toned formula, each shade has a unique combination of colour and shimmer to keep your nail game strong this spring/summer!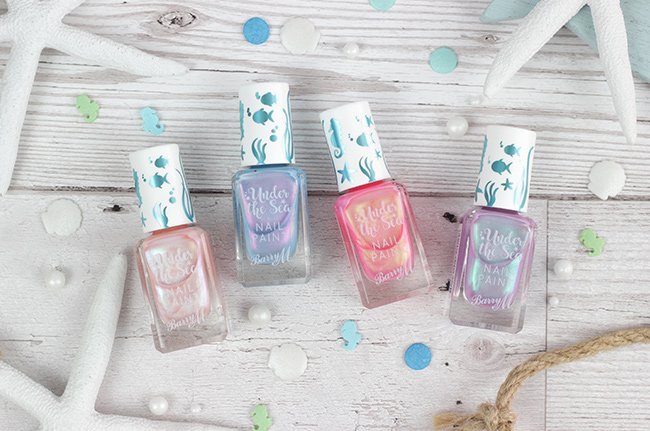 These have names equally as pretty as the colours:
Angelfish – which is a pretty peachy pink.
Pinktail – A slightly brighter pink with a coral hue.
Jellyfish – Purple with a turquiose shimmer.
Butterflyfish – Blue with a purple/pink tone.
You can use these alone to create a light pastel shimmer to nails or use over darker colours to give more intensity! These work really well over the gel colours for a longer lasting manicure.
For my latest nails I used Butterfly fish over one of Barry M's previous retro collections in blue: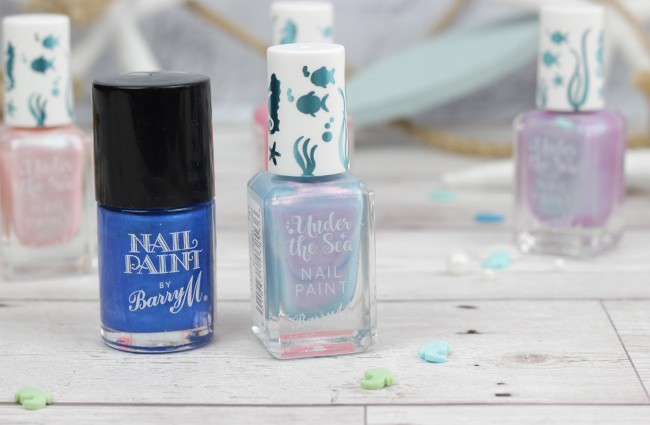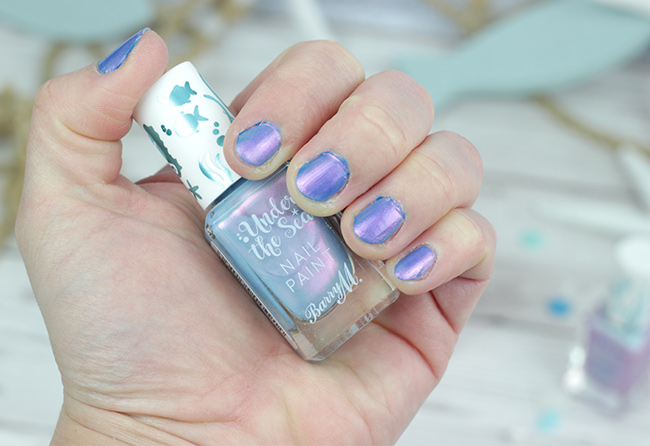 And it turned out so pretty with tones of blue, purple and pink.
I wanted to add even more mermaid-ness to my manicure, so I used one of my favourite Moyou London stamping plates from the Doodles collection.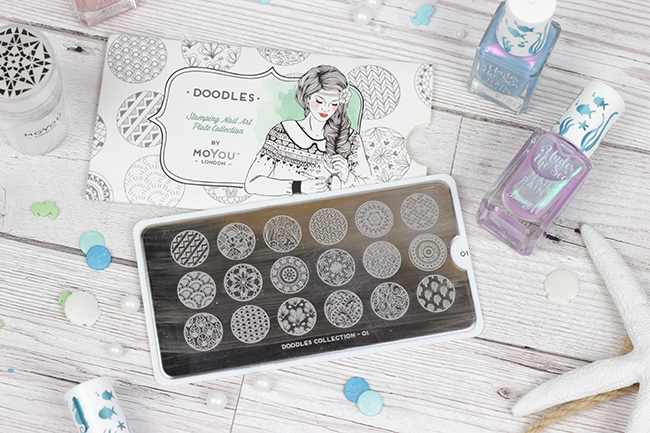 I used Barry M gel colour in white to stamp this mermaid tail scales design onto my nails and takes the mermaid look to a whole to level!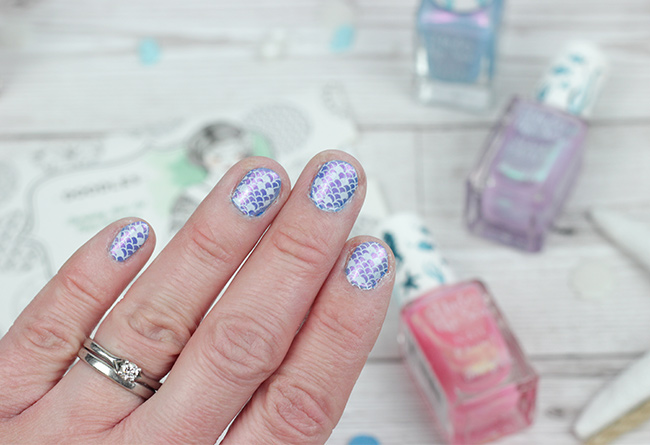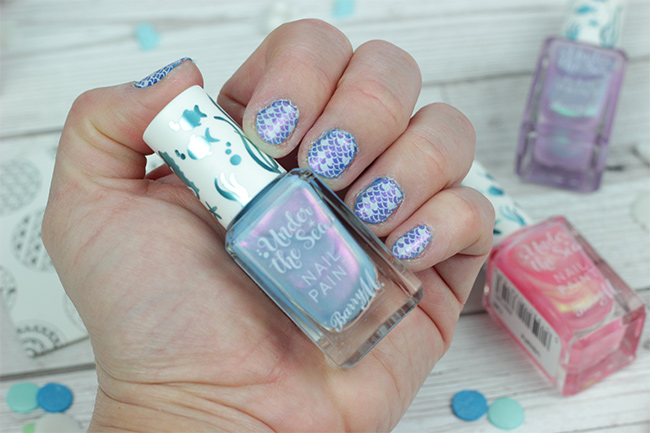 These are available to buy directly from the Barry M online store or Superdrug priced at £3.99 each!
My final favourites this month are the cakes I've been creating!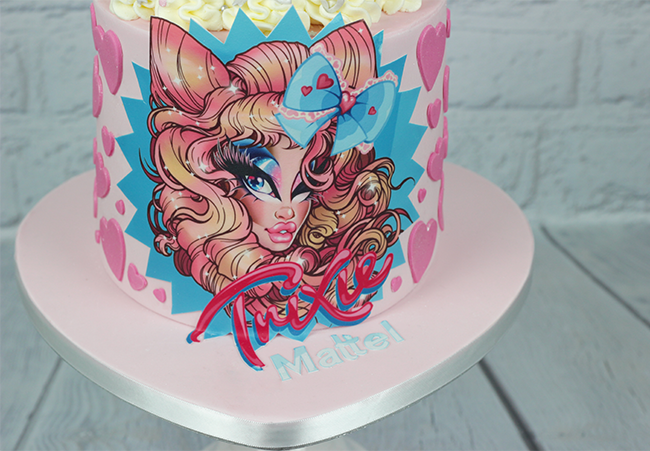 It was one of my friends Birthday earlier this month so I created this tall chocolate cake for her as she is a massive Trixie Mattel fan!! It also meant I could practice a differnt way of covering a cake in fondant icing. As this was such a tall cake, draping the icing meant I could run into a whole host of obstacles including tears, elephant skin and bubbling! (They all sound horrible and I have experienced my fair share of these on my cake decorating journey over the years!)
So for this cake I used the panelling method where you crumb coat the cake in buttercream, place fondant icing on top of the cake then place greaseproof paper on top of the fondant followed by a cake board then turn the cake upside down onto your work surface. Use a pizza cutter to cut away the excess fondant and create a smooth edge. Then I measured and cut another piece of greasproof paper around the edge of the cake, rolled out fondant into a rectangular shape and placed the rectangle of greaseproof paper on top; cut around my rectangle template using a pizza cutter. I then dusted the fondant lightly with icing sugar and rolled it up. Then placed it against the cake and un-rolled it around the edge of the cake until covered and smoothed down using plastic cake smoothers.
I turnd the cake back up the right way again and mixed a little of the excess icing, that was left over from covering the cake, with a little water and mixed into a paste which I call cake gunk! I used a small pallet knife to fill in the seam at the back of the cake and also spread over the top of the cake to disguise the seam around the top edges.
I really enjoyed trying out this new method of covering cakes and it helped create a beautifully sharp edge which is a common trend I've seen on cakes for quite some time!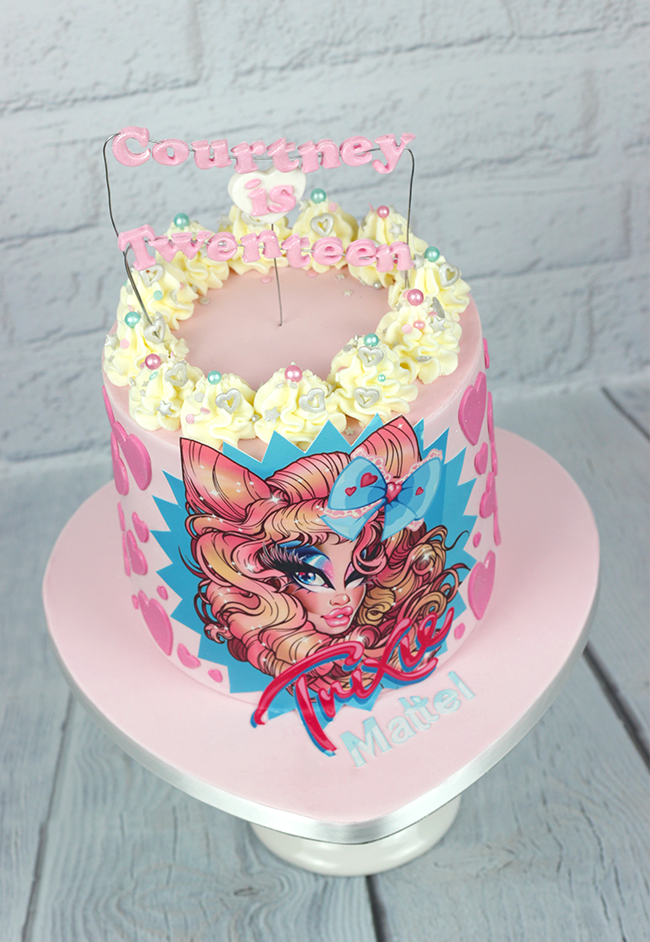 I have plenty of cake creations to keep me busy over the next month so keep an eye on my cake creations section for all the latest cakey goodness! Plus you can keep up to date with all my baking adventures on Facebook, Intagram and Twitter where you can find also find all my latest guest blog posts with Cake Bag!
I hope you have a Marvellous March!
Thirzah xoxo