The second episode of the SU2C Celebrity Bake off saw Nick Hewer, Perri Kiely, Ricky Wilson & Stacey Soloman join the Judges Pru and Paul along with Noel and Sandi in the Bake Off tent.
In the signature round the bakers made scones with a variety of flavours both sweet & savoury with mixed results!
During the technical round, they were challenged to bake a chocolate cake decorated with chocolate shards sprayed with gold edible lustre. again; there were variable results with Ricky's cake sliding all over the place!
For the show stopper, they made croquembouche presented as a self portrait. Nick Hewer's was a disaster (as with all his bakes!) and it took him more than 3 attempts to try and get his choux pastry right, so much so that Paul helped him at one point but he still presented a tower of profiteroles so flat that they resembled yorkshire puddings more than Choux buns!! Ricky made a microphone which was rather impressive. Stacey went all out with pink, glitter & butterflies in her unicorn inspired masterpiece. But Perri impressed the judges throughout each challenge and created himself with his infamous hair re-created using spun sugar!
I decided to bake up a batch of scones this week! These popular cakes, best served as part of an afternoon or cream tea, are delicious filled with your favourite jam and clotted cream.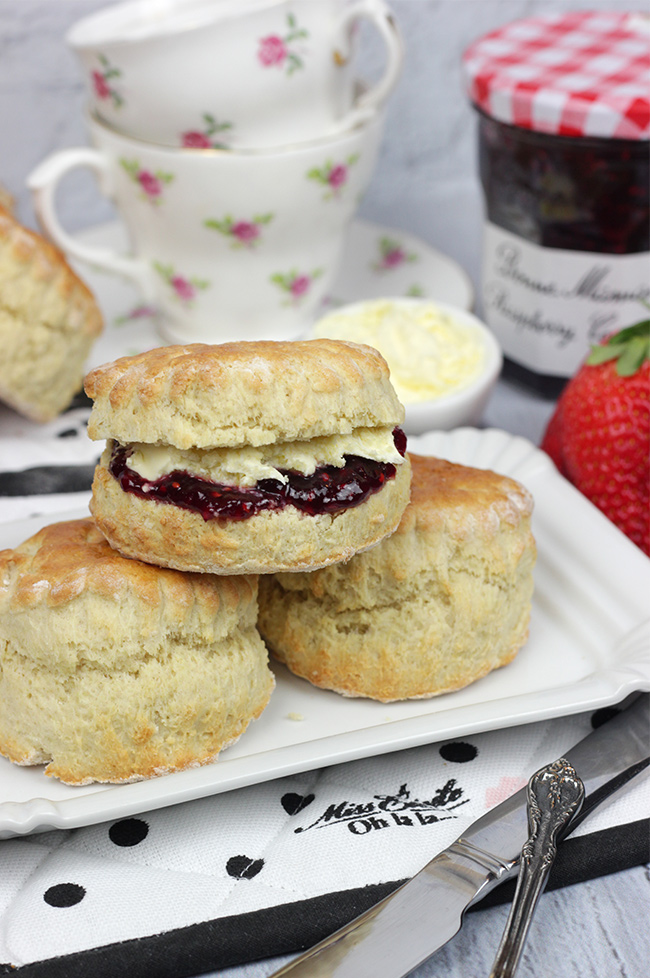 They're really simple and easy to make and you don't require any fancy kitchen equipment to mix up the dough; just a large mixing bowl and a spoon or spatula!
This recipe makes 12 deliciously light scones.
To make these, you will need:
Ingredients:
– 450g Self Raising Flour
– 2 tsp Baking Powder
– 75g Butter
– 50g Caster Sugar
– 2 Large Eggs
– 225ml Milk
Method:
1) Preheat your oven to 180°C/160°C Fan/320°F/Gas Mark 4. Line 2 baking sheets with baking paper.
2) Place the flour and baking powder in a large bowl then add the butter and using your hands, mix together until it resembles fine breadcrumbs.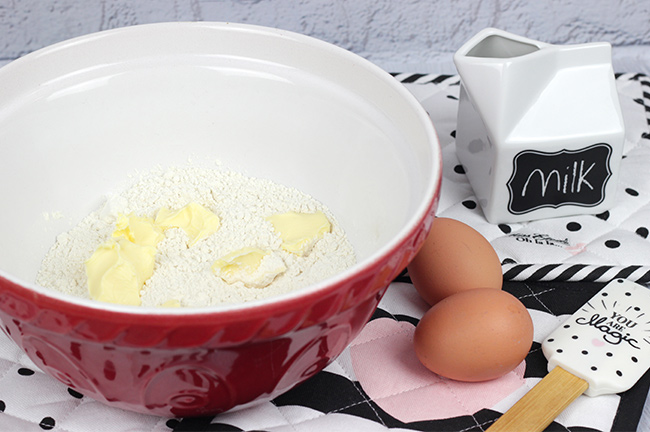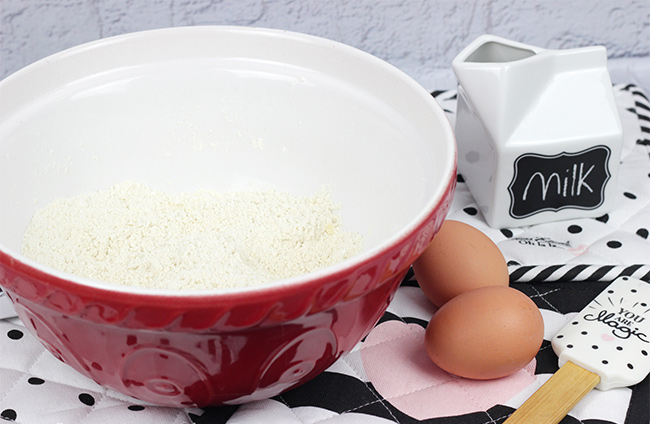 3) Mix in the caster sugar.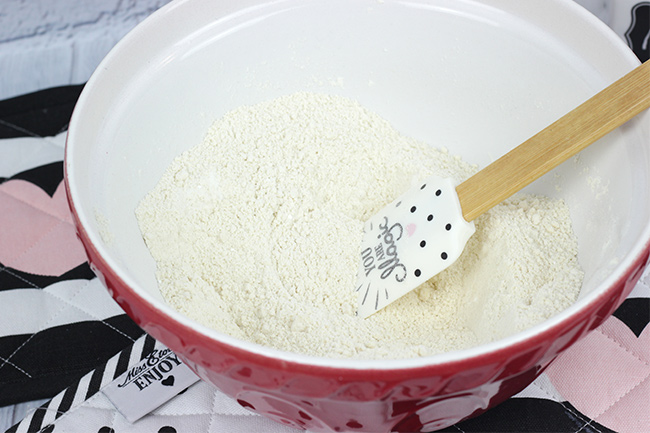 4) In another smaller bowl, whisk the eggs and add the milk, mix well and reserve 2 tablespoons of this mix into a small bowl as you'll use this as the egg wash later on.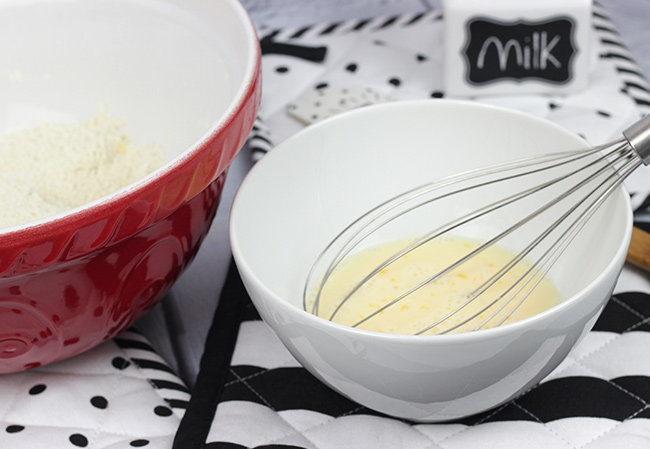 5) Gradually add the egg and milk mixture to the dry ingredients mixing well using a spoon or spatula until it all just comes together to form a ball of sticky dough.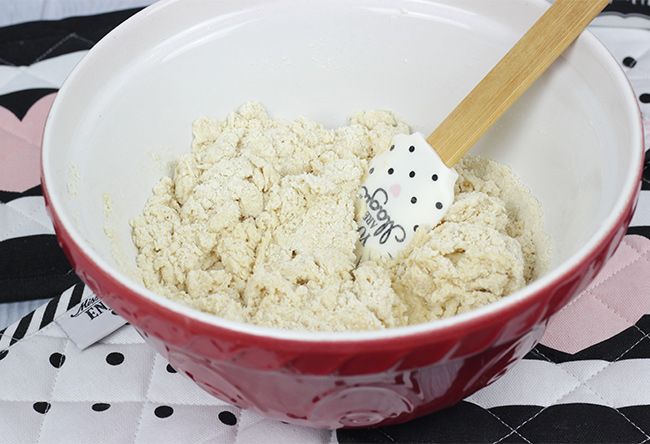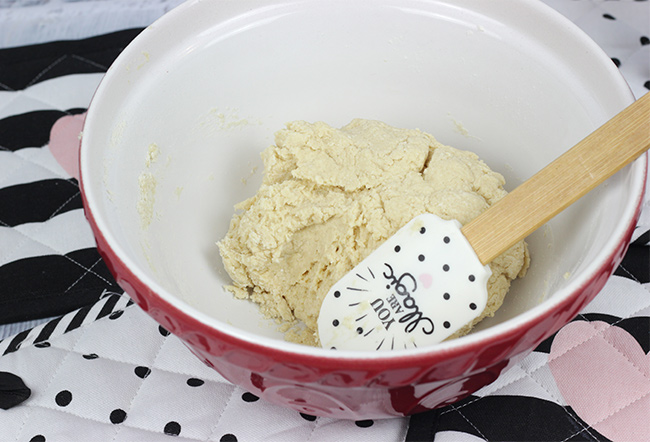 6) Turn the dough out on a lightly floured surface and roll out to about 2cm thickness. You don't want to handle the dough too much or knead or anything as this will result in a tough bake and you want the scones to be light!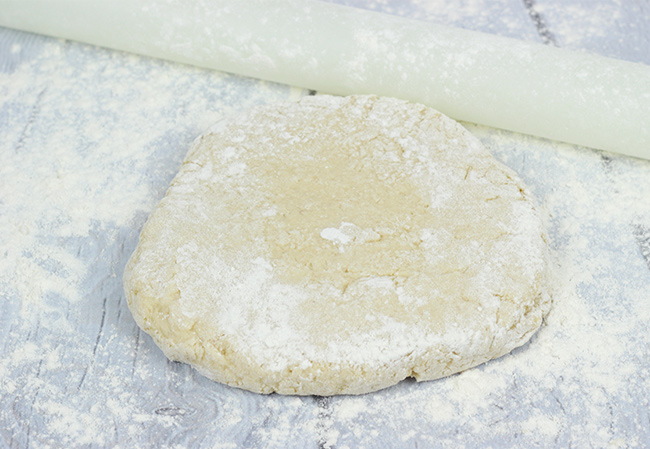 7) Using a 5cm fluted cookie cutter dipped in a little flour to prevent the dough from sticking; cut out your scones by pushing down and lifting straight back up without twisting (this will help with the rise when baking) and place them on the prepared baking sheets.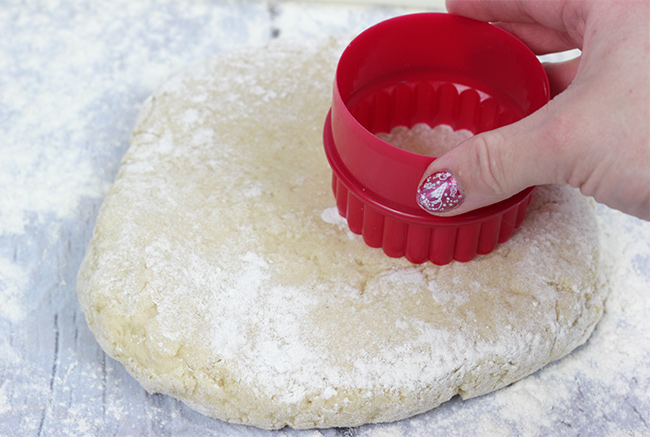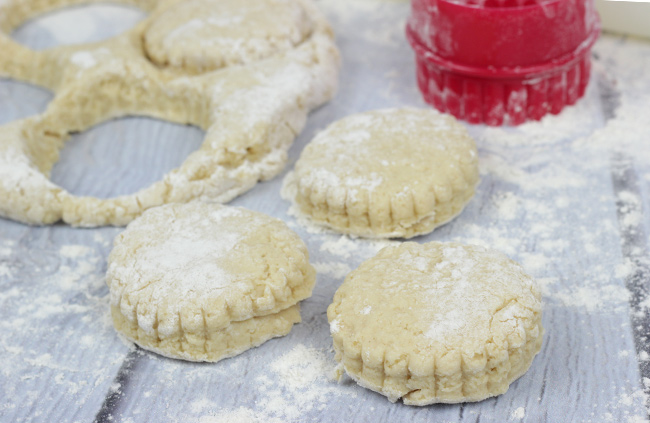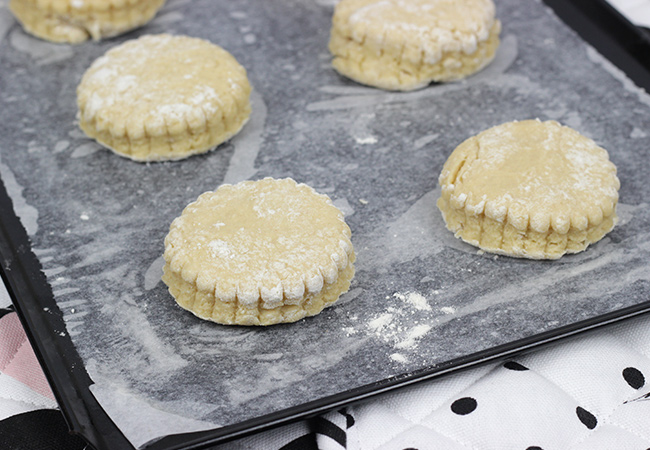 8) Brush the tops with a little of the reserved egg wash and place in the oven to bake for 10-15 minutes until well risen and lightly golden.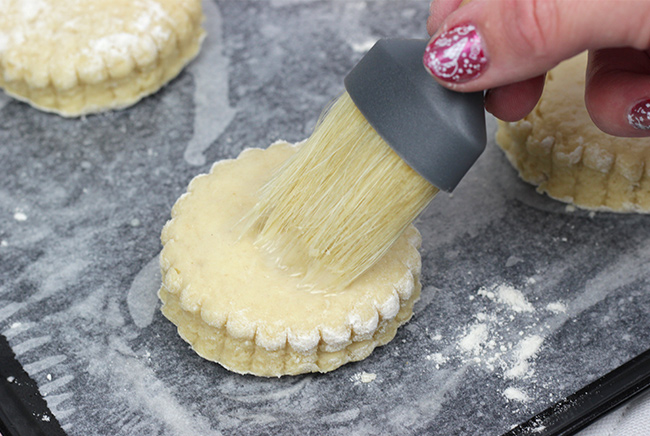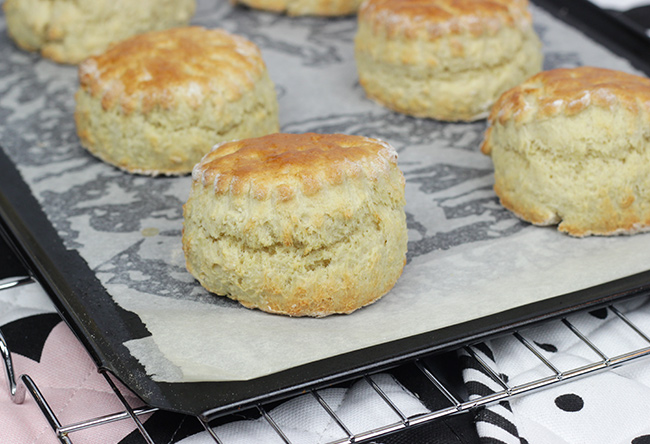 9) Remove from the oven and place on a cooling rack and cover with a clean, dry tea towel to prevent them from drying out while they cool.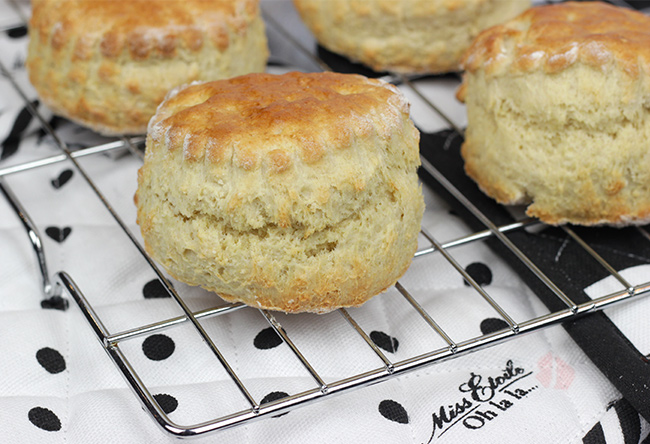 Serve and enjoy with jam and clotted cream and fresh strawberries if you're feeling a bit more extravagant! Best enjoyed with a nice cuppa!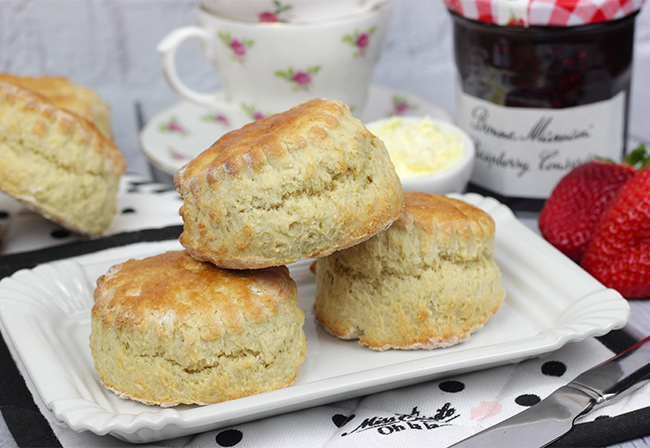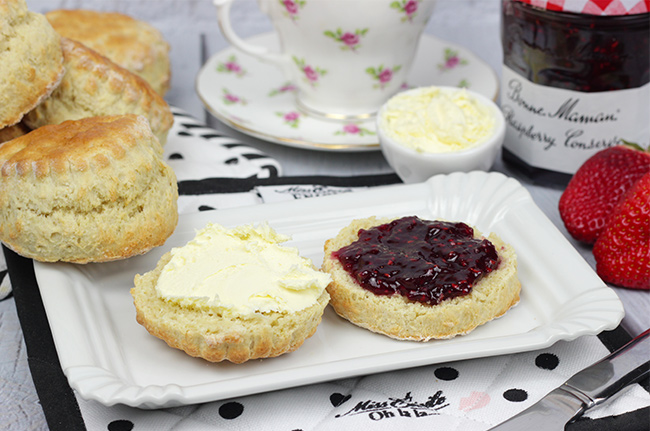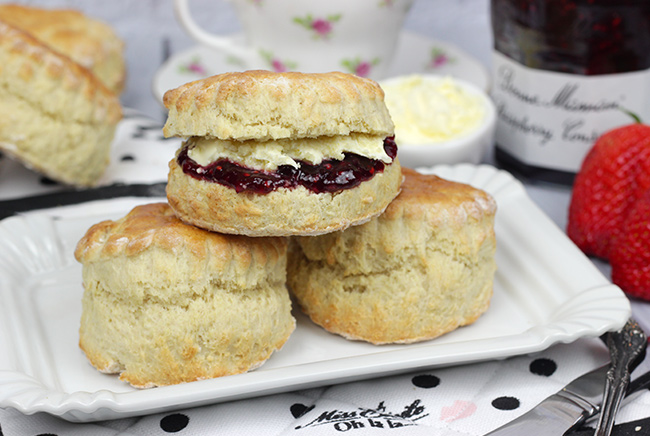 I hope you enjoy this super quick and easy bake! You could easily whip up a batch in time for the next episode of the Celebrity Bake Off!
Happy Baking!
Thirzah xoxo