I've been wanting to bake some yummy flapjacks for a while now…so this week I was inspired by a recipe one of my friends shared with me!
Once I tried the recipe out and sampled these delights..I was pleasantly surprised at how yummy these are!!
I didn't want to lose the recipe, so I decided to publish it here on my blog, so I always have this recipe to refer back to. Plus you can give it a go if you're craving a biscoff flapjack combo!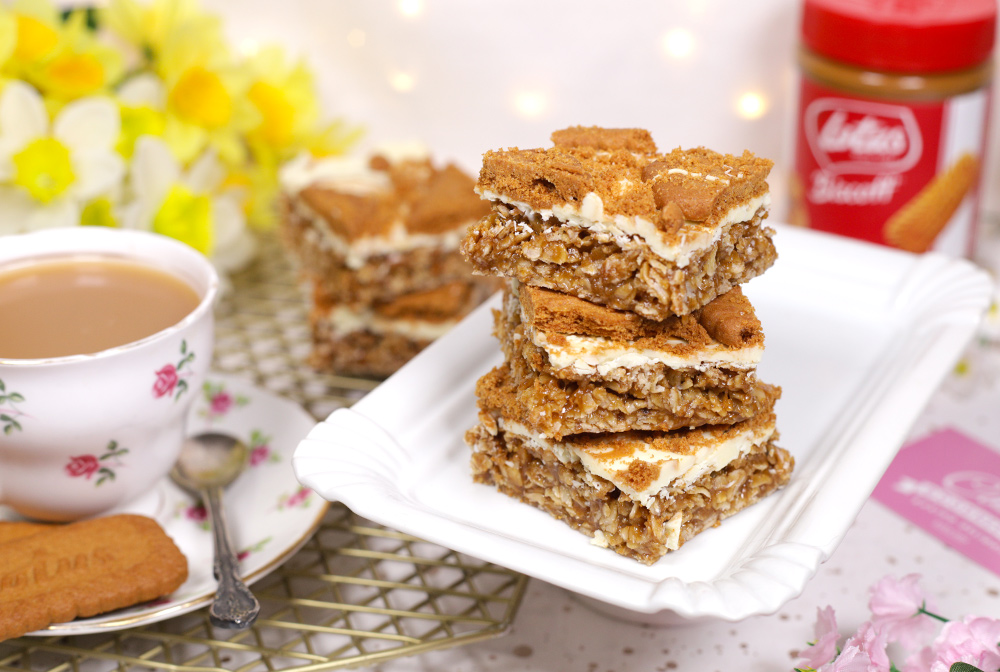 If it's soft, gooey flapjacks you're after…these are the ones for you! They are so delicious and moreish!
To make these, you will need:
Ingredients
For the Flapjack base:
150g Unsalted Butter – cut into cubes
150g Biscoff Spread
60g Light Brown Soft Sugar
150g Golden Syrup
300g Rolled Oats
To Decorate:
250g White Chocolate
25g Biscoff Spread
9 x Lotus Biscoff Biscuits plus one extra biscuit, crumbled
Method:
1. Preheat the oven to 160°C/320°F/gas mark 3 and line a 20cm square baking tin with baking paper.
2. Melt the butter, biscoff spread, light brown sugar & golden syrup in a large saucepan and mix until smooth.
3. Add the oats and mix well.
4. Pour the flapjack mix into the prepared tin and press down into all the corners and edges. Place in the preheated oven and bake for 20-25 minutes. They'll still be soft when removed from the oven. Leave to cool completely in the baking tin set on a wire cooling rack for about an hour.
5. Melt the white chocolate in a bowl set over a pan of simmering water or in 10 second intervals in the microwave, stirring well in between until fully melted. Pour the melted chocolate over the flapjack whilst still in the tin.
6. Melt 25g of Biscoff spread in the microwave in 10 second intervals, it should only take 1-2 blasts until it's melted to a drizzly consistency. Use a small teaspoon to drizzle over the melted white chocolate and using a skewer or knife to create swirls.
7. Arrange the Lotus Biscoff biscuits on top of the white chocolate and biscoff topping whilst it's still soft and crumble over the remaining 10th biscuit. Then place in the fridge for an hour until set.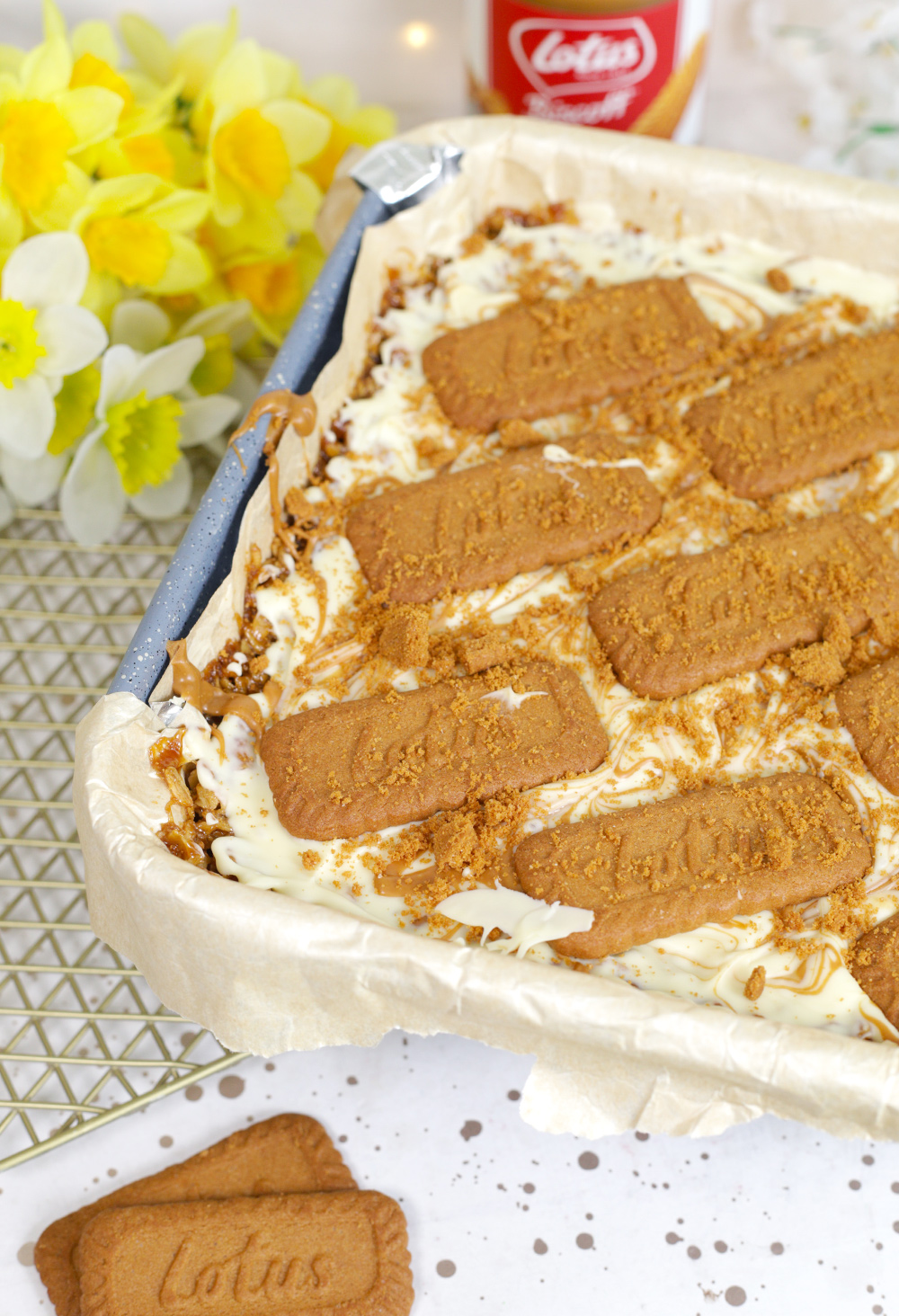 8. Remove from the fridge and lift out of the tray and use a sharp knife to cut into squares.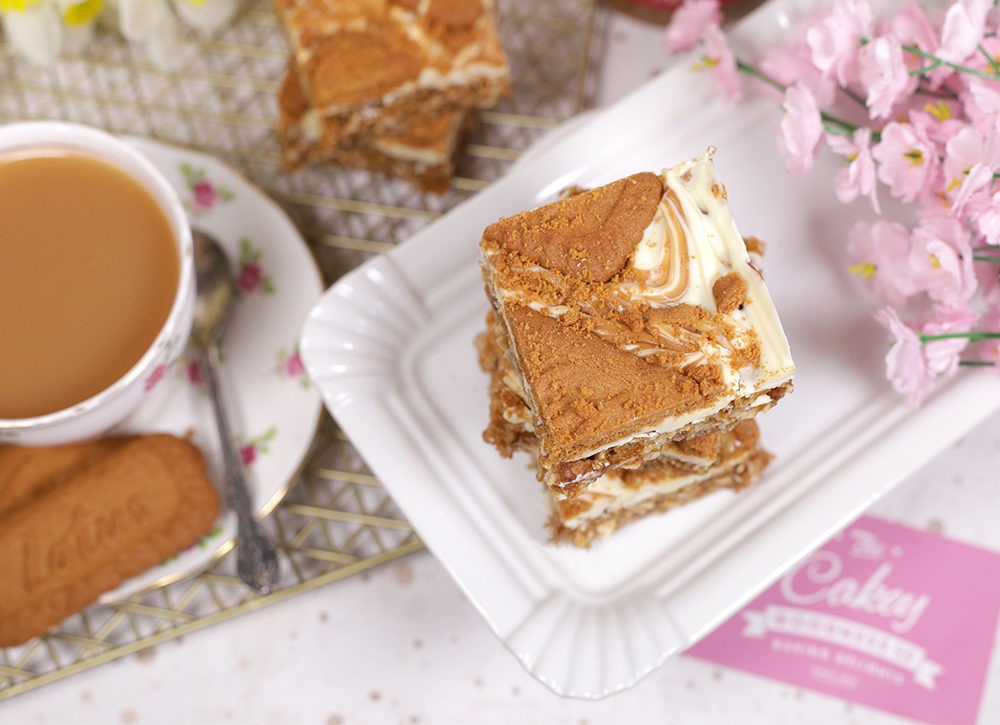 Serve and enjoy!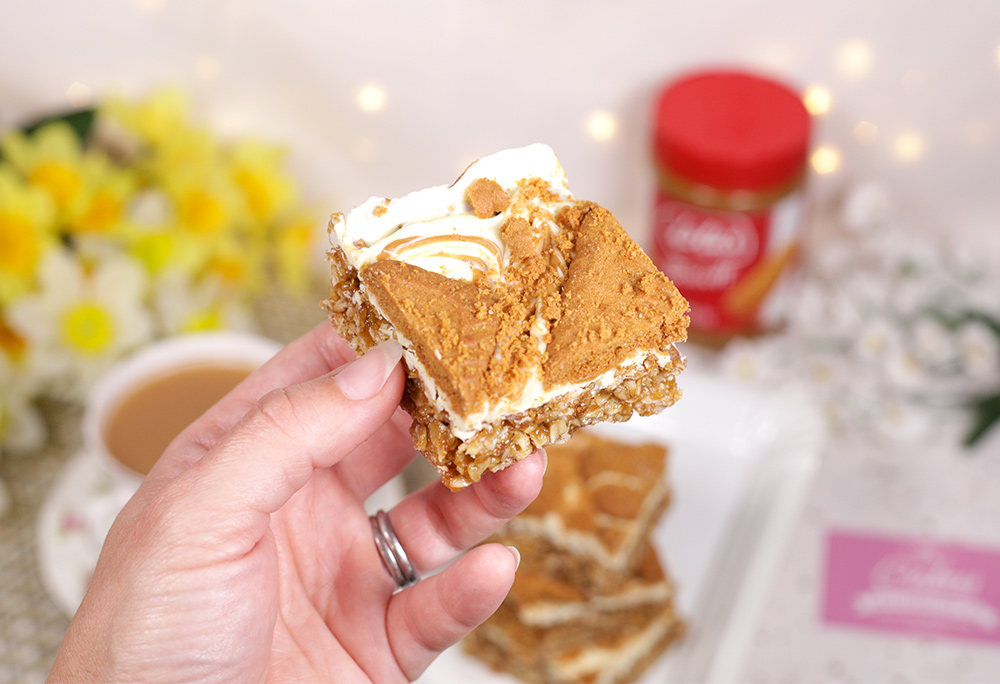 These are perfect served with a nice cup of tea or coffee!
Happy Baking!
Thirzah xoxo