SU2C GBBO Twitter Bake Along – Cupcakes
GBBO is back! Five episodes of The Great Celebrity Bake Off for Stand Up to Cancer is being aired weekly on Tuesday nights at 8pm on Channel 4 from Tuesday 6th March. Featuring four familiar faces each week that will battle to be crowned Star Baker whilst also raising funds for SU2C.
I thought this would be a great opportunity to get in the kitchen and bake some simple recipes from this series whilst joining in with the #TwitterBakeAlong!
In the first episode that aired this week we saw Bill Turnbull, Harry Hill, Martin Kemp & Roisin Conaty bake 12 cupcakes for the Signature round where we saw Martin describe how he baked some lovely cupcakes in the past but kept having disasters in the bake off! First; his cupcakes sunk in the the middle so he decided to make another batch and somehow got his bowls muddled up and accidently put buttercream in the oven rather than the cake mix! Whoops!! A horrified Sandi yelled "Get it out" when Martin realised he had made the error! Roisin received the Hollywood handshake for her Red Velvet cupcakes.
For the Technical, Paul challenged the celebs to make 6 Crepes Suzette and for the Showstopper, they were asked to create a biscuit masterpiece depicting the best days of their lives. From a bee keeping theme from Bill; featuring honey as a ingredient – from his very own bee's to Harry's depiction of "his holiday with Camilla Parker Bowles"! Which was so funny when Harry was describing his beach holiday involving a sunbathing session with a 12 year old turtle!
Harry Hill was crowned Star Baker as he came top for the technical challenge as well as winning the showstopper round with his hilarious biscuit creation!
As Mother's Day is upon us, I decided to bake some simple vanilla cupcakes topped with vanilla buttercream roses.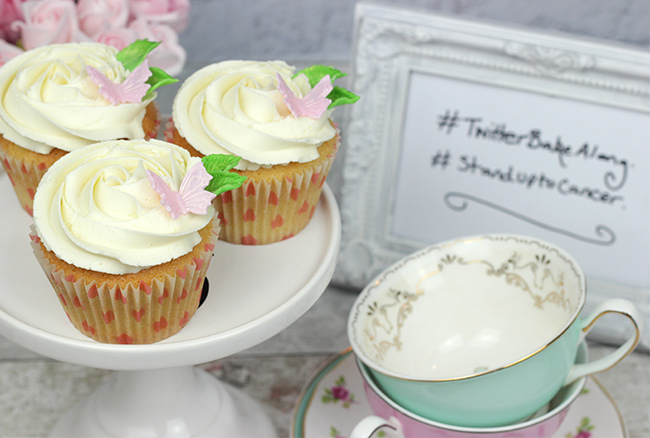 These are so easy to make and are a great place to start if you are a novice baker.
To make these, you will need:
Ingredients:
– 150g Unsalted butter (I use Stork with Butter)
– 150g Caster Sugar
– 3 Large eggs
– 150g Self Raising Flour
– Half teaspoon vanilla extract
– 2 tbsp milk
For the Buttercream
– 250g unsalted butter at room temperature
– 500g icing sugar
– 1 tsp vanilla extract
– 1-2 tbsp boiling water
Method:
1) Preheat your oven to 180°C/160°C Fan/320°F/Gas Mark 4. Line a 12 hole muffin tin with cupcake liners.
2) Using a freestanding mixer with paddle attachement or a large bowl using an electric hand whisk, cream the butter and sugar together until light in colour.
3) Add the eggs one at a time mixing well after each addition.
4) Add the flour, mix well then add the vanilla extract. Once all these ingredients are incorporated, add the milk and mix once more.
5) Use an ice cream scoop to add the mixture to the tin, I find this gives you a more consistent size to each cupcake.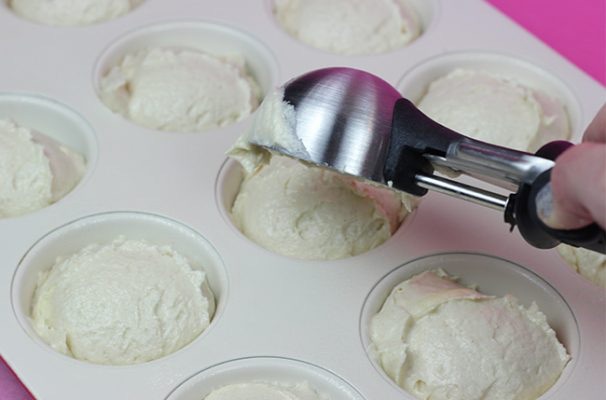 6) Bake the cupcakes for 20 minutes, they'll be lightly golden when ready. If in doubt, you can always test they're done by inserting a cake tester; which should come out clean when they are fully baked.
7) Transfer to a wire cooling rack to cool completely.
8) Meanwhile, make the vanilla buttercream by creaming the butter until light, then gradually add the icing sugar until fully mixed into the butter. Add the vanilla extract and mix then add the boiling water o make it smoother and easy to pipe.
9) Pipe your desired style of buttercream on top of your cooled cupcakes! I piped these roses or rosettes using the Wilton No. 2110 Open Star decorating Tip with a disposable piping bag and created some pretty Mother's Day themed cake toppers and decorations.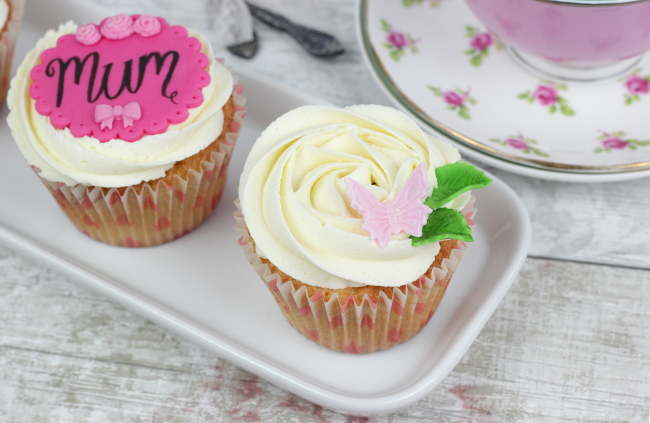 So pretty when presented as a gift in a lovely cupcake box!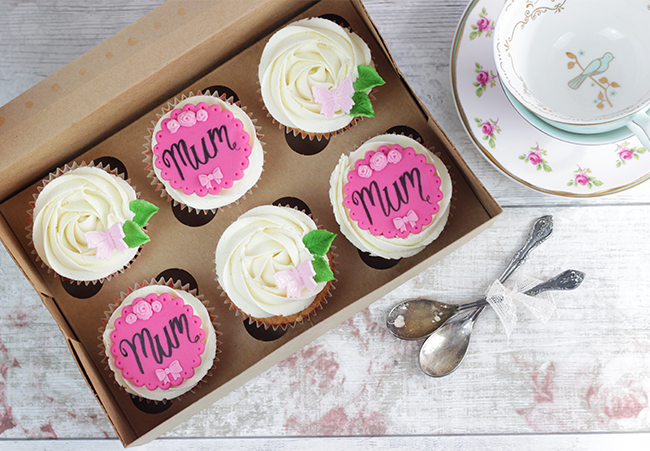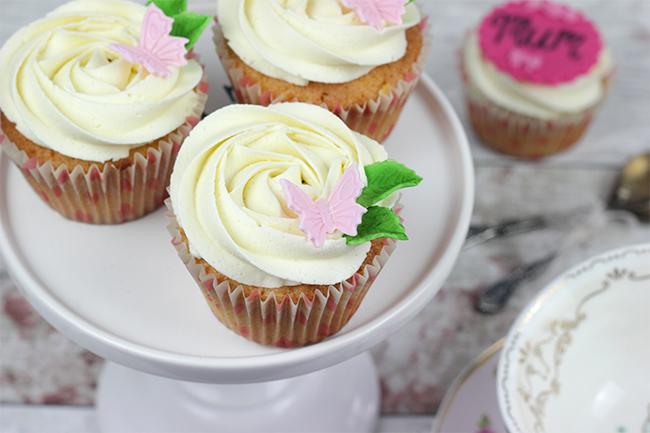 I hope you enjoy this recipe and are enjoying this series of GBBO for a very worthy cause to raise funds for SU2C. If you fancy hosting a bake off fundraising event, you can pick up a free fundraising pack here and host a baking competition at home, work or school by judging each others bakes and also set up  just giving page to get more people involved!
Happy Baking!
Thirzah xoxo