Do you love anyone enough to give them the last slice of this Rolo brownie?
I've been wanting to share more recipes, using a basic base such as brownies, cookies and tray bakes, adding popular chocolate treats & biscuits.
I've already created delicious Jammy Dodger Bakewell Blondies in my last recipe post.
In this post I decided to pair my chocolate brownie recipe with salted caramel sauce & Rolo's!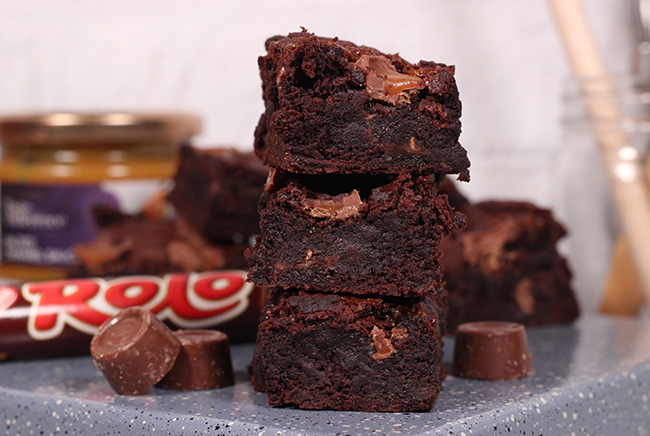 I also baked this in my heart shaped silicone baking pan as Valentines Day is fast approaching and this would be the perfect bake to share with a loved one!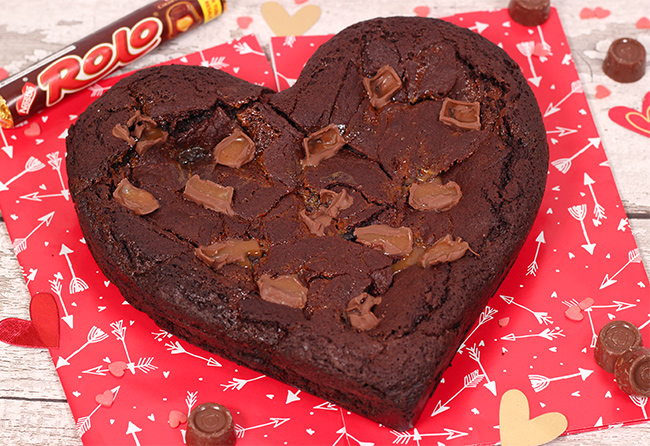 To make these brownies, you will need:
Ingredients:
– 250g Unsalted butter
– 200g Dark chocolate – chopped
– 80g Cocoa powder
– 65g Plain Flour
– 1 Teaspoon baking powder
– 350g Caster sugar
– 4 Large free range eggs
– 65g Salted caramel sauce
– 2 x 52g packs Rolo's
Method:
1. Preheat the oven to 160°C/350°F/Gas Mark 3. Spray an 8 inch baking tin (heart shaped or square if you just want to make a regular shaped bake!) with non-stick cooking spray and if it's not silicone, line with baking paper.
2. Melt the butter & chocolate in a small bowl in the microwave or a pan set over a pan of simmering water.
3. Place the cocoa powder, flour, baking powder and sugar into a large mixing bowl and stir using a spatula.
4. Pour the melted butter and chocolate mixture into the bowl of dry ingredients and give it a good mix. Gradually mix in the eggs until well combined.
5. Spoon half the batter into the cake pan and spread to the egdes using a spatula. Chop up a pack of the Rolo's and scatter over the surface of the brownie then pour in the remaining batter and spread to the edges. Use a teaspoon to dollop the salted caramel over to the top and use a skewer or small knife to swirl the caramel around. Chop the remaining pack of Rolo's and scatter half of them over the top of the brownie. Pop in the oven to bake for 25 – 35 minutes until the top is lightly crisp and when a skewer is inserted it should come out slighly gooey.
5. Remove from the oven and leave to cool slightly. Then arrange the remaining chopped Rolo's over the surface of the brownie, you want to add these while it's still warm so they melt slightly onto the top of the brownie. Leave to cool completely in the baking pan then turn out and slice into squares.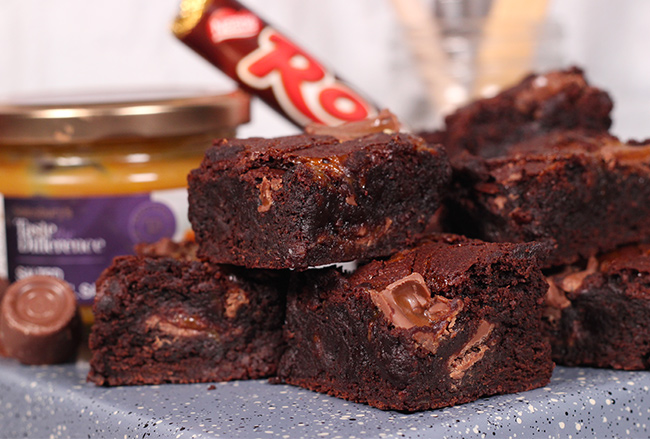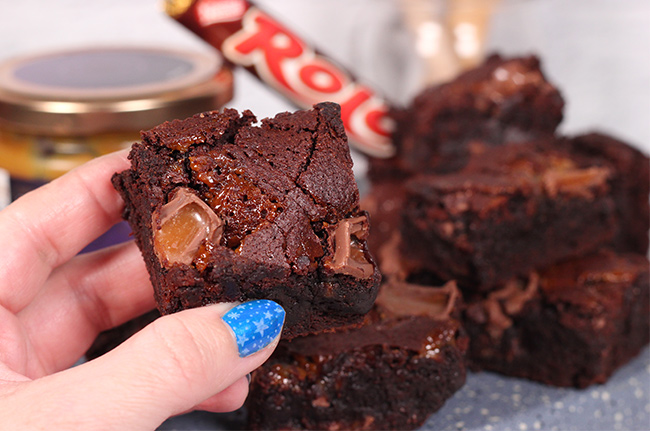 These are delicious served with a cuppa for a tasty treat or if you want to enjoy as a dessert, you can pop one in a bowl and heat for 10 – 20 seconds in a microwave to warm through and serve with a scoop of yummy vanilla ice-cream!
Why not check out my video recipe for gooey chocolate brownies & more over on my YouTube Channel. Don't forget to subscribe so you can keep up to date with all my latest Easy Bake video recipes!
Happy Baking!
Thirzah xoxo