Do you ever find that you purchase fruit and various baking ingredients and end up with the odd apple lurking in the fridge and a banana that gets so over ripe that you simply cannot eat it any more? An open bag of pecans with only a small amount in the bottom and an almost empty tub of buttermilk, that's just about in date? I found myself in this predicament this week and decided to see what I could bake using these items with banana bread in mind!
I grabbed a few other baking essentials and some spices, then got to work on creating something delicious!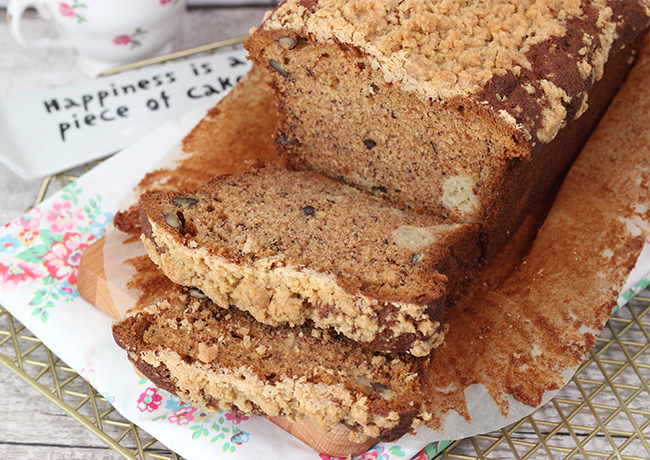 And the result was a banana and apple loaf cake with a delightfully crumbly streusel topping! Yummy!
To make this you will need:
Ingredients:
For the loaf cake
– 125g unsalted butter, I used Stork with butter
– 100g caster sugar
– 75g light brown soft sugar
– 2 large eggs, at room temperature
– 1 very ripe banana, mashed with a fork
– 1 bramley apple, peeled and cut into cubes
– 60ml buttermilk
– 50g pecans, chopped
– 1 teaspoon vanilla extract
– 250g plain flour
– 1 teaspoon baking powder
– 1 teaspoon bicarbonate of soda
– pinch of salt
– 1 teaspoon ground cinnamon
– ¼ teaspoon ground nutmeg
For the Streusel topping
– 75g plain flour
– 50g Demerara sugar
– ¼ teaspoon ground cinnamon
– 50g unsalted butter, cubed
Method
1) Preheat your oven to 160°C/320°F/Gas Mark 3. Line a small loaf tin with a loaf tin liner.
2) In a free standing mixer fitted with the paddle attachment or a large mixing bowl using a handheld whisk; cream the butter and sugars together until pale and fluffy.
3) Add the eggs one at a time, mixing well between each addition. Then add the mashed banana, chopped apple, buttermilk, pecans and vanilla and mix well.
4) Mix the flour, baking powder, bicarbonate of soda, salt, cinnamon and nutmeg together in a smaller bowl then add to the wet ingredients and give it all one final mix. Pour into your prepared loaf tin.
5) To make the streusel, add the butter, flour, demerara sugar and cinnamon to a small bowl and use a pastry blender to cut the butter into the dry ingredient until you have a crumble topping that looks like breadcrumbs. Sprinkle this over the top of the loaf mixture in the tin and pop in the oven to bake for an hour. When it's done, the streusel topping will be a light golden brown colour and a skewer inserted into the centre should come out clean.
Leave to cool completely in the tin placed on a wire cooling rack.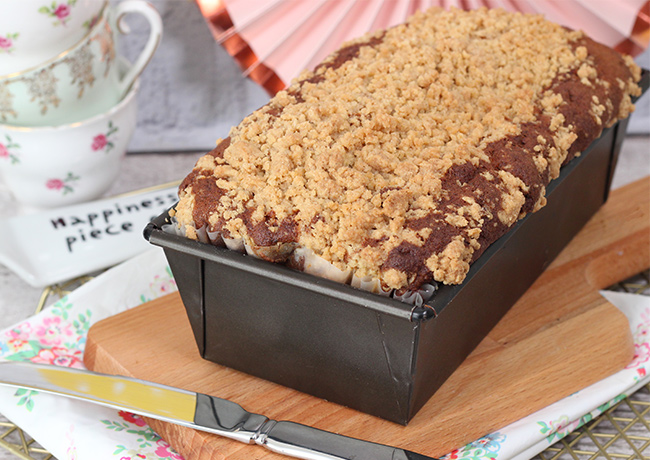 Once cool, remove from the tin and slice.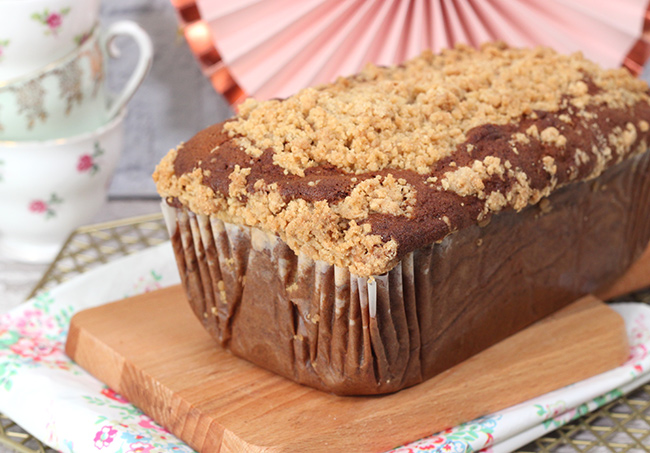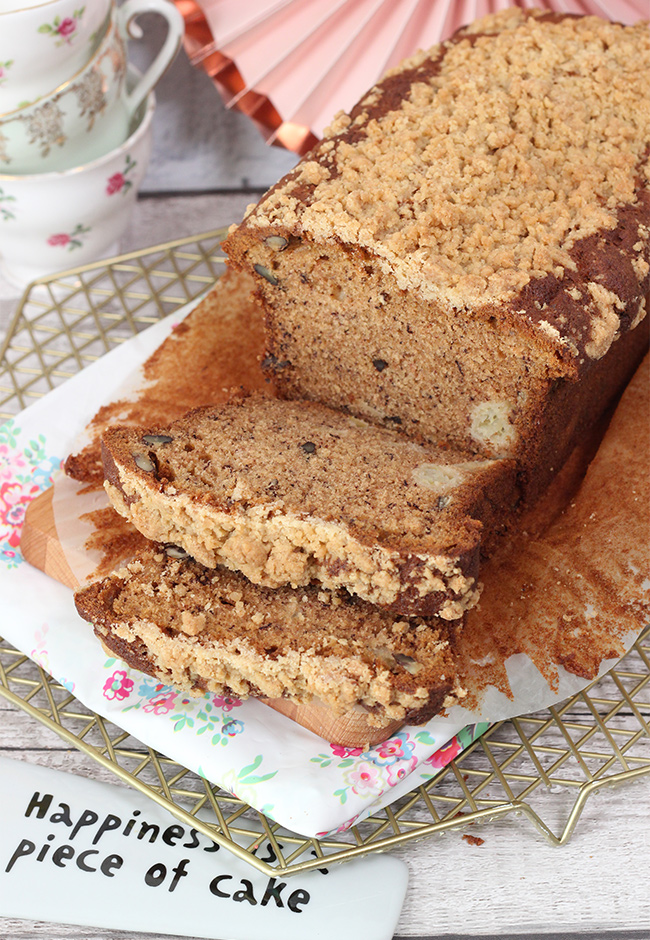 This is so delicious and I'm so happy that my little baking experiment was a success! All the ingredients work really well together to create a delicious bake that's perfect as an afternoon pick me up with a cuppa! Though I feel a slice would also be perfect for breakfast!
I hope you give this recipe a go and if you do, please share your results with me on my social media! You can find me on Facebook, Instagram & Twitter.
Happy Baking!
Thirzah xoxo