As promised, here is the next post in my Cake International on Tour 2019 series!
Continuing on with a little slice of the competition; I wanted to find out more about the Best in Show winner – Jane Lashbrook of Fabulously Fondant and learn how she came up with the idea behind her winning piece!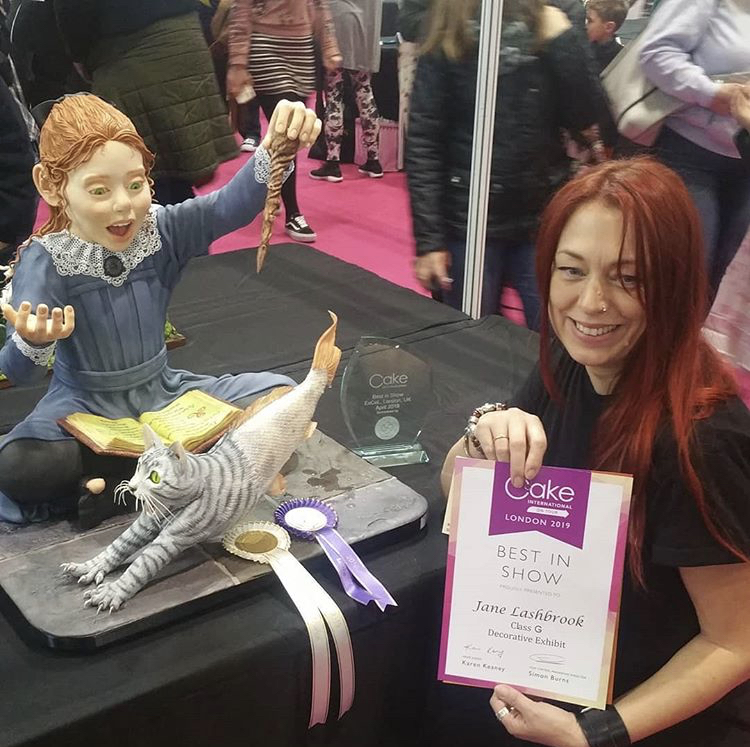 (Image courtesy of Jane Lashbrook – Fabulously Fondant)
So she kindly answered a few questions for me for this Q&A post!
Without further ado…lets get onto the questions and answers!
Congratulations on your best in show win! You must be over the moon! What was it like to find out you won?
When I heard my name called out for Best in Show I was utterly amazed and totally surprised, I couldn't believe it was me they picked as there was so many beautiful pieces. Even after I had received my award I felt completely overwhelmed by the whole experience, especially with all the amazing praise I got from so many lovely people, and I don't think the whole thing felt real to me for several days.
When did you first get into baking?
I always baked with my mother and grandmother as a child and the occasional cake as I grew up over the years. I've always been artistic, as I'm also an Artist by trade, so when I was asked to make my niece's Christening cake, thought i'd give it a go. I made a little toy box with toys inside, which sat on the cake. It was the first cake I had ever decorated and It was then that I found a new flair in cake decorating.
Have you always loved creating sculpted cakes or do you like to create regular cakes?
I've made many regular cakes in the past but my passion now lays in cake sculpting. I just love creating something that comes alive in front of you, and its edible!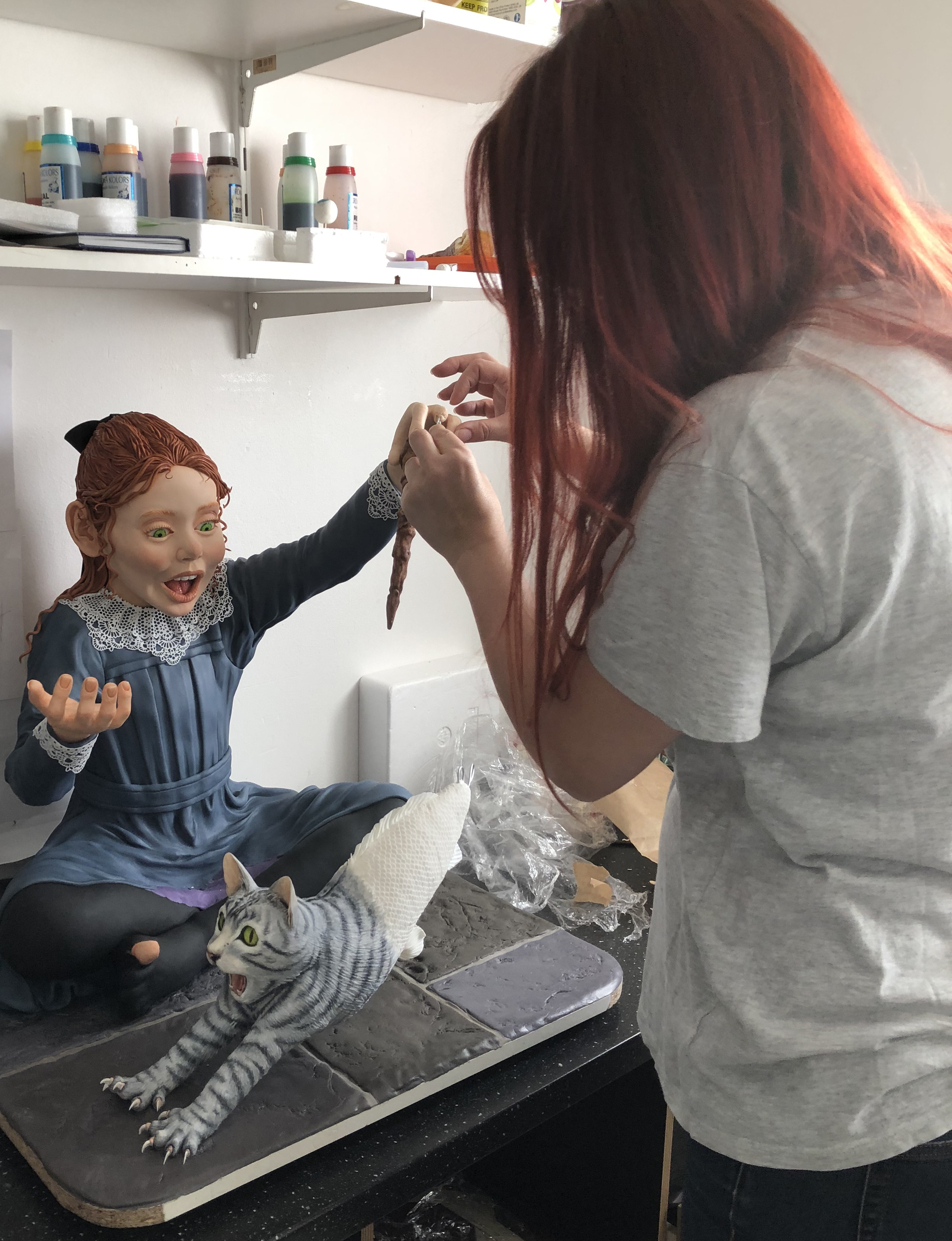 (Image courtesy of Jane Lashbrook – Fabulously Fondant)
Do you bake for family and friends?
After my first decorated cake it then became a hobby making creative cakes for my family, friends and small local events.
Have you attended any cake classes to learn the techniques you use in your creations?
I have never attended any cake classes. I am totally self taught cake artist!
What are your favourite mediums to create your cakes? Do you use all cake for the interior or a mix of cake with Rice Krispie treats?
I used to employ just fondant in all my creations, but since discovering modelling chocolate I use a mixture of the two as I find they give me different results to meet the needs of the piece I'm working on. I prefer madeira cake for my cakes as it's great to carve into shape but I do use rice krispie mix in areas where its called for.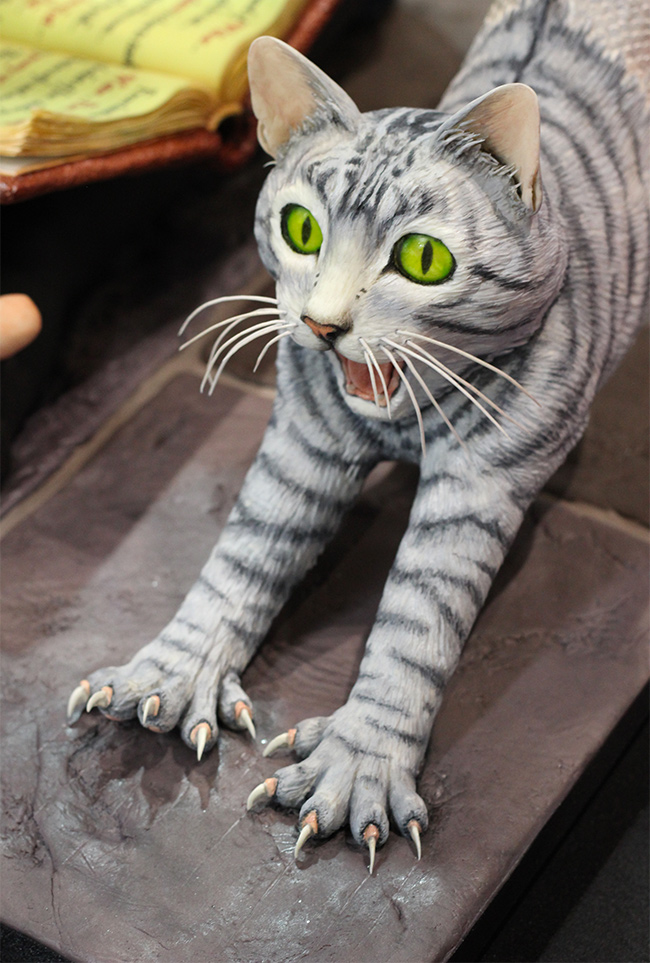 What are your favourite tools? (I know I have loads of cake decorating tools, but end up only using a handful of the ones I have, regularly!)
I have many modeling tools, some I've hardly used but my favourites are the flower and figure decorating ones, like Cerart 303 and of course the paintbrush!
Do you draw up your designs before you start?
I do draw up ideas for my cakes, sometimes many sketches until I find the right design.
Do you have a specific cake working space/cake room?
Yes, I have a little room that's been converted into a cake studio.
Have you entered any other cake competitions?
The first ever cake competition I entered was The Cake and Bake show in 2017 for which I got 1st place for my Enchanted cake. I then entered Cake International London for the first time in the same year as a last minute decision, as I wanted to know what it was like to enter and get a feel how the competition worked for such a large show. In the end I got a Gold for my Eddie the faun cake!
When did you start planning your entry for Cake International?
I started planning my entry when I discovered Cake International was coming back to London.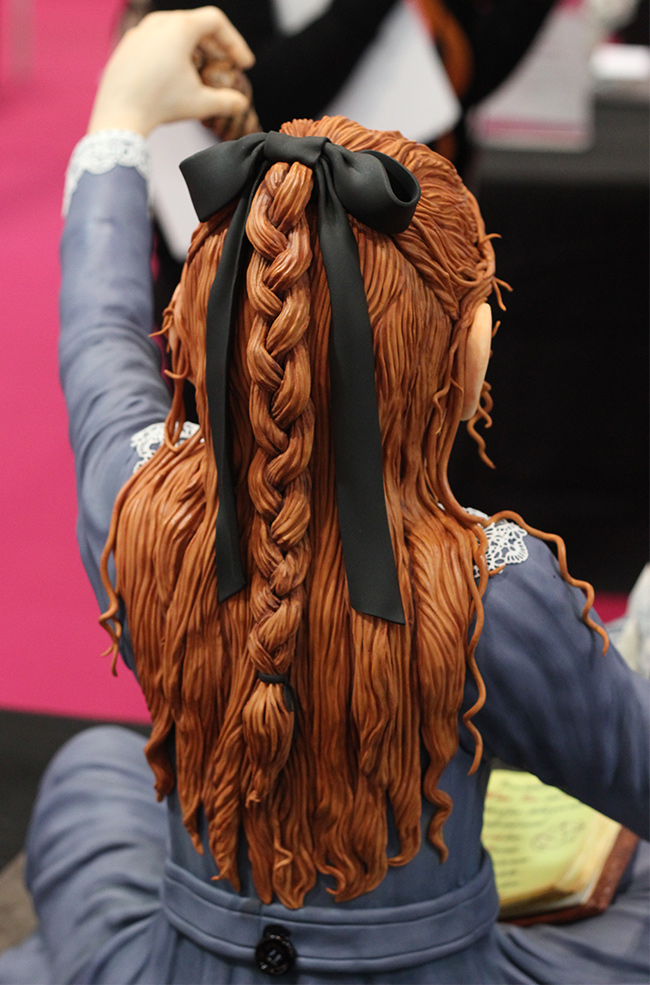 Where did you get your inspiration for this cake from?
My inspiration for this piece was me basically sitting down with a sketchpad and pencil and thinking through what can I do for this competition, and amazingly the idea just popped into my head. But do I have a love for myths, magic and history, which might explain it, lol.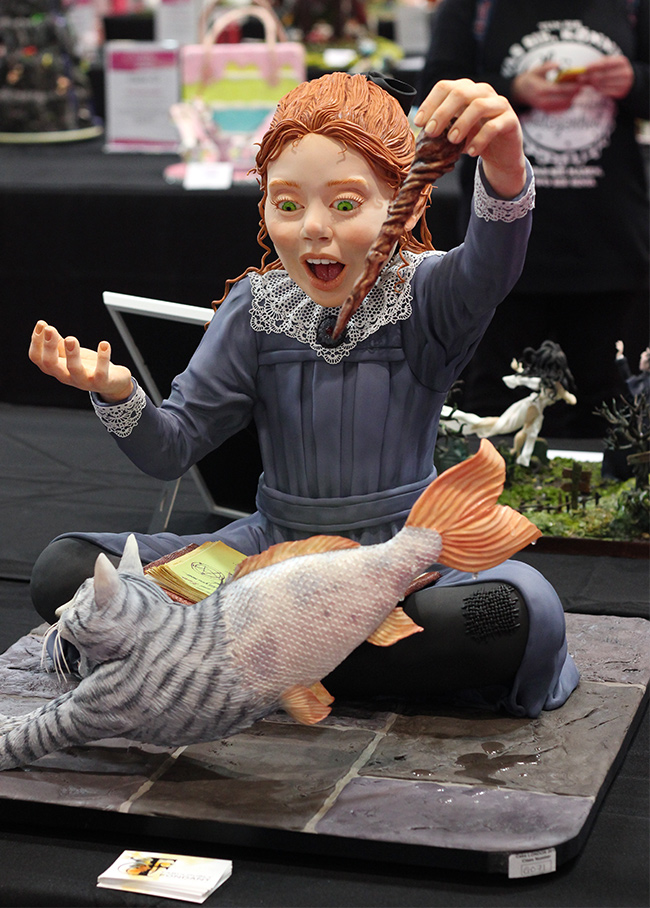 What bakers and cake decorators inspire you most?
There are lots of cake decorators that are just so talented, but Karen Portaleo inspired me the most with her amazing creations.
Any plans for future entries to Cake International or any other cake competitions?
I'm planning on going to Cake International, Birmingham later this year. But at the moment I haven't any plans for any other competitions.
And finally, what flavour cakes did you use for this entry? (I love finding out what cake or treat is inside!)
Unfortunately there was no cake inside my winning piece as I wanted to keep her for as long as possible. It's made with rice krispies and marshmallows, but the design is possible to be made with cake!!
Though Jane doesn't have a website yet, it's in the making at the moment! In the meantime, you can keep up to date with all her amazing creations on her Instagram page here!
My next Cake International on Tour post will be published soon so watch this space for what I got up to at the show on the Friday and I'll also be writing a haul and review post!
Thirzah xoxo