Well….week 5 of the Bake Off was a pretty controversial episode! But more about that after little re-cap of this weeks challenges!
For the Signature bake; we saw the contestants create an array of decorated custard pies! I loved Davids Flapper Girl tarts, so neat and creative! Helena created hers in her signature spooky style taking inspiration from 20's Monster Movies; featuring an octopus in her bake!
The technical was Beignet soufflés served with a Sabayon. These are pretty much a choux pastry that is fried rather than baked and looked pretty challenging!
Finally the showstopper where they were challenged to create a 2 tier prohibition cake containing their favourite alcoholic cocktails! We saw a few Pina Colada flavoured cakes (one of my favourite cocktails!)
Sooooo…back to the controversy…a LOT of people took to Twitter airing their disappointment with this weeks decision to send 2 of the bakers home. Despite Helena winning the technical round…we saw her voted out of the tent along with one of my favourites; Michelle! A lot of the bakers struggled with some of the challenges but I think they made a bad decision in terms of how they eliminated these two this week! Steph was voted Star Baker for a second week in a row and despite the results, there are still some really talented bakers in the tent!
Moving on to my bake this week, I decided to create little custard tarts topped with berries, edible rose petals and a dusting of icing sugar! Delicious!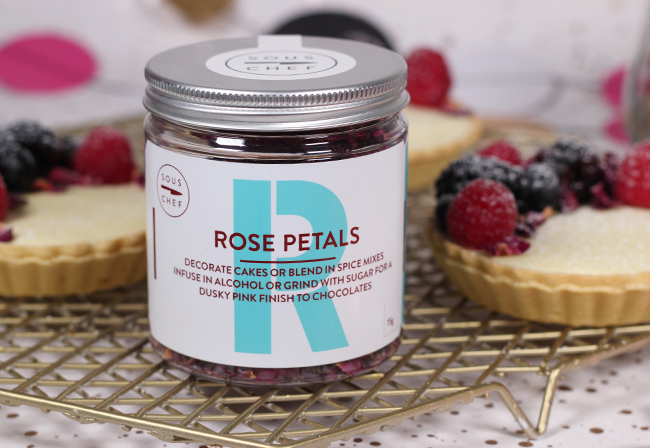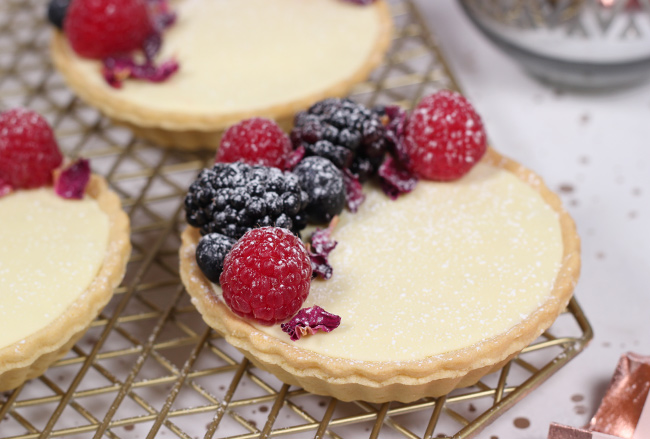 This is a simple recipe with a hint of lemon which compliments the berries perfectly!
To make these, you will need:
Ingredients:
For the pastry
140g butter – chilled and diced
250g plain flour
zest 1 lemon
100g caster sugar
1 Large egg – beaten
1 tbsp whole milk
For the custard
250ml double cream
250ml milk
1 vanilla pod – split
1 strip lemon zest
whole nutmeg
8 egg yolks
100g caster sugar
To Decorate:
A selection of berries – I used blackberries, Blueberries, Raspberries and Strawberries.
Edible Rose petals or flowers
Icing sugar to dust
Method:
1. To make the pastry, rub the butter into the flour with the lemon zest and a pinch of salt until it resembles breadcrumbs. Add the sugar, egg and milk and bring together to form a dough. This can be made 2 days in advance.
2. On a lightly floured surface, roll the pastry out and use it to line mini tart tins, leave 2cm of pastry hanging over the edge of each tin. Chill for 30 mins.
3. Heat oven to 180°C/160°C fan/gas mark 4. Line the cases with baking beans, bake blind for 20 mins, then remove the beans and continue to cook for a further 20 mins until the base is biscuity. Remove from oven and reduce the temperature to 140°C/120°C fan/gas mark 1.
4. Bring the cream, milk, vanilla pod, lemon zest and a small grating of nutmeg to the boil. Beat the egg yolks with the sugar until pale, then pour the hot milk and cream over, beating as you go. Strain custard into a jug, allow to settle for a few mins, then skim off any froth.
5. Carefully pour the custard into the tart case, grate some more nutmeg over the top if you wish. (I left these plain so I could dust with icing sugar) Bake for 30 – 40 minutes or until just set with the very slightest wobble in the middle. Remove from the oven, trim the pastry edges off (away from the filling), then leave to cool completely.
6. Decorate with the berries and rose petals and finish with a dusting of icing sugar.
Serve and Enjoy!
You can also make these with pre-made shortcrust pastry or the little ready made pastry tart cases you can find in the baking isle!
If you want to make one large custard pie, bake in a 20cm round tart tin and bake for 40 minutes.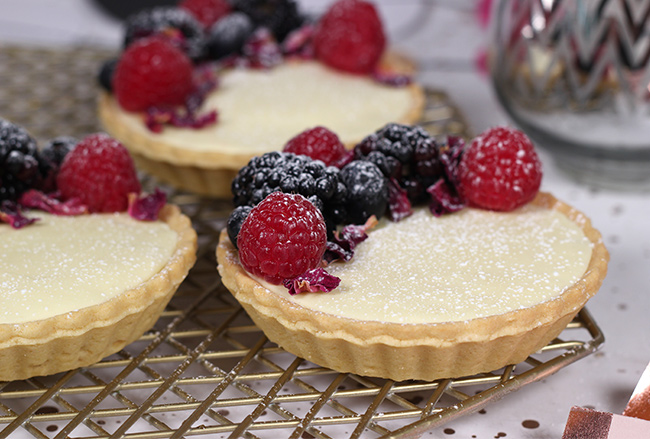 The next episode of Bake Off is Dessert Week! I love desserts (I always opt for dessert over a starter any day when eating at a restaurant!) So can't wait to see what challenges lie ahead for the bakers in week 6!
Happy Baking!
Thirzah xoxo