A week has almost passed since Festival Week on The Great British Bake Off!
We saw the bakers challenged with some really tricky bakes as well as something more traditional.
For the Signature, they baked their favourite yeasted festival buns, with each one telling a story and could be inspired by any festival around the world! We saw an array of fruity hot cross buns from Steph, Alice and Michael. Though Prue made a really silly comment about Alice's ones looking a bit homemade…considering the contestants are amateur, home-bakers, I feel this was a bit uncalled for, as it seemed like a negative comment. There were also a couple of Hollywood handshakes during the tasting!
For the Technical round, they were given the challenge of making Sicilian Cassatelle, which are pastry crescents filled with smooth and creamy ricotta flavoured with chocolate and orange. These were fried rather than baked, until crispy and golden.
The Showstopper round saw the bakers given the task of creating a Sarawak Layer cake! This cake involves grilling the layers then they are cut and reassembled to form intricate patterns. We saw many bright and colourful creations and it reminded me a little of a more extravagant Battenburg!
Henry was crowned Star Baker this week and sadly Michael was the baker to go home.
For my bake along this week, I decided to bake some fruity yeasted buns based around my favourite celebration; Halloween!
I was inspired by the Hot Web Buns that Helena has shared on her Instagram feed recently but I opted for the traditional flavours of mixed spices and dried fruit and decorated with spider webs rather than crosses!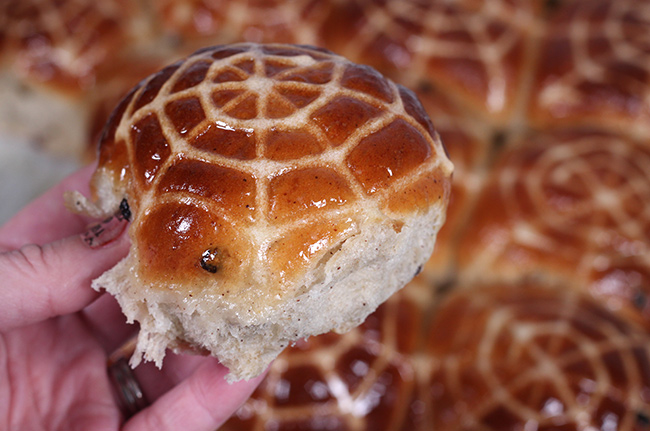 I used a couple of my favourite bread mixes by Wrights Baking. They sell a whole range of lovely bread and cake mixes which always turn out really well, so they are my go-to brand for anything bread-related!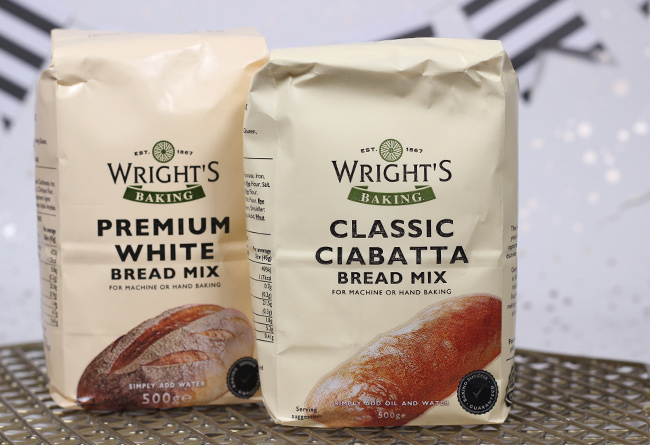 I found the recipe on their website too, so thought I would share it here as I made some little tweaks to the recipe!
To make these, you will need:
Ingredients:
For the buns:
500g Wright's Premium White Bread Mix
500g Wright's Ciabatta Bread Mix
115g butter/stork
28g Milk Powder
100g Caster Sugar
2 Heaped Tablespoons Mixed Spice
1 Medium egg
Zest and juice of 1 large orange
520ml Warm Water
225g Dried Mixed Fruit
To decorate:
100g Self-Raising Flour
150ml cold water
For the glaze:
50g Caster Sugar
100ml Boiling Water
This recipe makes 30 hot cross buns. A smaller quantity of buns can be made by using half a pack of each mix and half the quantity of other ingredients.
Method:
1. Pop the bread mixes into a large bowl (I used my KitchenAid fitted with the dough hook). Add the butter, milk powder, caster sugar, mixed spice, orange zest & juice and egg to the bread mixes and start mixing.
2. Gradually add the 520ml of warm water whilst mixing continuously for 5 minutes until it forms a ball of dough.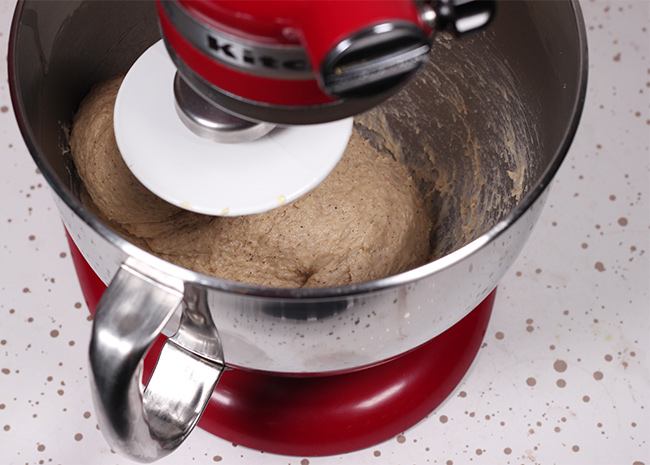 3. Add the mixed fruit and blend through the dough.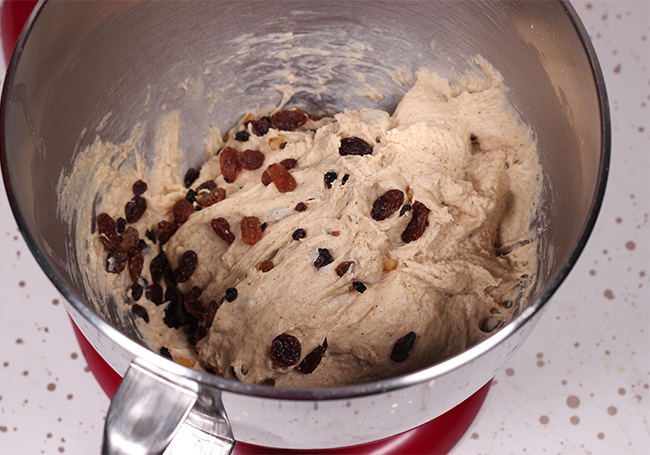 4. Divide the dough into 30 pieces, mould into balls and leave to rest on your work surface for 10 minutes.
5. Remould the pieces and place on a greased baking tray ensuring they are in straight lines to make the piping of the spider webs easier.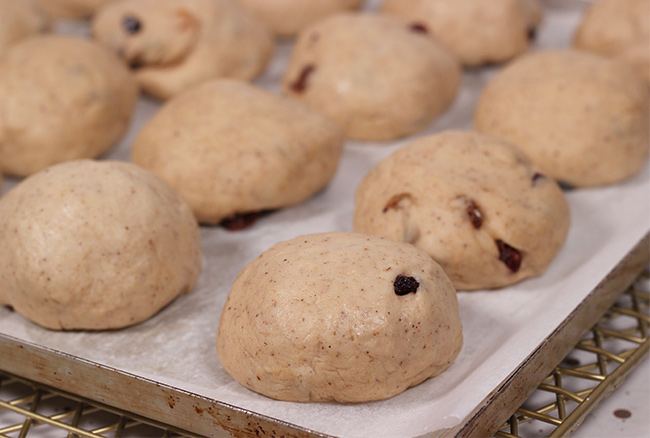 6. Prove in a warm place for 35-40 minutes or until doubled in size. I warmed my oven up then switched it off before I started making my buns so the oven was nice a warm (not hot!) then placed the trays of dough balls into the warm oven to prove (great if like most people…you don't have a proving drawer in your kitchen!!)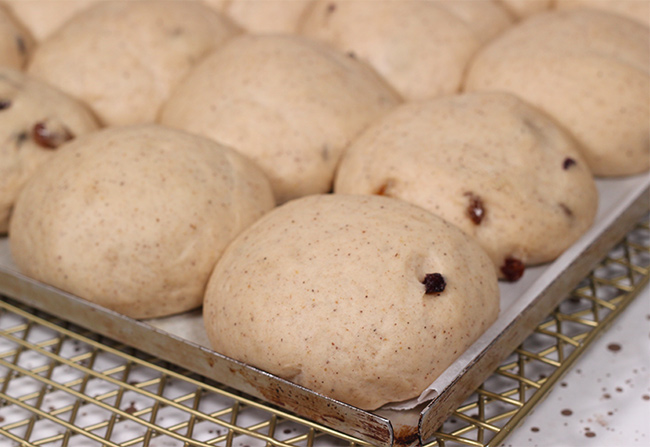 7. Place the self-raising flour into a medium bowl and gradually add the cold water, mixing well between each addition, until it forms a paste.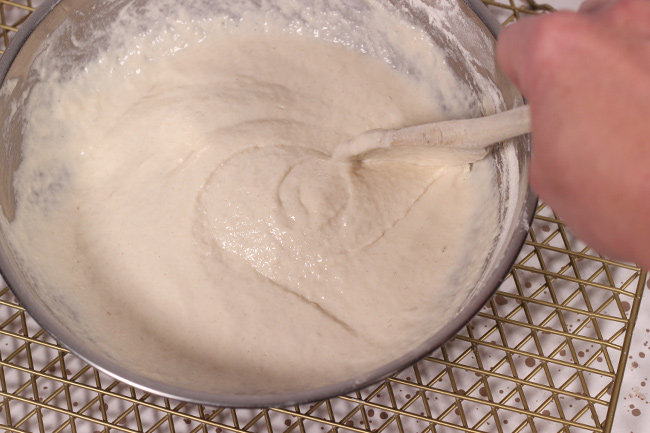 8. Pop the paste into a piping bag fitted with a fine nozzle (1-1.5mm) then pipe lines carefully on the proved buns. I piped crosses then piped more crosses diagonally to start the webs. Then I piped the web designs bewteen the crosses.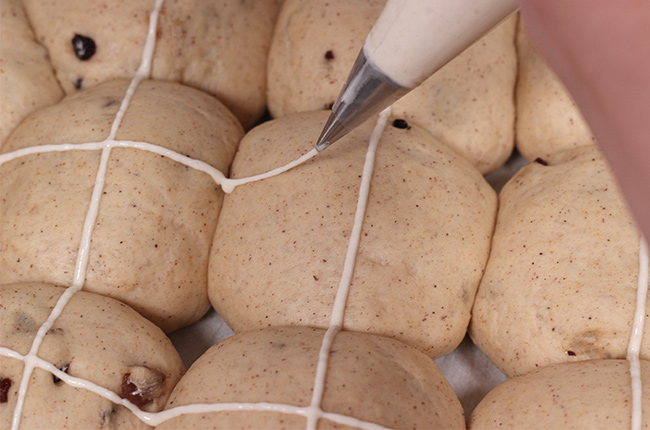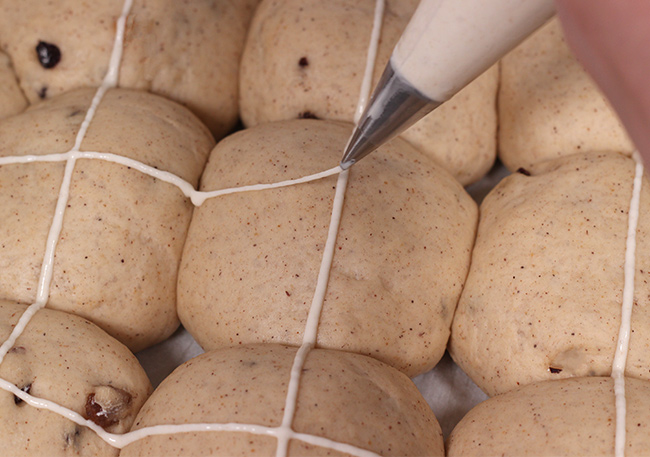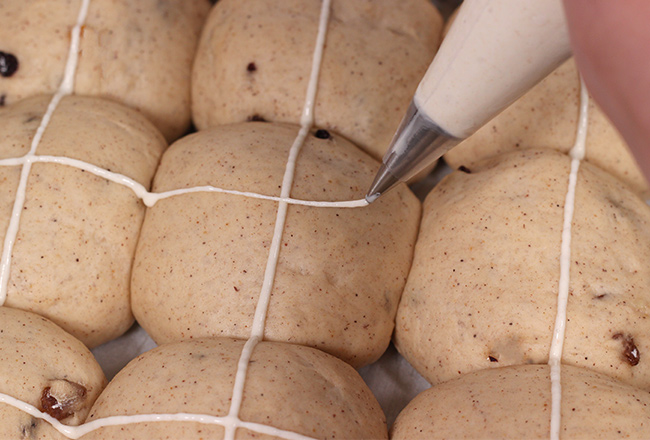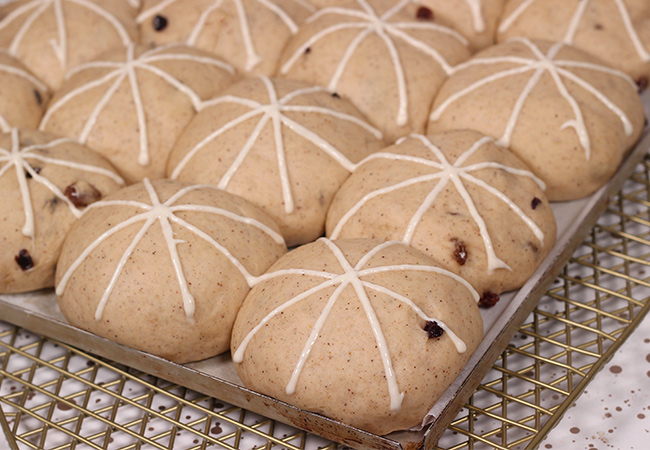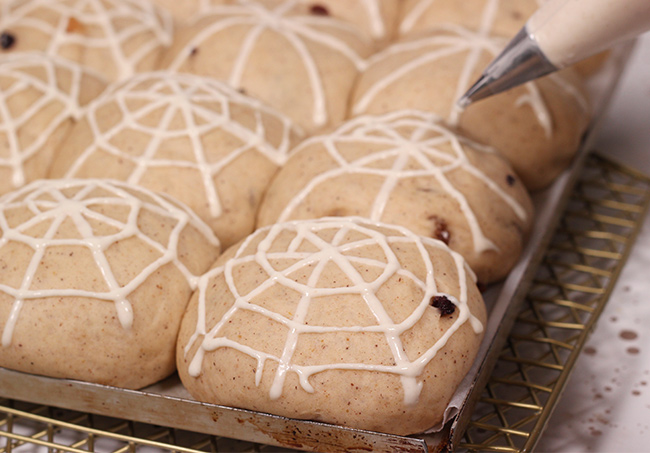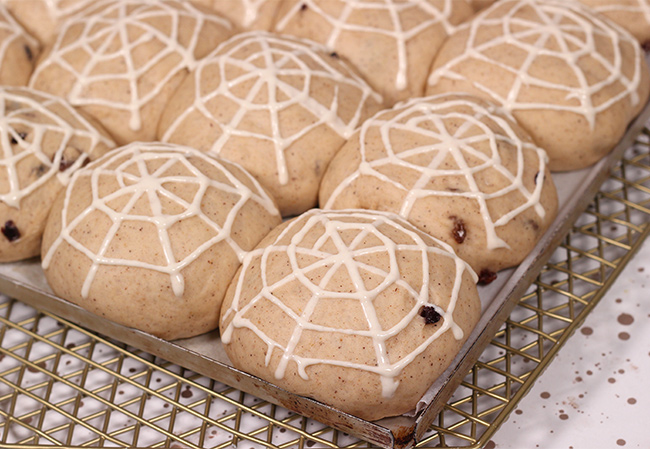 9. Bake in a preheated oven at 200°C/400°F/gas mark 6 for 15 minutes, until they are golden brown and sound hollow when tapped.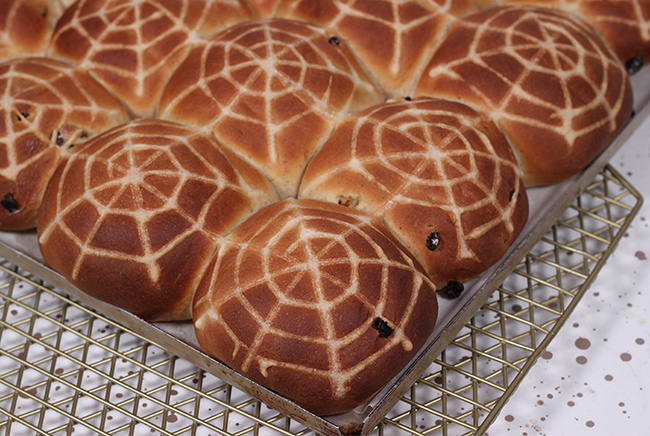 10. Remove from the oven and pop the tray of buns onto a cooling rack. Make the glaze by mixing the caster sugar with boiling water until the sugar has dissolved then brush onto the warm buns.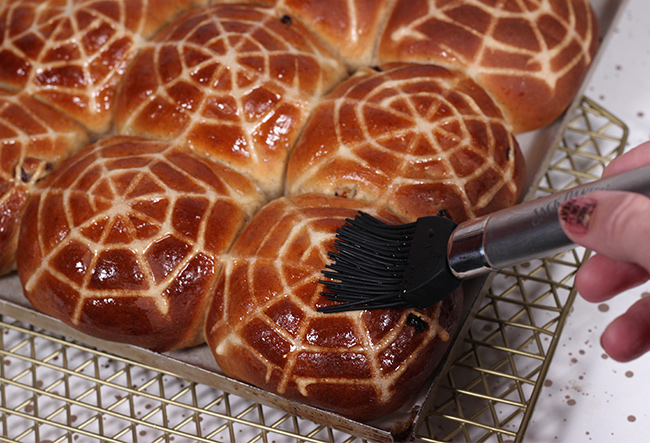 11. Leave to cool completely.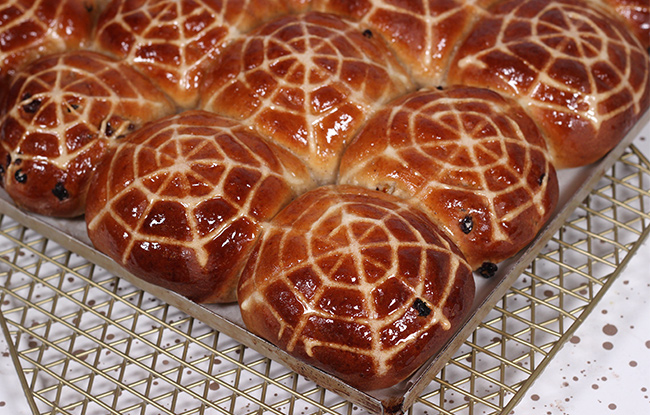 Serve by slicing the buns in half and pop in a toaster or under a grill to toast, then spread with butter and enjoy!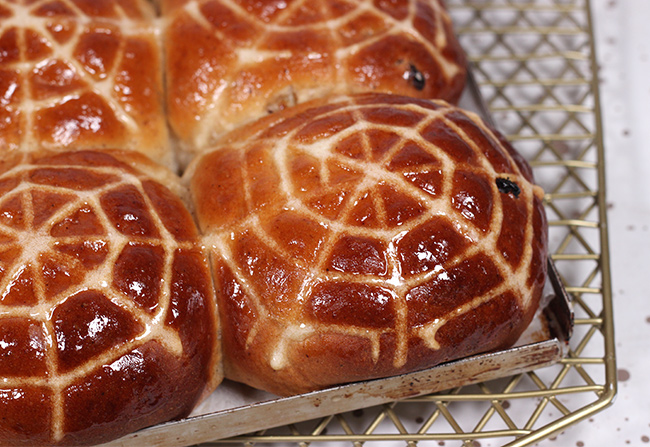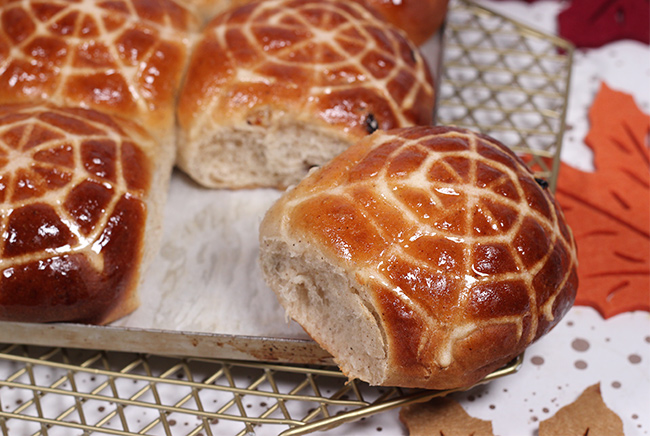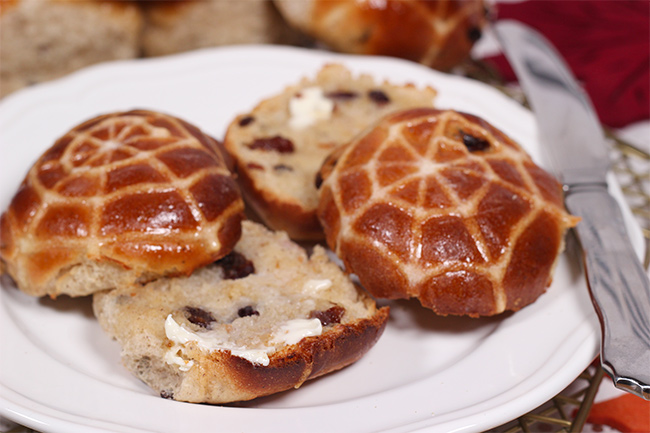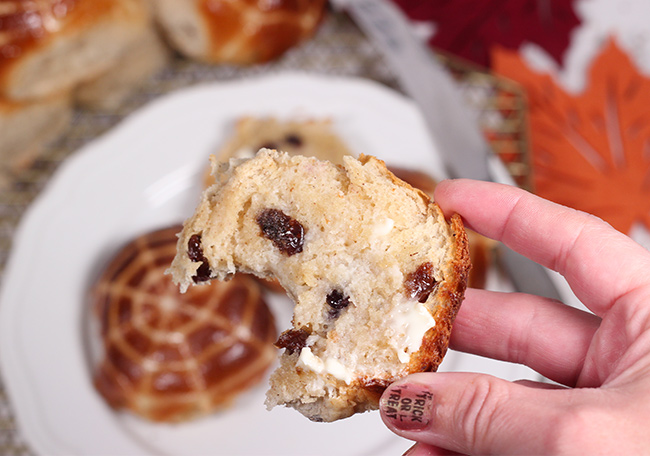 These are perfect for breakfast or a tasty afternoon pick me up with a nice cuppa!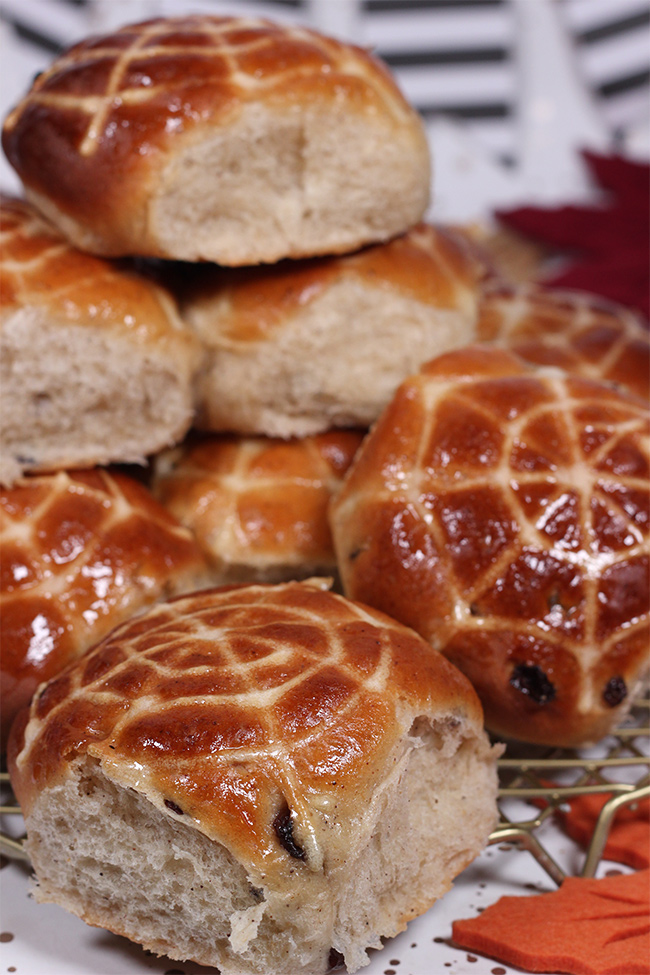 The next episode of GBBO is pastry week! Pastry bakes are among my favourites so I can't wait to see what challenges are in store!
Happy Baking!
Thirzah xoxo