I was lucky enough to spend an entire weekend working at The Cake and Bake Show at ExCel London this month!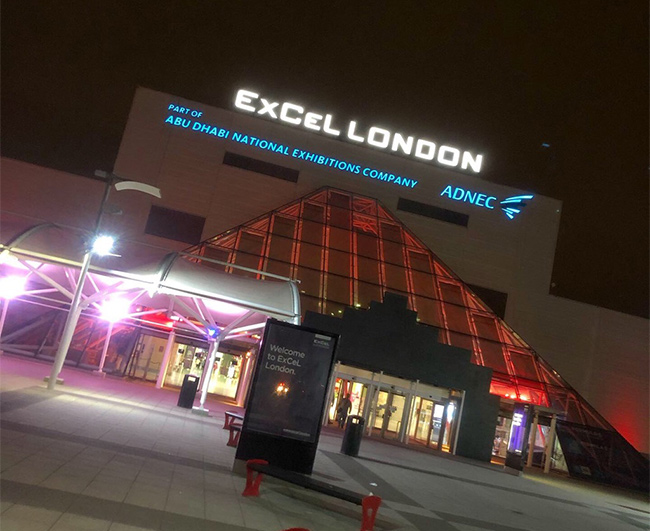 I spent the Friday, Saturday and Sunday working with Amy and the lovely team at Sweet Stamp; where I demonstrated how to use the products & met a lot of lovely fellow bakers and cake decorators!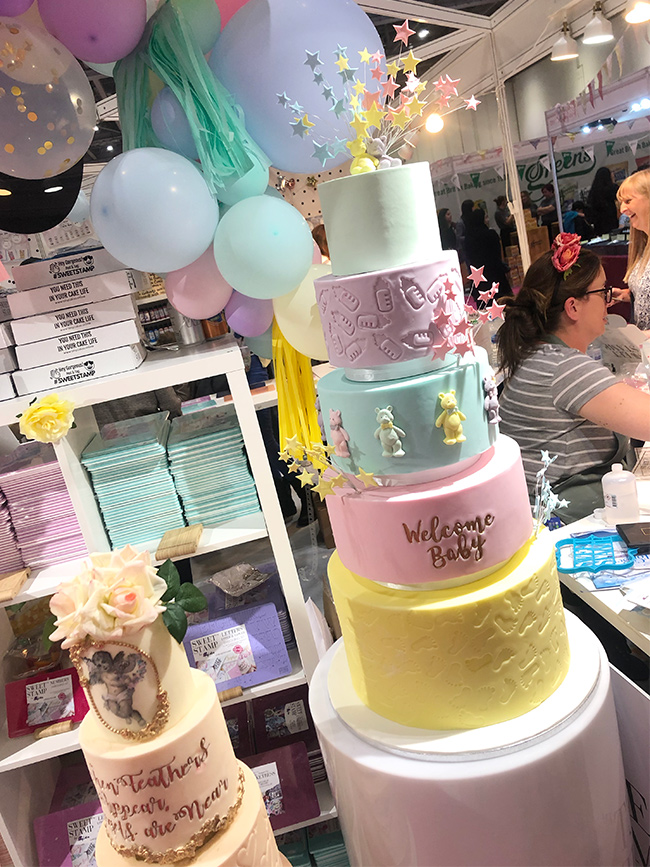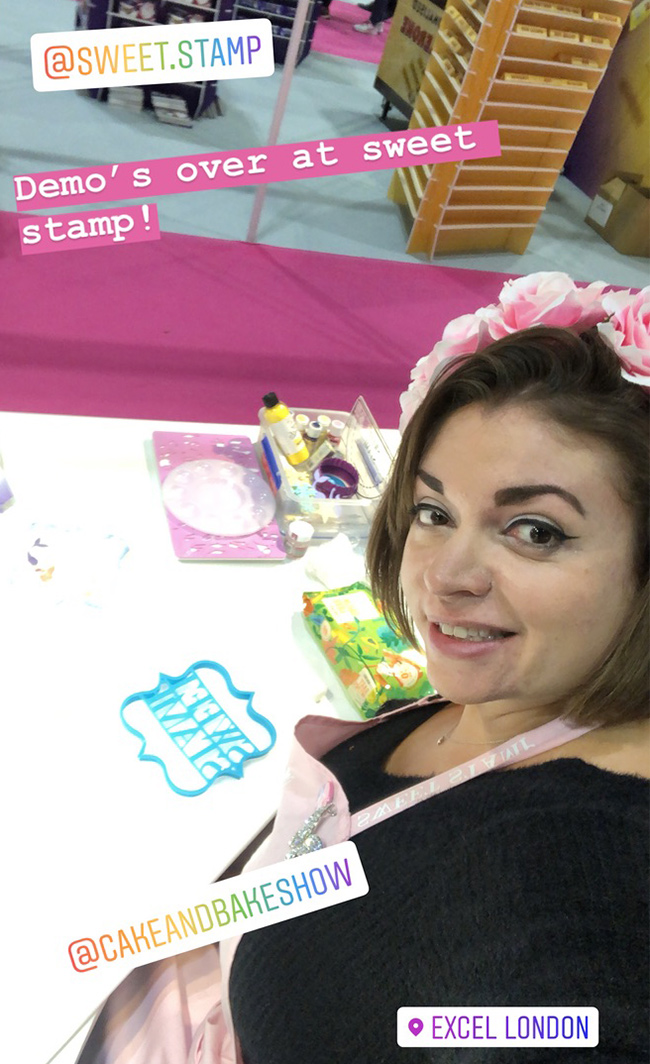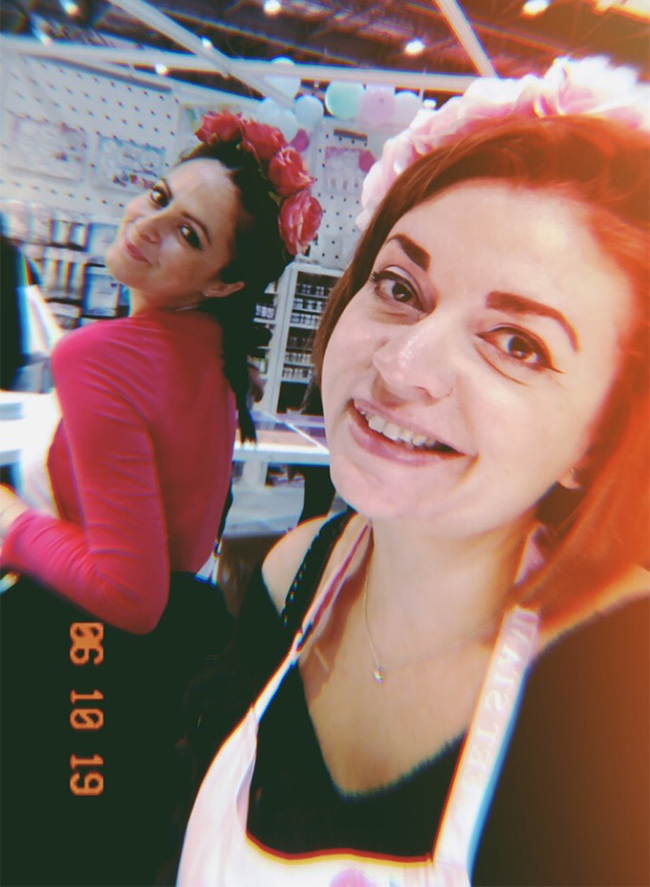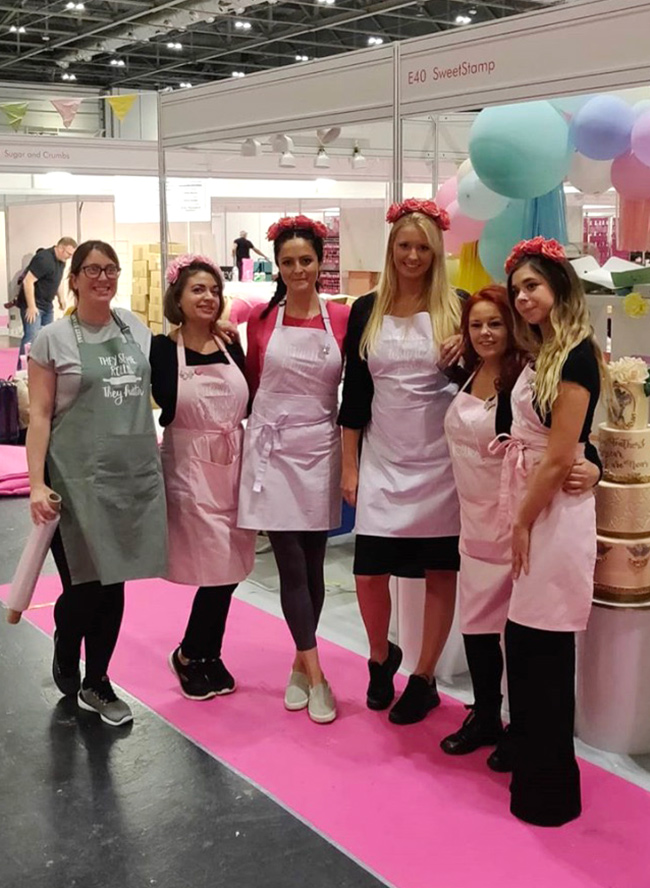 The stand at is years show was AMAZING and there was a lot more products on sale including the Sugar Sisters Super Scraper; perfect for achieving super smooth buttercream on your cakes! The range of Custom Cookie Cutters also made their debut on the stand with an array of cute embossers, perfect for creating quick iced biscuit and cupcake toppers!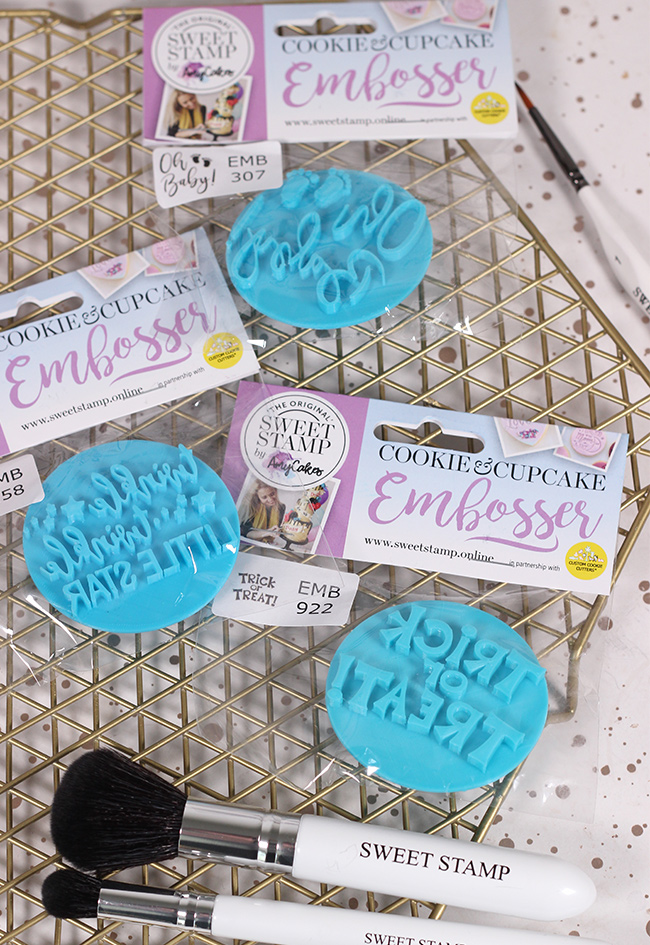 Meeting some of my lovely baker friends from Facebook, Instagram and Twitter was also a highlight! I finally met Rob Baker-Gall of Mr Baker's Cakes, which is his award winning baking blog where he shares posts about his baking journey; including cake collaborations, a cake magazine and links to his YouTube Channel!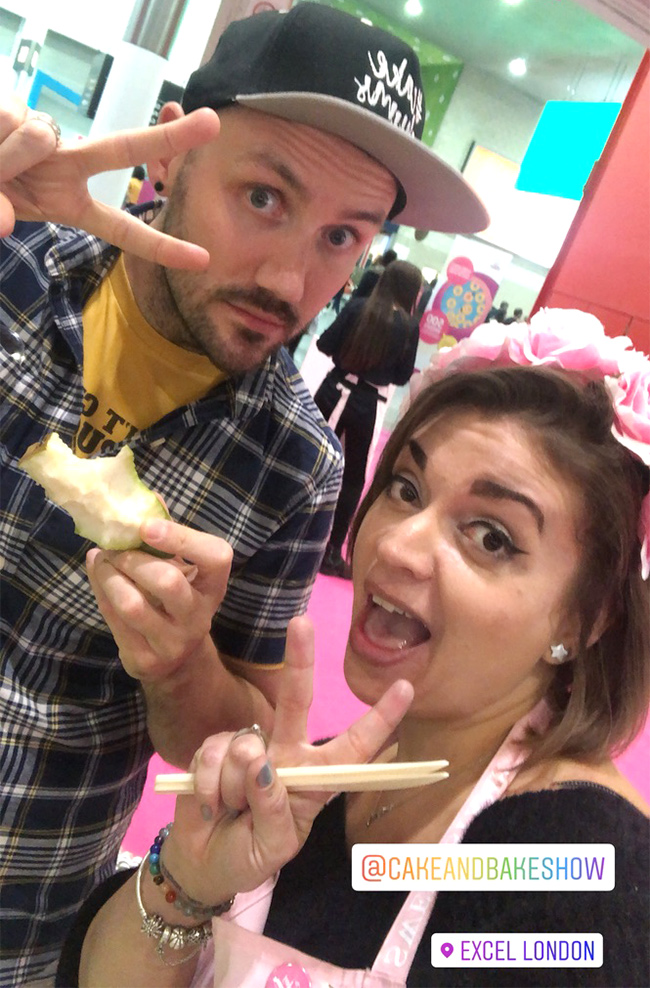 I also met the lovely Carol McFarland from Sugar & Crumbs who kindly gifted me the Sugar & Crumbs edition of Sweet Stamp after the Facebook Live on Friday night!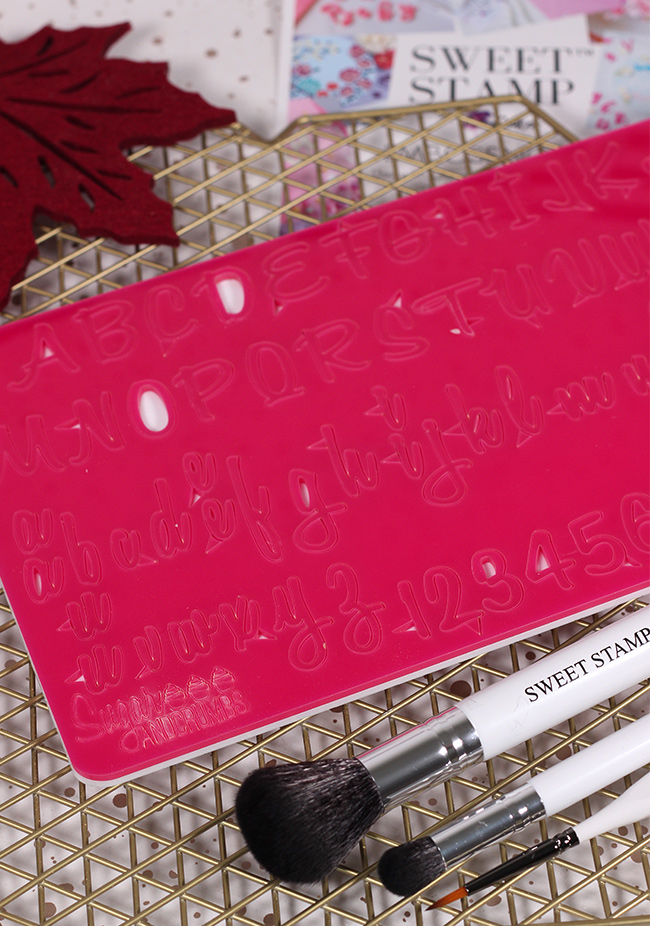 I did, of course, have a play with this set alongside the Curly Sweet Stamp set kindly gifted to me by Amy and created this decorated cake board for National Cake Decorating Day on 10th October!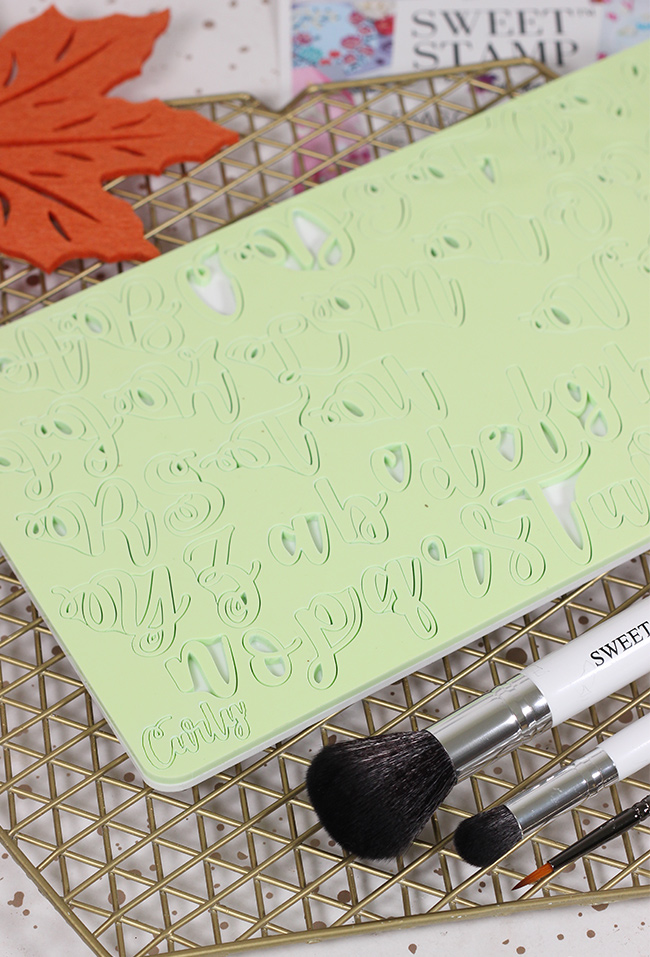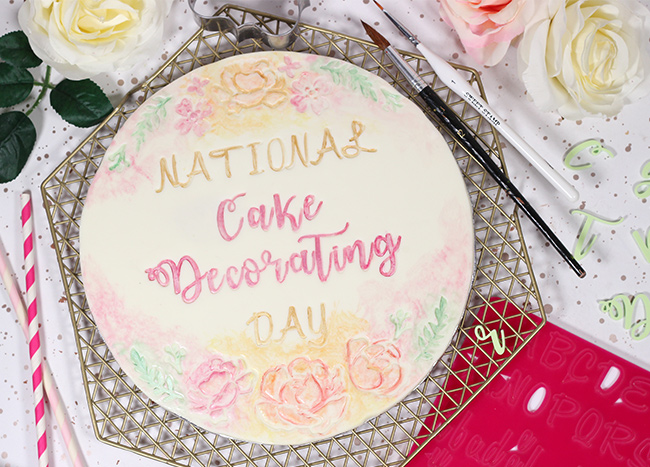 I also used The Caketress Botanical Dreams set for the embossed floral details. It was lovely to combine the various sets to create something really pretty to mark the occasion!
I also picked up a bottle of dipping solution from one of the two Sugar & Crumbs stands.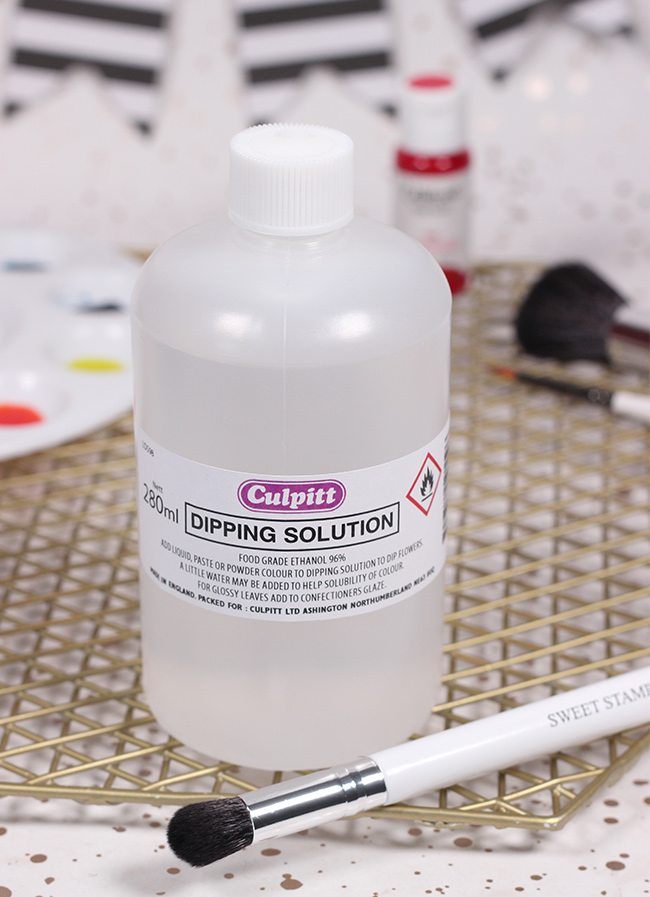 This stuff is great for mixing with lustre dusts and blossom tints to create paints to decorate my cake creations as well as thinning out paints to create water colour effects.
I also met Molly Robbins, the lady behind Molly's Creature Creator and her lovely mum at their stand at the show! Molly is known for her 3D sculpted animal and character cakes as well as being on Channel 4's Extreme Cake Makers!
She launched Molly's Creature Creator; for those of us who find creating 3D animal and character cakes a little daunting! I was lucky enough to receive both the standing and laying moulds for my Birthday this year!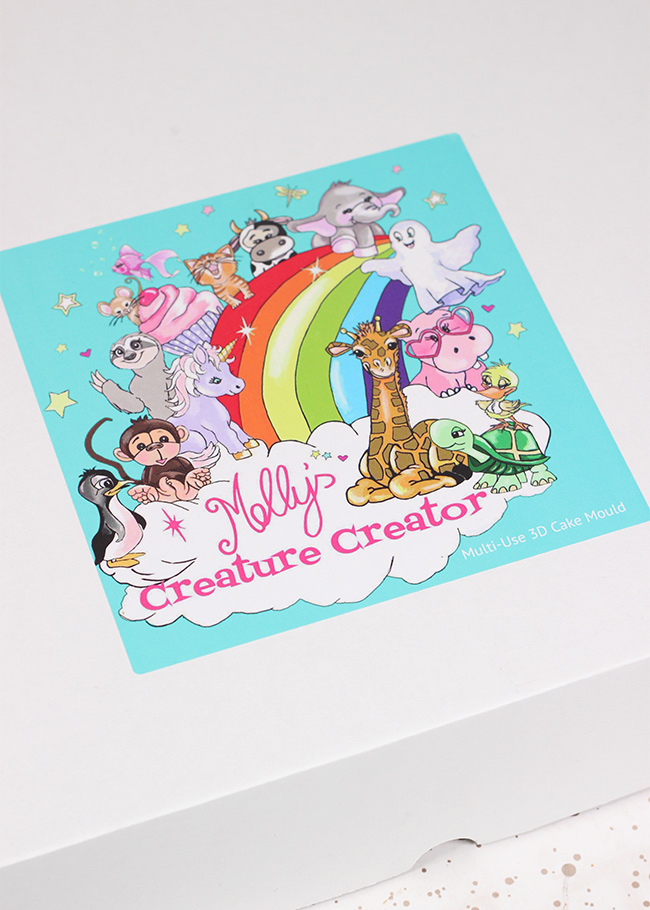 I did, of course, stock up on some of her tutorials at the Cake & Bake Show this year, choosing Five of the tutorial booklets.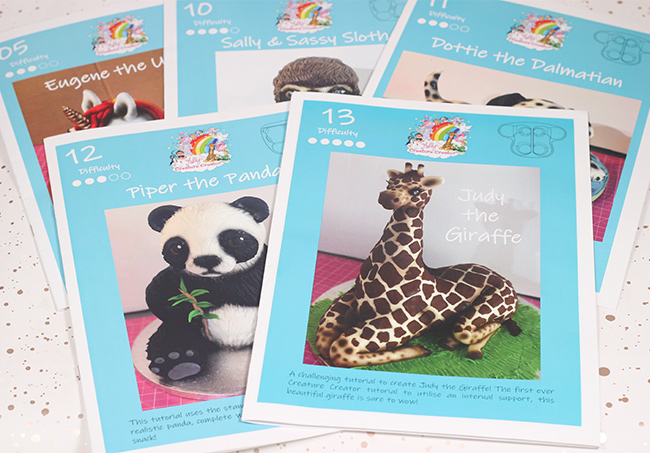 You can order these online direct from her website…there's some great guides for all skill levels!
Molly also created this amazing Ark cake for the show!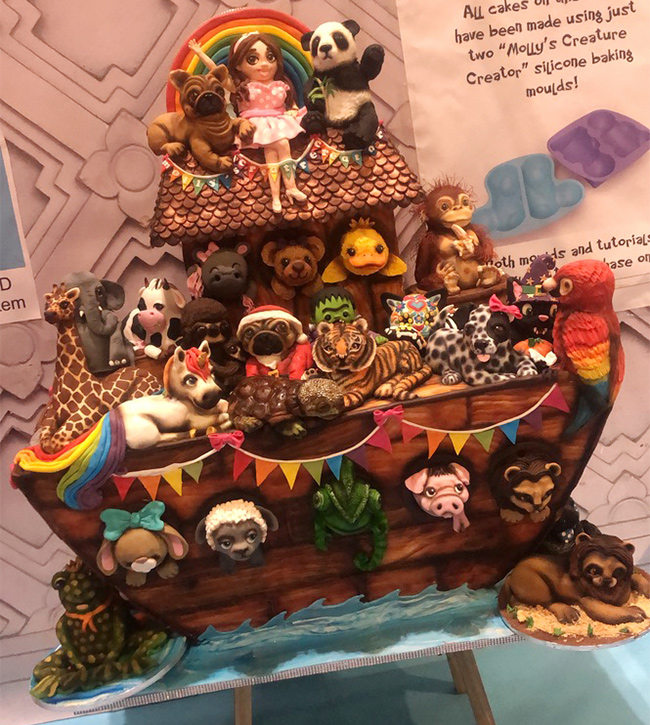 I did take more photo's of it, but unfortunately, I lost the majority of my Cake & Bake Show photo's, that I took on my DSLR camera 🙁 sad times, considering I got some fab pics of the various stands and competition cakes on Sunday morning before the show opened. The only one I managed to recover was this close up detail of the animals faces peeking out through the port holes!
I also met the creator of the Boris Johnson cake, Rosie Dummer of Rosie Cake Diva Who has also created amazing cakes on Channel 4's Extreme Cake Makers!
Plus I met a few contestants from The Great British Bake Off, including Phil from this years series!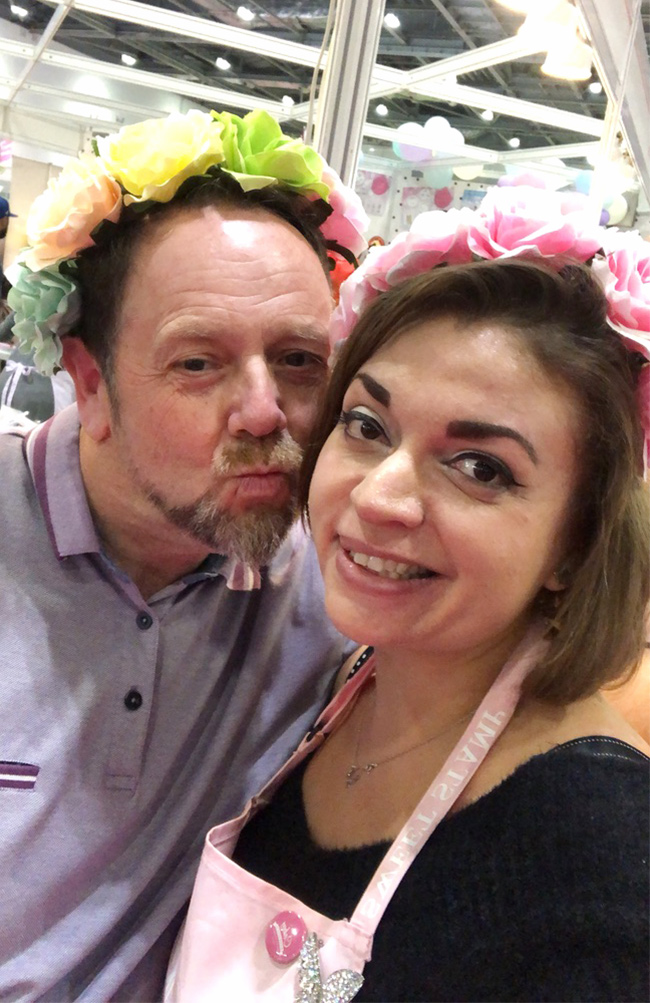 He gladly agreed to wear a flower crown for our selfie at the Sweet Stamp stand and we had a nice chat! I also met his lovely Wife, Angie! They are both such delightful people!
Another lovely lady, who I worked with during the weekend, was Michelle aka SweetShells on Instagram! She creates the most amazing cakes using Sweet Stamp. She created a lot of the show cakes for the stand to showcase how you can use the products to make real showstoppers!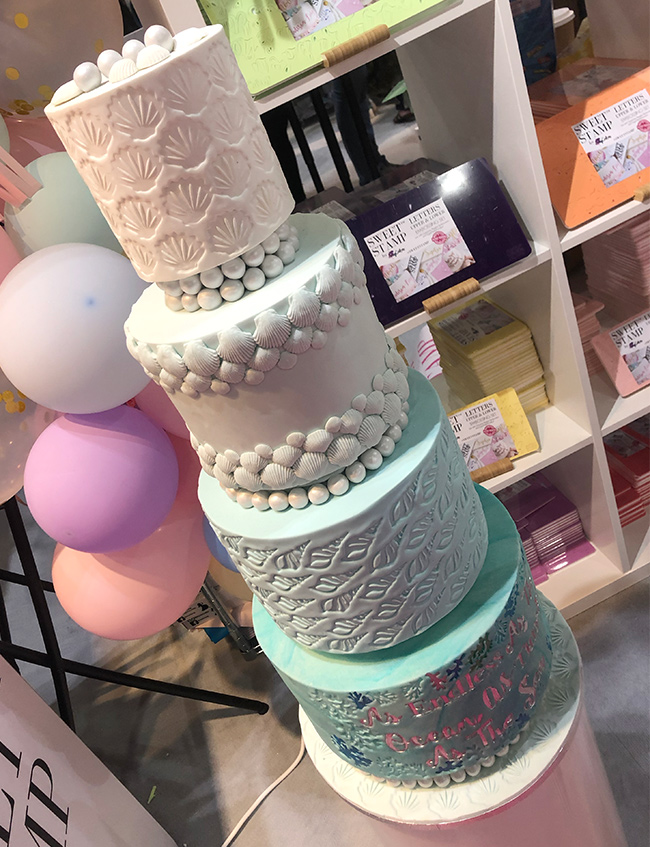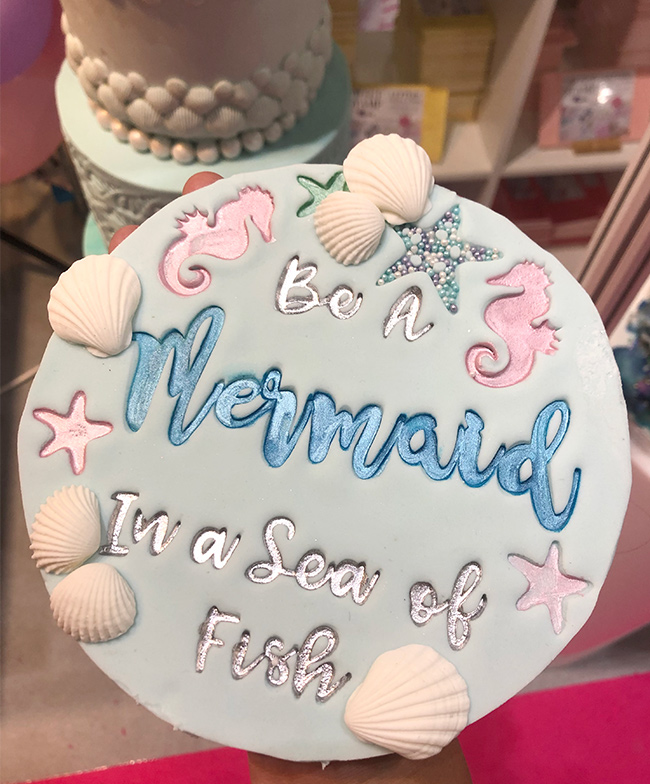 These one's incorporated the mermaid elements sets as well as various fonts. Stunning!
I also had a wander around to check out the competition pieces at the show! There were some amazing entries including rotating carousel cakes and some really realistic looking animals and food, all made from cake and sugar modelling paste!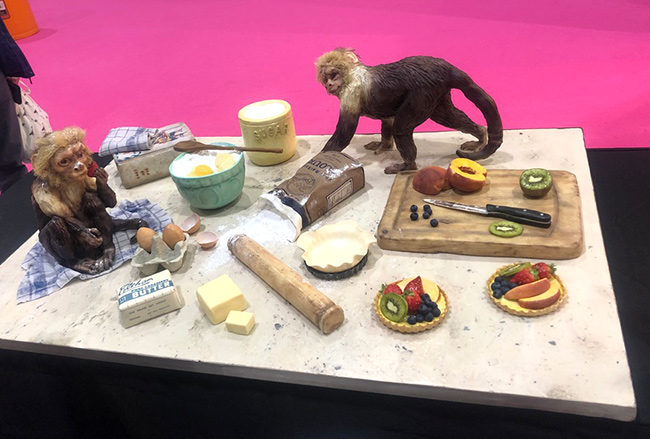 This hedgehog was one of my faves! So cute and his little eyes looked so real!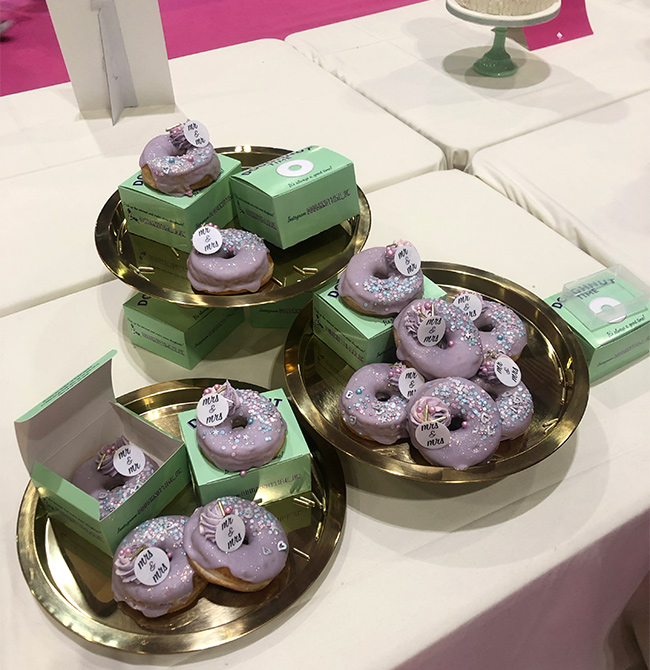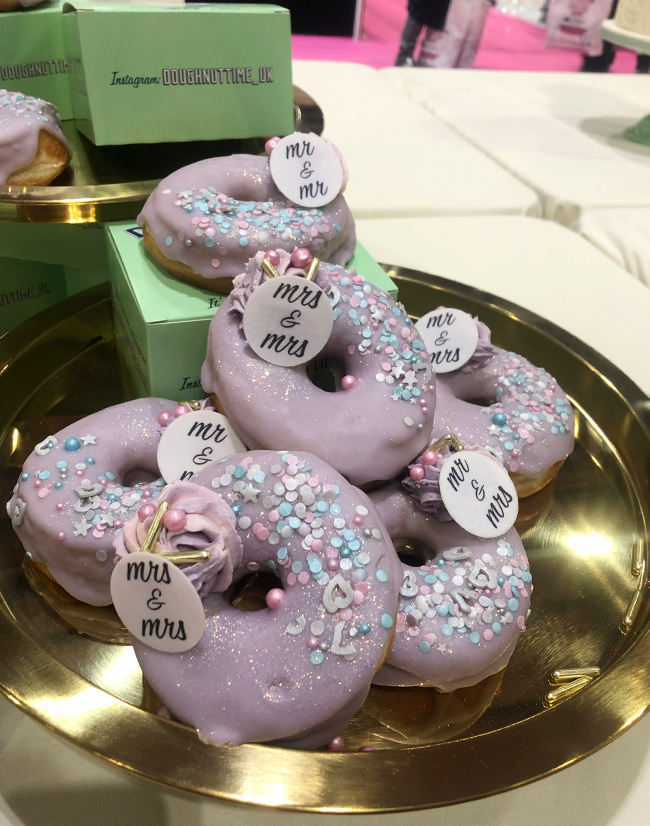 Doughnut Time Had a stand selling their delicious doughnuts at the show and also made this delicious looking pile of delights for the displays! I can tell you now, we tried a LOT of the doughnuts over the course of the weekend! My favourites have to be Sia Later – which is one of their vegan range, Stranger Rings; which is a chocolate glazed doughnut topped with Oreo crumb and Nutella (Yum!) and Rocky Balboa – doughnut topped with dark chocolate ganache, cranberries, sultanas, marshmallows and digestive biscuit crumble.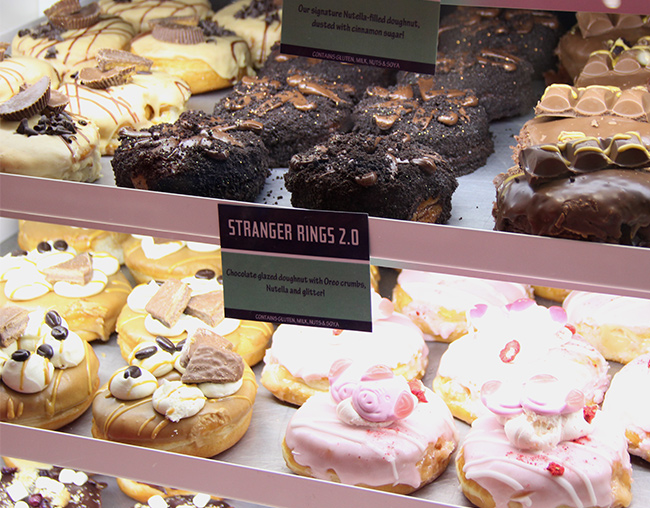 I also popped by the Spectrum Flow Airbrush stand to pick up these wipes that erase mistakes on cakes! Great for when I make any mistakes whilst painting details on my cakes!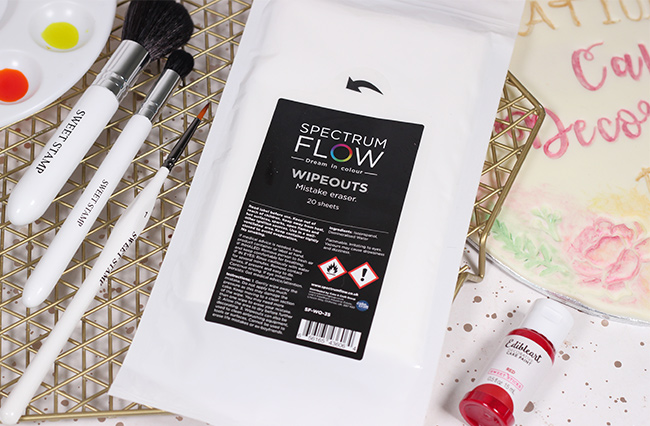 I also visited the Karen Davies stand to check out her newest moulds! There are some really lovely gingerbread people and Christmassy moulds and she showcased how these can be used by demonstrating on her stand as well as the cake creations on display! She always wow's me with how she sets up her cakes at the shows!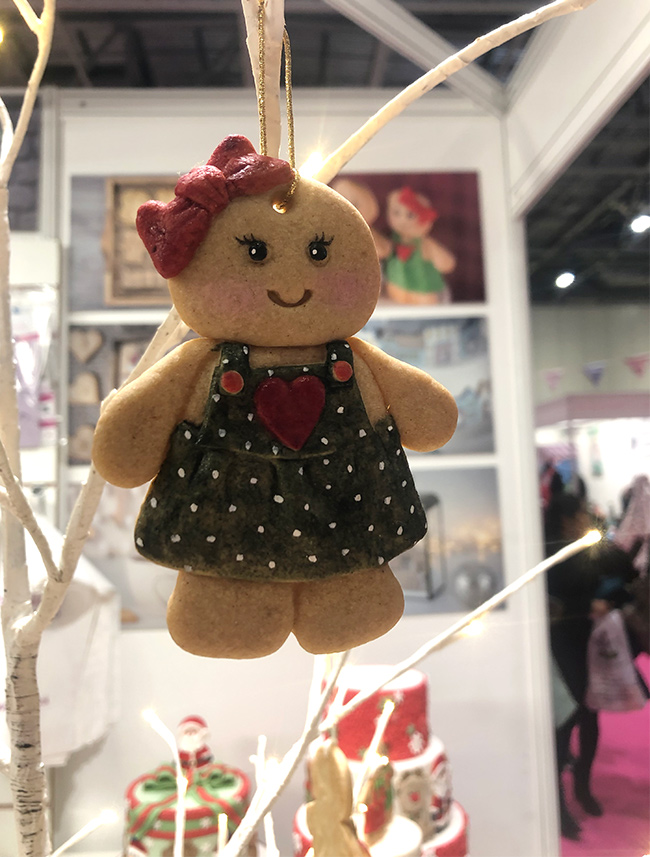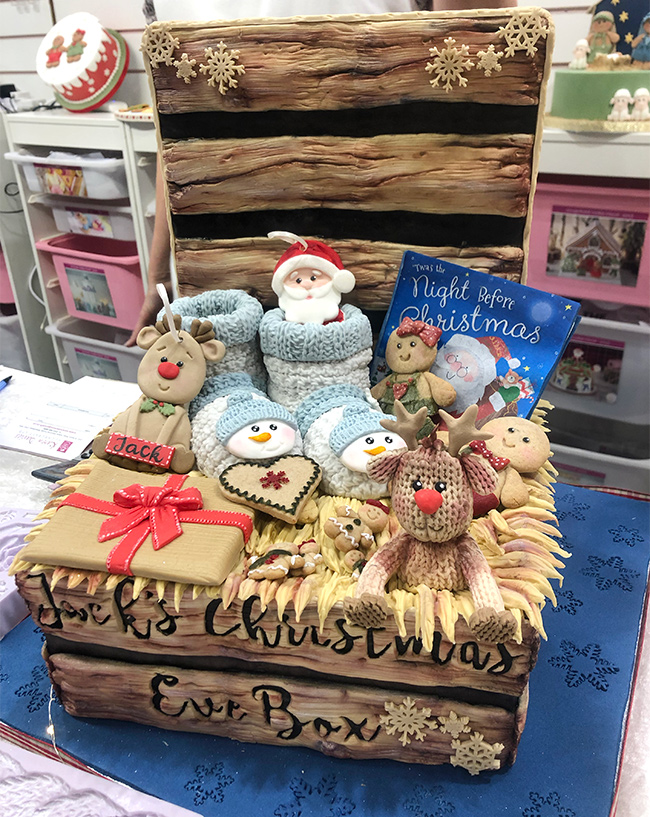 I was also gifted a few items from Sweet Stamp, including the Urban set which was a collaboration with The Cake Cuppery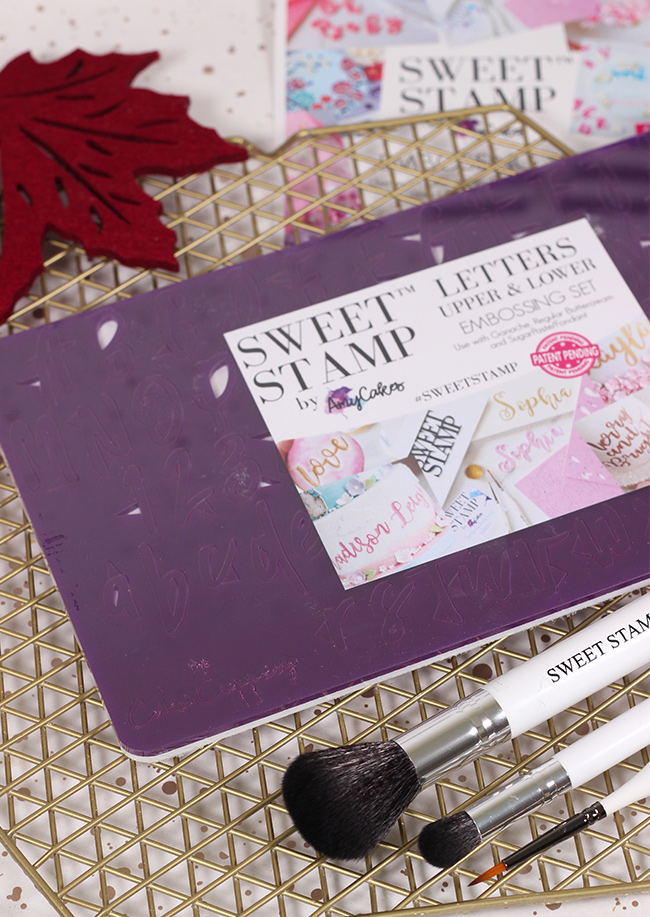 The Sweet Sticks number set, which has only recently been launched to match the Sweets Sticks font set!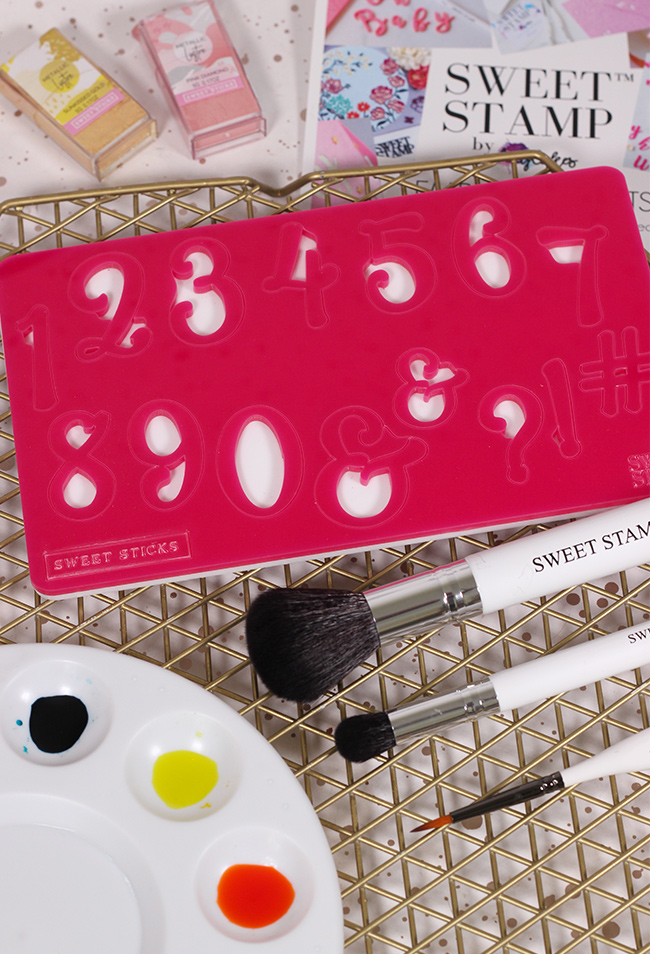 Sweet Sticks also recently launched a range of edible lustres. I got my hands on 2 of the colours I used during demo's over the weekend; Pink Diamond and Sunkissed Gold!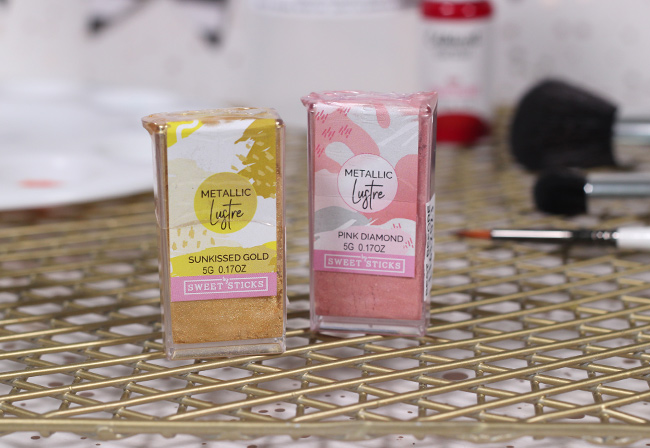 They're great for using with a fluffy brush to create a beautiful sheen on the surface of your icing as well as mixing with water, clear alcohol, lemon extract or dipping solution to create a paint!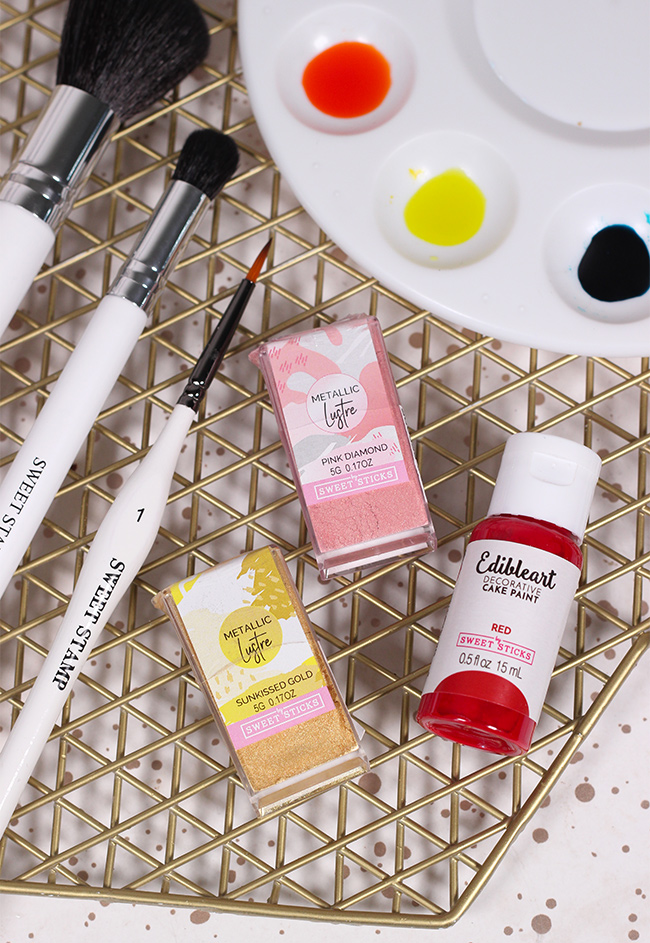 Elements sets are also a big part of Sweet Stamp, enabling you to create themed cakes! I added the Halloween & snowflakes set to my collection!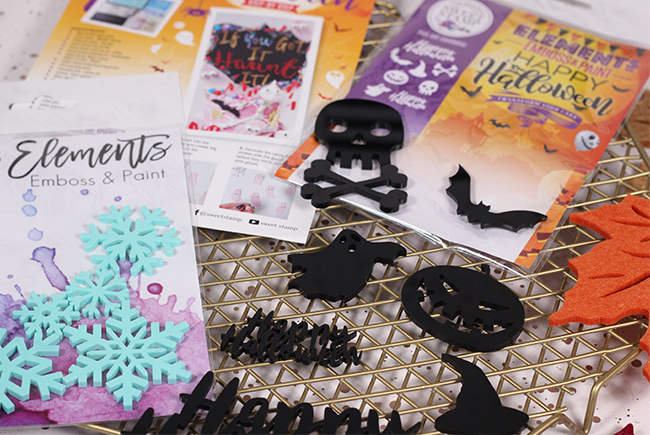 I can't wait to create some fun seasonal bakes using these sets!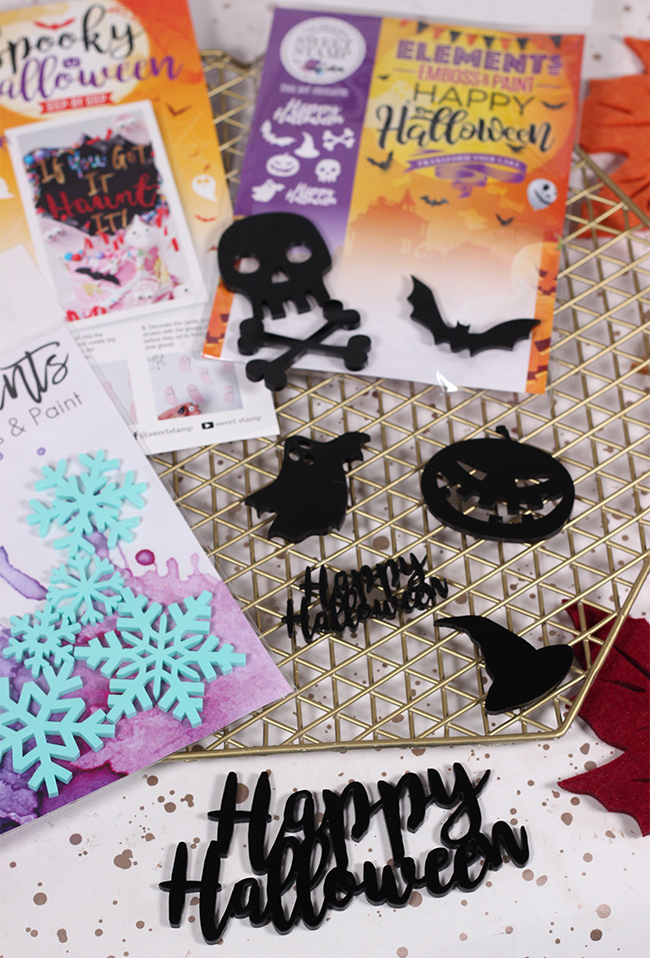 I can't wait to see what's next for Sweet Stamp! I can't believe it's been a year since they launched and it's fab to see how Amy has grown the brand over the course of a year and how much has been added to the range! It's really nice to have a range of tools to help add some amazing details to my cake creations. It's also so inspiring to see so many cake decorators come up with new ways to use these products!
There are so many great brands & tools out there too!
They will be at Cake International at Birmingham NEC from the 1st – 3rd November 2019! You'll be able to find the products I listed in this post at the show as well as some more new exciting items!
If you can't make it to the show; why not head directly to their online shops to order? You can find the links throughout this post too!
Happy Baking!
Thirzah xoxo